Last updated - June 26, 2023
As you probably know, finding a hosting service provider is one of the first steps in creating a WordPress website. There are quite a large number of choices available, and you may be confused at times on which to choose. Before making a choice, it is important to know the fundamental differences between different hosting services for WordPress sites. In this article, we will list down some of the best-managed WordPress hosting Providers that you can consider.
WP Engine offers one of the most reliable and secure managed WordPress hosting services. You will be assured of a fast site as well as great options to scale without hassles. It offers a developer-friendly environment with staging sites, GIT/SFTP connections, automated backups, etc. Distributed global CDN will ensure the best performance for your site always. Moreover, you will get several advanced features to optimize your site performance including Google Analytics integration, performance monitoring, and a page speed tool. They have several plans from which you will be able to choose the one suitable for your requirements.
Features
Offers a bouquet of tools with world class cloud hosting and security solutions.
Integrates several popular technology solutions including Amazon, Google Cloud, Cloudflare, New Relic, etc.
Availability of premium themes and in-built SEO and security solutions.
Dedicated team for onboarding premium services.
Automatic migration and testing environment.
GIT and SFTP connections for better collaboration.
Free CDN and SSL.
Automated backups and updates of WordPress core.
Reliable support team.
The Startup plan will cost you $25 per month, which will help you host a small website or blog with around 25000 visits per month.
Kinsta is another preferred, fully managed WordPress hosting services currently available. They have several options to host your site irrespective of the size and scope of the site. Since your website will be constantly monitored with hassle-free scaling options, you can focus on your business without worrying about site maintenance. Moreover, it offers several features suitable for both beginners and for advanced, tech savvy users as well. You will be able to control all aspects of your site from the very detailed dashboard.
Features
Popular managed WordPress hosting service.
Great technology stack optimized for WordPress with Ubuntu, PHP 7.4, Nginx, MariaDB, HTTP/2, etc.
Developer-friendly features such as staging environments, WP-CLI, SSH, and Git support.
Server-level caching.
eCommerce friendly.
Great security features including automated backups and two-factor authentication.
Auto scaling.
Dependable support team.
The pricing plans start from $30 per month for a single site with 25000 visits.
Cloudways offers a managed cloud hosting platform that will save you from the hassles of managing your hosting service. You will be able to choose from five popular cloud services that will provide you advanced applications and an innovative control panel. You will get an optimized technology stack and in-built CDN for superior site performance. Furthermore, you will get access to advanced security features including continuous monitoring and automated backups. You will be able to get your website live in a matter of minutes if you choose this one, and can expect total peace in website management.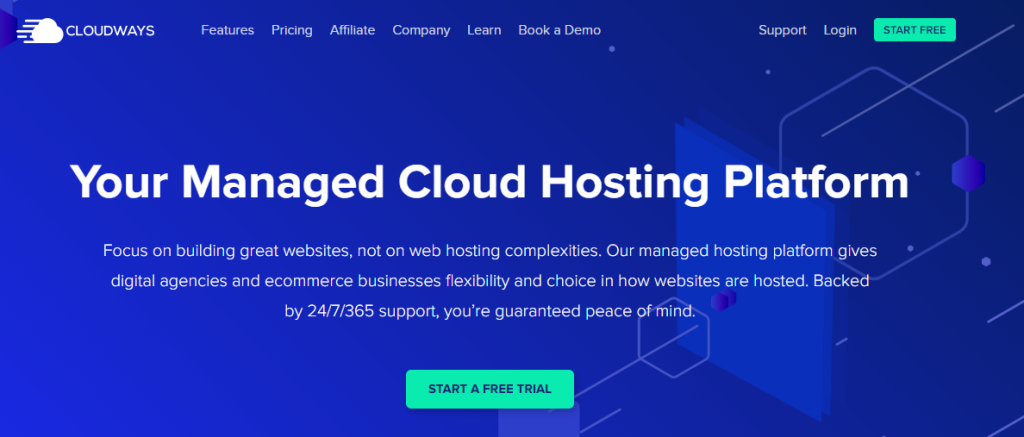 Features
Managed hosting service with different options and transparent pricing.
Dedicated resources, SSD-based hosting for great site performance.
Security features include bot protection, dedicated firewalls, free SSL, IP whitelisting, two-factor authentication and more.
Collaborative workflow with Git integration, SSH and SFTP access, staging area, and more.
Easy backups and restore.
Multiple integrations.
Excellent support with reliable problem solving capabilities.
Prices start from $10 per month for Digital Ocean. You can also choose AWS, Google Cloud and other options.
One of the superior hosting services available currently for WordPress websites would be WordPress VIP. For large enterprises, it is surely a wise decision to opt for their advanced suite of services. With globally distributed data centers and custom containerized hosting, you can be assured of your site performance. Moreover, you will get access to a team of experts who will be continuously monitoring your site. Furthermore, there are other standout features such as hourly database backups, automatic updates of security patches, etc.
Features
Enterprise-level hosting service with advanced features.
Ensures superior performance of your site at all times.
Automatic WordPress core updates as well as Jetpack, Akismet and security patches.
Database backups with redundant file storage every hour.
Constant performance monitoring.
Follows all security best practices.
Brute force protection and spam filtering.
Proactive support team.
You need to contact them for pricing.
This is another popular hosting option that will make your WordPress site management easier. SiteGround offers a powerful WordPress Starter that will help with automatic WordPress installation and will help you get started quickly. And, if you want to move your site from another service, you can use the migrator plugin or the help of experts. Moreover, they will manage your site security at server and application levels with advanced features. Furthermore, features like free CDN, caching and image optimization will ensure great performance as well.
Features
Full-service WordPress hosting suitable for different kinds of websites.
Faster site launch and support for migration.
Advanced security features like daily backups and free SSL certificates.
Unlimited email accounts.
Staging tool to test your changes.
Developer friendly options including Git integration, WP-CLI, SSH access, PHP version control, etc.
Collaboration tools.
Priority support for some plans.
The StartUp plan starts from $6.99 per month and can be a good option for sites with a monthly traffic of around 10000 visits.
Hostinger offers one of the best managed WordPress hosting services for websites of all types and sizes. The web host ensures high availability by guaranteeing 99.9% uptime. It also comes with a free domain name, lifetime SSL certificates, and automated migration. Security-wise, this WordPress hosting provider incorporates robust web application firewalls, DDoS protection, and malware scanner, among others. It offers automated backups and easy restores to prevent data loss.
Hostinger's WordPress hosting has various performance optimization tools to help you achieve optimal performance and excellent user experience. The web host employs server-level caching with LiteSpeed Cache and the latest NVMe SSD technology. To reduce latency, choose from its geographically-distributed servers in France, the Netherlands, Lithuania, the United Kingdom, Singapore, India, the USA, and Brazil. You can enable Hostinger's in-house CDN solution from its intuitive custom control panel, hPanel.
If you want to tinker with your WordPress site's configuration, don't worry, as Hostinger provides access to WP-CLI. Hostinger's WordPress hosting also has a staging environment, enabling you to test changes before publishing. The WordPress AI tools help you streamline your workflow by allowing you to quickly create and publish unique website content. Not only bloggers and creative workers, but Hostinger's WordPress hosting is also perfect for business owners. Its higher-tiered plans are WooCommerce-optimized and hosted in the cloud environment for more reliable performance.
Hostinger offers one of the best managed WordPress hosting solutions for sites of all types and sizes.
Features
Offers various hosting environments to cater to different website types and sizes.
Integrates multi-level caching with global data centers for excellent performance.
Enhanced security with automated backups and easy restore.
Managed WordPress with comprehensive WordPress-specific tools.
AI tools to accelerate content creation.
A free domain name, SSL certificates, CDN, and WordPress website migration.
Knowledgeable support team and comprehensive self-help resources.
Hostinger has three WordPress hosting plans. The Premium plan, costing $2.99/month, comes with 100 GB of SSD and unlimited bandwidth, which is ideal for small websites or online stores. Unlock more resources and advanced features on the higher-tiered plans, starting at $3.99/month.
The managed WordPress hosting service of Bluehost is another popular option that you can consider. Along with a technology stack that helps you create an optimized site, it also offers several marketing and SEO tools as well. This service is built for WordPress and you will get access to advanced security, analytics and social media integration. SSDs and lower server density would mean your site has better load times and thereby can offer a better user experience. Another major highlight of this service is the comprehensive marketing dashboard that will help you handle SEO, social media and content improvement suggestions.
Features
Managed WordPress hosting service with a range of advanced features
No limits on websites, domains, subdomains, web storage or traffic.
Instant WordPress install.
Staging environment.
Free SSL, Spam protection, automatic updates and more security features.
CDN integration and SSDs to ensure optimum performance.
Round-the-clock customer service and moneyback guarantee.
The basic plan will cost $19.95 per month.
The Nexcess Managed WordPress hosting is offered in association with Nexcess. This service will offer you great performance and automatic scaling options. You will get unlimited email accounts and premium security features when you choose this one. Moreover, the platform is built on PHP7 and Nginx, and ensures that your site is super fast. Furthermore, you can stop worrying about WordPress updates, as it will be automatically managed.
Features
Managed WordPress hosting with automatic scaling option.
No limits in page view or traffic.
Staging site for easy testing.
Full access to database and server.
Automated daily backups.
Free SSL.
Developer tools such as SSH, Git, and WP-CLI.
Reliable support through email, phone and chat.
Pricing plans start from $19 per month.
This is another high performance managed WordPress hosting service that you can rely on. Your users will be ensured of a fast and optimized experience interacting with your site. The service ensures continuous uptime for your site, resolves any issues quickly. Moreover, you will find several advanced security features such as firewalls, malware protection, scheduled backups, etc. Furthermore, the award-winning support team will ensure you are able to handle any site maintenance issues more confidently.
Features
Hassle-free hosting option with WordPress pre installed.
Expert help for site migration.
Free SSL and unlimited emails.
Great technology stack for superior site performance.
Managed updates and security patches.
Expert support team accessible 24 hours.
The starting plan has a price tag of $6.99 per month.
Hopefully, one of these Managed WordPress Hosting services could help you create a website without trouble. Leave us a comment if you have a query.
20i's Managed WordPress Hosting comes with your choice of 20iCloud, AWS or GCP platforms across 60+ global data centers, all optimized by 20i for maximum speed and performance. You get access to a wide range of free WordPress tools you'd normally have to install plug-ins for, including staging environment, cloning, WordPress Manager, unlimited CDN, image/code optimization suite, automated backups, malware scanning, SSL certificates, Git manager and more. With 20i you can also register, set up and manage all your domains, email, and security directly from the same UI as your cloud hosting.
Features:
Multi-cloud platform with choice of 20iCloud, AWS and GCP
WordPress staging and cloning
Fully featured WordPress manager built-in
Optimized PHP-FPM, PHP OPCache and unlimited PHP workers
Unlimited global CDN
Expert WordPress support 24x7x365
Free SSL Certificates for every site/app
Unlimited and free migrations, any time
Integrated domains, email and security management
Further reading