Last updated - January 5, 2022
Finding the most suitable WordPress SEO plugin could be a really tough job for WordPress owners. There are a large number of plugins available in the WordPress repository that will help you with the on-page SEO of your website. You can use any one of these plugins for on-page SEO, along with some other tools and best practices for great results. In this article, we will discuss some of the best WordPress SEO plugins that you can install on your site.
Yoast is one of the most popular WordPress SEO plugins that you can get. It offers a wide range of features to help your website get ahead in search engine results pages. The plugin makes it quite easy to ensure that your content follows all SEO best practices.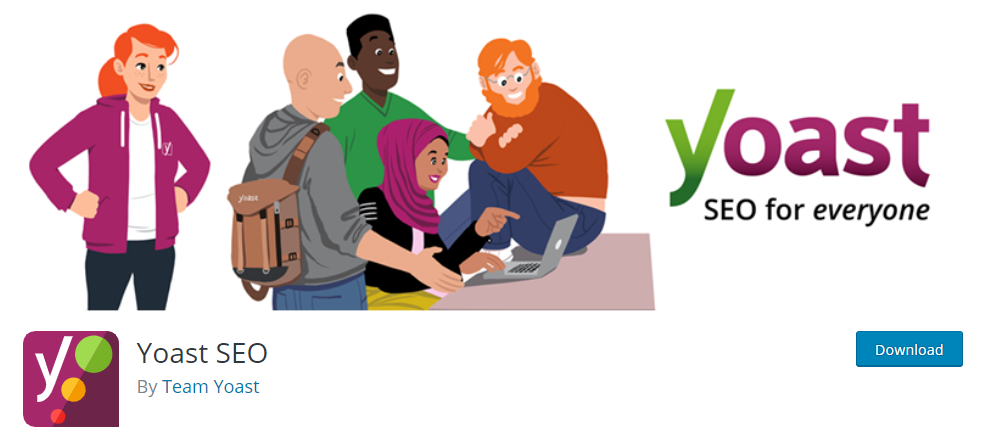 Features
A range of features to improve WordPress SEO such as canonical urls, meta tags and XML sitemaps.
SEO analysis to help you optimize the content with the right keywords.
Analyze readability to help readers understand your content better.
Internal linking and cornerstone content to help you structure the content.
All in One SEO is a comprehensive SEO toolkit that you can use for your WordPress site. It helps you improve your website's search engine visibility and also helps to find new growth opportunities. The plugin offers extremely workflows that makes it quite easy even for beginners. In quick time, you will be able to set up several advanced SEO features including XML sitempas, schema markups, optimized search appearance and more.
Features
Helps you achieve the best SEO results with content analysis and readability analysis tools.
Seamless integration with social media platforms and webmaster tools like Google Search Console.
XML sitemaps and smart schema markup.
Automatic Image SEO and Local SEO.
This plugin will help you improve your SEO, and enhance the traffic and conversions on your website. One of the standout features of this plugin is that it offers a very easy and smart configuration option that will reduce a lot of work for you. In addition, it ensures that there is only a minimal load on your server, and does not slow down your website. Moreover, it provides automatic keyword suggestions from Google, and also offers detailed SEO analysis.
Features
Extensive feature list to optimize your website to search engines.
Google keyword ranking and search console integration.
Option to optimize unlimited keywords.
Integrated schema markup.
Deep content analysis test and help for better inter linking.
Easy import of data from other SEO tools.
This plugin helps you easily manage the intricate guidelines to achieve the best SEO results for your WordPress site. It is a lightweight plugin that offers no restrictions when it comes to available options, and it also does not have ads. Moreover, the plugin offers a very simple configuration process that will help you get started with your SEO efforts quite effortlessly. The plugin also offers easy migration from other SEO plugins as well.
Features
Extensive help in varied aspects related to your WordPress site's SEO.
Pre-configured to help you get started easily and options to customize.
Optimize meta tags by following Google's guidelines accurately.
Helps in improving social media sharing.
Follows all the SEO best practices and protects privacy.
You will be able to get exceptional help in a range of aspects related to your site SEO with this plugin. It comes with built-in features to handle XML sitemaps, schema markups and redirects. Importantly, the plugin is quite easy to configure and even beginners to WordPress will be able to manage it effortlessly. For on-page SEO, you will get detailed content analysis and help to optimize for multiple keywords without limits.
Features
Wide range of SEO features to improve the search engine visibility of your WordPress site.
Detailed content analysis.
Preview of Google search results as well as social media platforms like Facebook and Twitter.
Improved social media sharing options.
Custom canonical url and XML sitemaps.
Import settings from one site to another.
BoldGrid Easy SEO is one of the easiest plugins that will help you set up SEO requirements for your WordPress website. You need to set a keyword and the plugin will give you suggestions to improve your on-page SEO. The plugin will help you ensure your page title, description, header tags and content are according to the SEO best practices.
Features
Ensure great SEO for your WordPress site with a range of suggestions.
Get suggestions on different aspects such as keyword density, content length, alt tags for images, etc.
Helps you control the visibility of nofollow links.
Set canonical urls when required.
Single click search engine indexing.
If you are looking for a comprehensive option to help you with WordPress SEO requirements, you can give this one a try. It is powered by Artificial Intelligence, and offers one of the most focused approach to improve your search engine rankings. Moreover, the plugin offers easy configuration options and also helps you automatically ensure that you WordPress site is following all SEO guidelines.
Features
Ensures great SEO for your WordPress site.
Automated options to ensure the best SEO outcomes.
Google Analytics and Facebook Pixel tracking support.
Protection against using keywords with low success potential.
13 types of Schema JSON-LD implementations.
Open card validation and Twitter card preview.
You will get complete control over varied aspects of search engine optimization thanks to this plugin. It offers several features to help you optimize your content and images, as well as links and redirects. You will find smart SEO content analysis with keyword suggestions and search engine snippet previews. Moreover, the plugin helps in generating HTML and XML sitemaps and also offers support for rich snippet breadcrumb.
Features
Wide range of features to help with WordPress SEO.
Smart content analysis with page titles and meta tags.
Helps you manage backlinks more effectively with broken links check and redirects.
Enable Google Analytics tracking easily.
Easy import options from popular SEO tools.
If you want an assured way to manage SEO requirements of your WordPress site, give this plugin a try. It offers a single click configuration along with automated XML sitemaps and efficient content analysis. Moreover, the plugin offers better social sharing and real-time keyword analysis.
Features
Great range of features to help you with WordPress SEO.
Detailed checking of SEO requirements and reports.
SEO Crawl and 301 redirects.
Easy setup option.
Social media verification.
Easy integration with MOZ tools.
Hopefully, these WordPress SEO Plugins will help you ensure great visibility for your site on search engine results pages. Leave us a comment if you have a query.
Further reading