Last updated - October 31, 2022
One of the biggest issues with PDF documents is that they are static. Once you've created one, it's difficult to make changes to it. If you want to edit a PDF, the best way is to use an online tool that lets you edit PDFs right in your browser.
There are several ways that these tools work. Some let you upload a PDF and then add or remove text, images, and other elements, while others allow you to make quick changes by highlighting text and typing over it with your own words. Some useful tools let you merge different PDF documents and even convert Excel to PDF.
If you're looking for an easy way to modify PDF documents, these online tools can be of great help:
Merge PDF
Merge PDF is a free tool for combining PDF files. This online PDF combiner allows you to merge PDF documents for free in a few seconds with a couple of clicks. You can also merge individual pages from different PDF files into one document. All you need is to upload files or individual PDF pages that you want to merge and then click on the "Merge" button to begin the process.
The tool allows you to merge several files at once, which makes it really helpful when you are working on a project where you have many documents with different information, but they all need to be combined into one document. This way, you don't have to waste time opening each file individually and merging them manually: just upload all of them at once and let the tool do its job.
Merge PDF has a simple interface that makes it easy for anyone to use it, even if they are not familiar with such programs. All you have to do is pick up the files that need merging, select the order of the documents once they are uploaded, and then click the 'Merge Files' button.
You will also be able to quickly share the resulted combined file with anyone using WhatsApp, Email, or a direct link.
Excel to PDF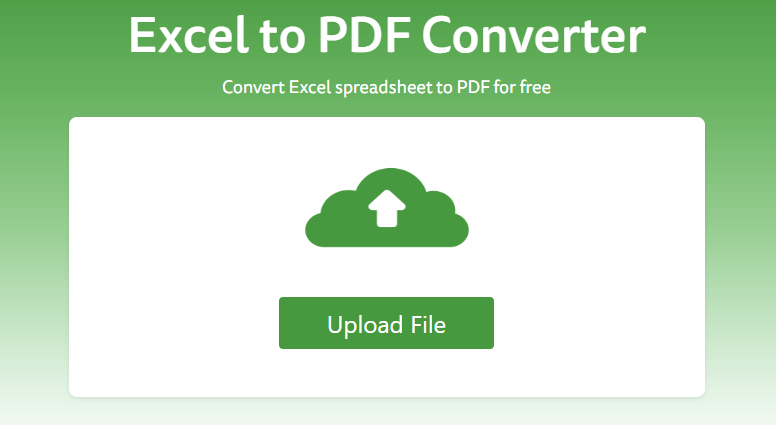 The online excel to pdf converter lets you convert excel files to pdf documents for free, with unlimited credits, and without losing your file's quality.
Convert your Excel files to PDFs in just two steps: Upload your file, click Convert, and download your converted PDF.
When it comes to converting Excel files to PDFs, many options are available online. But only a few are true to their words when providing users with quality output. Excel to PDF is one of the best online converters because it offers the following benefits:
Convert Excel files in a few clicks. The process is extremely easy and hassle-free – all you have to do is upload your file and select 'Convert.' You can convert multiple files at once, too.
No need for time-consuming installations or downloads. Convert from any device with an Internet connection – desktop computer, laptop, Smartphone, or tablet. Their website works on any device and operating system.
This free online tool eliminates all restrictions on the number of conversions. You can convert an unlimited number of files without paying any fee or waiting for approval from their website first.
Your converted document will be saved temporarily on their servers until you're ready to download it. Once you have downloaded the final output, they will delete the file from their server.
CocoDoc
PDFs are great for storing and sharing documents, but they don't allow you to edit them easily. With CocoDoc's PDF Editor, you can highlight, erase, timestamp, add notes, and type texts anywhere on your PDF documents, even when you are on the go.
Here are some ways in which CocoDoc can be helpful with your PDF documents:
Highlight Text on Your PDFs
CocoDoc allows you to highlight text on any page of your PDFs. You can do this by selecting the area to be highlighted and then clicking on the "Highlight Text" button. You can also change the color of your highlights by choosing a color from the drop-down list. Then click "Done".
Erase Text from Any Page in Your PDFs
If there is any text that you want to be removed from your PDFs, then CocoDoc has an eraser tool that you can use to erase it. First, select an area using your mouse cursor and then click on the "Erase Text" button at the top left corner of the screen. Then choose a different color or no color if you don't want anything else besides white space where the text was erased.
Add annotations
You can also add annotations such as sticky notes by tapping on the screen while holding down an area you want to annotate. You can also use different shapes, such as squares and circles, along with arrows, which will allow you to draw attention to specific parts of an image or text to give more information regarding those areas.
PDF Buddy
PDF Buddy is a free online tool that allows you to convert, edit and sign PDF documents. You can also use it to perform a bunch of other tasks.
Here are the main features…
Convert files
Send emails directly from PDF Buddy or upload your file directly to their website with a simple drag and drop. You can also send large documents via email by attaching the generated PDF file instead of sending the original docx / doc / ppt version.
Edit your PDF files online
You don't need any application because PDF Buddy offers an easy-to-use editor that lets you make all sorts of changes without worrying about compatibility issues with other programs or printers/scanners.
Sign your documents with ease
This particular online tool has got an advanced signature feature that lets you add multiple signatures to one document as well as customize them according to their role in the organization (CEO, CFO, etc.).
HiPDF
HiPDF is an all-in-one online PDF editor from which you can get powerful features to edit, review, protect, sign and convert PDFs. It's a robust and useful online PDF editor & converter on Windows, Mac, and mobile systems. It greatly helps to boost document productivity.
HiPDF has many powerful features that help you better use the PDF documents:
Edit PDF pages
Add text to any page of your PDF document, highlight on a single page or multiple pages at once; take notes on a single page or multiple pages at once; insert images into the PDF file as well as crop them from desktop or mobile device; freely rotate/flip/resize images within the tool itself and more.
Review PDF files
Check for spelling mistakes with a built-in spell checker; highlight on a single page or multiple pages at once with a highlighter tool; mark up a single page or multiple pages at once with a pen tool; add sticky notes on a single page or multiple pages at once to leave comments for later use and more.
Protect PDF files
Password-protect your document using preset security settings available in this tool to prevent unauthorized access by others.
Compress PDF
If you are looking to reduce your PDF file size, then compressing it can be the optimum solution. You can get your file compressed through Hi PDF without spending a penny.
Convert PDF
One of the most useful features of Hi PDF is its ability to convert different file formats into PDF. If you have a word, excel, or even PowerPoint presentation that needs to be converted into PDF, then Hi PDF can do the job. You can convert these file formats without putting extra effort.
Related Video
Further reading