Last updated - July 8, 2021
There are several options when you look out for a platform to create an eCommerce store. One of the most popular options across the globe is WooCommerce, thanks to the control and flexibility it offers to store owners. You will also find a few other open source platforms like OpenCart, and SaaS (Software as a Service) solutions like Shopify that will help you build an online store. Depending on your business requirements and technical knowledge, your choice of eCommerce platform may change. In this comparison OpenCart vs WooCommerce, we will try to give a clear picture of both platforms so that you can choose one according to your needs.
An overview of OpenCart
OpenCart is a free and open source eCommerce platform similar to WooCommerce. It is also a self hosted solution, which means you will have to find a hosting service and domain name on your own. Once you get started with OpenCart, you will be able to manage products, customers, orders, taxes, discount coupons, etc., easily. You will also find a collection of modules and themes to manage varied aspects of the store.
An overview of WooCommerce
WooCommerce is one of the most popular platforms to create an online store. It is a free plugin for WordPress, and offers great possibility to tweak your site with custom development efforts. In addition, you will find several plugins and themes to customize features and design of the site. Moreover, with a large global presence of experts, getting help for WooCommerce store management is relatively easy.
Ease of use
Ease of use is one of the primary concerns if you are choosing an eCommerce platform. Here is a look at how this aspect plays out in the OpenCart vs WooCommerce comparison.
OpenCart does require some technical knowledge at the start, if you are opting for the manual installation process. You will have to download the software, and create the database before running the installation. If this is too much of a hassle for you, it is better to get the help of an expert developer. You can also use one of the automatic tools such as Installatron, Softaculous or Fantastico to install OpenCart easily.
Once the installation is done, OpenCart offers a straightforward interface to help you configure different store aspects effortlessly.
WooCommerce installation and set up is relatively easy if you have a WordPress site set up already. Even without a WordPress site, you can easily choose one of the hosting services that offer one-click installation of WordPress and WooCommerce. Several hosting service providers offer plans with free domain registration and SSL certificate.
Once installed, WooCommerce offers a setup wizard that will guide you through all the essential configuration steps.
Design
When you pick a platform for your store, you need to design according to your emerging business needs. It is an essential aspect to consider while choosing between two platforms with similar appraches.
OpenCart has a decent collection of themes to help you personalize the store design. However, customizing each individual theme requires a little bit of effort and knowledge of HTML and CSS. However, you can always get developer support to set up themes according to requirements.
WooCommerce, as you know, handles design effortlessly thanks to the abundant collection of compatible WordPress themes. There is a huge collection of free themes in the WordPress repository. Along with that, you can also make use of the large number of themes available through third party developers. In addition, you will find WooCommerce's own theme Storefront, and its several interesting child themes too.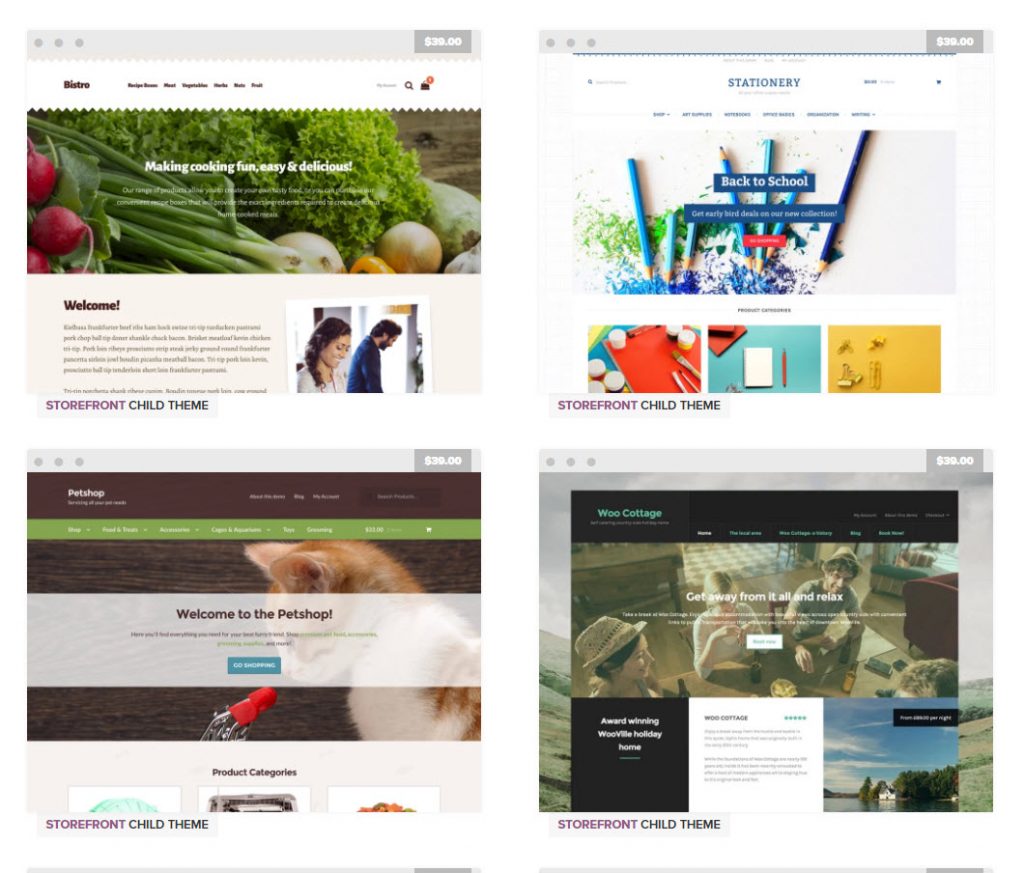 Payment integration
When you are creating an online store, it is always advisable to offer multiple payment options to customers for completing the purchase process. Here we will see how both platforms fare in a head to head comparison.
OpenCart offers a good number of payment options by default. The core payment methods of OpenCart includes PayPal, Square, Bank Transfer, Klarna, Amazon Pay, Alipay, and more. Additionally, you can integrate more payment options with the help of free and premium extensions.
WooCommerce offers a few core payment options such as bank transfer, check payments, PayPal, Stripe, Klarna, etc. Also, for US merchants WooCommerce offers WooCommerce Payments, which will help store owners accept payments through major credit cards. WooCommerce also offers more than 100 different payment gateways that you can integrate with the help of plugins.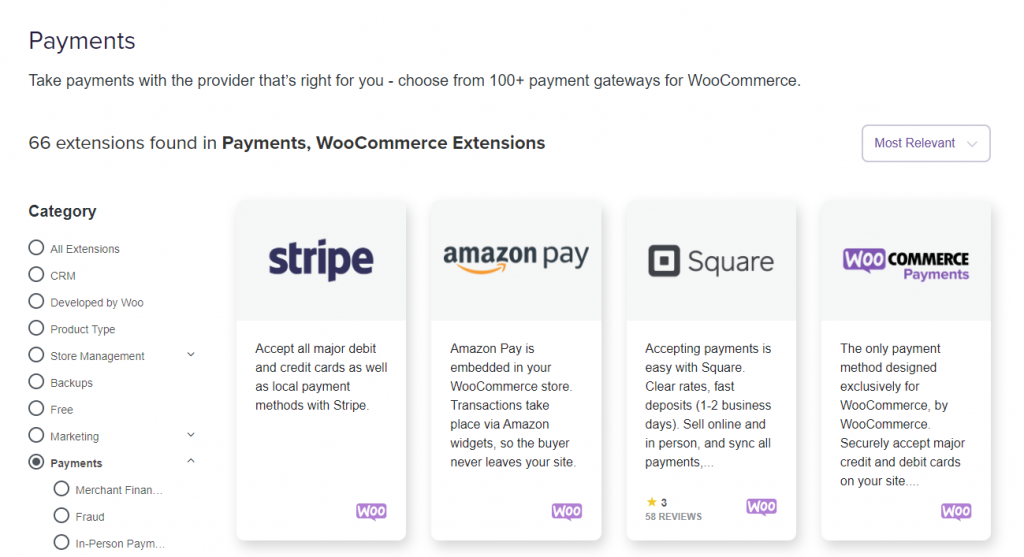 Customization
Depending on your business strategies, you will have to customize your store. So, when you choose a platform, it is always a good idea to be aware of the options available for customization.
OpenCart has a great marketplace with over 13000 modules and themes that you can choose from. For different feature additions, you can rely on the extensions in this marketplace. Some of the categories of extensions in the OpenCart marketplace are accounting, reporting, payment methods, shipping options, marketing, etc.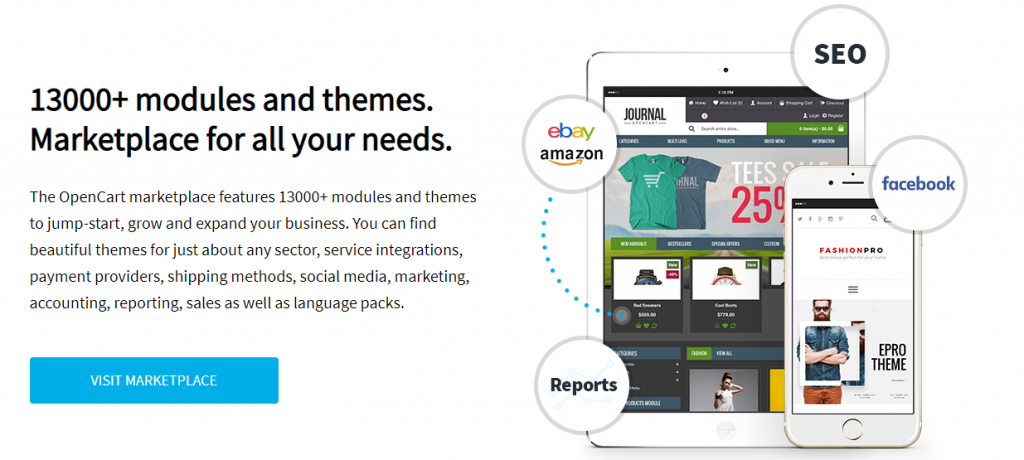 WooCommerce has abundant extensions in the WordPress plugin repository as well as through third party developers. You will be able to easily find an extension for any type of customization, thanks to the wide popularity of WooCommerce. In addition, there is a lot of scope for code level customization, and finding a WooCommerce development expert also won't be tough for you.
SEO
How you are managing SEO determines the success of your online business. In this regard how do these two platforms compare? Let's find out.
OpenCart does not offer a lot of scope for a regular user to optimize their site for search engines. By default, it offers options to edit meta titles descriptions and tags. If you are fluent in coding, you will be able to customize a lot more features as well.
WooCommerce has the solid foundation of the WordPress core that boasts an SEO-friendly code. With the help of plugins, such as Yoast SEO, you will be able to easily optimize your product pages, and other content.
Support
The ease and promptness of support is a big factor while choosing an eCommerce platform. Here is how you can get support when using these platforms.
OpenCart offers support through email during business hours (HK time). In addition, they also offer dedicated support plans for OpenCart projects. You can use the dedicated support for long term with monthly payments, or for one-time fixes. Furthermore, you will also find detailed documentation, community forums, developer resources, etc.
WooCommerce offers support mainly through WordPress community forums for the core tool. You will find detailed documentation, tutorial videos, and articles as well. Additionally, you can rely on the large number of maintenance service providers to get prompt help. Also, if you have purchased a premium theme or extension, you will get support for those from the respective developer as long as you renew the license.
Pricing
The cost factor is another important consideration while deciding on a platform. Both WooCommerce and OpenCart are free, open source solutions. So the pricing perspective is largely similar.
OpenCart is a self hosted solution, so you will have to manage hosting, domain name, security, etc., on your own. Also, since OpenCart requires developer support often, you may have to incur some expenses for that. Similarly, if you are choosing premium themes or extensions, you will have to shell out money for that as well. Also, if you want regular support for your OpenCart store, you have to choose a paid plan.
WooCommerce is a free plugin for WordPress, and hence there is no cost involved in getting it, if you already have a functional WordPress site. On the other hand, if you are newly creating a WordPress site, you will have to spend money on a hosting service, domain name registration, SSL certificate, etc. Though there are a large number of free themes and plugins in the WordPress ecosystem, you may have to opt for premium ones occasionally. This too will cost money. If you are signing up for third party support providers that will cost money too.
Hopefully, this OpenCart vs WooCommerce comparison has provided you with a decent understanding of both these platforms. Feel free to leave us a comment if you have a query.
Further reading