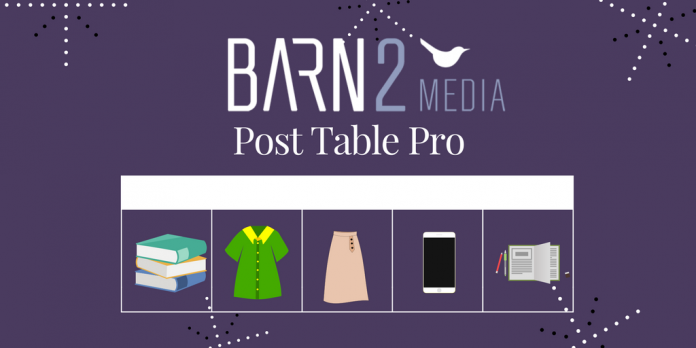 Last updated - November 7, 2018
Post Table pro is a premium WordPress plugin which would help you create custom tables in your site in order to list specific content of your site. The specific content can either be pages, posts or even events. The plugin supports custom posts types too.
You can choose to display any information you would want your users/customers to take a glance at. There's even custom filters which you can add at the top of the table in order to make the task further easier for your users.
When would the plugin be most useful?
You can use the plugin in a number of ways either to create a directory, a document library or knowledge base or just an index for your blog posts. The following points would shed more light to its usage:
Difference between the free and the premium version
The free version can display only the posts unlike the premium version which can display posts, pages, events, customized posts types etc.
The free version with its ability to provide a table view of all your posts along with sorting and filtering option would be an idle solution if you wish to create a knowledge base with all your blogposts/articles.
The premium version further has the following features –
Featured images can be added to the rows of the table.
Custom taxonomies, terms and posts tags can be displayed.
Supports Custom fields & Advanced Custom Fields.
Supports a number of other shortcodes.
How to use the Post Table Pro plugin?
After installing and activating the plugin, enter the product activation key if you are using the premium version.
Then create a "New Page" and add the shortcode [posts_table]
Phew, your post table is ready with no effort!
You can even choose to sort the post in ascending order with the following shortcode –
[posts_data_table columns='id,title,tags,author' sort_by="date" sort_order="asc"]
To know about the further customization using shortcodes, visit the product page.
What other plugins can it be used with?
You can use the plugin with WooCommerce or Easy Digital Downloads in order to list your physical or downloadable products.
As shown in one of the tutorials, the plugin plays well with Pods too.
The plugin can be used side by side with a helpdesk plugin in order to provide the customers with self-help knowledge base.
Further, the plugin is WPML compatible.
Final Thoughts
The plugin is very easy to use and actually doesn't require any technical knowledge to make an effective use of the plugin.
As mentioned above, the plugin can find its use in a variety of ways. Plus, the plugin is fully responsive and the table will automatically adjust itself to the screensize.
The price of the plugin, an amount of $99, would indeed make a worthy investment. Besides we would urge you to go on and download the free version and test the plugin yourself.