Allowing preorders on the store is a strategy adopted by several eCommerce stores. Through preorders, you will be able to understand the demand for a new product that you are planning to introduce to the market. This will help you plan manufacturing schedules to meet the demand. Moreover, you can get early feedback, which you can incorporate into the product easily. In addition, preorders offers a certain assurance in terms of sales even before the product is launched in the market. In this review, we will look at the features and capabilities of Preorders for WooCommerce plugin by Bright Plugins.
Benefits of preorders
When you include preorders as a part of your business strategy, there are several benefits associated with it. Let's quickly take a look at some of the obvious ones.
Get an idea on the demand
When you are launching a new product, you will have certain calculations on the demand for that product. Offering an option for customers to preorder will help in validating these calculations. Depending on how customers are responding to preorders, you will be able to device a manufacturing strategy as well. If the demand is too high, you can make arrangements to source more products.
Get an early marketing boost to the product
Preorders are a great way to spread the word around when you are launching a new product. By offering preorders to a limited number, you can generate an interest around the product.  This will be a boost for the marketing efforts when the product is finally available in the market.
Reduce production risk
Preorders can give you a realistic idea on the demand for a product. Moreover, it will be providing some assured sales before the product is even in the market. The revenue that you earn from preorders can be used for sourcing the products itself. This will be a good way for small businesses who would want to reduce the financial risks they take early on in the lifecycle of a product.
Preorders for WooCommerce plugin offers an option to create and follow up on preorders on your online store. With the help of this plugin, you will be able to engage your existing customers as well as acquire new ones. Moreover, the plugin provides you great control in the pricing strategy of preorder products as well. You can either bill a customer when they place the order, or later when the product becomes available. This will give you enough flexibility in executing your preorder strategy.
Features
Create preorder products by setting up a preorder status on your WooCommerce product types.
Support simple and variable products.
Create a time point to mark the expiry of preorder period.
Automatically turn products into available mode when the preorder period expires.
Send notifications to customers when a preorder product has become available.
Easily manage preorder products with dedicated section on your My Account page.
Option to turn out of stock products into preorder products.
Control the capability of customers to be able to order preorder products along with other available products on your store.
Make price adjustments to products in the preorder period.
Display a variable product as preorder product if all the individual variations have preorder periods associated with them.
How to get started with the Preorders for WooCommerce plugin?
Now, let us a take a look at how you can get started with the plugin. You can install it just like you would with any other plugin. After purchasing the plugin, you can upload the plugin zip file and install it. If you are not familiar with the process of installing a plugin, refer to our article on how to install a plugin on your WooCommerce store.
Once the plugin is installed and activated, you can go to the settings page to configure it.
Go to WooCommerce > Settings > Preorders (The plugin creates a new tab on your WooCommerce settings page.
First, you have to enter the email id and license key. This is important for you to get support and also to receive updates regularly.
Preorder mode
Next, you can choose a suitable preorder mode from a set of options. Here you will have four options as follows:
Treat the entire order as preordered – If you choose this option, your customer will be able to choose a shipping date based on the availability of preorder products in the order. If the availability of a preorder product is one month from the date of purchase, all the items in the order will be shipped together when the preorder product becomes available.
Generate a separate order with all preordered products – This option will treat preorder products different from the products that are available. So, when customers purchase preorder products along with products that are ready to ship, two different orders will be created. One order will be for in-stock products and the other for pre order products.
Generate a separate order for each preordered product – If this mode is selected, again the products in stock will be grouped into one order. And if there are multiple preorder products in that purchase, each of the preorder product will be a separate order.
Order only preorder products or available ones – With this option, you will be able to restrict your customers from purchasing preorder products along with available products. At a time customers will be able to purchase either preorder products or only available products. This might helping in improving the customer experience on your store as delays in shipping can negatively impact customer perception.
Allowing customers to choose a shipping date and custom button text
There are also options to allow the customer to choose a shipping date. This will allow customers to choose a date only after all products in the order become available.
Another aspect that you can configure in the plugin page is the button title for preorder products. In place of the default button text of WooCommerce, you can specify a custom text for preorder product. Here you can enable the option for custom button text and then enter the text in the specified field below.
How to create a preorder product?
Now, let's see how you can create a preorder product on your store using this plugin. Go to Products > Add New.
Start creating a product the way you would create any product. On the Product Data meta box, under the Inventory section you will see the settings specific to this plugin. Here you can enable the preorder option, so that the product will be available for preorders.
You can also specify the exact date and time when the product will become available. In addition, you will find an option to set the product to be sold individually. If this enabled, customers will be able to purchase only one piece of this item in a single order.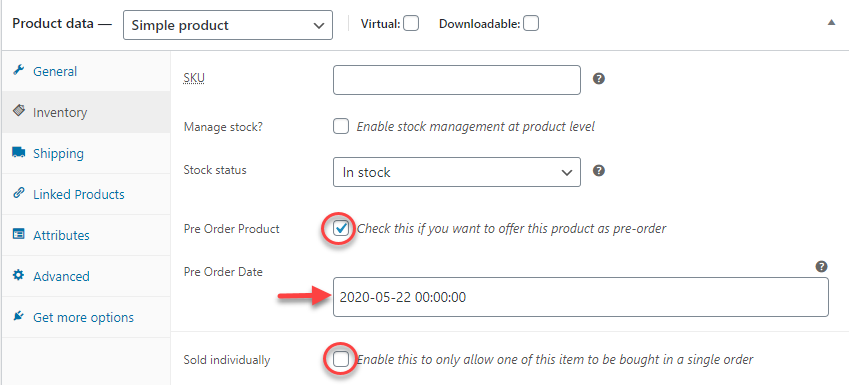 After adding the other details of the product, you can publish it.
Customers on your store will be able to see the product on the Shop page along with other products.
When a customer tries to checkout from your store with a preorder product in the basket, they will be asked to specify a date for shipping. The date range will be after the date on which your preorder product becomes available.
Free version
There is a free version of the WooCommerce Preorders plugin if you want to check it out. The main difference will be that you will not have the flexibility to force creating a new order when a preorder product is purchased. Similarly, the premium version also allows customers to choose a separate shipping method for preorder products.
What we think about the plugin?
If you are looking for a plugin to create preorders for your WooCommerce store, this plugin is surely a worthy option to consider. It is quite easy to set up the plugin, and even users with minimal technical knowledge will be able to configure it easily. The interface has only minimal options, and you will be able to get it ready within a few minutes.
Where to purchase the plugin?
You can purchase this plugin from the Bright Plugins website. The regular price of the plugin is $79 per year. Check out the website for discount offers. After one year, the license will be auto renewed. Checkout the product page to take a look at the features, and refer to the documentation before setting it up.
We hope Preorders for WooCommerce plugin will help you set up an effective preorder strategy on your store. Leave us a comment detailing your experience with the plugin.