Last updated - July 8, 2021
When you are looking to start an online store, you may find a lot of interesting platforms to base it on. However, each eCommerce platform will have its own set of advantages and challenges. The trick is to find the most suitable one for your business by assessing your technical prowess as well as the feature set offered by the platform. In this article, we will compare two popular eCommerce platforms – PrestaShop vs WooCommerce, and try to help you choose the most suitable one.
PrestaShop – Overview
PrestaShop is an open source eCommerce platform that is used by over 300,000 merchants all over the world. It follows the freemium model, and offers a cost effective solution for businesses to create their online store. You can quickly create a store by choosing a hosting plan that offers one-click installation, and then customize it according to your requirements. Moreover, you can easily ensure compliance to the laws of different regions, and effectively market your products. Furthermore, with support for multiple currencies and languages, international sales will be a breeze on the platform.
WooCommerce – Overview
WooCommerce, as you know, is one of the most popular eCommerce platforms in the world. It is a free plugin for WordPress, and offers all the essential features that you need to get a store up and running in quick time. You need to sign up with a hosting service provider and register your domain name to set up your WordPress site. However, once this is taken care of, WordPress and WooCommerce is extremely easy to configure. You can make design customizations using numerous themes, and make feature extensions easily using plugins.
PrestaShop vs WooCommerce
Now, let us look at how both these platforms compare with each other in a head on comparison.
Ease of use
How easy to get started with a platform will be one of your concerns, especially if you are not that tech savvy. Both these platforms offer easy options to get started. PrestaShop lets you choose a hosting service when you start, which has easy installation options. In case you want to go for the manual install, you can use a separate hosting service and download the zip file.
On the other hand, WooCommerce is extremely easy to get started with if you already have a WordPress site. However, if you don't have a website, you may find the initial steps a little elaborate as you have to make arrangements for hosting and domain name registration. To make this easier, you can opt for a managed hosting option from one of the WooCommerce recommended hosting options.
Once the initial configuration steps of the store are done, both these platforms offer a very user-friendly interface to work with. You can easily configure different aspects of your store such as payments, shipping, etc., according to your strategy.
Design
PrestaShop handles design in a similar manner to WordPress. You can easily customize the design aspects of your site with the help of premium themes available in their theme catalog. At the moment, you will find more than 2500 themes spread across varied categories such Fashion, Art, Electronics, etc. Please note, most of the themes available in the PrestaShop theme catalog is premium starting from 59.99€.
When it comes to WooCommerce, there are numerous themes available from different sources. You can get a range of premium themes from the WordPress theme directory, and you will find a lot of premium themes in sites like Themeforest. WooCommerce itself offers a free theme called Storefront, with several premium child themes for different industries. Most of the WooCommerce-compatible themes on WordPress also allows further customization and are compatible with page builder plugins.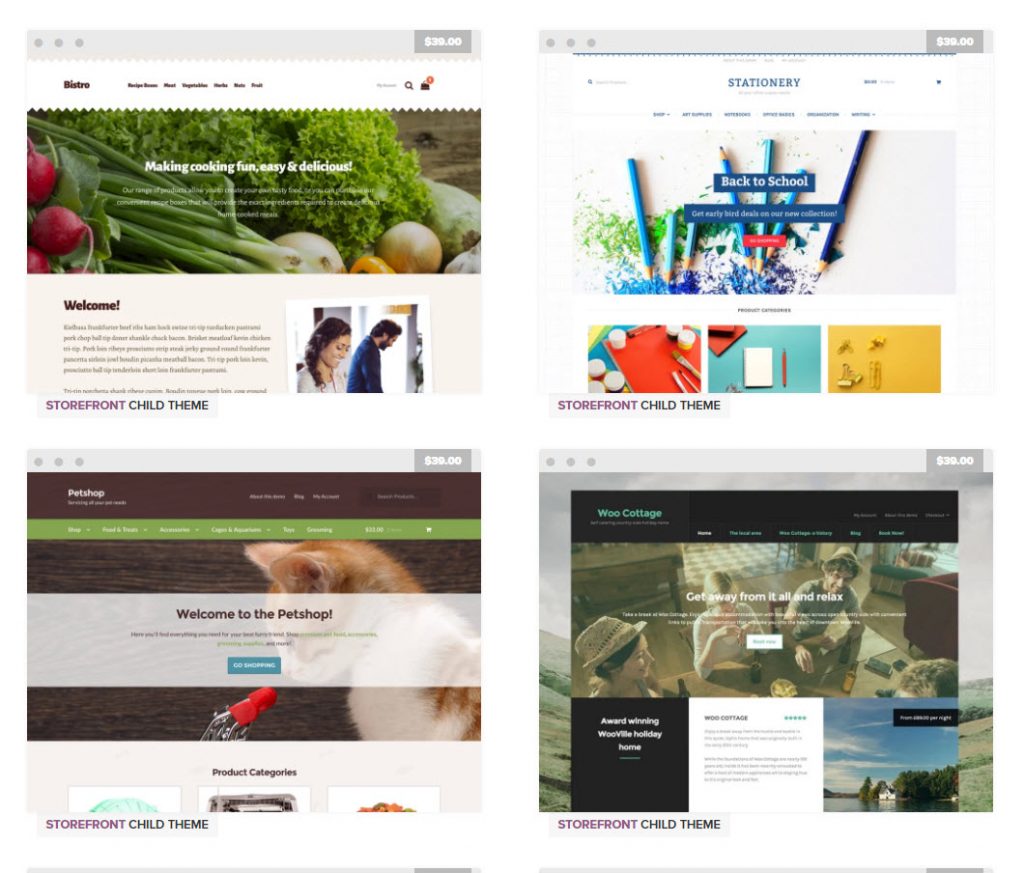 Customization
PrestaShop offers extensive customization through the backend. You will find user-friendly options to manage the product catalog, customers, customer service, analytics, payment and shipping. In addition, you will be able to search for extra modules and add-ons as per your requirement. In this regard, PrestaShop is more or less similar to WordPress and WooCommerce. You can find a lot of options to customize your site in the PrestaShop Official Addons marketplace.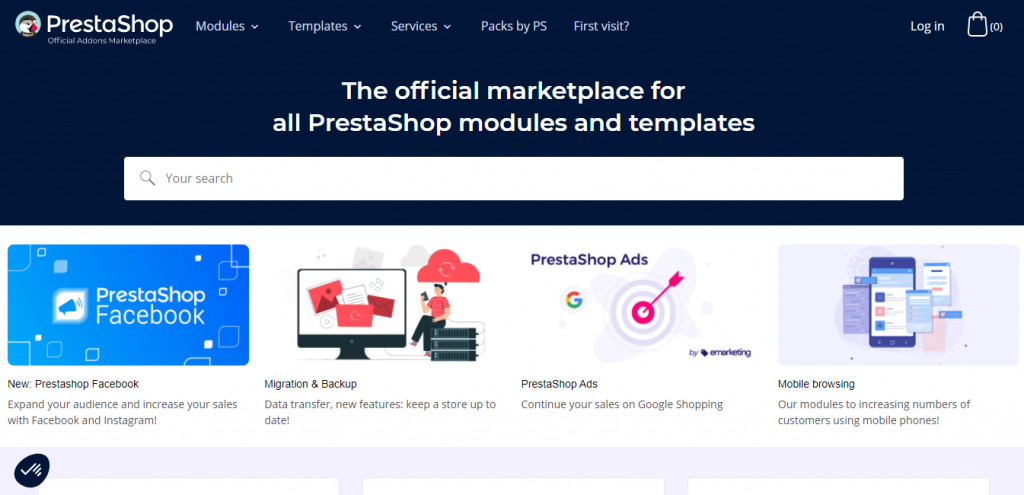 WooCommerce has become extremely popular among store owners owing to the wide range of customization options that it offers. You will find a plugin to customize every single aspect of your store management. WooCommerce itself has a great extensions store with free and premium plugins in a lot of categories. In addition, you will find a lot of WooCommerce-compatible plugins in the WordPress plugin repository. Furthermore, third party developers like YITH and ELEX, too offer high quality extensions for WooCommerce.
Payment gateway integration
The availability of payment gateway integration is one of the concerns when you start an online store. Both PrestaShop and WooCommerce offers ample choices in this regard.
PrestaShop offers a payment module called PrestaShop Checkout, powered by PayPal. Using this, you will be able to accept payments through cards as well as through other means like PayPal. Moreover, you will be able to selectively provide access to different local payment providers as well. Furthermore, you will find over 250 different modules to customize payment features on your store as well.
WooCommerce offers great flexibility in payment gateway integration as well just like it manages other aspects. You will get offline payment methods such cash on delivery, bank transfer, etc., by default. And, you can easily integrate different payment gateways such as PayPal, Stripe, Authorize.net, Apple Pay, Google Pay, etc., easily through plugins. If your store is located in the US, you can accept payments through card using the WooCommerce Payments extension as well.
Security
Since PrestaShop and WooCommerce a re both open source solutions, they way they handle security is somewhat similar. You will have to choose a reliable hosting service, regularly update the software, and use security extensions. Also, you need to get an SSL certificate to ensure data encryption for both. You can also easily ensure PCI and GDPR compliance for both the platforms as well.
SEO and blogs
Both PrestaShop and WooCommerce are SEO-friendly platforms. You will be able to make your product pages easily discoverable with optimized titles, descriptions, meta tags, etc. Moreover, you will be able to easily integrate SEO and analytics tools with both platforms. However, one major difference is that for a WooCommerce store, you will also have the reputed blogging platform available by default. In the case of PrestaShop, you will have to install an additional module to set up a blog in your store. This could prove to be a slight disadvantage for PrestaShop users.
Customer Support
You may definitely want to know how easy it is to get support for both these platforms.
PrestaShop, since it is an open source platform, has a vibrant community supporting it. There are also extensive documentation to help you configure different aspects of your store. Furthermore, if you need technical assistance, they offer different packages according to the complexity of your issue. You can check the website for more details on PrestaShop support.
WooCommerce primarily offers support through WordPress community forums. Since it is the world's most popular eCommerce platform, resolving issues could be relatively easy. You can also request help from their support team, who will classify your request based on your need and provide solutions through email or live chat.
Pricing
Both PrestaShop and WooCommerce are free solutions, which you can download and install on your own. The initial pricing aspects too are somewhat similar, as you will have to pay for hosting and domain name registration. However, the differences are more visible once you start using them.
PrestaShop is comparatively more expensive to maintain since you have to depend on premium modules for customization. Even to integrate a blogging platform, you will have to get a premium module.
WooCommerce on the other hand gives you the flexibility to run your store with minimal additional expenses. Thanks to free themes and plugins available in the WordPress environment, you will find WooCommerce to be a more cost effective solution between the two.
Hopefully, this direct comparison – PrestaShop vs WooCommerce has given you a better understanding about the advantages and challenges of both platforms. Choose one that suits your business model best. Leave us a comment if you have a query.
Further reading