Description
Last updated - July 22, 2021
Customers are fond of personalized designs. They would definitely enjoy the shopping if they can purchase products with a design chosen by them. Also, if you are a store owner who sells customized products, it is necessary to provide options for customers to choose a custom design or text from their side. 
The WooCommerce Product Designer plugin will let your customers choose a design, or add an image, text or QR code from their end to be printed on the products before adding them to the cart. This plugin is an ideal option for merchants who sell T-shirts, cups, posters, etc. The final product with the design will be shown to customers for taking a confirmation from their end.
Its simple, yet robust interface allows you to integrate the plugin with your WordPress-WooCommerce store without any complexity. Also, you will be able to add predefined images from which customers can choose a desired one. 
When it comes to physical products it is necessary to mention the sides and areas of products to print the images or texts. With this plugin, the customer can choose the product side.( For example, choose between the front side or the backside of a T-shirt to get the images or text printed.
1. Allows Extensive Customization of Products
Let your customers personalize products by changing the product's size, the position of design, text colors, default clip-arts, background image, etc.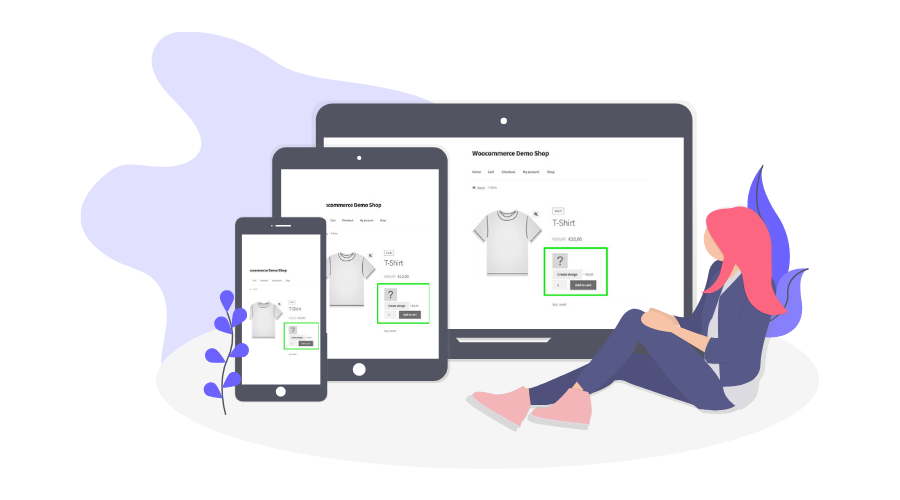 2. Efficient Responsiveness
Customers might shop through their mobile phone, tablet, or desktop. This plugin will let customers design the products seamlessly on any device without any barriers.
3. Open for Customization
If you are good at CSS and JavaScript, customize the plugin to increase the scope of your business.
4. Performance & Compatibility
The plugin avoids boring loading time and allows customers to design right after they click the button to create a design. Also, the plugin's workflow will not be affected by any compatibility issues with other plugins in your store.