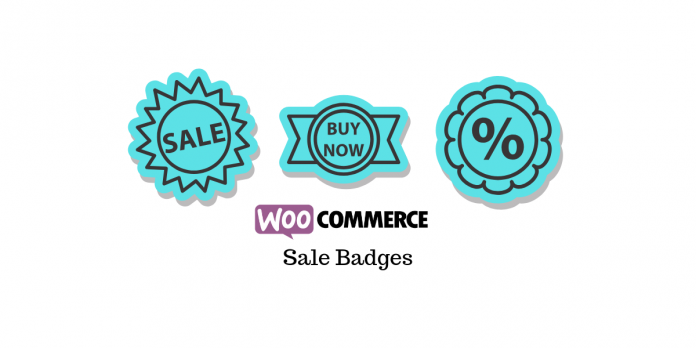 Last updated - February 24, 2020
Adding promotional badges (eg: %Free, New, Hot, Sale, Offer) on your online products captivate the attention of your customers, and make it easy to distinguish what's new on your store, the offer you are running, trending products and so on.  It not only fascinate the customers to the product you want to sell the most and enhance conversion, but also make your web shop look more informative, well sorted and attractive.
If you own any kind of eCommerce website and want to make it more effective, using promotional badges can be a promising strategy. 
So, here we have come up with a short tutorial on how to add seasonal promotional badges on WooCommerce products in 4 easy and quick steps. Before getting started with tutorial, check out the major benefits of using promotional badges on your WooCommerce stores:
Highlight the specific products that you want to sell the most

Help customers to make quick purchasing decision

Creative way to tell your customer what you have

Increase conversion with less effort

Cheap yet efficient marketing strategy
4 Easy Steps to add promotional badges on WooCommerce products
By default, WooCommerce comes with inbuilt feature to add "SALE!" badge on your products. However, you cannot change the label of the badge to specify your offers in detail. Also, the customization options provided by the default WooCommerce badge is very limited and you may not be able to display the badge the way you want. So, in order to add beautiful promotional badge for your Woo products with custom label and design, you might consider using the WooCommerce badge plugins available. These plugin comes with different badge layouts and limitless customization options. 
Here, in this article, for this purpose we will be using one of the most feature-rich WooCommerce Badge Manager Plugin – Woo Badge Designer. It is a premium WordPress plugin that lets you design responsive promotional badge and add them to your WooCommerce products for any type of sales, offers, discounts and many more.
Some of the Great Features of Woo Badge Designer:
60+ Text Background and Image Background Templates

Set Text, Icons or Both on Badges

6 Different Position to Display Badge

Add Countdown Timer Along With Badges

10 Predesigned Timer Templates

6 Different Position to Display Countdown Timer

Badges Customizability

Set Multiple Badge on Each Product
Live Preview | Details | Purchase | Support 
Adding Promotional Badge on WooCommerce Product Using Woo Badge Designer:
Now let's get started with this tutorial and create some attractive promotional badges for your WooCommerce products:
Step 1:
The first thing you do is purchase Woo Badge Designer from the CodeCanyon marketplace at a reasonable price of $24 and install and activate it on your WordPress website. 
Step 2:
Upon activation, you will see "Woo Badge Designer" on the left menu of your admin dashboard. Click on it to continue.
You will land to the "All Badge" page of the plugin. It stores all the WooCommerce badges you have created to date using the plugin.
To add a new promotional badge for your Woo product, click on "Add Badge" button. 
Step 3:
You will land to the "Add New Badge" page of the plugin. It contains all the options available to configure and customize the badges for eCommerce shop. Firstly, give the name for the new badge. Then, go for the setting tabs to start creating beautiful WooCommerce badge for your WordPress website. The settings tab include:
Note: The plugin is built with a live customizer. Therefore, you can see all the changes that are happening live as you create the badge. It will help to preview the badges before making them live on your online WooCommerce store.
Badge Layout:
This setting tab contains all the display options of your WooCommerce badges. You can set the position of your badge on any of the 6 inbuilt badge positions provided by the plugin. Besides, you can also set background type of your badge and choose your background templates from any of the 60 predesigned text templates and image templates.
Additionally, you can also set the badge type and add custom text and select the custom icons from the icon pack available on the plugin.
General Settings:
The general settings tab will enable you to configure the custom design of your badge. The custom designs include Title Color, Badge Background Color, Badge Corner Background Color and Font Size. 
Note: The background color and badge corner background color is applicable for text background only.
So, choose the most suitable color and font size for your WooCommerce badge.
ToolTip Settings:
Here, you can enable the tooltips to display short information on the badges. You can add custom text and choose the custom color and background color for your tooltip.
Count Down Timer:
This setting tab will help you add the count down timer to set the end time for any type of sales or discount offers. 
You can set the expiry date and time from the inbuilt calendar and choose any of the 10 beautifully designed timer templates.
Also, you can choose any of the 6 positions to display your timer and add the custom text and color for the timer.
Step 4:
After you have completed all the customization, click on the save button to save your badge. Then, you will be able to see the badge like the one below in the pic on your WooCommerce products.
Conclusion
This way, you can add promotional badges on the WooCommerce products of your online store. These badges can display your offering in a unique and attractive way on the product listing. By doing so, you can attract more potential buyers, get more click-throughs and boost the sales of your product. Research says such badges on your WooCommerce store helps you increase sales upto 55%. So, go ahead and add product badges in your Woo Store and boost your sales – good luck!