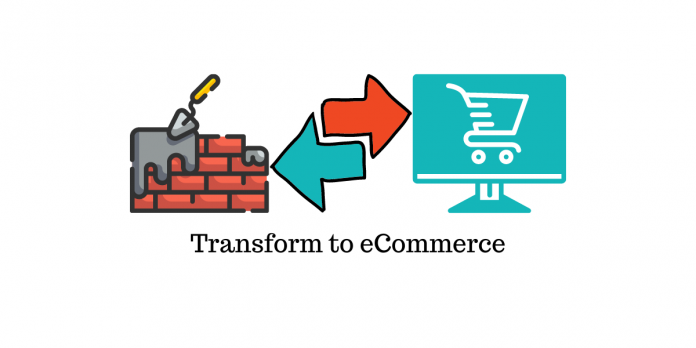 Last updated - July 8, 2021
Moving from a brick-and-mortar store to an eCommerce site is something many businesses are opting for lately. Between the exponential rise of online shopping and the pandemic that swept everyone off their feet — going online has never made more sense than now.
The best part is, it is not only the retail brands that are setting up online stores. Many traditionally offline businesses are looking to go digital out of necessity. For instance, gyms are helping their customers work out via online fitness classes and nutritionist appointments.
Local grocery stores that relied on the footfall from the residential areas close to them have chosen the mobile route and created apps to allow their customers to keep shopping from them in such uncertain times.
Even industries such as banking have updated their virtual capabilities to serve clients online. Companies in accounting, law, and consulting also adapted quickly to the online model because they generally serve clients off-site!
If you are also thinking of a Transition To eCommerce but do not know where to start, fret not! This article aims to help you with everything you need — from sorting out a website and promoting it to joining hands with the right fulfillment partners. Here we go:
1. Choose the right eCommerce platform
Arguably, this is the most critical decision you will take while setting up your eCommerce store. You cannot offer to set up a shop on a platform which is not favorable from aspects such as personalization, payment, safety and so on. After all — that is the place where your products will be sold. In this case, there are three routes to choose from:
Build your website from scratch

Customize a storefront theme on Shopify or BigCommerce

Go for a third-party marketplace such as Etsy
While the first option can be costly, selecting a third-party marketplace can help you sell your products without setting up a store. The only drawback is that sites like Etsy charge a 5% transaction fee on the sale and shipping price.
If you are keen to do a bit of customization in terms of site experience, payment options, and domain URL, go for the second option. Your hosted eCommerce platform will take care of technical aspects such as product listing, checkout experience, and inventory management.
2. Set up your online store
Once you have chosen the platform, it is time to get the nuts and bolts in order. First things first: get beautiful pictures clicked of the products you plan to sell on your eCommerce store. Categorize them properly so that your customers do not have any problem browsing through.
If you have too many products to sell and do not wish to put them all up for display, that is okay. Start with your bestsellers and go from there. Write product descriptions in an informative and compelling fashion. Convey the most crucial information first — no fluff, please!
If you have too many products and you or your in-house team does not have the time to manage and upload them online, take external help.
3. Fix your pricing and payment options
In eCommerce, you also have to take care of sales tax and shipping costs, and so it is possible you might not be able to sell the products at the same price as before. Use tools such as Avalara to figure out taxes for different states in your country.
There is a simple formula to price your product, i.e.,
Selling price = [(Cost of item) ÷ (100 – markup percentage)] x 100
Do not forget to add shipping costs in this amount, as hidden shipping charges are a big reason why shopping carts get abandoned in eCommerce. You can do the math on this brilliant break-even analysis sheet.
Of course, you can always get creative with discounts and offer your customers a coupon code for their next purchase.
4. Market your online store rigorously
Since your business is online, you need to leverage multiple digital marketing techniques such as newsletters, social media, paid ads, and SEO to maximize your store's reach.
First of all, your messaging should emphasize that you are open to serving as many customers as possible. Online or not, you are there for them 24/7!
Secondly, please make sure your entire site is optimized for essential keywords. If yours is a local business, you need to focus on ranking for locally-used keywords. Use platforms such as Ahrefs and Semrush for optimal keyword management.
Do not forget to send newsletters to existing customers telling them about the big launch. But that is not — start a regular newsletter to share product and company updates with your online community. MailChimp, Aweber and SendGrid are good email tools to get started.
Social media is a great tool to engage with potential customers and also address grievances if any. Are you launching a new product range? Blast it across social media. If the budget permits, you can run a Google Adwords campaign to reach a wider audience online.
5. Sort out your logistics
From inventory management and packaging to order fulfillment, a lot needs to be done once customers start shopping from your online store. The most vital element about operating an online business — after all — is to get the orders to the customers. And they are looking at receiving a delightful shipping experience from you.
Therefore, here are a few supplies to help you started:
An inventory management app such as

Inventory Now

and

Stock Control

A printer for shipping labels and invoices [although you can go gree]

Packaging [opt for renewable materials such as recycled paper or cornstarch bubble wrap]
When starting, choose any shipping platform such as ShippingEasy and Shippo. These companies can connect you with the most popular delivery partners and help you access discounted UPS, FedEx, and USPS rates and print labels hassle-free.
Wrapping it up
Lastly, take customer service seriously. Whether it is via phone, chat, or email, your customers will want to talk to you and raise concerns if they are not happy with the shopping experience. Social media is another platform where customers actively pose their grievances. So, please make sure you act on their complaints promptly.
Despite all the tools and support, moving your brick-and-mortar store online can be an overwhelming process. The easiest way you can make this transition smooth is by planning every detail of your business properly.
Set a deadline but be realistic about launching it. You already know what your customers want. Use that insight to offer the best experience possible online. Good luck!
Further reading