Last updated - January 31, 2023
The average global cart abandonment rate was close to 70% in 2017. This is a huge number considering the possibility that you can convert these into sales. We have already discussed the huge opportunity for shop owners in abandoned carts in another article. There are several strategies that you can employ to recover abandoned carts so that there will be a considerable boost in your store revenue. In this article, we will discuss some of the strategies that you can employ to recover the WooCommerce abandoned cart. Along with that, we will also discuss some of the effective and popular tools that you can install on your WooCommerce store.
Tools to help you recover WooCommerce abandoned cart
You will find a variety of tools to help you recover WooCommerce abandoned cart. These may vary in their strategies, as some are on-page and some off-page. An intelligent mix of different strategies should be able to help you recover quite a lot of your abandoned cart.
It will be a great boost to your store conversion rate if you are able to recover a percentage of abandoned carts in your store. You can use the ELEX WooCommerce Abandoned Cart Recovery plugin to send professional cart recovery emails to customers at regular intervals. The plugin helps you consider an order as abandoned only during a specified time range that you configure in the plugin settings. This makes it extremely helpful to avoid spamming customers.
Feature highlights:
Send cart recovery emails to customers at specific intervals.
Automate and refine the process by triggering emails only when specific conditions are met.
Include discount coupons in the emails to entice customers.
Professional email templates to reduce the burden of creating cart recovery emails.
Extensive reporting features to take informed decisions for cart recovery.
A single site subscription of the plugin can be purchased for $79.
As a WooCommerce store owner, you already know how to effectively use reporting data to experiment with new store strategies. This extension provides an option to get real-time reports on your customer's carts. It will enable you to find patterns in customer behavior and gain insights into both conversions and abandonment. Depending on what you find in your store, you can work on strategies to improvise.
The plugin offers dashboard widgets that help you take a look at real-time reports quickly. And, you can choose the date range to view detailed reports of your customer's behavior on the cart page. You will be able to view the contents of each cart and the time it was updated last. It also provides you an option to contact the customers who have abandoned their cart but logged in.
It is pretty easy to install and manage this plugin. Once you activate it, it creates a new tab for Carts in the WooCommerce reports section (WooCommerce > Reports). You can get comprehensive reports on your open, converted and abandoned carts. This way you will be able to analyze and spot any specific reason for higher numbers in any particular cart. There are also two dashboard widgets that will help you get a quick perspective on what is happening on your cart in real time. The data includes lifetime cart activity, activity for two days, and what is happening right at this moment.
The single site subscription of the plugin is $79, 5-site $99 and 25-site $199.
Customers reaching the checkout page is a big deal for an eCommerce site. That means the user has passed through different stages of the sales funnel and reached somewhere pretty close to conversion. A small motivator here might help avoid the possibility of cart abandonment and improve the chances of conversion. Cart notices from the store can totally help customers to take a decision when they are on the checkout page. In fact, the actionable messages that you display as cart notice will help improve the customer experience. And, if strategically used, it will help you increase the average order value too.
With the help of this plugin, you can create dynamic notices on your Cart and Checkout pages. In addition, with the help of shortcodes, you can place these notices on the designated areas on other pages as well. A single site subscription of this plugin would cost you $49. For 5-site and 25-site subscriptions, you need to pay $79 and $149 respectively.
Different scenarios for Cart notices
The display of these notices can be controlled by different criteria that are applicable to a customer's cart. Let's take a detailed look:
Message based on order amount – You can provide a message based on the order amount of the customer. For example, if the Cart value is $85, you can display a message like "Shop for $100 to avail Free Shipping". This has a high potential to improve the average order value.
Set a timeline for purchase – Creating a sense of urgency in the customer's mind while at Checkout can help a lot in preventing Cart abandonment. For example, if a customer has a sale item on the Cart, you can show a message like "Complete your purchase within 10 minutes to avail of the special rate".
Provide a personalized order – You can offer customers personal offers based on where they came from. For example, you can display something like "Avail special discount for our Facebook followers with coupon code FB20!", if the customer came from our Facebook page.
Cross-sell based on the product or categories – Depending on the product in the Cart, you can cross-sell other products available on your site. For example, if a customer has a camera on Cart, you can very well offer a camera case at a special rate. Similarly, you can suggest another category of products as well. Like, as inviting a customer who just bought a blazer to check out your collection of neckties.
One of the very efficient off-page strategies to recover abandoned carts is to send follow-up emails to customers. Continuous engagement with your customers and prospects would help you recover abandoned carts considerably. As a result, you will see your conversion rate improving too. Apparently, follow-up emails are one of the most effective marketing strategies that you can try. This powerful WooCommerce extension helps you send follow-up emails as well as tweets to your customers.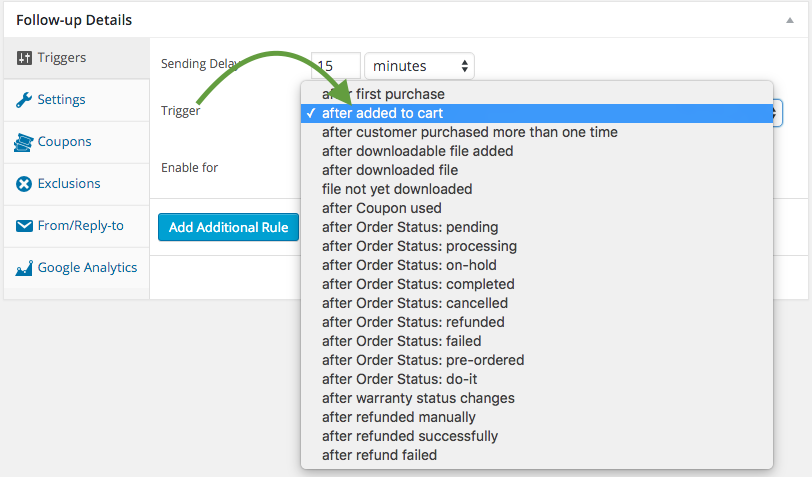 The plugin helps you measure the success of your email campaigns too, by providing detailed reports. It automates your marketing communication so that you can focus on implementing other interesting store strategies. Follow-Ups also allow you to customize each of your templates so that they look different and professional. Moreover, it makes sure that you don't miss any communication by offering options for prompt reminders.
You can use this plugin specifically for recovering abandoned carts. Basically, after creating your email, you need to set a trigger 'after add to cart, and then choose a time delay. The sending delay should be the time that you assume is too long to complete a purchase. Also, it has an option to make sure that you are not sending the mail to a customer who did purchase the product. You can set this up for specific products or categories or for all the products in your store.
The single-site subscription of the plugin would cost $99. 5-site license is available for $149 and the 25-site license is available for $249.
Similar to Cart notices, another effective on-site conversion targeting option is displaying a pop-up. Compared to notices, these are more conspicuous and hard to miss. Basically, you can recover up to 15% of carts that are about to get abandoned. Optimonk uses exit intent technology to determine when a visitor decides to leave your site. And, it will display a targeted offer to this visitor to increase the chances of engagement.
It allows great scope in A/B testing of your site with different content, designs, layout and structure. You can target specific customers or groups with interesting offers and discounts. And, you can decide on the timing of a pop-up to maximize the results. Moreover, you can measure the effects of your every effort and take appropriate actions. Optimonk integrates perfectly with WooCommerce and other marketing tools like MailChimp.
Their pricing plans start at $29 per month, which can be used for a site that has 5000 monthly visitors. They also offer a 14-day free trial, where you will be able to try out all its features.
Strategies to recover WooCommerce Abandoned Cart
There are several strategies to try and recover the rising rate of cart abandonment. One of the best ways to make sure customers, when they are on your site, don't abandon carts. Here we will discuss a few strategies that you can try out to prevent customers from abandoning cart when they are on the page. After that, we will find out some more tricks to get them back after they've left your site.
Display reviews and recent sale notifications
We know for a fact that reviews play a major role in shaping purchase decisions on online stores. So you need to have authentic reviews of your products displayed effectively on your product pages. Eve featuring some of the really good ones on the home page too will be helpful to improve conversions. Read our article to understand some of the best WooCommerce product review plugins that you can use on your site.
You might have seen notifications on many eCommerce sites saying "someone from this particular country just bought one of our products". This can be a motivating factor for users who are on your site to go ahead with a purchase. It is simply a psychological push that assures the user about the demand and usability of your products.
Ensure the checkout is smooth
You need to ensure your customers are not having a hard time checkout from your site. The checkout needs to be optimized to ensure a hassle-free checkout. One of the simple measures you can take on your checkout page is to allow a guest checkout along with registration options. In fact, before being a customer, many users would be doubtful about giving you their data. However, once they make a purchase through guest checkout, naturally you can ask them to register. More importantly, if you have options like shipment tracking and order history on the customer profile, most customers would want to register post-purchase.
You can read a few tips to ensure an optimized checkout on your WooCommerce store here.
Option to remind about cart items and create a wishlist
Very often users are browsing an online store not to buy, but to research for a later purchase. They might even add items to the cart to see the entire cost, shipping options, etc. Naturally, they are going to abandon the cart this time and going to come back later. You can send timely reminders informing them about items in the cart. In a lot of cases, this will help to improve conversions to your store.
Another good strategy would be to give an option to customers to add products to a wishlist. If they don't intend to purchase now, they can always come back later. You will have an idea of the specific interests of your consumer base as well. Probably, you can take some insights from the wishlists, for better stock management as well. Here is an article that will give you more information on WooCommerce wishlist plugins.
Exit intent popup and cart notifications
We have discussed these two strategies above in the article with two plugins – Cart Notices and Optimonk. Both are potential options to make your visitors stay a little longer on your pages and go ahead with a purchase. However, you may have to create some well-targeted offers and cross-selling options that are capable to convert.
Send follow-up emails
This is one of the simplest of strategies to recover abandoned cart. However, it has been proved to be one of the most effective as well. As discussed above, you can use the WooCommerce Follow Ups plugin to effectively target abandoned cart. The more you can personalize the email, the better your chances of conversion.
Conclusion
Cart abandonment is somewhat of a natural phenomenon on eCommerce sites. This is because not all visitors come to your site with the intent to purchase. However, it presents a great opportunity for real-time promotional strategies as these visitors are on your site. There are several tools that you can make use of to improve conversion rate and reduce cart abandonment. Hope this article has provided you with some actionable tips to recover WooCommerce abandoned cart. If you wish to share a specific strategy that worked on your site, please leave a comment.
Further reading