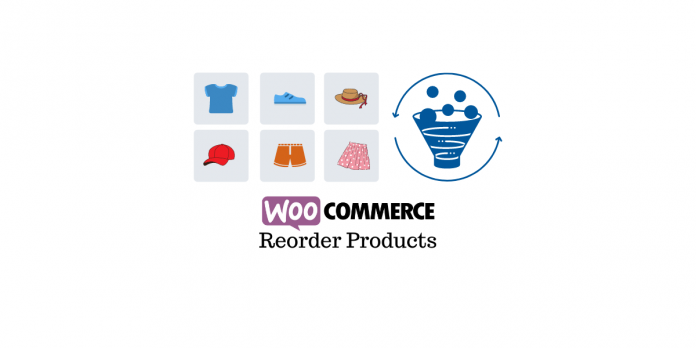 Last updated - May 27, 2021
As a WooCommerce store owner, you will be interested in different conversion optimization strategies. The order by which products are displayed on WooCommerce store could play a major role in conversions. In this article, we will discuss some of the ways to reorder products in WooCommerce.
This article is about rearranging products in your WooCommerce store. If you are looking for an option to let customers make repeat purchases, you can check out our article on WooCommerce repeat order plugins.
Default product sorting options of WooCommerce
With the default options of WooCommerce, you can reorder products in three ways. Let's see more.
WooCommerce Customizer
Access the WooCommerce customizer through Appearance > Customize >WooCommerce. Then go to the Product catalog section. Here, under default product sorting, you will find five options to set the default product display order.
These are:
Default sorting with custom ordering and name.
Popularity (sales)
Average rating
Sort by most recent
Sort by price (asc)
By price (desc)
Customers too will be able to change the order of display from the frontend. Here the display labels will be slightly different than what you see in the backend.
They are:
Default sorting
Sort by popularity
Sort by average rating
By latest
Sort by price: low to high
Sort by price: high to low
Custom ordering of the product list
Now if you have selected Custom ordering, you will be able to change the order from your product list. Click 'Sorting' and then drag and drop products to reorder them according to your custom requirement.
Reordering individual products
WooCommerce offers an option to specify a custom ordering position for individual products in the Product Data meta box. You can choose from '0' onwards with 0 getting the highest priority. If there are multiple products with the same priority, they will be arranged by alphabetical order.
Extra product sorting options
You will be able to manage additional product sorting options with the help of plugins. You can add new sorting options such as on-sale products first, reverse alphabetical order, review count, stock quantity, custom meta field, etc. In addition, you will be able to rename 'default sorting'. There are plugins that will help you remove the default sorting options of WooCommerce. Here we take a look at a couple of interesting plugins that lets you add extra product sorting capability to your WooCommerce store.
With the help of WooCommerce Extra Product Sorting Options plugin, you will be able to extend the default product sorting capabilities of WooCommerce. The plugin helps you set a custom name for the Default Sorting option displayed in the frontend. This will help in improving the user experience on your site. In addition, you will be able to include several extra product sorting options thanks to this plugin. Some of the extra options that are added by this plugin are:
alphabetical and reverse alphabetical order
display on-sale products first
sorting based on availability of products and inventory status
sorting based on the number of reviews
Furthermore, the plugin helps you remove some of the core product sorting options of WooCommerce. You can install the plugin, and make modifications effortlessly using the WooCommerce customizer. Also, it is free to download from the WordPress plugin repository.
The WPFactory More Sorting Options for WooCommerce plugin offers a wide range of features to help you supercharge product sorting. It helps you rearrange, rename and remove sorting options, as well as create additional ones. The plugin offers more options in the product display settings and you will be able to rename any of the existing sorting options easily. There is a large range of custom sorting options available with the plugin, so that you can enhance the sorting options in an elaborate manner. Another advanced feature of this plugin is that you will be able to remove the sorting options altogether from your site's frontend.
Features
Wide range of custom sorting options such as SKU, stock, meta fields, etc.
Rearrange sorting options.
Rename the default sorting options of WooCommerce.
Remove sorting options entirely from your site's frontend.
You can get a single site license of this plugin with one year of support and updates at $29.99. For lifetime updates and support, you can purchase the version costing $49.99
We hope this article has helped you understand how to reorder products in WooCommerce. Feel free to leave us a comment if you have a query.
If you prefer a video version, please check out the video below:

Further reading