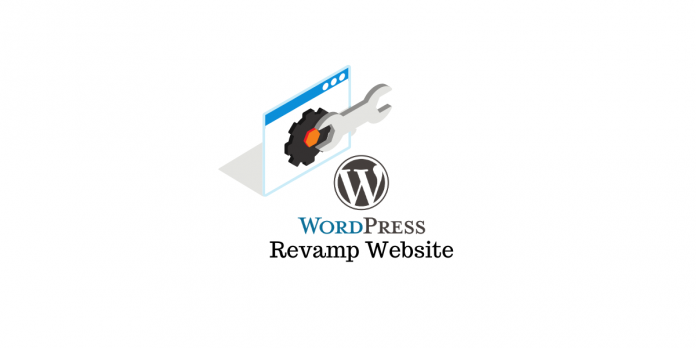 A website's presence is quite dynamic, and utilizing a similar layout results in losing potential clients. Similar to the feeling provided by a new makeover, changing your website's design provides your business with a fresh face in the market. Besides revamping the website, people should ensure that they've fixed the internal server errors as well. 
It is necessary that your website is easy to navigate through. Revamping stands for keeping WordPress to date and making sure your website isn't outdated. The website's theme and color must keep up with the trend. If you feel that your website fails to keep up with the trend, it's time for your website to undergo a transformation. 
Effective ways to revamp WordPress website
Altering the design elements
One can alter several design elements on their WordPress to make the website more appealing. This can be achieved by keeping the typography of your WordPress updated. Utilize the latest font styles and make use of tools like Metro UI for color suggestions. Every color highlights a particular feel and, therefore, it's best to use colors that are relevant to your website genre. 
Inserting moving widgets to the website's footer is currently in trend as well as making sure that your website's security is up to date. Website owners can further include sliders on their website; this solely depends on the genre of the business. Slider WD is currently utilized by a multitude of websites these days. Additionally, you can also make the following changes: 
Keep your FAQs page updated regularly with relevant information. Avoid any obsolete data from your website. 

Include numerous platforms where viewers and customers can get in touch. 

Modernize the layout of your Contact Us page. 

Utilize UI kits as they do not consume lots of time while boosting your website's functionality and performance.  
Call to action aka CTA
CTA buttons must be customized to generate the kind of information you wish to collate. It should coordinate with your business motives. The CTA buttons on your website should be altered every time there's a change in business priorities. Several call to action buttons can be downloaded for free through online sources. 
Ensuring an overall coverage of social sharing buttons adds credibility to your site. This way, websites can lure in many potential clients by enhancing and expanding their social media presence. Website owners should keep their social media pages updated and incorporate links to their WordPress website. This will improve your website's internet traffic. Moreover, making use of the right CTA buttons outline your company's brand value. Plugins like the Google Maps WD and Calendar WD are quite popular and provide great assistance to website viewers.
Update WordPress theme & content
Your WordPress theme has a massive impact on luring in visitors. It is crucial that the theme matches with your business purpose. Several WordPress themes are available and can be purchased at low rates or even for free. Keep a check on your theme and change it whenever necessary with time. Website owners are also responsible for staying updated with ways to resolve WordPress's internal server error as this causes disturbance for the people visiting your site. 
You can make changes to your content to avoid any form of grammatical blunders while delivering a good readability score. Only publish matter on topics that are in trend and assure that precise information is being conveyed. Keep your blogs and articles short while covering every necessary matter. Furthermore, utilize infographics, animations, photos, and relevant links to spruce up your content.

Insert images optimally
Site visitors generally react to images more than simple texts. This can be seen through social media platforms like Instagram and Pinterest. Pictures connect better with people and convey your brand purpose more authentically. Without inserting images in your articles, readers might not continue till the end and get bored halfway. There are also chances that they'll switch to other sources even though your piece is more informative. 
Your website should have images that are relevant to the information it's providing as this serves to be more appealing to users. However, avoid publishing too many pictures as it'll portray a cluttered look. Make use of high definition images that do not have any copyrights. A simple plugins such as Photo Gallery can be used to add photos and galleries to your website. It is also vital that your WordPress security is tight through modern procedures. 
Make use of trendy icons 
Even though WordPress icons are quite small, they serve as shortcuts to lengthy instructions. Placing them appropriately is important as this will enable users to make use of their services easily. Conduct in-depth research on which icons should be incorporated with your website's complete layout. Use fresh, updated, unique, and attractive icons to enhance the visual appeal of your website. 
A company/brand logo is a significant tool that should be utilized appropriately as it communicates your brand's credibility through a solo symbol. Website owners should also not overdo their WordPress with unnecessary icons. Too many icons can make it difficult for users to navigate through your website and find what they're looking for quickly. Everyone wants to find what they're looking for easily without any hassle, and several icons can create confusion and a mess. 
An overview of the matter
Making sure to revamp WordPress website while ensuring its customer-facing aspects are functional is essential for your business. If your website's layout is old school, it'll lure in fewer visitors and wouldn't appeal to them much. Not only is it important to know how to prevent your WordPress from being hacked, website owners should utilize a multitude of modern icons, CTAs and themes to keep up with the trend. Possessing an outdated website would not benefit anyone and would hinder the growth of your business presence online.