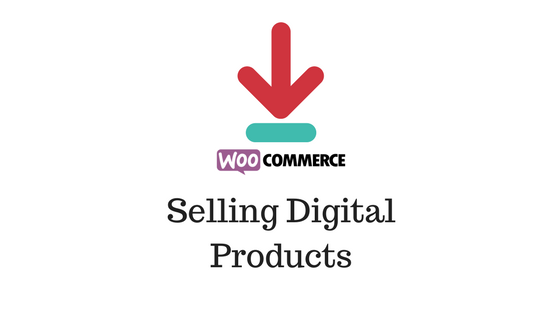 Last updated - September 8, 2020
With the easy accessibility of eCommerce platforms, budding entrepreneurs from all around the globe are venturing out into the online business. However, selling physical products comes with its own share of hassles such as inventory management, shipping fulfillment, etc. Selling digital downloads might sound less complicated in such a scenario. Then again, there are quite a few technical challenges awaiting you with digital downloads too. This article focuses on how you can easily sell digital downloads with WooCommerce. If you make sure to keep your basics right, you can relatively quickly establish a successful digital downloads store. Additionally, this article gives a glimpse into some of the best WooCommerce plugins that will support you for this.
How to sell digital downloads with WooCommerce
WooCommerce, by default, has comprehensive set up options for digital downloads. Let's look into the basic aspects of how you can set up digital products on your WooCommerce store.
First of all, you have to configure the settings of the digital product.
Go to WooCommerce > Settings > Products > Downloadable Products.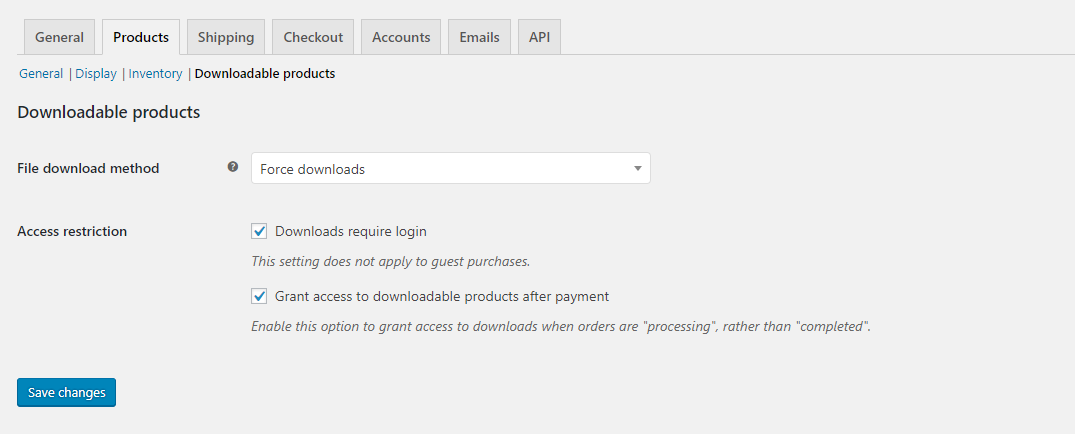 Downloadable products settings
Basically, there are three file download methods.
Force Download – This download method uses PHP for to force the download. This way, you can ensure files are more secure. However, your servers need to be powerful for this type of downloads, particularly with large files. If timeouts occur during downloads, it can drastically affect your store's reputation.
Redirect only – In this type of download, users are redirected to the file using a URL. One concern here is that anybody with the link will be able to access the file.
X-Accel-Redirect/X-Sendfile – You can also set up the server to handle the download. For this, you have to install and enable the X-Accel-Redirect/X-Sendfile module on your server. However, you need to make sure with your hosting provider to install the modules well in advance. This download method is secure and reliable.
Once, you choose the download method, you can set up Access Restriction. You can insist that users should log in to be able to download the file. A good thing here is that this setting won't override you guest checkout option. If you allow guest checkout on your site, it will work irrespective of this setting.
There is an option to Grant access to downloadable products after payment. Basically, this means your customers can download products even when the order is in 'processing' status.
Creating downloadable products
The process of creating a downloadable product is more or less same as any other product. You just need to tick a checkbox for downloadable products. Please read our article on product management if you are not sure. You can set up the URL for file download. Also, limit the number of downloads and set a download expiry date. You'll be able to set up the download type as well. Product variations can also be created for downloadable products. If you want more information on this, please read the WooCommerce documentation on the same.
Tips to sell digital downloads with WooCommerce
As selling digital products is slightly different than selling physical products, you may have to follow certain standards while running a store.
Decide how to represent the products
When you are selling physical products, it is quite easy to visually represent your products. You need to include a few images, write an interesting description, and it is mostly enough. But when it comes to digital products, things are not that easy. You need to create the main image that represents the product and the area of expertise. A detailed description that includes the unique features of the product is a must. For physical products, professional photos from different angles would do the trick in most cases. The same effect can be achieved for a digital product with multiple screenshots that details its working.
Another way to provide some experience to users is by offering a live demo. You can set up a demo site, where users can check out the actual working of a product. A good example of a functional demo site can be found on the product page of PluginHive. Video tutorials in the product page is another great option. This will help users understand how smooth it is to work with your product.
Offer a basic version of the product
Product demo and video tutorials are a great way to give the customer an idea of your product. But nothing works as much as giving the customer an actual chance to experience the product. Free trials for a specified period of time is a great way for customers to get acquainted with a software product. However, this works mostly when you are selling SaaS (Software as a Service) products. For products like WordPress plugins, however, the best strategy seems to be offering a free product with limited functionalities. Once customers get used to your free version, there are higher chances for them to opt for the premium product. Similarly, for eBooks, offering a few pages to read would generate interest in your potential customers.
Raise the level of your product descriptions
What multiple images do for physical products, you need to manage with an appealing copy. The description should have the power to convince users to hit the purchase button on your product page. The description should clearly depict the capabilities of the product and the usefulness for the customer. Primarily, you have to communicate to customers how your product is gonna make their life easier.
Moreover, there should also be necessary information that gives a clear idea to the customer about what to expect with the purchase. Whether it's just one or multiple files, how to set it up, where to find the access code or key (if there are any), etc. Such details are absolutely necessary because if these are not provided clearly you can expect a support ticket within hours. If you are sending something via email, you need to mention that too in the appropriate place.
Set download limits according to the product type
You may have seen different settings for expiry date and download limit while configuring the WooCommerce settings. You can apply these settings in a manner that suits your product type. For example, if you are selling video games, you may want to restrict download to only once. However, with something like eBooks, you can probably allow multiple downloads and set up allowing relatively higher downloads. One marked advantage of eCommerce strategies is that you can change these at will. If you are getting negative feedback continuously on your download settings, you can change them in one click.
Sell a combination of digital and downloadable products
If you want to offer a combination of physical and downloadable products on your store, it's possible with WooCommerce. If customers purchase both types of products in one order, they will get the shipment details for the physical products and download instructions for the digital ones. Another scenario is you are selling physical and digital versions of the same product. For example, a paperback and eBook of the same title. In this case, you don't have to create two products; you can simply create a downloadable variation.
A dependable customer support team is mandatory
If you are just selling eBooks on your store, you may not need a huge customer support team. However, if you are selling software products like WordPress plugins, you may have to invest more in a good customer support team. Often setting up and configuring a plugin would need some essential hand holding at the beginning. And, if you are able to help the customer effectively at the start, it would help create a good impression on your business.
Choose some great extensions to boost your sales
WooCommerce has numerous extensions that you can use strategically to improve sales and functionalities. When it comes to selling digital downloads, there are quite a few useful plugins that WooCommerce recommends. Let's look into some of them.
Amazon S3 provides a great option to store and retrieve massive volumes of data. It is commonly used by eCommerce stores that sell digital products. This WooCommerce extension helps you link your products to Amazon S3. Once you install this extension, you can offer your downloadable products to your customers through the S3 URL. You can specify the download location and file path using shortcodes. This is a reliable solution to serve downloadable products to your customers. It functions like clockwork with large files and offers great download speed too.
Memberships extension provides great flexibility to offer specific content or products exclusively to members. It is a great way to manage some sort of recurring income on your store. And, when you are selling exclusive stuff, your customers would be really interested to opt in. Even simply offering small discounts to members would work heavily in your favor. It has great features and a simple interface to help you set up interesting membership options according to your business strategies. Combining subscriptions and memberships is a commonly used strategy by many store owners selling digital products. If you want to know more about these extensions, read our articles on Memberships and Subscriptions.
A great way to up sell and cross sell your products is to create bundles combining multiple products. If these are products that complete a particular experience for the user, the combination would work great. WooCommerce Product bundles extension helps a great deal in setting up such combinations. Then, if you offer a good deal on the bundle, there is a great possibility that it will help to improve your sales.
When your customers are purchasing multiple products in one order, having an option to download all at once would be great. WooCommerce Bulk Download extension helps you to give your customers such an option. Customers will be able to choose the files they want to download, and can also opt to 'Select All'. Additionally, there is an option to download multiple files in a single ZIP file.
Couple of alternatives for WooCommerce to sell digital downloads
When it comes to selling digital downloads, WordPress has a few options other than WooCommerce. Though WooCommerce is a comprehensive solution for eCommerce, you can try these out if you are selling digital products exclusively.
If you are looking for an alternative solution to WooCommerce for digital downloads, Easy Digital Downloads might be helpful. It is another easy way to sell digital products with WordPress. It has a full shopping cart that allows users to purchase multiple downloads at the same time. You can allow unlimited downloads or restrict the downloads to a certain number. Also, you can track customer's activity regarding how they are downloading your files. Moreover, it has comprehensive reporting tools that will help you generate custom reports and statistics. And, if you want additional functionalities, you can choose from the long list of extensions.
SendOwl is another popular platform to sell digital downloads on WordPress. It is easy to use and assures great conversion rates for your site. You can easily create products here, and customers can download them in a breeze with SendOwl. Once you create your products, it will integrate with payment gateways, and create an optimized checkout. Furthermore, it will send download instructions to your customers automatically. They have multiple options such as SaaS, self-hosting, and standard. A 30-day free trial option is also available, so you can try it out without worries.
Conclusion
Selling digital downloads is a great option to try out if you are interested in setting up an eCommerce store. It saves you from the hassles of shipping, inventory management, etc. However, selling digital products comes with its own share of complexities. A well thought of strategy on how to sell digital products would save you from troubles later on. WooCommerce has great options to set up digital products in your store. There are quite a few extensions as well that you can use to set up a robust strategy to sell digital products. This article throws light into all these aspects when you are trying to sell digital downloads through WooCommerce. On the other hand, if you are looking for alternatives to WooCommerce to sell digital downloads, there are a handful of those too. If you have the insight to share with us, please leave a comment.