Selling digital products, specifically selling WordPress plugins and other types of software, poses eCommerce owners with a unique set of challenges. If you want to launch a software business, you will need a system that allows customers to subscribe online, make recurring automatic payments, and manage their licenses.
While there are many options to operate this kind of business, we'll be focusing on WooCommerce for the sake of this article. Below, you will discover how to sell software licenses using a WordPress-powered WooCommerce website.
It doesn't matter if WordPress runs your actual product, WordPress and WooCommerce are effective options for selling software and software-as-a-service products. WooCommerce is a brilliant WordPress plugin that allows selling anything online. It is open-source, free, and has a variety of add-ons, including various payment gateways.
Let's begin by outlining the benefits of selling your software applications using WooCommerce. Then we'll walk you through the steps involved in using WooCommerce to sell software.
The Importance of Licensing Solutions
License keys are essential for selling software since they allow you to keep track of paying customers in order to provide them with the appropriate support and product updates. Using license keys also enables software vendors to stop their products from being copied, transferred, or otherwise illegally used by non-licensed users.
You will likely use an activation key if you sell software. The activation key confirms that customers have legitimately purchased your program. You might be selling software, for instance. When a consumer buys this product online, an automated activation key is generated. The customer would put in the activation key after installing your software at home.
The following details will be on the license key:
A Product ID.
An Expiry Date.
An Expiry Duration.
The customer will either receive login information or a software license through email. After then, the client can either begin using the software. Moving forward, customers can opt for manual or automatic renewals of their licenses.
How to Use WooCommerce to Sell Software
Setup WooCommerce
Installing and activating the free WooCommerce plugin on your WordPress website is the first thing you need to do. After that is finished, a setup wizard will appear on your screen.
Enter your store's information first. Additionally, you will need to utilize the dropdown to choose the categories of things you sell and choose the currency in which you accept payments. In this case, we recommend selecting the "I plan to sell digital products" option.
Next, you'll need to set up the payment methods you will use to process customer payments. Using payment methods like PayPal and Stripe is a smart choice for selling these kinds of digital products.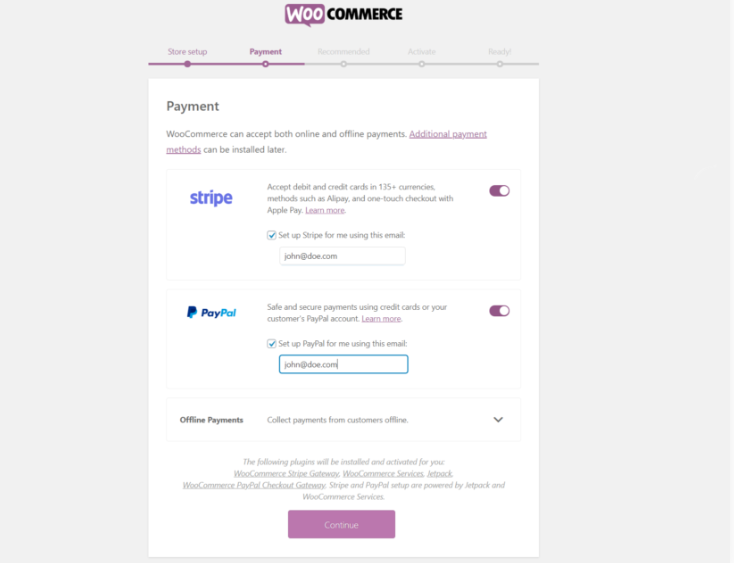 Once you've configured any additional options from the wizard's recommendations, simply select "Create a product" to get started.
Install a Software Licensing Solution for WooCommerce
While WooCommerce is well equipped to help you sell digital products, it doesn't offer a license management feature out of the box. However, you have several WooCommerce License Management extensions at your disposal, facilitating the sale of software on this eCommerce platform.
Here are some you should consider:
The WooCommerce Software Add-on
WooCommerce Software add-on allows customers to purchase software and obtain a license key with their purchase. After a purchase is completed, customers receive an auto-generated license key in their email. They can also view all information regarding their license key activation from the email.
What makes this add-on even better is its license upgrade feature, which allows customers to pay for software upgrades and get an upgraded license key.
At the same time, you, the business owner, can keep tabs on all sales from the backend. Here you'll be able to see a list of orders with their associated licenses. Additionally, using the add-on's API licenses can be activated and deactivated as needed.
Price: 129.00 USD billed annually
WooCommerce License Manager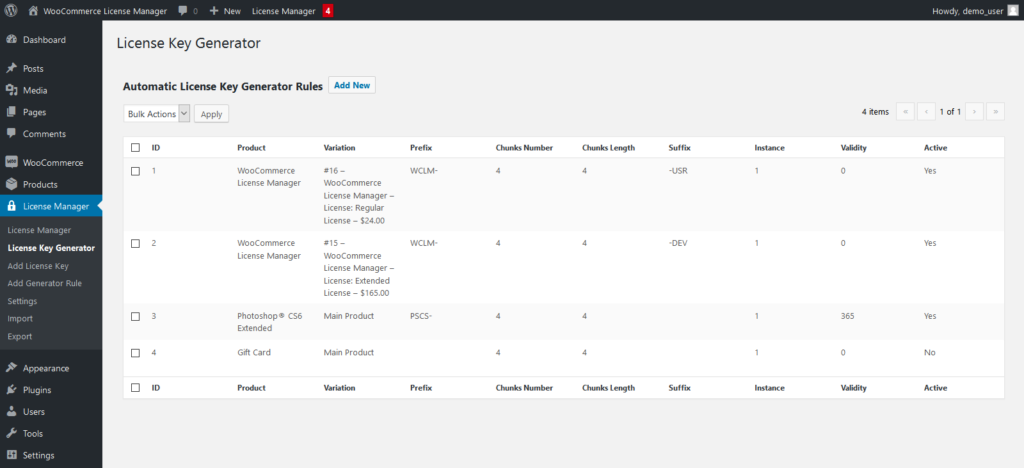 WooCommerce License Manager is a WordPress plugin that allows you to easily generate and sell license keys for digital products.  These license keys are sent via email when a purchase is made and in case a customer requests to, the email can be manually resent from the WooCommerce order page.
The add-on API allows you to control the status and use of your license keys, which are all encrypted for maximum safety.
If you already have some active license keys, you'll be glad to know the add-on also allows users to import license keys from a .txt or .csv and select the product to assign them to use a simple form.
Price: 89 USD
WP Software License
The WP Software License extension for WooCommerce allows you to automatically generate and manage software licenses for your digital products. Plus, licenses can be assigned to any type of WooCommerce product including simple,  variable, and grouped products. License keys are sent along with a purchase confirmation email after a purchase is completed.
You can set expiration requirements for your licenses and allow customers to extend their purchased licenses by paying a specified amount. Additionally, the add-on allows you to offer automatic software updates for your users through the WordPress dashboard.
Price: 59 USD per year or 129 USD for lifetime access.
WooCommerce API Manager
The WooCommerce API Manager plugin uses API keys to safeguard your software products and also offers automatic upgrades. Additionally, this plugin offers features like multi-site licensing and auto-expiry.
Customers and store managers will have access to details such as the software activations that are now available, including those that are restricted by memberships. Customers can also manage things like canceling an API key with ease. If necessary, customers can also regenerate their API keys using their login credentials from the site's front end in the event that they lose them.
Price: 129 USD billed annually
Create an effective Landing Page
After configuring the subscription options, you need a practical solution to display your products and make sales. The first step is to build a beautiful, eye-catching, and informative landing page. There are many resources that can help you in this process such as page builders (we recommend Elementor) and extensions like the WooCommerce Product Tabs Plus which allows you to enhance your landing pages with additional content tabs. We also recommend including product reviews, since they play a huge role in conversion, especially when it comes to digital products.
You also want to make it simple for clients to find your products, so appropriately marketing your software solution is vital. As such, we recommend implementing a targeted SEO content marketing strategy to give your software more visibility in search engines.
Managing Software Products in Your WooCommerce Store
If you sell software through your WooCommerce store, you may require some assistance in managing the process.
If you are offering digital downloads with a one-off payment method, you can easily manage it using WooCommerce. But things can get complicated if you intend to sell software products with options for recurring renewals or multi-site licensing. You will require the assistance of a system that handles things like license activations and renewals automatically in such a situation. Additionally, you might want to give customers some control over the products they have purchased.
You can use WooCommerce extensions for all the sophisticated needs to manage software products. They will greatly simplify your work while also improving the usability of your website. These are crucial tools if you're planning to build up a sophisticated store with numerous software products and license options. Numerous popular stores use both of these plugins.
Conclusion
It is absolutely possible to sell SaaS products, WordPress plugins, and software using WordPress and WooCommerce and convenient license management extensions. Altogether, these tools create the perfect environment to streamline and effectively control your WooCommerce software sales. If you need help taking your online store to the next level, reach out to WooNinja's team of custom WooCommerce development experts and get your entire online business set up in a flash.
Further Reading