Last updated - August 3, 2022
When customers are searching for a product online, they use the information to make a decision. This information can come in the form of a product description. It is crucial to the operation of e-commerce businesses.
A product description is a type of content that provides information about a product. It gives a customer details about a product's features. These features include:
Attributes,
Utility advantages,
Value,
Size and dimensions.
However, when writing an e-commerce product description, you do not only write content. What you need to write is SEO (Search Engine Optimized) friendly e-commerce product description that will provide relevant information to clients. Additionally, it will rank your product higher in search engine results.
With these five actionable tips, you can write an SEO-friendly e-commerce product description.
Highlight Key Product Features
Whatever product you are selling online, hundreds of competitors are out there. So, to stand out from the crowd, you will need to highlight the main features of your product. Although a product description should contain all the product's features, highlighting the main features is crucial to capturing clients' attention.
Therefore, when you create a product description, you will want a section for general information and key features. Usually, you will want the main features highlighted and easily visible on your product page. Doing this will allow customers to quickly have a glimpse of what they can get from your product.
Also, it's worth mentioning that you should be deliberate about wording. You should use the same words your target audience uses when searching for your products. This tactic will boost your SEO efforts and improve the visibility of your product listings.
Tool to use – Sellics
Different customers name and describe the same products differently. Naturally, it affects the search volume of the product defining keywords.
Before you start writing a product description, you should find out what search queries your target audience creates. You can do it with the help of Sellics, an SEO tool. Just type your product name, and you will get the list of alternative product names your customers shop for online.
Understand the Product
If you do not understand what a product is all about, you can never describe it properly. You will not have the required information to create a passionate product description that sells. Similarly, you will not have the understanding to make SEO-friendly content.
Therefore, you must know why the product was developed and understand the service it provides to customers. Understanding this allows you to create a description perfectly targeted at your customers. It also allows you to identify the language that works best for each type of customer when creating a product description.
Tool to use – KeywordTool.io
If you want to get even more keyword ideas and present your product in the best light, use KeywordTool.io. This tool allows analyzing the keywords used by customers on Google, Amazon, eBay, and other platforms.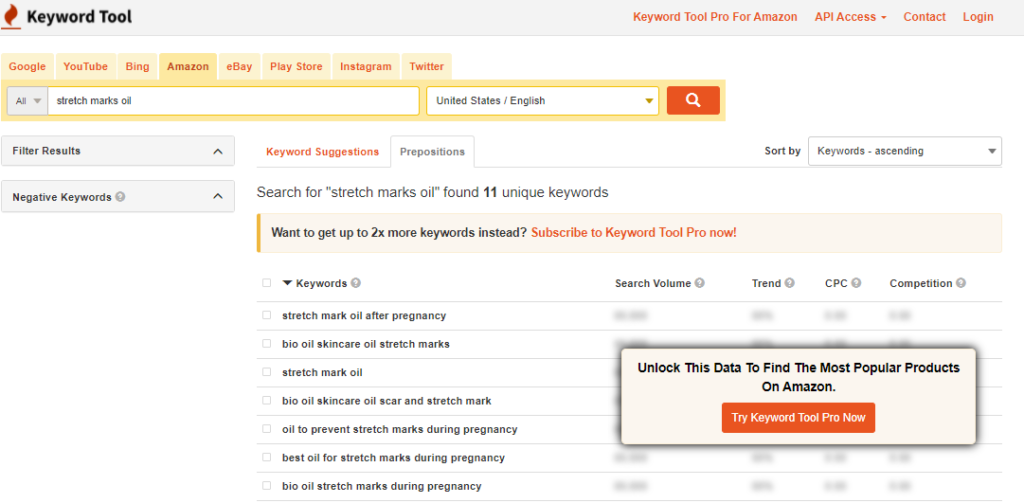 Describe the Audience
Products are never made on a whim. Usually, a lot of research goes into it. For one, manufacturers try to identify a gap in the market. Once identified, they create a product to fill this need. Therefore, when you want to describe a product, you must identify and describe your target customers (buyer persona).
By describing the target audience, you are better positioned to develop an excellent product description. You can refer to this audience description whenever you want to create a detailed product overview. However, to have a good target audience, you will need to understand your customers.
One way to understand your target customers is to research products they may be interested in searching or purchasing. When you do this, you get a complete picture of your audience's interests.
Tool to use – Blimpp
If you haven't built your customer persona yet, you can do it using Blimpp. This tool will help you visualize your market research findings and create a portrait of your ideal customer. Further, you will use this information to optimize your product descriptions and other content.
Screenshot source: https://blimpp.com/persona/ecommerce-customer-persona-generator/
Use Simple Language
Apart from SEO, the overall combination of words you use in a product description is crucial. In general, most people are comfortable reading in basic English. So, if you decide to use complex words and sentences, you may put off your audience. Your customers can quickly close your product page if you opt for rarely used language or complex sentences.
To keep your audience engaged and ensure a low customer churn rate, you will need to use simple language. Always communicate with your clients using simple words and easy-to-follow phrases. Doing this will encourage customers to read through your page more easily and eventually make a purchase.
Above using simple language, you must communicate using accurate grammar. Nothing shouts red flags to a client like seeing a product description full of grammatical errors. To mitigate this problem, you can use professional writers to create product descriptions.
Tool to use – Hemingway App
If you want to improve the readability of your product description, use Hemingway App. This app analyzes the text and highlights the elements that affect readability:
Adverbs
Phrases that have simpler alternatives
Sentences written in the passive voice
Hard-to-read sentences
Hemingway App not only points out your mistakes but also makes suggestions on how you can tweak your text to make it more appealing to the general audience.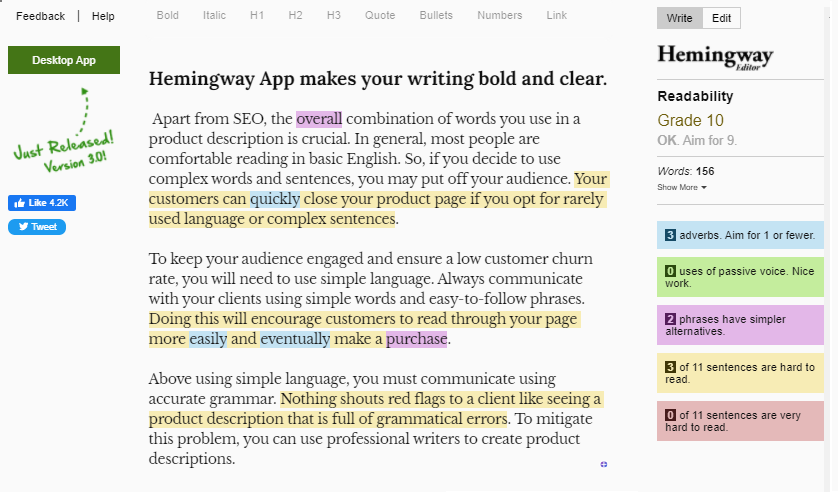 Clever Keyword Placement
At the heart of creating an SEO-friendly e-commerce product description is keyword placement. Once you can research the best keywords for your product, you must place each keyword strategically within the content. You must avoid keyword stuffing to maintain the integrity of your product page in the eyes of search engines. Having a maximum of 2 to 3 keywords is the best practice for 300 words of content.
Tool to use – Copywritely
Copywritely is a great SEO tool for keeping natural keyword density and avoiding keyword stuffing. This tool provides a comprehensive keyword density report that indicates how many times each word and phrase was used in the text. Your task is to check the report and ensure that chosen keywords appear in the text more often than other word combinations.
Conclusion
Having SEO-friendly content is essential to developing an e-commerce product description. To achieve this, you will need to keep a couple of tips in mind. In the beginning, you will need to highlight the main features of your product. Next, you will need to know the use of the product to understand the likely buyers. You will need to use simple language when creating a product description. Finally, you will want to place keywords cleverly. Follow these tips, and your product description will be impeccable!
Further reading