Last updated - July 8, 2021
This article is part of the User Management Guide:
Basic WooCommerce settings to configure accounts and privacy (current article)
This is where you set up options to manage accounts as well as privacy settings on your WooCommerce store. Navigate to WooCommerce > Settings > Accounts & Privacy.
Guest checkout
One of the first aspects that you need to configure on this page is Guest checkout. Basically, it controls whether you want to allow customers to make a purchase on your site without signing in. Depending on customer behavior on your site, you can configure this option. You will see two options. The first one is to allow customers to make a purchase without creating an account. The second option lets customers log in to an existing account during checkout.
If both options are enabled, a guest user will see the Checkout page as the below screenshot.
Account creation
On this page, you can also control how customers are creating accounts on your store. You can allow customers to create accounts from the Checkout page or My Account page. Simply enable the checkbox to allow these options.
Also, to make matters easier for customers, you can enable the option to generate a username for customers based on their name, last name or email address. Similarly, you can also generate a strong password automatically during the account creation process.
You can simply tick the checkbox to enable each of these options.
When enabled, customers can simply enter their email address and a password will be sent to that address.
If you decide to keep these settings disabled, customers will find fields to create username and password on their own.
Account erasure requests
Here there are two settings that determine how you are handling account erasure requests on your store. When you receive a request to remove personal data, you can choose whether you want to delete personal data associated with orders. Similarly, you can also determine whether you want to revoke access to downloadable files when a customer requests for personal data erasure. You can choose according to your requirement and keep the checkbox enabled or disabled.

Privacy policy
This page also helps you set up your privacy policy. Along with specifying the page that details your privacy policy, you can also personalize text that describes your privacy policy on the checkout page as well as account registration page. Please note, you will have to create a privacy policy page first to be able to display the text on registration and checkout pages.
First select your Privacy policy page from the dropdown. Then, add an optional text to be displayed on the Registration page. Finally, add a text to be displayed on the checkout page as well. WooCommerce by default places some sample text on both these fields, which you can choose to keep or change.
Personal data retention
On this page, you will also find options to specify the duration you want to retain personal data of customers. There are 5 different settings, and for each setting you will find fields that will help you specify the duration. You can choose the time period from day, week, month or year and then enter a value in the numeric data field.
Here options are available to retain personal data for inactive accounts, pending orders, failed orders, cancelled orders and completed orders.
Based on the time frame you set here, personal data will be retained on your store.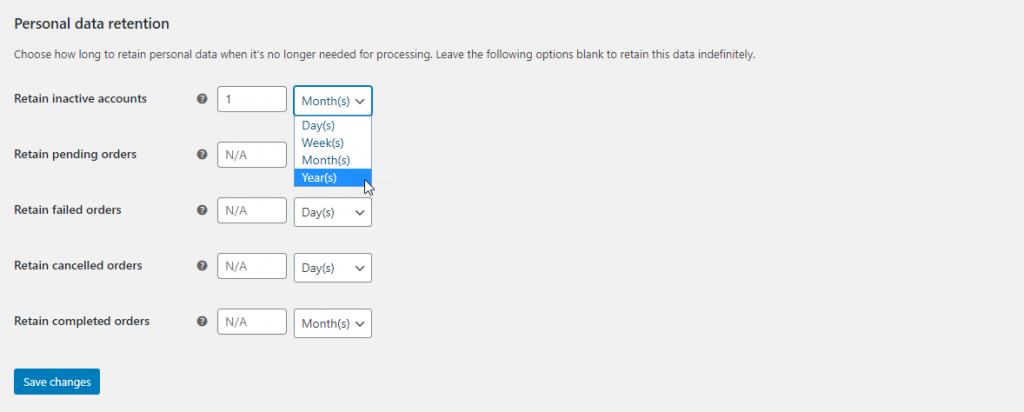 Check our article on GDPR to understand the nuances of handling personal data of your customers on your WordPress WooCommerce store.
Hope this article has provided a clear understanding on managing accounts and privacy settings on your WooCommerce store.