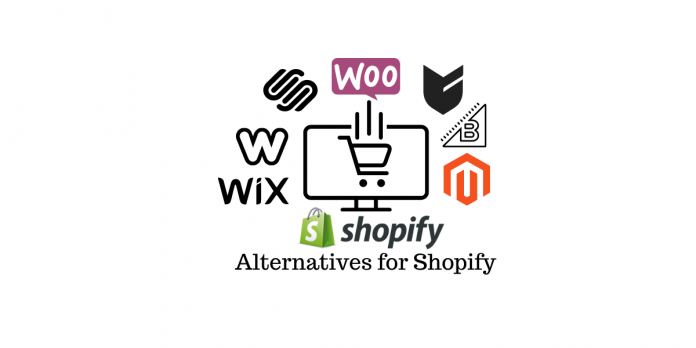 Last updated - December 5, 2022
Creating an eCommerce store has become extremely easy thanks to the availability of user-friendly platforms. Shopify is one of the preferred options to create an online store thanks to its ease of use and advanced features. However, Shopify may not be the right tool for you if you are trying to keep the costs of running a store to the minimum. In this article, we will list out some of the best Shopify Competitors that you can try out if you think Shopify is not right for you.
WooCommerce is one of the most popular eCommerce platforms currently available. It is a plugin for WordPress, and if you already have a WordPress site, you can start a WooCommerce store for free. It is quite easy to get started with, and offers all the essential features to help you get started with your online store. Moreover, WooCommerce is extremely customizable and offers a wide range of plugins and themes to help you personalize your store. Additionally, WooCommerce offers options for developer-level customizations, and also has a vibrant community of enthusiasts. Also, WooCommerce offers a mobile app, which lets you manage your store from anywhere.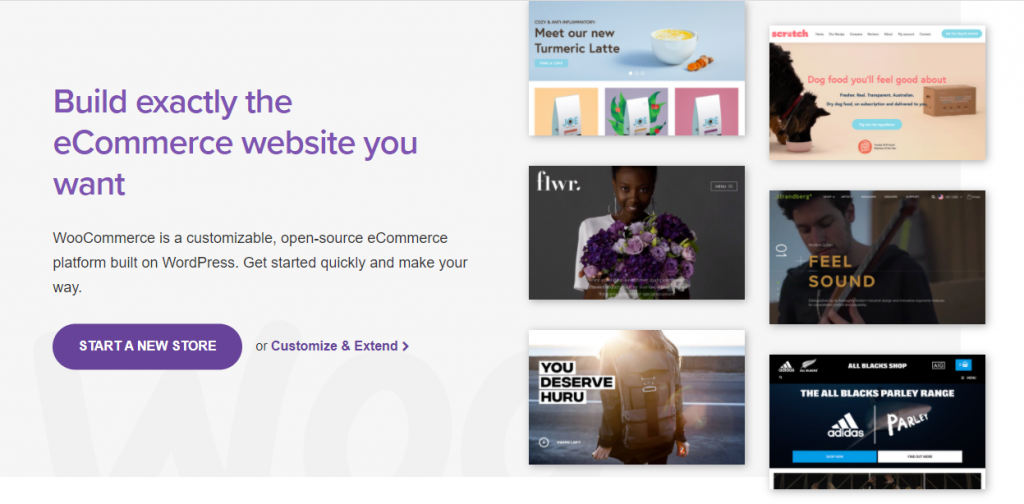 Features
Popular eCommerce platform that will help you get started economically.
A free plugin to WordPress that will be practically free if you already have a WordPress website.
Wide range of themes to customize the design of the site.
Extensive collection of plugins to integrate additional features and functionality.
Several options for payments and shipping.
Mobile app to let you handle diverse aspects of your site easily.
Easy to integrate developer-level changes thanks to REST API.
Get support easily.
BigCommerce is a flexible SaaS-based platform that offers great options to create a modern eCommerce store. You will be able to create a store with a secure foundation, personalized design and seamless functionality with BigCommerce. Coupled with this, you can create superior user experiences that will help you attract and retain more customers. The opinion from their loyal customers is that the time spent on site maintenance is minimal in this platform. Not to mention it has a flexible framework that will help you integrate third party apps without hassles. Powerful analytics, omnichannel experience and exceptional support are some of the other standout features relevant for store owners.
Features
Flexible, economical, SaaS-based eCommerce platform.
Core eCommerce features optimally integrated.
API-driven integration with several prominent tools including WordPress.
Seamless content management options.
Option to sell through multiple retail channels such as marketplaces, social media and physical stores.
Smooth options to manage B2B customers.
Multi-currency and cross-border fulfillment for easy handling of international sales.
Great set of features to scale.
SEO friendly.
Solid security.
Expert help.
Magento is a great option for enterprise-level eCommerce. It combines advanced technology, a collaborative ecosystem and extensions marketplace to help you create an environment of business growth. It offers simple yet functional tools that will help you create exceptional eCommerce experiences for your customers. Along with that, you will find abundant insights to grow your business as well.

Features
Enterprise-level eCommerce platform with advanced technology.
Modern tools in a drag and drop interface to help you create content and user experiences.
Templates to help you get started easily.
Support for multiple retail channels.
Create a personalized experience for all customers.
Handle B2B and B2C customers with ease.
Data visualization options for growth and innovation.
Customize your site's design and functionality effortlessly.
Weebly is a powerful website builder that will help you create an eCommerce store pretty easily. You can get started with it for free and can customize the design and functionality as per your requirements. More importantly, you will get prompt instructions to help you get started with your store, along with user-friendly tools. There are powerful tools to help you manage diverse aspects of an eCommerce business. Furthermore, the integrated marketing tools will be a great help to grow your business. Also, there is an active community and a friendly customer support team, in case you need any help.
Features
Powerful website builder to help you create an online store easily and quickly.
Detailed guides and instructions to help you get started.
Powerful tools integrated to handle all the essential aspects of eCommerce.
Marketing tools to automate email, social media and other campaigns.
Focus on multichannel retail with help from Square.
Vibrant community and expert support team for any help you may need.
Squarespace is a simple and functional set of tools that will help you effortlessly create and manage a website or an online store. It offers a wide range of templates, fonts and color palettes to help you personalize the site effectively. Moreover, you will find all the essential tools to build the site as well as to market it. Also, you will be able to get started quite easily as you can choose a template of your choice and follow the direct instructions. And, you can make use of the free trial without commitments or entering your credit card information.
Features
Great option to build different kinds of websites including online stores.
Abundant choice of templates, fonts and color palettes.
Customize the functionality of your site with extensions.
Easy to create email campaigns and social media stories.
Round the clock support through email, live chat and live webinar.
If you are looking for economical options to create and maintain an online store, Shift4Shop can help. It is a powerful eCommerce platform with a website builder, shopping cart, payment options and real time shipping. In addition, you will find effective tools for inventory management and search engine optimization built in with the platform. And there are options to improve conversions and reduce cart abandonment. Also, you will be able to seamlessly manage integrations with external tools.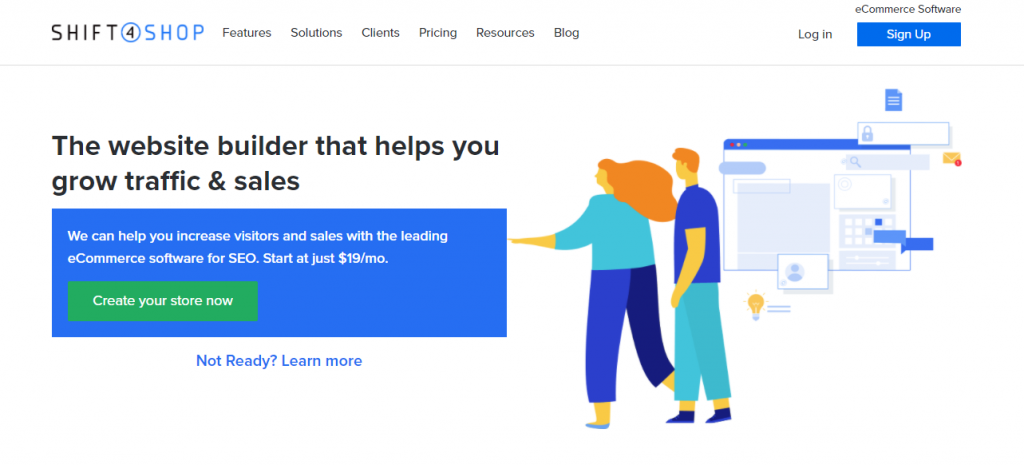 Features
Simple and powerful website builder.
Comprehensive shopping cart with great options for payments, shipping and checkout.
Easy options to personalize site design.
Several tools to manage products and inventory.
Search engine optimization and marketing tools.
Secure web hosting options that can be scaled without hassles.
Suitable for mobile commerce.
Dependable customer support.
Volusion is another comprehensive option that will help you create an online store. It offers a user-friendly site builder and customizable themes that will help you set up a website in no time, even if you have no idea about coding. It also has diverse product options, and great features to manage inventory and handle payments. Moreover, you will find the in-built tools highly useful for SEO, CRM and marketing campaigns. Together with all the user-friendly features, you will get timely help from their customer support team as well.
Features
Comprehensive eCommerce platform with advanced features
Customizable themes and intuitive content editor.
Complete eCommerce toolkit to help you with any business idea.
Powerful features to manage SEO, analytics and social media.
Excellent customer support team.
Free trial with no requirement to submit credit card details.
Wix is a flexible platform that will help you create customize an eCommerce store effortlessly. The user-friendly website builder will help you create a site of your needs and the set of advanced features will help you personalize it. Moreover, you can make use of the artificial intelligence enabled builder to personalize the design and layout of the site. You can optimize your site for mobile commerce and better search engine visibility. Also, Wix offers an excellent knowledge base to help you with any queries you may have.
Features
AI-integrated website builder that will help you get a site live in minutes.
Stunning range of design templates.
Free and secure hosting with SSL certificate.
Great options for store management such as worldwide shipping, multiple payment methods and discount options.
Easily customizable according to your business needs.
Features for better SEO.
Reliable support.
Read our article comparing Wix with WordPress here – Wix vs WordPress.
If your goal is to create an artistic and unique online store, you could try BigCartel. It is simple to work with and offers affordable plans that you can choose based on the number of products you want to sell. Moreover, you will get access to a bunch of customizable tools and all the essential tools to manage a store. It is a great tool that you can use to create your first eCommerce store.
Features
Simple and affordable eCommerce tool for artists and creative minds.
Customize design and layout with multiple theme options.
All the essential tools for hassle-free eCommerce management.
Real time statistics to track store data.
Suitable for creative business ideas.
Hopefully, this list of Shopify competitors will help you find a viable alternative to create a WooCommerce store. Leave us a comment if you have a query.
Further reading