Last updated - March 31, 2022
You've identified a unique name for your business, got your Shopify store live, created an awesome logo, got your mission statement written.
You've also identified your SWOT, known your main competitors, defined your SMART goals, and written the KPIs. Now, you're planning robust Shopify marketing strategies to help you achieve the aspirational 6-figure.
You've come to the right place! In this article, you'll learn how you can build a 6-figure business with tried-and-tested Shopify tools and marketing strategies. After reading this, you'll have a clearer idea of what strategies you can put to the test and how you can execute them.
Build a 6-fig business using these tried-and-tested Shopify marketing strategies
Here is a look at some of the effective strategies.
Utilize the full potential of social media
Be where your customers are and be the best at fulfilling their needs! People visit social media more than websites, so if they see updates from you more frequently, they will favor your brand more than others.
Integrate your Shopify store with Instagram, Facebook, Pinterest, TikTok, and Twitter to make your products shareable on social media in one click.
Apart from your website, you can set up Facebook and Instagram Shops using Shopify apps to update your inventory automatically and inform your customers about new launches.
Create an effective Content and SEO strategy
You need to constantly be marketing your product/service to get in front of your ideal audience and remind your customers about you. For that, you need to prepare an intelligently thought-out content marketing strategy.
A few SEO tips to optimize your store are: using the keywords your customers are searching for, optimizing your metadata, using engaging videos to make your offers more appealing to shoppers, and writing detailed product pages and descriptions.
Have a content strategy to educate the new audience and build thought leadership in the industry about your brand.
For example, you can publish blogs weekly about your customer's questions or any confusion about them. You do not always need to promote your product but genuinely solve your customer's pain points.
Turn shoppers into loyal customers with community marketing
A great way to genuinely be the most-preferred brand among your audience is by making them feel that you are because of them. Share your ethos and business' vision and give your audience, customers, and shoppers a chance to share theirs with yours too.
The best way is to use social media, network at offline events, and create a community with similar interests.
If you're a business selling vegan products, you can join environment-conscious or no-dairy product consumer groups on Facebook, Reddit, or any other channel. Talk about your goals, why you started your business, and what difference your business can make in the world.
This is an underrated marketing strategy to build a 6-figure business because it might take some time to nurture a group, but once you do, those will be your most loyal followers.
Create a demand for your product
By being the best in the industry and solving people's problems better than anyone on the market currently can, you automatically differentiate your product. If you know your target audience's pains and problems well enough, anything you sell, they will buy.
You need to be thorough with the market you're dealing in. Your product needs to address information scarcity to fill the gap with your offers. For that, you must constantly be innovating and make your customer the hero of your business, delivering the value and transformation you promise.
Collaborate to succeed
If you're not leveraging influencer marketing as part of your overall Shopify marketing strategy, you cannot expect to reach the 6-figure mark quickly.
Even if you're an SMB or a local business, you can still collaborate with micro and niche influencers to make sure you tap into those audiences who may already know about your product. They might just want validation from an authority before trusting you with their money.
And if your product is what they want, you might have made a loyal customer for life.
Convert UGC into campaigns
User-Generated Content, or UGC, comes from people who have used your product. The content they share, which can be blogs, texts, photos, videos, reviews, posts, or anything shareable, is a user's generated content. They unknowingly become your voluntary supporters. When you use their content to promote your product, you're using UGC content in your Shopify marketing strategy.
Since most people are skeptical of advertisers and feel ads can be intrusive or misleading, UGC feels relatable when someone similar to us uses the product or has the same problem.
A great way to never run out of UGC is to show you value your customer more than anything else. For example, if you're an apparel brand, you can create your company's unique hashtag and ask your customers to use the hashtag whenever they update their social media.
Then you can share their content on your channel and make them feel special and valued. As more people do it consistently, you can have a pool of content in no time.
Experiment and A/B test
As you put these Shopify marketing strategies into practice, make sure to measure and experiment with what works and what doesn't work. Like no two businesses can operate the same even if you sell the same products.
Likewise, no strategy can be a one-size-fits-all business, so test, tweak, and adjust according to what works best. Document what works, what didn't work, and why it worked, and then repeat to make these strategies yield a 6-figure business and beyond.
Now that you know the 7 Shopify marketing strategies to build a 6-figure business, let's find out how you can execute them using the best tools.
Shopify marketing tools to help you skyrocket your sales
To help you build a sustainable 6-figure business, you need to gear your store with the right tools. With them, you can run your store on autopilot and easily make a 6-figure and beyond business. Assess these tools and install the ones that best suit your current business marketing goals.
Install a cart recovery tool
PushOwl is a web push notification tool through which you can convert your visitors into subscribers with just one click, that too without asking for their personal information like email or phone number. Though they are anonymous shoppers, you can send them personalized reminders.

PushOwl's abandoned cart reminder feature helps you recoup your distracted customer to your store and remind them to complete their purchase.
This is a new marketing channel but has caught successful businesses' attention as they are so easy to use and show amazing results and ROI.
Boost customer engagement
Sendinblue is your business guide to help you with the right marketing and sales tools that make reaching the 6-fig milestone manageable.
It is a marketing automation tool for businesses of any size who need one tool to manage their entire marketing funnel and simplify complex workflows. It is an all-in-one marketing platform where you can run your email marketing campaigns, set up live chats to communicate with your customers in real-time, do SMS marketing to persuade customers more directly, manage your CRM and ads, and many more!
Businesses that have used Sendinblue have benefited from increased customer engagement as it allows them to track their customers' behavior and align their campaigns accordingly.
Businesses that have used Sendinblue have benefited from increased customer engagement as it allows them to track their customer's behavior and align their campaigns accordingly.
Add a 3D product customizer
Zakeke is a product customization tool where customers can see their fully customized product before buying it. This is a great problem solver for your business if you hear 'this isn't what it's supposed to look like" too often.
Customers can see and interact with a live 3D model of your products thanks to the Augmented Reality (AR) the tool is built with.
Whatever you sell, whether it's clothing, gifts, accessories, shoes, jewelry, or watches, Zakeke allows customers to visualize how they'll look before checking out, which means fewer refunds, returns, and more high ratings.
Show customer testimonials
Yotpo makes collecting products, photos, and store reviews easy. You can boost your sales with real reviews and increase your conversion rates.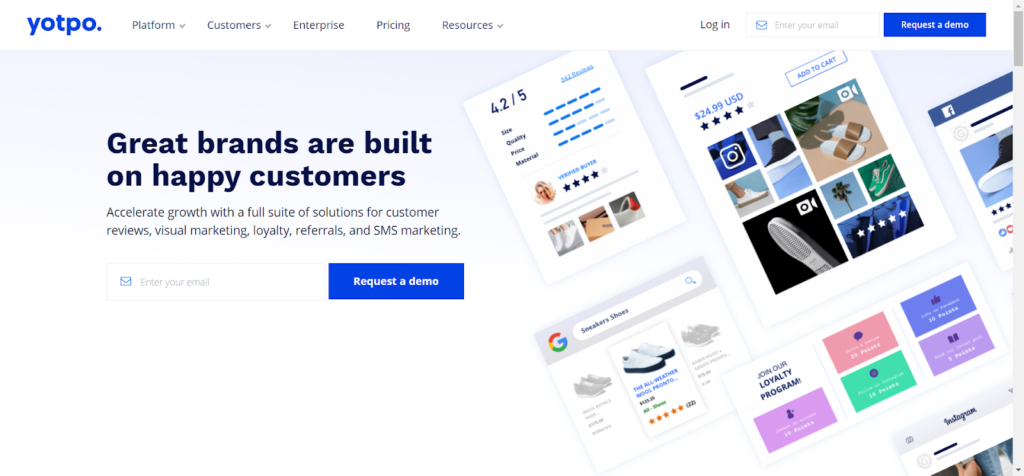 Yotpo has expanded to more segments. Through it, you can now even run a loyalty and referral program, visual UGC, and SMS marketing. With the right messaging and campaigns, you can segment your customers and increase Life Time Value (LTV).
Upsell and cross-sell your products
ReConvert's Upsell and Cross Sell helps you convert one-time customers into repeat customers by creating a powerful post-purchase funnel. In addition, it allows you to customize your thank you page with an easy drag-and-drop interface.
Its intuitive product recommendation, smart POS integration, checkout, and upsell page help you integrate with your own rules, increasing customer conversion rates.
Use chatbots to connect with your customers better
Tidio is your go-to app to install because it makes connecting with your customers easier and more real-time. After installing Tidio, you can set up a chatbot, live chat, and one-panel communication with your customers.
You can make money without being online 24*7 and still solve your customers' questions. Through Tidio, your customers can send you real-time messages, and you can answer them through your chatbot.
Using chatbots is an eCommerce tactic that not only streamlines your overall Shopify marketing strategy but also increases your sales and offers a smooth customer experience.
Convert your store and currency into the visitor's region
BEST Currency Converter on Shopify is one of the highest-rated currency converters that makes it super easy for you to serve a global audience. It automatically converts prices by detecting your customers' location.
Only a fast-loading website and high-ranked results are not enough to differentiate you from your competitors. To offer a truly memorable customer experience, you need to make your customers feel that you know them.
And the starting point is to reduce the friction of going back-and-forth through Google tabs to check prices in their currency.
A pro tip: Do not install too many apps in your store. Adding too many may slow your website's load time. So, install only the ones most relevant and productive for your business.
Which Shopify marketing strategies work best for you?
Put any of these 7 Shopify marketing strategies to use and see which tools provide the best ROI to help you skyrocket your growth.
Track all your experiments and repeat the ones that help you reach 6-figures quicker.
Further reading