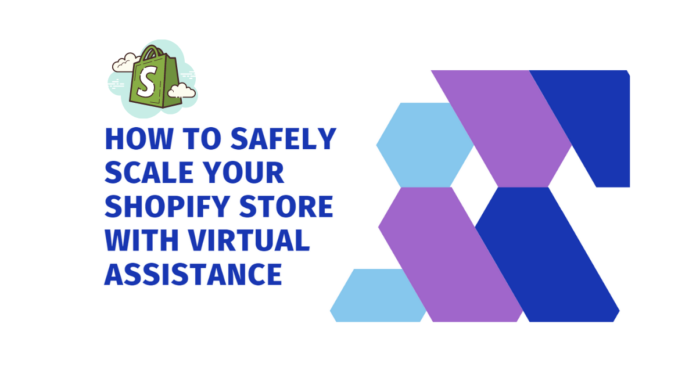 Last updated - May 24, 2023
The eCommerce industry is undoubtedly enjoying an all-time high in sales since the beginning of the pandemic as shoppers favor buying their necessities online rather than in-store. This massive influx in online shopping activity worldwide has challenged eCommerce business owners in many ways. Rapidly increasing sales means that growth is inevitable. And if you're still managing your eCommerce business by yourself or with just a handful of staff, then you'll be left behind by the competition.
Enter virtual assistants (VAs); remote employees trained to handle several important aspects of online selling minus the massive overheads involved when you hire local employees. The eCommerce growth trend comes hand in hand with the booming demand for virtual assistance. This is because many people have realized that scaling their business while keeping expenses low is more feasible with this arrangement.
Why Do You Need a Shopify VA?
So, why is virtual assistance the key to scaling your eCommerce business? Think of it this way. Hiring new employees is expensive in terms of time, effort, and money. There are plenty of time-consuming but necessary steps to go through, including resume review and interviews, to ensure that you're hiring the perfect person for the job. After hiring, you also need to train your new staff and walk them through specific aspects of the business so they can effectively do their jobs.
Hiring a VA from reputable virtual staffing companies is the more cost-effective way of adding new people to your team. As eCommerce transactions are done online, essential tasks such as product sourcing and management, product listing, inventory and order management, and customer service can be done remotely. These routine but necessary processes are crucial to overall business growth, making these tasks perfect for delegation.
Where Can You Find a Shopify VA?
In 2019, Statista reported that the global outsourcing market hit $92.5 billion in revenue, with the Americas generating 67% of that figure at $62 billion. With a large number of virtual staffing companies around, it can seem impossible to choose the best one for your business. SMEs can start figuring out the best service provider by looking at value for money.
While there are many agencies that offer virtual assistant services, only a few specialize in ecommerce, and pretty much none of them offer dedicated, trained assistants experienced with Shopify and other common ecommerce tools. Fortunately, Wing does.
If you are looking for a fully managed assistant service, we highly recommend eCommerce virtual assistants from Wing. Wing provides full-time ecommerce assistants who are dedicated to you and are supported by a background team (including a Customer Success Manager) at a flat fee of just $999/month. You get a VA communication/management tool (with a few pretty cool features, like Workflows and a Kanban board), a CSM who trains the VA on your behalf, and a guarantee that you will be happy with your VA or otherwise they replace him/her for free. At $6.25 per hour of work, and all those additional useful features, Wing easily represents the best 'value for money' for a VA service.
For business owners looking to hire their own employees, the most common route is using the Upwork platform or hiring a VA staffing company. Before bringing your VA onboard, you may want to get your processes organized and documented. Additionally, make sure you understand the tax implications, and benefits that you may need to offer to the VA depending on the jurisdiction. You need not worry about these issues when you go with a managed VA service like Wing Assistant.
The Importance of Delegating Repeating Tasks
Business owners who start small often don multiple hats. However, an eCommerce business involves many moving parts, and starting and maintaining one requires a lot of hard work and effort. Building your online store from the ground up involves setting up the website, finding suppliers, making a marketing strategy, setting up a customer service process, doing sales calls, and generally making sound business decisions. Then you need to come up with a solid operations process so that your shop can run with little to no issues in the future.
While the routine tasks are no longer as challenging as they were initially, the sheer volume of doing them every day while doing other things can get overwhelming. Delegating these repetitive processes is key to helping lighten your workload. Highly skilled and experienced VAs often have a lot to bring to the table. Aside from providing valuable assistance, they can also come up with suggestions on how to streamline the process so that they can do their job more efficiently.
Tasks that Shopify Virtual Assistants Can Do
Do not be afraid to delegate and outsource important work to a virtual assistant. It's understandable why some business owners are reluctant to ask for assistance because they fear low-quality output from the VA. They may also dread spending what little budget they have only to get 'scammed.' These fears are common misconceptions. They are often misplaced because these things rarely ever happen when you hire a VA from reputable and established virtual staffing agencies.
VAs are chosen based on skills, experience, and what tasks you want them to do. Using virtual staffing agencies as the middleman for these skilled workers is so that businesses can get the help needed right away. While agencies take care of the screening, qualifying, hiring, and onboarding process, it is vital that companies set and determine a list of tasks they want to delegate. A documented procedure that details protocols to follow, a task checklist, expectations, deadlines, and even defining key performance indicators (KPI) help ensure that the VA does what they should do.
So, what tasks can you delegate to a Shopify VA? The list below gives you examples of duties you can assign.
Inventory management
Online store management
Product sourcing
Product listing
Customer service
Order fulfillment
Conversions tracking
Feedback management
Keyword research and SEO
Product description writing
Blog writing and management
Market research
Returns processing
Refunds tracking
Social media management
Influencer outreach
Email campaigns
Website maintenance
Graphics and design
Administrative tasks
Bookkeeping
Making a detailed task list and a process document for a Shopify VA is only part of ensuring that they seamlessly take over what you once used to do. Once you have everything set up, scaling is possible now more than ever. A reliable team of virtual assistants following a stable framework will help open opportunities for your business. Of course, KPIs should be constantly monitored to make room for strategy improvements. When scaling, there are several factors to consider apart from the internal team. These are the competitors, clients, marketing efforts, and the effectiveness of the tools and technology being used.
Key Factors to Succeed in eCommerce
Competition is stiff in online selling, and many are scrambling to find the best ways to entice new customers to buy from their shops. How do you stand out from others when you are just starting and attempting to scale the business? Here are some tips to help you out.
1. Making Your Brand Known
Marketing remains to be one of the most primary things to focus on in eCommerce. A brand is the name and face of a business, so it needs to be memorable to potential customers. A catchy brand name and logo is necessary, and it should be consistent with your brand identity. Aside from your name and logo, the storefront or eCommerce website is the most important marketing tool for a business. That's why it should be both functional and aesthetically pleasing, meaning that it should catch a visitor's attention and allow them to make purchases in a quick, easy, and hassle-free manner.
For customers to find your company's website, you should also invest in search engine optimization (SEO) or at least apply basic best practices to be visible in search engines. These basic things should be followed by multichannel marketing efforts that touch on social media, content or blogging, and email.
2. Building Customer Trust and Relationship
Customers are considered the backbone of a business. This means that building trust and loyalty is absolutely essential. Many eCommerce merchants find that a customer-centric approach makes people feel involved and appreciated. Giving that feeling of inclusion and being heard through excellent customer service will make customers patronize the brand more. When customers have a consistent and wonderful online shopping experience, they will most likely repeat their business with you.
3. Being on Top of Trends
Most online shoppers are Millennials and GenZs. Since they are huge social media users, their purchasing decisions are typically based on the trends they see online. It is important to invest in social media marketing because this is where those trends can be observed. Businesses that spot and join trends early are more likely to achieve a good ROI from this tactic. Additionally, businesses can apply many social media strategies, such as influencer marketing and social media advertising, to help entice new customers.
Further reading