Are you thinking of venturing into the eCommerce world but can't decide between Shopify and Amazon FBA (Fulfillment by Amazon)? While you can sell on both simultaneously, if you're a beginner, you'd want to start with one platform first. However, deciding between them can take a bit of work, considering that they are two of the biggest eCommerce platforms today.
So, which is the better one for beginners? Let's find out!
Shopify vs Amazon
Amazon and Shopify have unique qualities and services to offer that can be both beneficial for beginners. Amazon has been around for 28 years, but it was only in the year 2000 that they introduced their service to allow third-party sellers to sell products on their platform. A few years after that, Amazon offered more products like the Kindle e-reader and more e-books. They just keep on growing, which is a good thing to know.
Shopify, on the other hand, started in 2006. While they're a bit younger than Amazon, they have proven they can compete with Amazon and other eCommerce platforms.
But what's the main difference between the two? Amazon is an online marketplace where it allows you to sell your products along with other online sellers. Shopify, on the other hand, is more of a specialized eCommerce platform. They provide you with tools that will allow you to build your own online store.
In essence, selling through Shopify is like renting a space inside a mall where people come to your store because they know exactly what you're offering and they know your brand. While on Amazon, it's like selling your products in a big supermarket where people are simply browsing the stalls and are not always looking for your brand specifically.
Amazon FBA Pros and Cons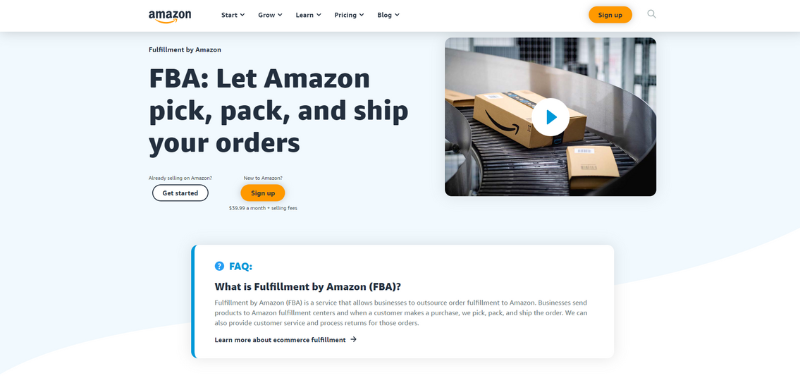 Now, let's discuss the pros and cons of Amazon FBA to help you decide whether it's a better option for you.
Pros
It's ready to use, and it's very easy to set up your online store. All you need to do is to create your product listings. Though there are still more things to set up before you can start selling, it's still easier than creating your own online store from scratch.
With Amazon FBA, you don't have to worry about inventory storage, packaging, shipping, returns, refunds, and customer service. Amazon will handle all that for you but, of course, with corresponding fees.
You have instant access to millions of shoppers worldwide, so you don't need to create your own traffic. But if you're interested in increasing traffic, you can take advantage of their Amazon ads, try Amazon Influencer Storefront, and more.
If you're selling on other platforms or plan to sell in the future, you can take advantage of Amazon's Multi-Channel Fulfillment. You won't have to worry about fulfilling orders from your other channels because Amazon can also handle them for you.
With Amazon, you don't really need to build your brand and reputation to get sales. Because shoppers trust Amazon, they're confident that even if something happens to their orders, Amazon can help fix it for them.
Cons
The competition is very tight on Amazon since they have more than 6.3 sellers worldwide, and there are over 1.5 million active sellers. So, just imagine the number of other sellers you need to compete with.
There are very limited layout design options for your store.
You need to pay transaction fees of around 15% to 40%.
It's also hard to have your own branding since Amazon shoppers don't really care about your brand or who you are. So, Amazon it's not really the right place if you're thinking of building your brand name.
Since Amazon's priority is its customers, it's very easy for customers to return their items. They offer 30 days of free returns to their customers, so they don't really have to pay for return labels. Unless customers handle shipping costs to return their items, there would be lesser returns.
When it comes to getting help or support from their customer service, it's also a bit difficult since most of their seller support is from other countries that are not that trained to give sellers the proper customer support they need.
Shopify Pros and Cons
Now, let's move on to the pros and cons of Shopify.
Pros
Shopify has a free 14-day trial, which is great because you can test and play around with its features first to see if it's something for you or not before you commit to them.
They have more than 70 templates available for you to choose from. There are free and paid Shopify templates, and you can customize them according to your needs.
You can easily create your own branding. You can give your customers a whole new experience, and if you're thinking of launching new products in the future, they can already recognize your brand.
Their app store can help you customize your Shopify store to help you grow and run your business with ease. There are a lot of free Shopify apps and plugins that you can enjoy.
When it comes to seller support, they offer higher quality because their staff are in the US and are well-trained. They have access to all the data and tools, and they're easy to reach through phone or chat.
Another advantage of selling on Shopify is you can get access to your customer list, unlike with Amazon. You'll be able to obtain their name, email addresses, and the items they ordered. You can use this information to upsell when you launch new products.
Cons
You need to pay monthly fees whether or not you make a sale. In addition to that, you also need to pay for some of the apps for most features when adding customizations. If you're not familiar with codes, you might need to outsource them, which can also be costly.
The countries allowed to sell are very limited, unlike Amazon. So, if you're outside the US, make sure to check this first to see if your country is allowed to sell on Shopify.
You have to manage your own storage, fulfillment, and customer service, which can be very time-consuming and a lot of work. If your customers have a lot of questions or if you experience a lot of returns, then you all have to manage them by yourself.
The conversion rate is also low, especially if you're new and are still in the process of building your brand.
You need to create your own traffic to let people know about your store, and creating traffic takes a lot of time. Running advertising campaigns on Google and social media, such as Facebook and Instagram, to promote your store can be a lot of work, and they may not give you a lot of traffic right away.
While Shopify has a lot of tools available for you to use, sometimes they can slow down your website, which can ruin your user experience. We all know that shoppers have very limited attention spans, and if your website is slow, they will move on to another store.
Which Platform is Better for Beginners?
Now that you're aware of their pros and cons, the big question is, which is the better platform for beginners? Well, it really depends on what you think will work for you best. You need to weigh their pros and cons to help you decide.
For instance, if you're doing it as a side hustle, then maybe it's best for you to start with Amazon FBA since you don't really need to be there full-time to manage customer orders, and you don't have to spend much time designing your store. But if you want to build your own brand and grow it, then Shopify may be the better option for you.
How to Fulfill Shopify Orders Using Amazon FBA?
As mentioned earlier, you can use Shopify and Amazon to sell your products. But did you know that you can use your Amazon seller account to fulfill orders from your Shopify store? Yes! That's possible by integrating your Shopify store with Amazon FBA.
Here's a step-by-step guide on how you can integrate Shopify with Amazon FBA.
Log in to your Shopify account, then click the plus sign "+" beside "Sales Channels"
Click on Amazon, then select Add Channel.
Click on Connect to Amazon, then simply follow the instructions to link your Shopify account with Amazon Seller Central.
After you're done with the process, go to your Amazon Seller Central account and confirm that you grant Shopify access to your Amazon Seller Central account. You also have the option to add Amazon as a sales channel on your Shopify store.
How to Create or Link your Amazon Listings
Before your Amazon listings appear on your Shopify store, you need to create them first. You can do this on your Shopify Admin page.
To link your Amazon products to Shopify, go to your Shopify Admin page and click Amazon.
Click Link Products, then choose Browse Products beside the item you want to link.
Select the product you want to link, then click on Select Product. Supply the necessary information, then click Link Products.
There are also Shopify Amazon integration apps that you can use to automate the process and make things so much easier for you. Some of these tools are Amazon Integration Plus, Amazon by CedCommerce, and Amazon by Codisto, to name a few.
Integrating your Shopify store with Amazon FBA can help you get more sales, and at the same time, you can use your Shopify store to build your own store, which is important for branding purposes.
Conclusion
Deciding which eCommerce platform is the right one for your business is essential to ensure that you succeed with your online selling journey. Whether you choose Amazon FBA or Shopify as your first platform, make sure that it's the right one for you by weighing their pros and cons.
When deciding, consider the flexibility of customizing your store, traffic generation, shipping channels, built-in fulfillment, fees as well as ownership. This will help you weigh their pros and cons better.