Last updated - November 29, 2022
Both BigCommerce and Shopify are capable eCommerce site builders and online shop administrators, so they're both viable choices. However, there are a few major distinctions between the two platforms that might assist you in deciding which is the best option for you.
There are several aspects that make one platform better suited to specific circumstances and user categories than the other. We'll compare BigCommerce and Shopify in this article and highlight their significant differences to make your decision a little simpler.
Overview
What is BigCommerce?
What is Shopify?
Detailed Comparison
Pros and Cons
BigCommerce has become one of the most rapidly expanding companies in the eCommerce software industry. Their clientele vary from small businesses starting up new online storefronts to well-known brands like Toyota, Bliss, DressUp, and others.
Shopify is a Software-as-a-Service (SaaS) eCommerce platform that was founded in 2006 with the goal of making it easy for consumers to build online businesses. With over 1.4 million active companies, Shopify is one of the most popular shopping cart systems in the world.
It is always a feasible option, regardless of your company's size. Two factors that contribute to user trust and reputation are built-in functionality and scalability.
Detailed comparison
In this section, we will compare all the crucial components of each platform. This will help you take a well informed decision.
Pricing
BigCommerce and Shopify both provide free trials. They also provide price plans that range from $29 to $299. However, there are numerous pricing disparities between Shopify and BigCommerce.
Pricing for BigCommerce
The following are the four BigCommerce price plans:
Standard: $29.95 a month
Plus: $79.95 a month
Pro: $299.95 a month
Enterprise: Prices are influenced by the requirements.
BigCommerce price is determined by the amount of revenue you generate each year. As your company expands, our platform will automatically increase your subscription package.
BigCommerce does offer an advantage in that the Standard Plan has no transaction costs and unlimited staff accounts, but Shopify has extra transaction fees and only 15 staff accounts, even with the Advanced Plan.
Pricing for Shopify
Shopify has five different price options:
Lite: $9 a month
Basic Shopify: $29 a month
Shopify: $79 a month
Advanced Shopify: $299 a month
Shopify Plus: Pricing for Shopify Plus varies based on your needs.
The abandoned cart recovery option is included in Shopify's Basic Plan, however BigCommerce requires the Plus Plan in order to do the same, which might be incredibly beneficial to you.
Ease of Use
Not only for newbies, but also for seasoned eCommerce companies, ease of use is critical.
BigCommerce Ease of Use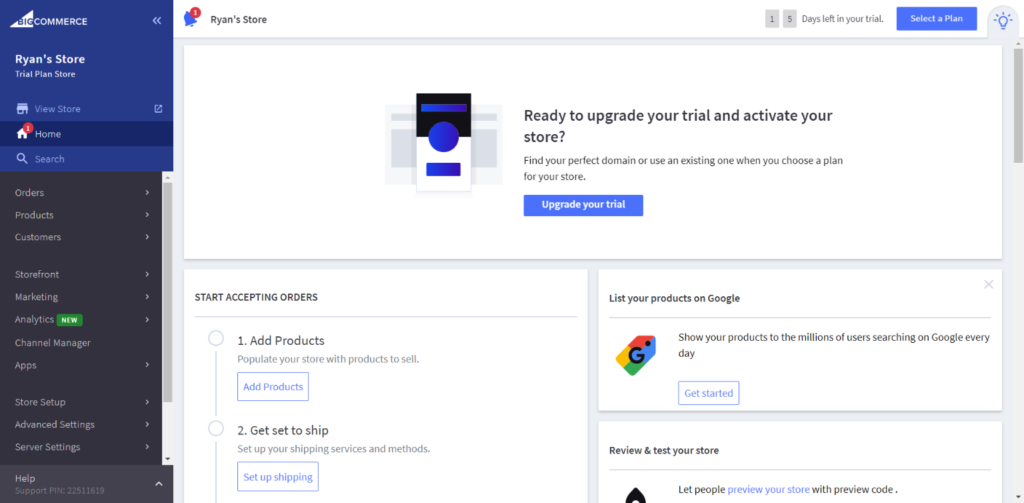 BigCommerce is less suitable for novices owing to its usage of a variety of technical jargon. When completing simple actions like adding a product, you may need to look for some precise phrases to comprehend all the terminology. BigCommerce is a heavier platform to deal with due to the technological burden, but this is due to its rich in-built capabilities, which provide you with a finer degree of customization.
Shopify Ease of Use
To set up a business, you don't need to be a Shopify specialist; anybody can simply build an online retail store in minutes.
Overall, Shopify outperforms BigCommerce in terms of usability. The majority of consumers compliment Shopify's onboarding experience and user-friendly editor. From the left-hand main menu, you can access all of your options, and there's a helpful wizard that walks you through setting up your business step by step.
WordPress Compatibility
WordPress compatibility is very crucial as it helps scale your business with WordPress on the front end along with Shopify and BigCommerce on the back end to free up server resources for catalog management, payment processing, and fulfillment logistics management. Let's take a look at each of these integrations
Shopify
Start by setting up your Shopify store. In order to do this, Set up your payments, Shipping and choose a Shopify plan. Once you have completed the default process, then add products to your inventory and fill in any necessary information.
Now moving on to the main part…
Activate and customize your Shopify buy button, after which you will have to link the button to a product. After completing the process, you will receive a code associated to the buy button. Take the code and paste it wherever you need on your WordPress site. An example of a product code can be seen below.
BigCommerce
BigCommerce for WordPress is a free plugin that allows you to utilize BigCommerce for your site's backend commerce needs while keeping your site's design and content in WordPress.
It is easier to use than the Shopify integration, as it handles a lot of the backend automatically with the help of WordPress.
The installation and activation process is just like any other plugin. Once you have activated the plugin, BigCommerce appears on your WordPress dashboard. Once you click on BigCommerce, it will display a 'Welcome' option which will guide you through its functionality.
Customer Support
Ecommerce customer service refers to how online companies help consumers with anything from completing online purchases to addressing problems, all while maintaining a consistent customer experience across platforms.
BigCommerce Customer Support
When you sign up for a free trial on BigCommerce, the platform will schedule a 10-minute conversation with you. BigCommerce will have a greater understanding of your business as a result of this, and they will be able to provide better advice.
BigCommerce also prioritizes clients that sign up for the enterprise-level package. Onboarding consultants and phone calls from highly skilled BigCommerce personnel will be available to you.
Shopify Customer Support
Unlike BigCommerce, Shopify customer care provides help via social media. When you ask for assistance in the Shopify editor, you'll be sent to the appropriate page in the Shopify knowledge base. This is a fantastic assistance function that puts Shopify ahead of BigCommerce in this regard.
Themes & Templates
These themes make your eCommerce site seem appealing enough on the frontend for customers to want to make a purchase.
Themes for BigCommerce are organized by industry, layout, and pricing. There are a lot of categories to pick from, but not quite as many as with Shopify. BigCommerce's free themes might appear a touch archaic, which isn't ideal if you're wanting to build a long-term business. This will very certainly necessitate a rebranding and the switch to a paid theme in the future. These are priced between $150 and $300.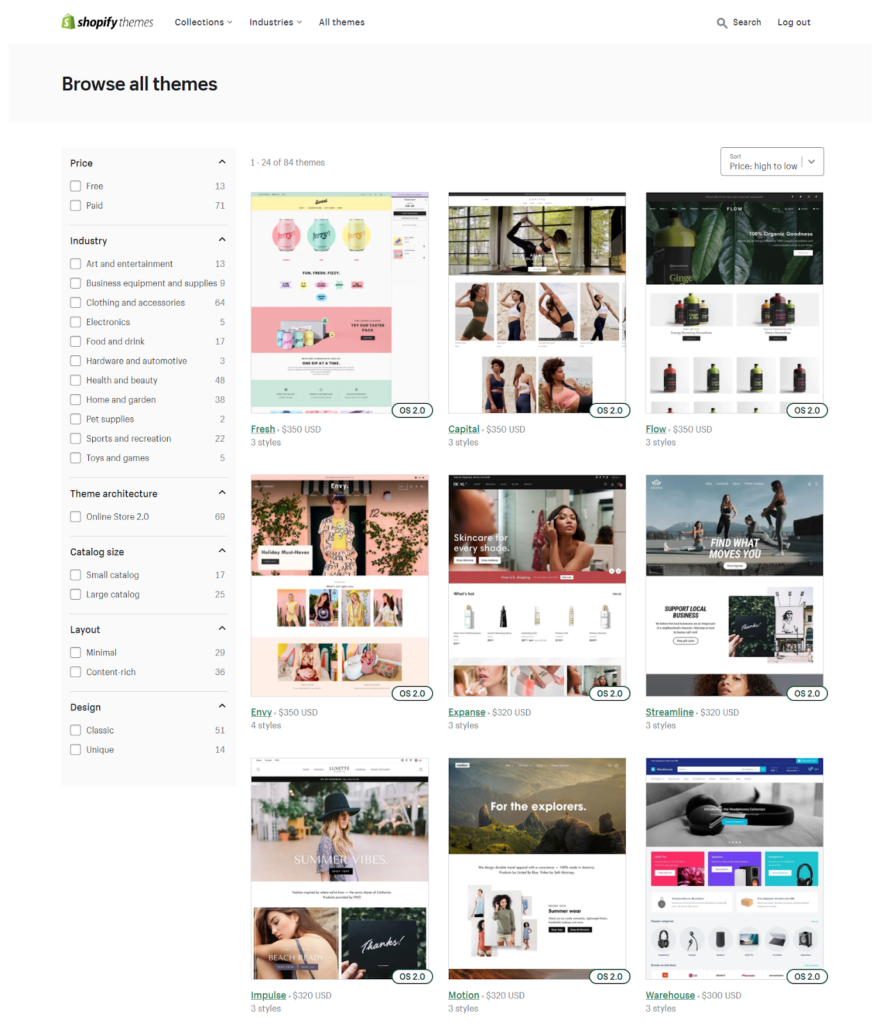 Shopify has a total of 64 themes for online businesses, 9 of which are free. These themes cost between $140 and $180.
Every Shopify theme is cost-effective in terms of functionality, and each theme is elegantly crafted to meet your business's needs. Furthermore, if you want to integrate a concept or add a few pieces, Shopify Liquid can assist you by modifying the underlying code. This implies that your chosen theme may be simply customized to meet your needs.
Payment Gateway
Both Shopify and BigCommerce can work with practically any third-party payment processor, such as PayPal, Stripe, Square, and many more.
To that end, Shopify has its own built-in payment processor, but BigCommerce merchants must rely on third-party applications to get paid.
BigCommerce Payment Gateway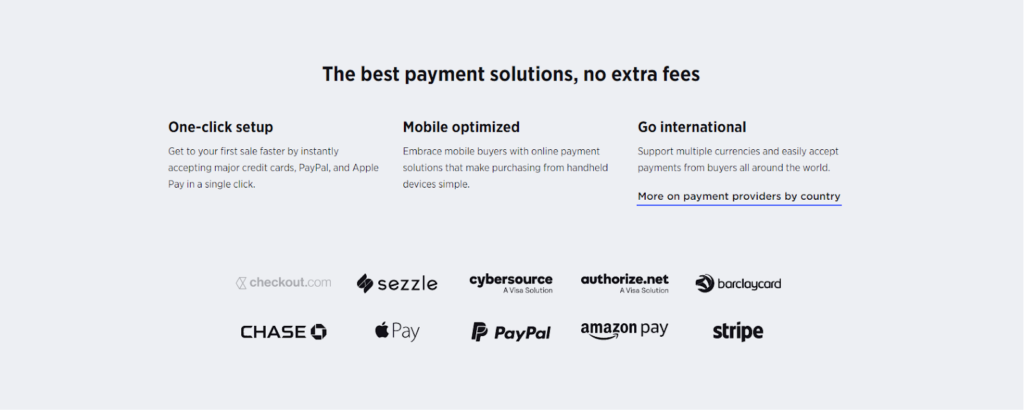 BigCommerce isn't equipped with a built-in payment processor. To receive money, business owners must link their store with a third-party payment gateway.
BigCommerce comes with 65 payment gateways pre-integrated, including Amazon Pay, PayPal, Square, Stripe, and many others. It has benefits including no transaction fees, PCI compliance, and mobile optimization.
Shopify Payment Gateway
Shopify Payment is the company's in-house payment service for Shopify sellers. When a consumer makes a purchase, Shopify Payment collects the money and transfers it directly to the shop owner. Furthermore, it has a fraud analysis to detect any unusual activity. Shopify Payments guarantees that transactions between buyers and sellers on Shopify are quick, easy, and safe.
However, if you use any payment provider other than Shopify Payments, charges are levied on every transaction based on the plan selected. The charges range from 2.0%, 1.0%, and 0.5% for Shopify Basic, Shopify, and Advanced Shopify, respectively Other payment processors, such as PayPal, Authorize, Stripe, 2Checkout, etc. are also levied transaction charges by Shopify. These charges range from 2.5% to 0.5% depending on the plan.
Dropshipping
The ability to swiftly and easily obtain items from suppliers, add them to their website, and have the selling and shipping processes automated is the most critical factor for dropshippers.
BigCommerce Dropshipping
BigCommerce offers a few good dropshipping apps. The quality of BigCommerce's other applications, on the other hand, varies greatly, and none of them are as well-known and thorough as Oberlo.
Shopify Dropshipping
For dropshippers, Shopify's connection with Oberlo and Dropified is its standout feature. Oberlo is your one-stop shop for a wide range of products at wholesale pricing. On the Shopify app store, there are numerous comparable applications that specialize in various niches, markets, or geographies.
Point of Sale (POI)
BigCommerce allows you to link your online store to a point-of-sale system, allowing you to sell both online and offline. It also allows you to manage your product catalog from a single place and sync inventory across several locations. To utilize POS with BigCommerce, you'll need to employ hardware from third-party systems like ConnectPOS, Hike, Vend, and Clover.
Shopify, on the other hand, offers an iOS and Android app for a point-of-sale system that you can use to sell your items in person.
App Store
Apps and extensions are like upgrades to the default mechanism. They add features that would not be available in these platforms from the get go.
Apps on BigCommerce
BigCommerce comes with a tonne of sales tools built-in right out of the box. With only roughly 1000 apps, its app store is significantly smaller than Shopify's, but that's because you won't have to go to the hassle of installing a tonne of apps to add functionality to your BigCommerce store.
Apps on Shopify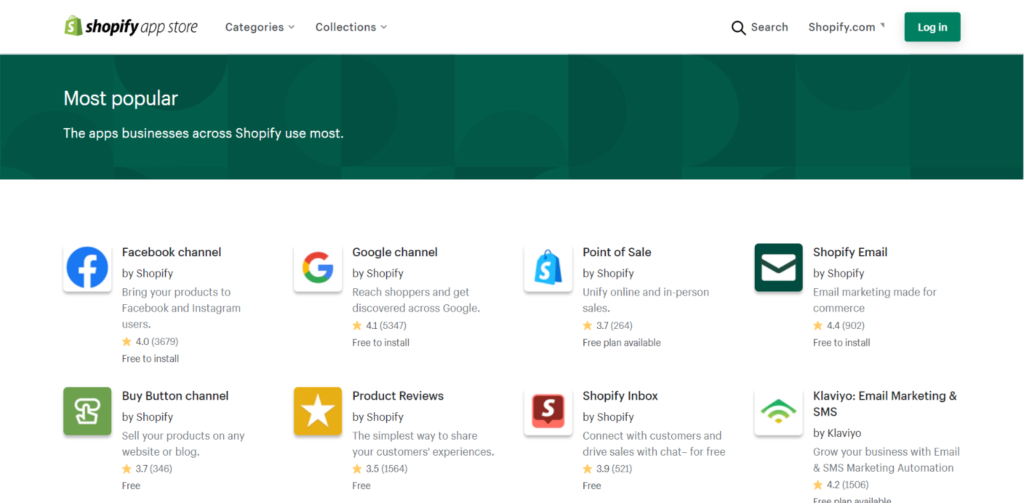 With over 6000 apps, Shopify is one of the largest eCommerce app shops accessible. With monthly subscriptions starting at $15 and a range of free and premium apps to pick from, it's like a features buffet.
Security
eCommerce site security is crucial for a variety of reasons, including protecting consumers' privacy and sensitive data on a website, securing an online company's funds, avoiding fraud and financial scams, and defending an online store's reputation as a secure place to make transactions.
BigCommerce Security
BigCommerce provides numerous levels of robust security for all the sites it hosts as a SaaS. To defend against credit card data breaches, all servers are PCI DSS level 1 certified. Additional security features include perimeter and server-specific firewalls, file integrity scanners, intrusion detection software, human monitoring 24 hours a day, seven days a week, and fraud transaction protection.
Shopify Security
Similar to BigCommerce, Shopify is a hosted platform, all updates and security issues are handled in the background. The Shopify system also runs on a PCI Level 1 certified server, which is necessary to process credit or debit card data. Every Shopify store now has SSL encryption, which ensures the security of your visitors' information.
Pros and Cons
Pros
Cons
BigCommerce
1. It has a lot more built-in functionality, thus it's a lot more enticing.
2. Provides marketing tools and features to help you grow your business.
3. Provides the capabilities required for your store's security and validation in order to accept secure online payments.
4. BigCommerce has a lot more features than Shopify, so consumers don't need to integrate as many apps.
1. The built-in features of BigCommerce make it a considerably more difficult platform to utilize.
2. BigCommerce does not offer as many options for themes as Shopify does. The free BigCommerce themes might occasionally appear to be a touch antiquated.
Shopify
1. Shopify is more user-friendly than BigCommerce, making it the best option for newcomers.
2. Has better designs and more options, both in terms of functionality and more recent templates.
3. Because of its huge app store, it offers more configurable options than BigCommerce.
4. Oberlo is the one technology that provides Shopify the edge when it comes to dropshipping.
1. Even with the Advanced Plan, Shopify charges extra transaction fees and only allows 15 staff accounts.
2. Third-party real-time shipping prices are only available with the 'Advanced Shopify' plan.
Conclusion
BigCommerce and Shopify are two of the most well-known eCommerce platforms. They're both major competitors, so whichever one you select will provide excellent service. BigCommerce is better for professionals, whereas Shopify is ideal for those who are new to the sector.
Further Reading