Last updated - January 20, 2021
Shopify and BigCommerce are two popular names in eCommerce. In fact, it is crucial when we have to analyse which platform to choose for an ideal eCommerce platform. In addition to being attractive eCommerce platforms, Shopify and BigCommerce gain a slightly high demand than their competitors WooCommerce and Magento. The former, being a SaaS-based product, is quite widespread for its ease of deployment and lesser maintenance. Here is a quick look at Shopify Vs BigCommerce.
What is Shopify? 
As you know, Shopify is a popular eCommerce platform that is absolutely appropriate for your eCommerce business.  Not only does it provide all the necessary features to let you start an eCommerce platform but also to run it and grow it big.  In fact, Shopify assists well-enough to manage your e-store and market your products directly into the market hassle-free. Undoubtedly this is why Shopify hosts more than 600,000 users and supports them to sell across multiple channels across various platforms like Facebook, Pinterest and Instagram. 
Features of Shopify
Impressive Designs.

On-the-spot launch to eCommerce.

Faster and mobile responsive designs.

Contain numerous templates and themes.

Self-explanatory guides and strong Knowledge Base.

Dedicated 24/7 Support Team.

Multi-lingual Support.

Secure and Scalable.

Apps for Integrations.

Various Pricing Plan to support, small to big businesses.
Shipping and tracking management.

Hassle-free Tax Calculation.

Dropshipping.

Marketing and discount offering.
Pros:
Easy Social Media integration and SEO which helps in product promotion.

Modern and self-explanatory user-friendly interface.

Supports Selling across multiple Channels on various platforms like Facebook, Instagram etc. 
Cons:
Minimal Product attributes close to 3.

Limited Multi-currency Support, needs external apps to support upgrades.

Transaction fees are applicable if not using Shopify Pay.

Reformating must be done, when any modifications are applied.

Limited staff accounts as per the plan selected.

Certain countries like  Australia, Germany, Canada, Ireland, US, New Zealand, Hong Kong SAR China, Japan, The Netherlands, Singapore,  Spain and the UK permits the use of Shopify Pay. Other locations must depend on other payment methods.
What is BigCommerce?
BigCommerce, like Shopify, is an eCommerce platform to host your eCommerce website. It has several built-in apps as well as features that will streamline your processes and help you grow your business well. Like all other eCommerce platforms, BigCommerce has all major security features expected. Similarly, it also lets to sell on multiple platforms. With efficient usage, one can build an agile environment to meet business needs. All in all, BigCommerce has much more out-of-the-box features that reflect its price. 
BigCommerce Features
SEO-Friendly.

Mobile Friendly.

Design option with customizable CSS/HTML.

Efficient built-in features for marketing.

Integrations are available for various features.

Report generation.
Pros:
The dashboard is user-friendly with a drag and drop interface that makes it easier.

Can use themes to suit and in fact, it lets user code the theme using HTML/CSS Editor for personalization.

Customer database has enough information to ponder about and get to know the customer.

Supports Selling on Multiple Channels.

Unlimited staff accounts for every plan selected.

No transaction fees for any plan chosen.

Customizable Enterprise plan that will provide exclusive support and prioritization.
Cons:
However, its features are costlier and not available as a free entry-level plan.

Initial setting up is not as easy as the terminologies are quite complex.

No mobile apps for BigCommerce.

Navigation is slightly tricky. 
Pricing: Shopify Vs BigCommerce
Even though both Shopify and BigCommerce have slightly similar price, it is rather confusing which one actually costs more. Let us take a look at the price of each.
Shopify
The pricing plan for Shopify is as follows:
Surprisingly, Shopify also has a lite version which costs around $9 per month,  but it just lets one start an e-store and then sells using the basic functions with Shopify. It has limited features not suited for the long run. Most importantly Shopify also levy transaction charges on every plan as well as the staff accounts are limited per plan. 
BigCommerce
A good number of standard priced plans are available on BigCommerce surprisingly with no Transaction fee for any plan chosen for the purpose.
To say which is pricier in Shopify and BigCommerce is quite tricky. In addition, here is a table with the price details on both the platforms for better understanding:
Shopify
BigCommerce
Package
Price / Month
Transaction Fee
Package
Price/Month
Transaction Fee

Basic Shopify

$29

2.0%

Standard

$29.95 

No

Shopify

$79

1.0%

Plus

$79.95

No

Advanced Shopify

$299

0.5%

Pro

$249.95

No

Shopify lite

$9

No

Enterprise

Customized per need

No
More or less the prices are the same for both BigCommerce and Shopify. Unquestionably, BigCommerce built-in features are worth the price, whereas in Shopify, for certain additional features the user has to pay extra for themes or apps to use. As a matter of fact, Shopify also gives you an annual discount of 20% when purchasing plans in advance for two years. BigCommerce (only Plus and Pro plans) and also Shopify offer a 10% discount if you are purchasing the plan upfront for a year.
Ease of use: Shopify Vs BigCommerce
Shopify stands high in users' choice worldwide because of its ease of use. They both are powered by their own CMS, apps and analytical panels. For any amateur, Shopify makes it all simpler to use and launch an e-store in just a few clicks away.
A new user can just launch a Shopify store in just a few steps. Here is an illustration of the same. 
Click here for a Shopify Trial Plan.
1:  Firstly to start with, one needs to enter the following details. 

2: Secondly, Define what kind of e-store you are launching. 
3: Third, add the other information regarding your name,  location etc.
4: Finally the dashboard appears with all the settings you want to launch your website with.
Shopify Dashboard is self-explanatory, and lets you add multiple products and features you require for your e-store to run successfully.
BigCommerce is also easy to use and start with like Shopify. One can use the 15-day trial to try BigCommerce e-store. For example, here is how one can start with BigCommerce following these steps explained below.
1.  Firstly on creating a BigCommerce website, the first step would be to provide your email id.
2. Second, fill in the necessary details as requested.
3. Finally, fill in these details to launch the website.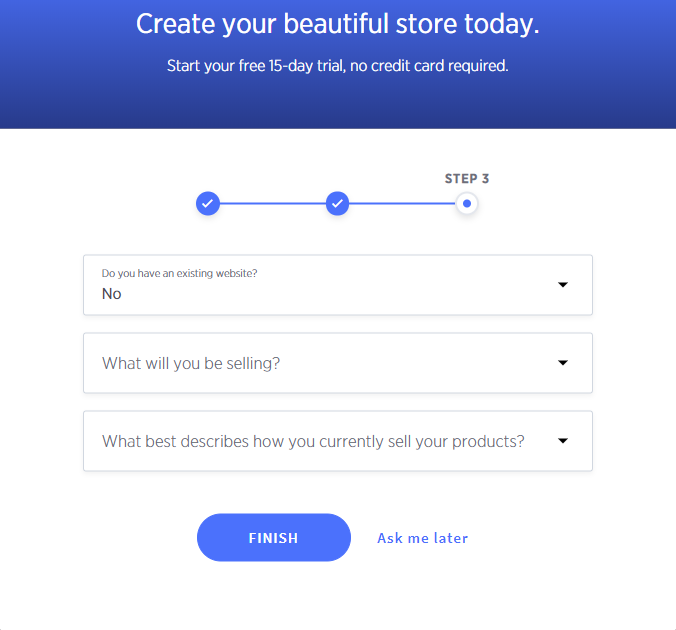 4. Finally, the Dashboard appears. Dashboard in BigCommerce offers plenty of customization that supports streamlining the processes and analysing the data as well as for analytics.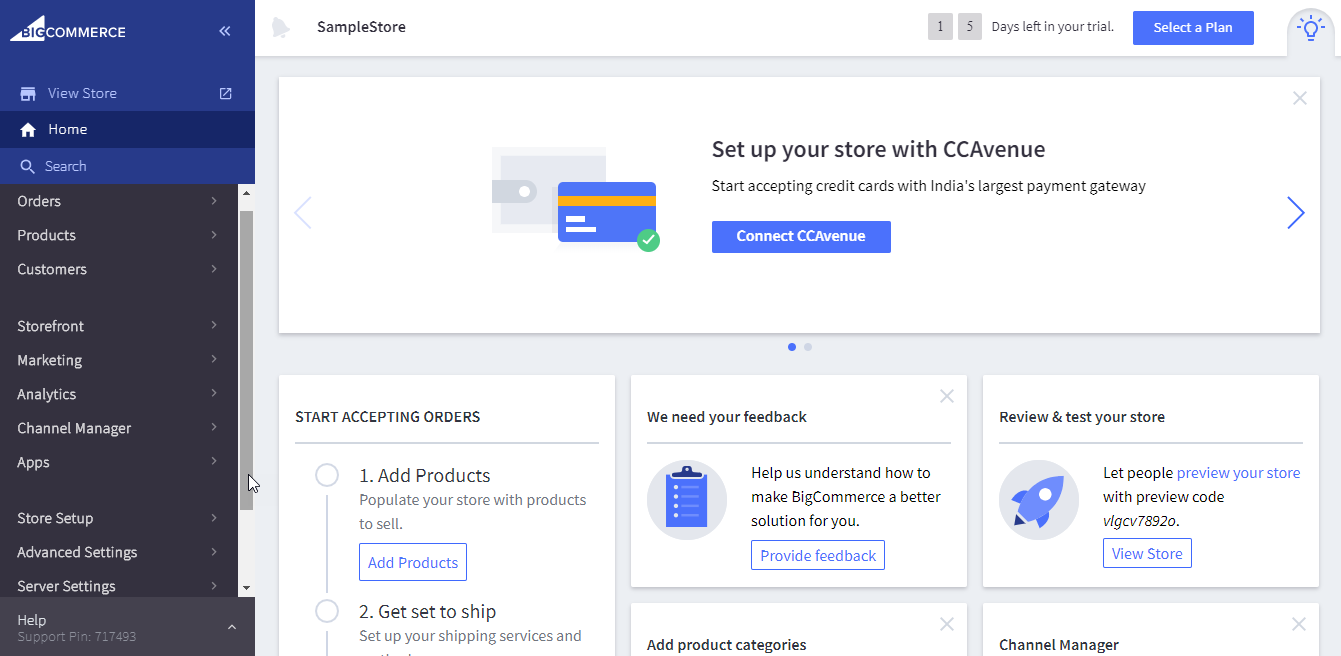 Nevertheless, Shopify and BigCommerce can let any user create an eCommerce website just a few clicks away. 
Payment Channels: Shopify Vs BigCommerce
Shopify has its own payment channels accepting credit cards from all over the world.  Shopify chose Stripe to be their payment merchant naming it as Shopify Payments. Indeed users can add other payment channels like Paypal, but with additional transaction charges.
On the other hand, BigCommerce offers a nominal rate on any credit Card, powered by PayPal. Both Shopify and BigCommerce charge a nominal amount for the payment gateway used. 
| | | |
| --- | --- | --- |
| Packages | Charges  per transaction | PoS – Retail or market |
| Shopify Lite | 2.9 % + 30¢ | 2.7% |
| Basic Shopify | 2.9 % + 30¢  | 2.7% |
| Shopify | 2.6 % + 30¢  | 2.5% |
| Advanced Shopify | 2.4 % + 30¢ | 2.4 % |
| BigCommerce  Standard  | 2.9 % + 30¢ | – |
| BigCommerce  Plus | 2.5 % + 30¢ | – |
| BigCommerce  Pro | 2.2 % + 30¢ | – |
| BigCommerce Enterprise | 2.2 % + 30¢ | – |
App Store: Shopify Vs BigCommerce
In terms of apps both Shopify and BigCommerce has abundant apps for its users. BigCommerce, on the other hand, has some great apps built-in their packages. 
Shopify App Store
Shopify apps store has plenty of apps close to 1500 apps to support eCommerce store owners on different functional areas.  These apps let you manage SEO, Sales, Inventory, Social Media, Finance, Order Fulfillment, Customer Service, Shipping and delivery etc.
BigCommerce AppStore
In the same way, BigCommerce App Store also has certain apps that will help to streamline your eCommerce store with ease. Users can easily navigate through the page and select the apps as required. 
Likewise, BigCommerce app Store also contains many more features and add ons that support the functional areas.
Accounts and Tax calculations

Order Management

Payment & Security

Merchandising

Shipping and Order Fulfilment

Website tools

ERP, CRM and customer services.

Mobile
Shopify Vs BigCommerce 
To summarize, this table that shows consolidated data that compares different attributes of BigCommerce and Shopify
Shopify
BigCommerce
Trial Plan

14-day

15-day

Price

Shopify has the lowest kick start price of 9$ which is attractive.

Even though Bigcommerce has no lite version, but the basic plan has sumptuous built-in features. 

Ease of Use

Shopify has user-friendly navigation and interfaces making it easy to use

Meanwhile, it takes a little time to work on and get used to the complex interface.

Themes and Templates
Contains numerous themes and templates to support users.

Contains themes and templates which are customizable 

Payment Options

Shopify has its own payment gateways which are well-advanced and easy to use. Availing other payment gateways levy charges on the same.

BigCommerce lets you integrate your store with payment gateways easily with a minimal transaction fee.

Web Design

Contains impelling web designs, which are mobile responsive too. 

Limited Web Designing option.

Features

Even though Shopify plans might not have many features built-in it can be integrated from external apps via the App Store.

BigCommerce has much more built-in features, worth the price. However external add-ons can be obtained from the app store.

Customer Service and Support

Shopify has an excellent support team, which offers you support 24/7 invariably. Also on email and chat services other than the phone. The support system is tailor-made for new and old e-Store owners.

BigCommerce also supports its users efficiently and has a good knowledge base and an informative blog. Also have email support, chat and phone service.
Abandoned Cart Recovery

Shopify offers its users the Abandoned Cart Recovery tools for support on advanced Shopify plans.

BigCommerce has no built-in feature for  Abandoned Cart Recovery, but the user can get it from another app. 

Features

Numerous apps to facilitate process upgrade.

BigCommerce offers apps that have much more advanced features at a high price.

Mobile Compatibility

Shopify is built to suit mobile devices seamlessly, irrespective of what device the user owns. Even Shopify users can manage their e-store on their mobile devices too.

BigCommerce also offers mobile screen compatibility, yet only developers are allowed to edit the code for BigCommerce mobile use. BigCommerce does not facilitate managing your store from mobile devices.

Community

Shopify has a large community of users, where the users can discuss and gather more information on Shopify.

BigCommerce is an evolving community with a comparatively lesser user base but quite interactive user group.

Hosting & Security

All web stores under Shopify are PCI Level Compliance and the carts are secured with 128-bit encryption SSL Certificate. Backups are done on a regular basis to save data from cyber mishaps.

Likewise, BigCommerce also hosts its web stores PCI level and with 128-bit Encryption SSL with regular backups and routine updates and security checks.

SEO
Good  SEO Capabilities
Stronger SEO.
Product Presentation and display

Limited features only available like the description and title of the product and the product variation is limited to three.

Lot more features of the product can be included like brand, rating, weight, price etc. Adding multiple variations is possible for a single product.

Product Carousel Feature

Only Zoom feature is available, no video support too.

It allows Videos to be uploaded.
Product Review

Shopify has no in-built feature, but can be acquired using an external app.

Luckily, BigCommerce lets enabling Product Review.

Store Features

Essentially requires third-party integration.

Much more features like product Comparison, wish lists, bulk discounts, search suggestion and CAPTCHA are included.

Point of Sale (PoS)

Shopify Pops helps to sell anything anywhere from online to the market place.

BigCommerce requires specific integration to assist Pos. 

Multilingual Themes

Shopify has Premium Multilingual Themes

While BigCommerce has no multilingual themes but one can consider translation and edit code to supplement the language. 

Sale Limits

As a matter of fact, no such Sale limits apply.

Standard plan-$50,000
Plus Plan – $150,000
Pro Plan – $ 400,000
Enterprise – Custom

Page Speed

Shopify loads at a better speed than BigCommerce 

BigCommerce takes a slightly little longer to load. 
Conclusion
  Overall Shopify is ideal for:
Availability of Apps to enhance features

Drop Shipping

Ease of Use

Payment Gateways
 Shopify takes a backseat in terms of;
Product reviews.

Availing transaction charges per package.
When considered BigCommerce is a perfect choice at ;
SEO

Efficient customization

No Transaction Fees

Excellent Entry plan

Product Reviews
 Similarly, BigCommerce stands on the sidelines when it comes to
supporting multilingual websites

In the case of sales threshold limits when users sales exceed a certain limit as per plan.
To conclude, Shopify and BigCommerce find its own way of impressing its dedicated users.  Undoubtedly, with its simplicity and ease of use, Shopify exceeds much of the user expectation when considered, most importantly, BigCommerce has its own built-in features that let it stand-out. 
Above all, one can take a closer look at each of them before deciding which to go for. It would be ideal to take up a trial package for both Shopify and BigCommerce to try hands on before deciding.
Further Reading