Last updated - November 22, 2022
Shopify and Squarespace are two website builders with a lot of features. Moreover, they allow you to effortlessly develop and administer websites without any technical prowess. If you're seeking for a detailed comparison between Shopify and Squarespace, look no further because you've come to the right spot.
Keynotes of article
What is Shopify?
What is Squarespace?
Detailed comparison
Pros and Cons
What is Shopify?
Shopify was launched in 2004 as a hosted eCommerce platform. In general, Shopify is a safe alternative for novices who have no prior experience with programming, coding, or web development and want to build and operate their own online store. There are presently 1,389,995 active Shopify websites around the globe.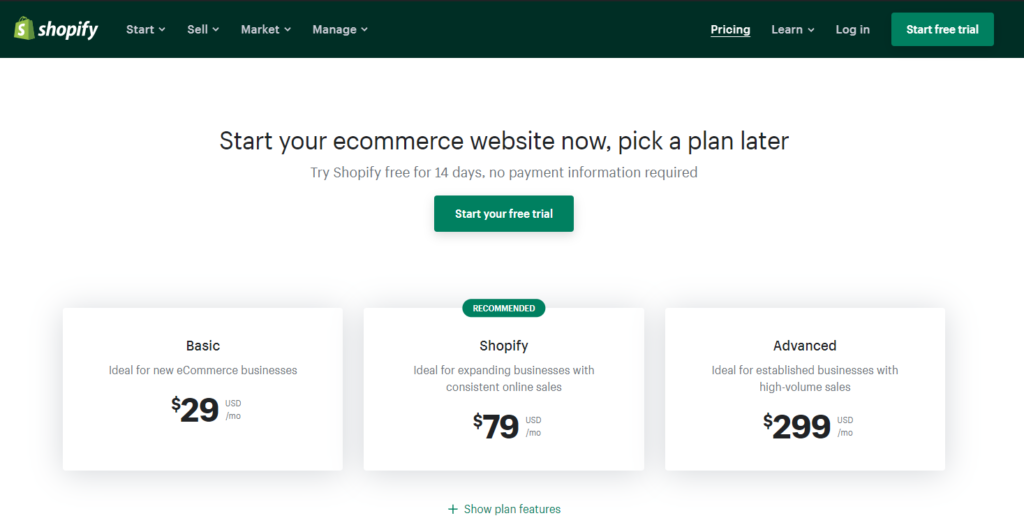 What is Squarespace?
Squarespace is a hosted content management system (CMS) for building and managing websites, blogs, portfolios, and online storefronts. It uses a drag-and-drop interface to allow businesses of all sizes to construct professional websites. Squarespace now hosts 2,608,015 active websites throughout the world.
Shopify and Squarespace, on the other hand, were created for quite different goals. Squarespace was developed to assist content-based websites, whereas Shopify was created primarily to boost sales for online businesses. As a result, there are many differences between these two titans.
Detailed comparison
Pricing
Basic Shopify, Shopify, and Advanced Shopify are the only three price options available, each having a monthly charge as indicated below. You can also sign up for a 14-day free trial of Shopify by just entering your email address.
Aside from the three basic versions mentioned above, Shopify now provides a $9-per-month Shopify Lite plan for people who wish to sell in person or combine certain selling capabilities with their existing website. Otherwise, if you're an eCommerce development firm, Shopify Plus is a good option, with prices beginning at $2000 per month.
Shopify Payments, in addition to third-party payment processors, is a distinct payment gateway. You must pay online credit card rates and/or in-person credit card rates when it comes to the transaction cost for third-party options. If you utilize Shopify Payments, however, you won't have to pay an extra transaction charge, which ranges from 0.5 percent to 2 percent depending on the package you pick.
You have four monthly price choices as a Squarespace user: Personal, Business, Basic Commerce, and Advanced Commerce. The price ranges from $16 to $54, with the higher pricing, offering more features for your business. You may also take advantage of a 14-day free trial to see if Squarespace meets your needs before determining whether it is right for you.
Squarespace is a significantly more cost-effective alternative. With just $54 a month, you get access to Squarespace's most advanced features. Meanwhile, to get the most functionality out of the box with Shopify, as well as other applications and add-ons for expanding your business, you'll have to spend at least $299.
User-Friendliness
Shopify offers an extremely user-friendly interface due to its hosted nature. Shopify has a drag-and-drop interface, which means you can easily add, delete, or relocate components with just a few clicks. On the main page, it also offers a straightforward interface with visual hints and shortcuts for adding goods, customizing themes, and adding a domain. As a result, you'll never be lost when creating your online business.
Squarespace ease of access
Even though Squarespace is a hosted platform like Shopify, it is a little more difficult to master than its opponent. Squarespace makes it simple for newcomers by using drag-and-drop sections with certain content blocks. The editor's webpage, on the other hand, is a little difficult to browse and lacks visual signals.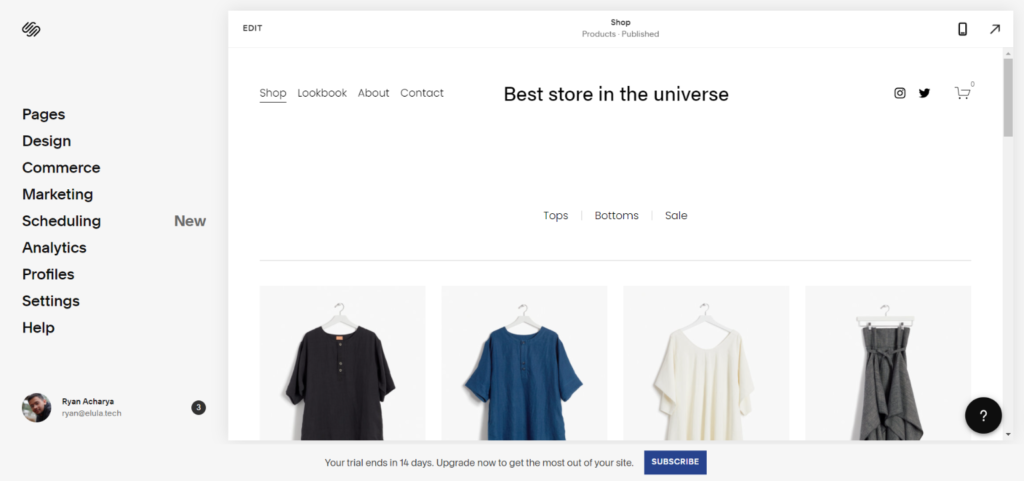 Both Shopify and Squarespace are user-friendly, however Shopify is a little easier to use than Squarespace. It strikes a good mix between basic design elements and advanced business tools.
Themes
Shopify provides a good selection of themes. There are 13 free templates and 71 premium designs ranging in price from $150-350. Shopify's themes are available for a variety of sectors, including electronics, clothes, sports, and cosmetics, among others.
Shopify's themes are all beautiful, appealing, and mobile-friendly. Furthermore, Shopify guarantees the performance of whatever theme you pick because they are all designed by UI-UX experts. You may choose any template for your storefront and change it later if it isn't acceptable.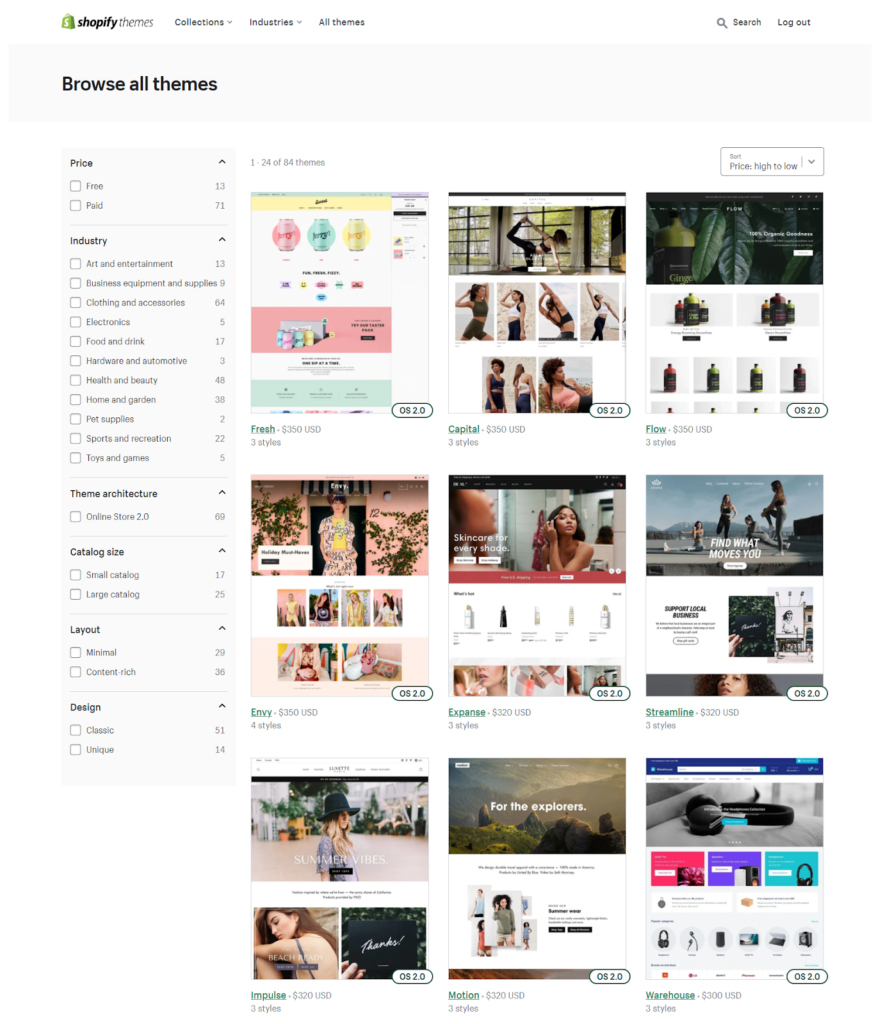 The Squarespace templates are contemporary, sleek, and attractive. Above all, they've all been professionally designed to satisfy the highest standards of outstanding design, usability, performance, and mobile responsiveness.
Squarespace is, in fact, a blog-hosting service by definition. Many Squarespace templates are tailored to individuals who wish to blog or show off their art, photography, or music portfolio.
Squarespace is simpler for e-commerce merchants to design their stores in an aesthetic style, even if it does not have all the bells and whistles for eCommerce like Shopify.
Shopify and Squarespace, both have numerous appealing template possibilities. For individuals looking to create an ecommerce store, the former is a more apparent option. For content-driven websites, the latter is a better fit.
eCommerce compatibility
You can sell physical and digital products with both Shopify and Squarespace. However, you'll need to install an app to sell digital products like music or images on Shopify, but Squarespace allows you to sell any form of product. Both of these website builders include an infinite number of products, the flexibility to add single or bulk items, in-house revenue reporting, and direct email warnings for low stock levels.
Shopify accepts all major payment methods, including PayPal, Amazon Pay, Square, and even Bitcoin, in addition to over 100 additional alternatives. Shopify continues to expand its payment options, particularly for local suppliers, in order to assist business owners in increasing conversion rates.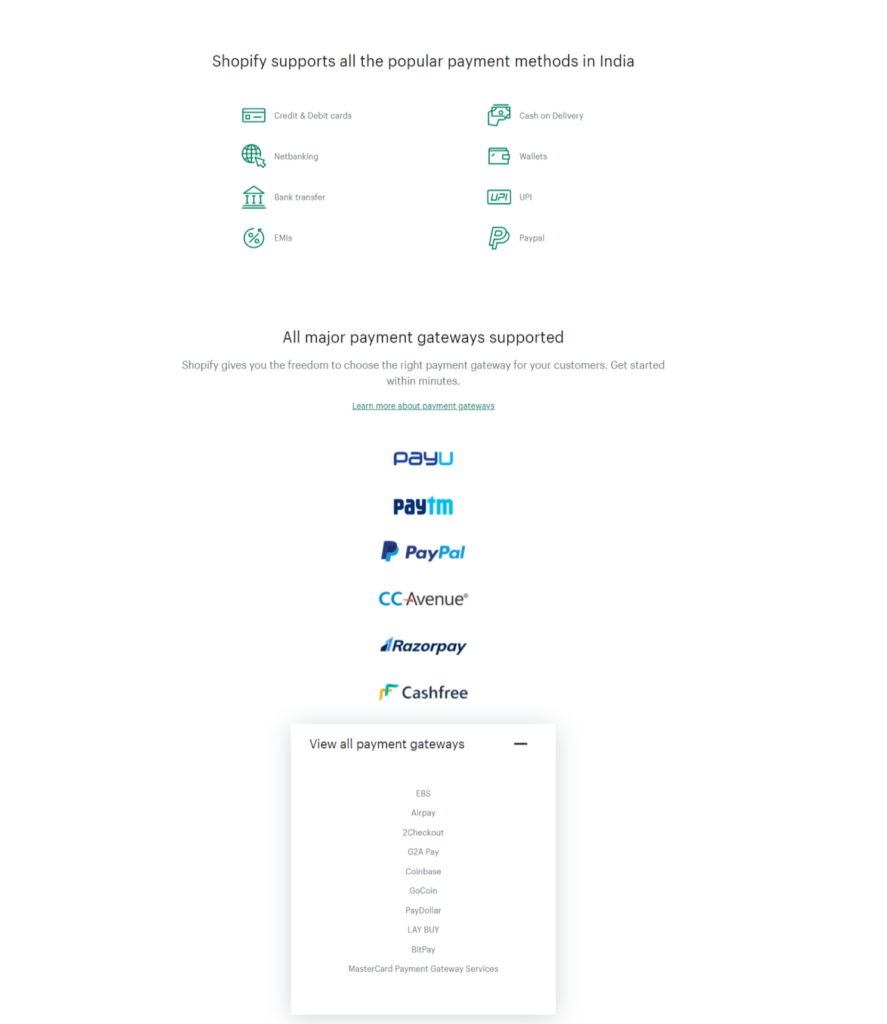 Additional transaction costs, which vary from 0.5 percent to 2 percent per transaction for all other payment methods, will not be charged to Shopify Payments users. Shopify Payments is currently only accessible in 17 countries. If you live in one of those countries, make sure to use Shopify to avoid paying the additional fee.
Squarespace has limited payment options and only accepts PayPal, Square, Apple Pay, Afterpay and Stripe as payment methods.
Options for Shipping
Shopify has everything you need, from printable shipping labels to built-in connection with shipping services like NHL or UPS, as well as dropshipping. They make sure that the shipping process goes as smoothly as possible.
Squarespace allows you to use carrier computed shipping if you're on the Commerce Advanced Plan to automatically calculate shipping prices based on FedEx, UPS, and USPS rates. You can also use extensions such as EasyShip to automate this process.
Marketing features
Squarespace Email campaigns
Squarespace comes with email campaigns pre-installed. This tool allows you to manage your website as well as your email list from one location. However, you must pay an additional fee to utilize it. Starter ($7), Core($14), pro($34), and Max($68). The Starter kit provides 3 email newsletters for 500 subscribers and on the other end of the spectrum the Max kit offers unlimited newsletters for 250,000 subscribers.
Shopify has released Shopify Email for abandoned orders, an email marketing tool that is available on all Shopify subscriptions without a monthly commitment. This service allows you to send free emails to up to 2500 subscribers. After that, you'll have to pay $1 for every 1000 emails you send.
Social media incorporation
You may sell on up to ten social media platforms with Shopify, including Facebook, Instagram, Messenger, and Amazon. Shopify provides its merchants with a powerful tool to reach out to more prospective clients in this manner.
Store owners on Squarespace can only sell on Instagram and share content on Facebook, LinkedIn, Pinterest, Tumblr, and Twitter. If you want to grow your business and become closer to your clients, this creates a lot of challenges.
SEO Optimization
With Shopify's SEO built-in tools, you can efficiently optimize your eCommerce website. To begin, Shopify will generate titles and descriptions for all items and pages, as well as your sitemap, depending on the material on your site.
Squarespace likewise offers SEO tools to help you optimize your site for search engines. This technology also aids SEO optimization by producing title tags, meta tags, and sitemaps automatically.
Multi-Channel Selling

Shopify offers multi-channel selling that comes inbuilt with its Shopify payment subscription.
Squarespace does not offer multi-channel selling.
Apps and Plugins
With over 6000 applications, Shopify offers one of the greatest eCommerce app shops accessible. It's like a features buffet, where you can pick and choose from a selection of free and premium applications, with monthly subscriptions starting at $15.
There are 28 extensions that are entirely provided by third parties. Some of them, however, are only available in a few countries.
Support accessibility
Shopify and Squarespace have easily accessible support that can be reached via email, phone, live chat, and their community forum. Shopify does offer special agent support for its Shopify plus customers.
Security
Shopify and Squarespace satisfy a basic level of security that can sufficiently safeguard your online company data from data leakage or loss. They both offer SSL certificates that provide message encryption. They both are PCI compliant, which means they meet the security standard for payment gateways.
Pros and Cons of Shopify vs. Squarespace
The comparison points below highlight the important similarities and differences between Shopify and Squarespace.
Platform
Pros
Cons
Shopify
1. It's simple to use.
2. E-commerce features of the highest caliber.
3. Multi-channel selling.
4. App shop with a large selection.
Customer service is outstanding.
1. For third-party payment gateways, there is an additional transaction cost.
2. With all the services and applications combined, the monthly charges are rather hefty.
Squarespace
1. Templates that are clean and modern.
2. The cost is reasonable.
3. Excellent customer support.

1. There is no app store, only extensions, the bulk of which are third-party.
2. Payment choices are limited.
3. Beginners may find it difficult to follow.
4. There is no multi-channel selling.
Conclusion
In conclusion, both Squarespace and Shopify are excellent website builders for eCommerce. Squarespace is better for blogging and showing amazing photos, while Shopify provides the finest sales functionality. If you are looking for e-commerce prowess, Shopify is your best bet along with its easy interface. On the other hand, if you want to create a blogging site along with aesthetic templates, Squarespace is your go-to option.
Further Reading