If you are planning to build a website, you will have to look for hosting options at the start itself. Since hosting will have a direct impact on site performance and user experience, you will have to be extremely careful while choosing one. And if you are planning to create a website using WordPress, it is always wise to choose one of the recommended solutions. We will discuss one of the WordPress-recommended solutions in this article. Here is our detailed SiteGround Hosting Review, where we look into the major features of their different plans.
Siteground hosting
Siteground is clearly a popular choice for WordPress websites thanks to its advanced technology stack comprising NGINX-based caching, SSD-drives, PHP 7, CDN, HTTP/2, etc. In addition, you will find superior protection from hacks, and several other platform-specific features that WordPress users generally look for. Furthermore, they offer excellent support from WordPress experts as well.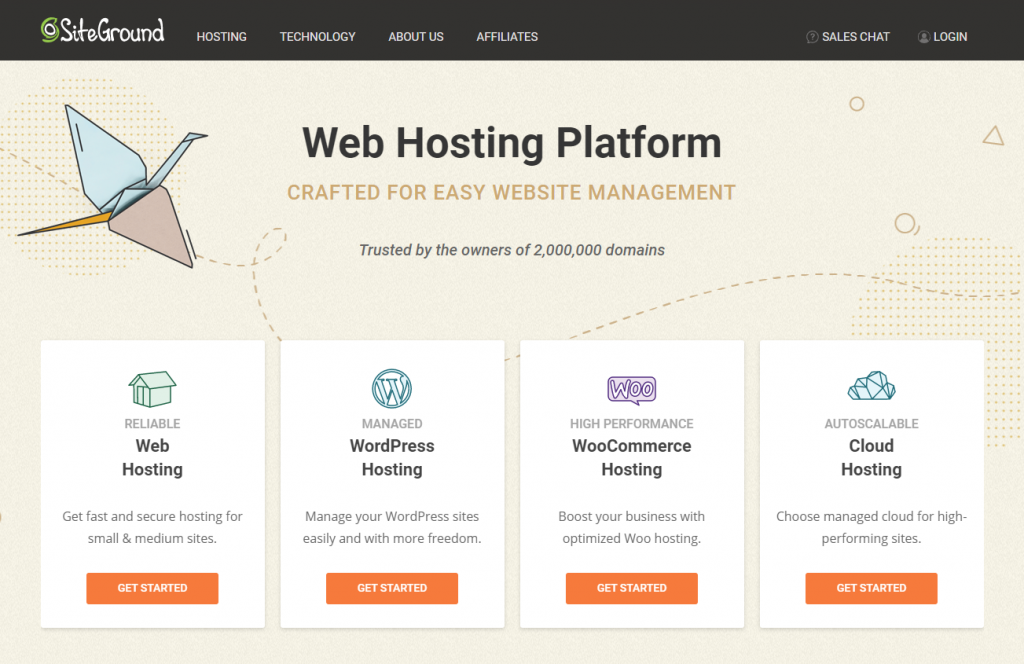 General features
First, we will take a look at the general features of Siteground hosting.
Great solutions to help absolute beginners get started with their website
If you are not really familiar on website technologies, Siteground offers you a great starting package that includes a sitebuilder, premium features and adequate support. Within no time, you will be able to set up a good looking website.
Easy migration options
Siteground offers free and automatic WordPress migration thanks to the user-friendly WordPress migration plugin. You can also request for professional help from them for migrations.
Managed solutions tailor-made for WordPress sites
If you are just getting started with a WordPress website, Siteground is one of the best solutions thanks to the instant WordPress installation, automatic updates, caching, and expert support. You can take off your mind from the hassles of site management, and focus on other business areas peacefully.
Great tool for professionals
Siteground offers a large number of tools for professional collaboration. It is a preferred solution for designers and agencies thanks to user-specific interfaces, client management and whitelabel reselling. Developers will also be able to use the staging environment so that they can test changes before implementing them on the live site.
Powered by Google Cloud
Siteground is powered by Google Cloud platform, and that means a fast and powerful network, Google's SSD persistent storage and renewable energy match.
Technical innovations
As a Siteground customer, you can be assured of getting access to the latest technological advancements all the time. Siteground has a reputation of continuous innovations and improvisations in security with several examples such as secure account isolation, custom SSL integration, Ai-based brute force prevention, etc.
Performance oriented
With a great technology stack, you can expect the best speed with Siteground. Some of the advanced options include Apache, Nginx, custom PHP handling, OPCache extension, etc. Moreover, you will also get free Cloudflare CDN with Railgun and the unique SG Optimizer plugin. Also available is QUIC protocol, which will increase site loading speed even with poor internet connectivity.
Great focus on security
Siteground has a noticeable "security-first approach", that will save your site from a lot of vulnerabilities. You will get access to features like constant monitoring to ensure the best safety on server and website levels. In addition, you will see that custom rules are regularly added to the firewall, along with other security enhancements.
Automatic backups
Siteground offers daily backups, which are especially important for the safety of your site. Moreover, you can use their tool to restore your site in a single click.
Unlimited email accounts
You will be able to create business email accounts without any limits. Moreover, they offer a free spam protection service as well.
Great support team
With Siteground, you will get an expert support team, who will be always willing to help you out. They are notable for their friendly attitude and the quick resolution of issues in a consistent manner. You can contact their customer support team round the clock through live chat, phone or through helpdesk tickets. In addition, you will find exceptional self help options in the form of AI chatbot, automated solutions, and pinned articles on all client-facing pages.
Siteground is a preferred hosting service thanks to its specific services for WordPress sites. If you choose a managed WordPress plan, you can expect a hassle-free experience. Here is a quick look at some of the benefits of choosing a managed WordPress hosting plan of Siteground.
WordPress Starter kit to help you get started really quickly.
Easy WordPress transfer with Siteground Migrator plugin or expert professional help.
Regular WordPress updates and security patches.
Comprehensive solution that includes free CDN, powerful caching, PHP version control and image optimization.
Now, if you are running an eCommerce store on your WordPress site, you may need a hosting service optimized for that. Here is a glance at the managed WooCommerce hosting service of Siteground.
First of all, you will get help  from their "click-and-install Getting Started Wizard". That means a WooCommerce store will be already set up with Storefront theme installed. This will save you from the troubles of setting up your own store, if that is too much trouble for you.
If you need to get help in setting up a store, check out our article with video on "How to create a WooCommerce store from scratch".
For WooCommerce stores, performance and security are more important since you are continuously interacting with potential customers. Here is a list of features that you can expect for the WooCommerce-specific service:
Getting started wizard to set up your store in quick time.
Professional transfer service to migrate your online store.
Free Cloudflare CDN service.
Unique caching options, where dynamic caching may be a problem when users have items in their cart.
Special lazy loading to ensure product images are loaded without delay.
Managed WooCommerce updates without hindering customer experience.
AI-antibot system and custom firewall for solid security.
Pricing
Siteground offers a range of pricing plans suitable for diverse requirements.
The StartUp plan, with a pricing of $6.99 per month, offers 10GB web space, unlimited databases, daily backups, free SSL, CDN and several more features.
With the GrowBig plan that costs $9.99 per month, you will get performance boost with caching, on-demand backups, staging environment and option to add collaborators.
And the GoGeek plan additionally offers client white labeling option, premium resources, faster PHP and priority support. It will cost you $14.99 per month.
Cloud hosting with Siteground
Siteground also offers cloud hosting services. If your site has really grown, and you are looking for dedicated resources, this could be a great option to check out. You will find superior resources that will ensure top class performance for your site. Created on a private lightweight Linux container, the server infrastructure make use of SSD disks. In addition, you will get dedicated-RAM and CPU resources when you choose the cloud services.
Feature highlights for Siteground cloud service
Fully managed and optimized service that ensures best performance and hassle-free maintenance.
Auto-scaling option or single click upgrade of resources.
Create and manage sub accounts easily.
Easy onboarding for new or existing sites.
Single-click staging tool, Git integration and WP-CLI for a smoother development flow.
Large range of performance optimization tools including SG Optimizer, dynamic caching, etc.
Direct SSH access and SFTP for a safer file transfer and management process.
Dedicated IP and free SSL.
Priority support round the clock.
Cloud service pricing
There are 4 different pricing plans that you can opt for with Siteground cloud hosting. They are:
Entry – 3CPU cores, 6GB memory and 40GB SSD space for $80 per month.
Business – 4CPU cores, 8GB memory and 60GB SSD space for $120 per month.
Business Plus – 5CPU cores, 10GB memory and 80GB SSD space for $160 per month.
Super Power – 9CPU cores, 12GB memory and 120GB SSD space for $240 per month.
Why choose Siteground?
If you are looking for an affordable, hassle-free hosting service for your new WordPress site, Siteground could be a strong contender as your top choice. WordPress recommends Siteground, and you will find great options to scale. Moreover, the managed services will help to make your site management process much smoother.
Further reading