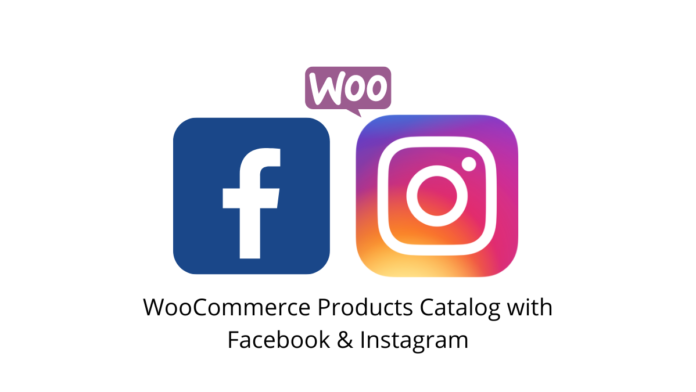 Due to their aesthetic and interactive appeal, Instagram and Facebook have developed into fantastic mediums for showcasing items. Social media makes it simple to expand the reach of your items. On these platforms, you may set up a shop where you can post product stories and images with potential buyers. You may collect and categorize items as well as include all necessary details like the price and description of the item. We'll go through how to link the WooCommerce Catalog feed with Instagram and Facebook in this article.
Understanding WooCommerce
WooCommerce is a fascinating WordPress plugin for online stores. It is created as an open-source, user-friendly, and secure platform to get your online store up and running. Selling, customer involvement, order tracking, shipping integration, and secure payments are all simple tasks that may be completed. Any physical goods, services, digital goods, or anything else may be sold at any time, anyplace.
What is the Instagram and Facebook catalog?
Online business owners may automatically display dynamic advertising to promote their items using the Facebook and Instagram catalogs. These adverts are simple for potential consumers to view, and with the click of a button, they can be sent to your online store to complete the transaction. Additionally, it enables you to upload numerous products at once and present them as a carousel or slideshow of photographs with a brief summary of the items. You may even run several ads for various product sets in these catalogs, and you can tailor them to your target market.
Benefits of Syncing WooCommerce with Facebook & Instagram
Let's look at some Instagram and Facebook features that will be beneficial for your business:
You may display a storefront where customers can look around and purchase your goods.
Create collections out of things to make them more attractive.
Product information pages provide helpful details about your items.
Checkout on Instagram is a function that allows purchases to be made in a few markets right from the app.
By properly categorizing goods in your photographs and videos, you may increase their visibility.
With tags, you may expand the reach of your items.
Being exposed to a large network.
Promoting the brand and the product.
Enhances consumer ties by expanding and contacting readers directly.
Incorporating automatically categories and goods.
Evaluating the effectiveness of marketing efforts.
A higher selling ratio.
How can I connect Facebook to WooCommerce Catalog Feed?
Products may be added in a variety of ways to your Facebook and Instagram catalogs. You can manually add products to the catalog if your inventory is tiny and contains few items. However, you need a more sophisticated platform to handle a larger inventory with often updated items. Use a plugin for a catalog feed for the latter. With the help of the ELEX WooCommerce Catalog Feed for Facebook & Instagram plugin, we shall illustrate this.
Installing the plugin allows it to construct a product data feed and gather all the information required for Facebook and Instagram from your WooCommerce store. You may simply sync Facebook Catalog with this data stream. We'll walk you through the procedure step by step.
Create Feed
Activate and install the plugin. Once the plugin has been activated, the settings may be found in the "Facebook Shopping Feed" area of the WordPress admin panel. Click Create Feed under Facebook Shopping Feed.
You may start by giving the project a name and a description. The file format and refresh schedule may both be set here. Toggle the specific option on, if you wish the feed to include variants. When you have completed entering all the necessary data, click Continue.
Map Categories
You may link your WooCommerce product categories to the relevant Google categories in the next step. Simply begin typing in the Google Category area to see a list of all possible categories from which to pick.
You can add Google categories just for items if you don't want to give Google Categories to all of your categories. Select the 'Map Product' option on this page to get started.
Mapping product attribute
The mapping of product properties is the next phase. You can provide your product qualities in relation to a list of prerequisite attributes for the feed. The appropriate characteristics will be automatically mapped by the plugin. However, you may alter them manually, add or subtract numbers from them, or define more precise mapping rules. Click the Continue button when finished.
Filtering Options
The feed's filtering options are found next. You may control it here if you just want to include a particular group of goods in the feed. For instance, you might specify here that you wish to add items only if there are enough of them in stock.
In a similar way, you may filter items depending on how much of them have already been sold. Selecting only your store's highlighted goods is another filtering choice.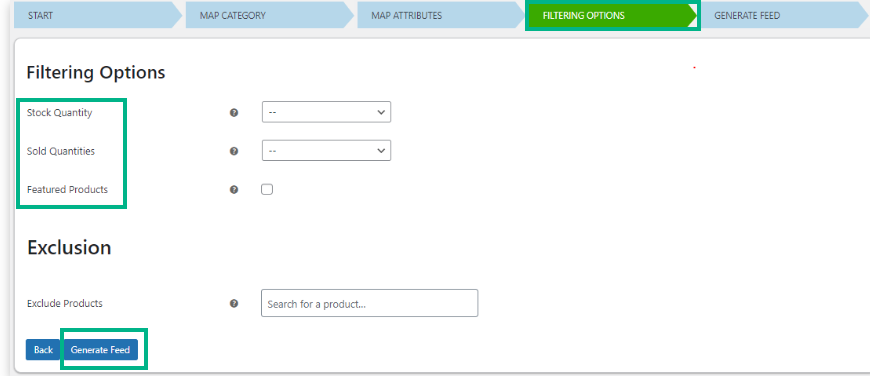 The plugin also gives users the choice to remove particular goods from the feed. Simply type the name of the items you don't want to see in the WooCommerce catalog feed on Facebook and Instagram. Once finished, press the Generate Feed button.
Generate Feed
All the goods you've chosen will be included in the feed that is created. By selecting the View Feed option, the feed may be downloaded. Alternately, you may use the Manage Feed button to make more changes to the project or to the refresh schedule.

Manage Feed
All the different feeds that the plugin generates may be modified using the various settings included in the Manage Feed section of the plugin. The file path for the feed that is kept on your server may be found in the URL column. It is possible to schedule uploads using this address.
Connecting the catalog to Facebook
You need a Commerce Manager account to add goods to the Facebook Catalog. You can make a new catalog after your account is set up. To do this, select the + Add Catalog button under the Catalogs section.

You may now select the Catalog type.
You can specify the upload method in the next step. We will select the Upload Product Info option and click the Create button because we are inputting product information in bulk using a CSV file.
Uploading product information using the WooCommerce Catalog Feed with Instagram
A new Catalog will now be made. You may populate your catalog by adding goods in bulk after clicking the View Catalog button.
The following choices to add products to your catalog appear when you click the See Details button: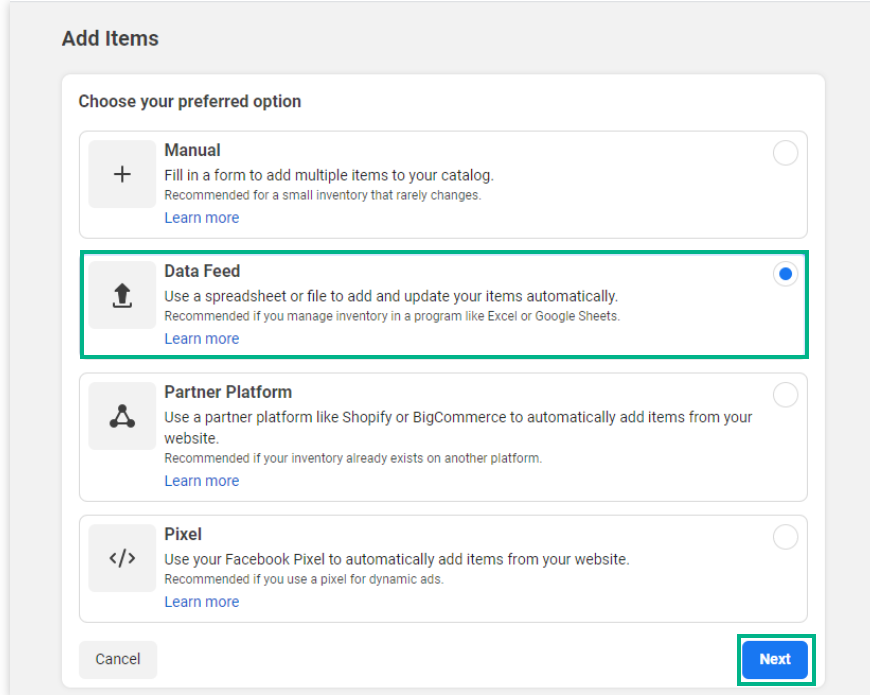 Manual
Data Feed
Partner Platform
Pixel
Click the Next button after selecting the Data Feed option. Once more, there are three choices. The first option, "File Upload," should be selected if you just wish to upload the data feed. Upload the previously downloaded file by clicking the Next button.
Scheduled feed
Simply enter the URL of your site where the file is housed, followed by the update schedule, to set a timetable for updating your feed. You may define a refresh schedule while building the feed using the ELEX WooCommerce Catalog Feed plugin to guarantee current information.
How can I connect Instagram to WooCommerce Catalog Feed?
If you have previously created the Facebook Catalog, as was explained in the previous part, it is pretty simple to include the goods on Instagram Shopping. You simply need to link your Instagram business account to the Facebook Catalog option!
Your account has to meet the requirements listed below in order for you to be eligible for Instagram Shopping:
Your company has to be situated where the Instagram market is active.
Physical things must be sold at your business.
The Facebook commerce policies for your company must be followed.
You must have a business account on Instagram.
Your Facebook profile and your company account need to be linked.
Follow the procedures listed below to showcase the items on Instagram shopping:
As suggested in the part above, create a new Facebook Catalog. If not, link up with the one you have made.
Connect your Facebook Catalog and Instagram purchasing through a Facebook partner.
Log in to your business account using the Instagram app when the Catalog and your Instagram have been linked.
Go to the settings for your profile, select Business, and then select Instagram Shopping. Take the actions they advise you to. We'll forward your request for evaluation.
You may put up further information for your Instagram shopping platform and begin tagging your items in posts and stories after it has been authorized by the Instagram staff.
Conclusion
Although the procedure seems to take a while, we have put up a thorough yet easy to understand step-by-step instruction. So let's integrate Instagram and Facebook to WooCommerce to fully utilize their potential.
It is a very wise decision to upload your product inventory to this widely utilized platform, create shoppable content and stories, and increase the reach with this connection.
Further Reading