Last updated - November 10, 2023
On its own, WooCommerce is a potent platform. However, it is limited in some ways. Some of the top WooCommerce plugins are required if you want to create a fully functional online store.
You can always find plugins for WordPress that let you accomplish more with your website, which is one of its benefits. There are hundreds of WooCommerce plugin options available that you may utilize to increase the functionality of your store.
What you Need to Know About WooCommerce!
For websites powered by WordPress, WooCommerce is an open-source, adaptable software program. E-commerce websites are frequently made using it. Anyone can transform their standard website into a fully functional online store with this software solution, which comes with all the required e-commerce features.
Additionally, WooCommerce makes it simple for users to administer their online shops. everything from creating product displays to processing orders and accepting different payment sources. Even better, you can utilize this solution for nothing! From the official WordPress plugin directory, users may quickly get the WooCommerce plugin.
A user-friendly interface is also included with WooCommerce. You can start without being an IT or code guru. Consequently, a lot of companies opt to adopt it. WooCommerce is really used by almost 3.8 million online stores now, according to Barn2, including retail, bookstores, food and beverage, and charitable organizations.
A business called WooThemes initially introduced this platform in 2011. Then, in 2015, it was bought by WordPress's parent company, Automattic. Their growth accelerated once WordPress and WooCommerce combined. Up until this point, Automattic has been a busy developer for WooCommerce and its add-ons.
Fantastic WooCommerce Plugins you Need to Have
Menu Cart for WooCommerce
The Menu Cart for WooCommerce plugin is compatible with both WooCommerce and Easy Digital Downloads. This is one of the best plugins if you want to add the Shopping Cart button in the navigation bar, for absolute ease of access for the users.
Features
Choose to either display the cart icon or only items and prices
You can display the Shopping cart icon either always or only when there are items in the cart
Customize your CSS
A selection of more than 10 cart icons (Pro)
Regular updates on all awesome new features (Pro)
Rating: ⭐ 4.5
YITH WooCommerce Compare
The YITH WooCommerce Compare plugin is an addition to the core WooCommerce plugin that lets customers compare specific items from your store. The user can examine the differences between the products because every product is recorded in a single comprehensive database. With WooCommerce characteristics, any product feature may be customized in the product configuration. Additionally, you may include a straightforward widget with a list of the products users have added so you can manage them.
Rating: ⭐ 4.0
A "quick view" button that, when pressed, displays product details in a lightbox is an addition made by the quick view plugin to product loops. You can choose to display a "quick view" button in your loop or set non-ajax add-to-cart buttons to open the lightbox on click (useful for displaying variation details as seen in the example).
Rating: ⭐ 4.2
Dokan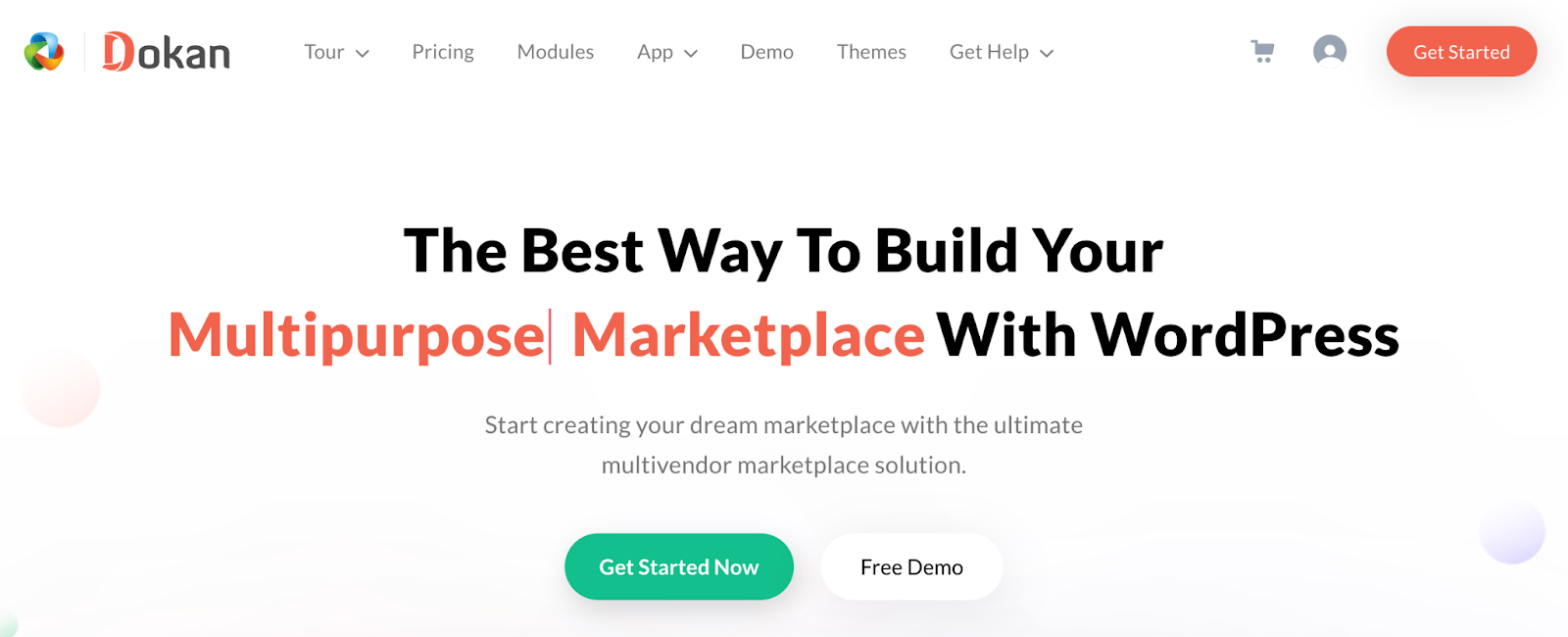 Dokan is a multi-vendor marketplace plugin for WordPress powered by WooCommerce. Where WooCommerce lets you add eCommerce features to your WordPress site, Dokan turns your single store into a fully functional multivendor marketplace.
Dokan helps you to create a platform where multiple sellers can sell their products. Having diverse eCommerce functions, you can build any type of marketplace model in less than 30 minutes. You can create a marketplace for digital & physical products, booking items, auction materials, or anything you can think of.
With the exclusive features of Dokan, it requires almost zero technical knowledge to build and run a successful online marketplace.
Currently, 70k+ WordPress sites are using Dokan to operate their online businesses.
Dokan offers you all the basic features completely FREE. As your business starts growing, unlock the premium features of Dokan based on your requirements. Dokan supports 35+ powerful modules to provide specific niche-based features for its users.
Key Features:
Frontend dashboard for vendors & customers
Simple vendors' withdrawal system
Unique URL for each vendor's mini store
Multiple payment & shipping options
Comprehensive product review
Powerful coupon management
Advanced reporting with detailed insights
Rating: ⭐ 4.6
Elementor Website Builder
With an easy-to-use visual builder, Elementor is the top WordPress website-building tool for developing polished, pixel-perfect websites. Without writing a single line of code, quickly build stunning websites for your customers or your company with total control over every aspect. Become a part of the enormous global community of web designers who use Elementor to produce top-notch websites.
In order to help you improve the user experience for all users, Elementor offers tools and upgrades that are created with accessibility in mind. These consist of widgets, HTML 5 semantics, a full keyboard navigation menu, continuous feature accessibility improvement, and more.
Rating: ⭐ 4.5
Product Slider for WooCommerce by PickPlugins
PickPlugins Product Slider is a simple and intuitive carousel slider for WooCommerce products. You can create an endless number of product sliders with this plugin and show them anywhere with shortcodes. To make it simple for you to tweak and add your own CSS using the layout editor, we created a layout builder for your product slider. With this tool, you can create a sophisticated and one-of-a-kind layout. The creation of a custom layout and the addition of layout elements don't require any programming. To customize slide speed, and show or conceal navigations, and dots, we introduced a ton of slider functionality options.
Rating: ⭐ 4.3
Conclusion
You have a variety of eCommerce platforms to select from, including WooCommerce. However, if you combine it with a few of the other incredible plugins that have been developed to increase its usefulness, you can make an efficient online store. You can manage everything with the use of WooCommerce plugins, from maintaining your email list to developing new goods.
The functions of each of these WooCommerce plugins vary greatly. As a result, it's best to first decide what you want to change about your store, then identify any problems or needs, before making the best decision.
Further Reading