If you find it hard to increase your website traffic, improve email signups, get more customers, it's probably because your bounce rate is too high. If you have that problem then this article is for you. We will show you many effective methods of how to reduce bounce rate and boost your website traffics. 
A large bounce rate is what kills your website traffic and conversion. If most of your users leave your website at first glance, chances are you get no opportunity to convert them into subscribers or customers. 
First thing first, you need to learn what exactly bounce rate is.
What is bounce rate?
Bounce rate is the percentage of people who click on your website then decide to shut it down without landing on a second page. When your website has a high bounce rate it means that your website is not convincing enough for the users to stay and follow your call-to-action. 
A visitor may leave your website by opening another link to a different website, clicking the back button, closing the window/tab, typing a new URL, due to a session time out or internet error. Now it may seem like it's just a regular user behavior but you need to care about good bounce rate and bad bounce rate. 
Here's an average bounce rate by industry benchmarks and define what a good bounce rate is.
Average Bounce Rate by Industry + What is a Good Bounce Rate?
80%+ is very bad

70 – 80% is poor

50 – 70% is average

30 – 50% is excellent

20% or below is probably a tracking error (due to duplicate analytics code, incorrect implementation of events tracking, third-party addons such as live chat plugins). 
While the numbers above are good enough, you must notice that the bounce rate across different industries and type of content are not the same. Check out the chart below to see how it varies by industry: 
If your bounce rate is higher than the average then maybe your website has some problem with loading time, navigation, design, usability or lacks of call-to-action…
Let me show you how to improve your bounce rate. 
How to improve your bounce rate?
The first thing you need to do is to identify and fix the problems of your landing pages so that you can solve the high bounce rate problem. Before doing this, you may need to take a look at your top pages which have the highest bounce rate by going to Google Analytics and clicking on Behavior > Site Content > Landing Pages. 
After identifying the top pages, it will be easier for you to fix the problem. Just follow the methods below: 
Improve your content quality
One of the main reasons that make users leave your website is poor content or lack of readability. If you don't want your target customer to shut down at first glance then your content must be readable and legible. For example, a landing page full of words without any pictures can totally scare users away so try to avoid that. 
Also, keep in mind that great content needs to go with clear formatting because lousy formatting can cause a higher bounce rate. Thus, customers don't even value great content. That really leaves a bad experience for your customers. 
You can take a look at these posts as examples of easy-to-read format: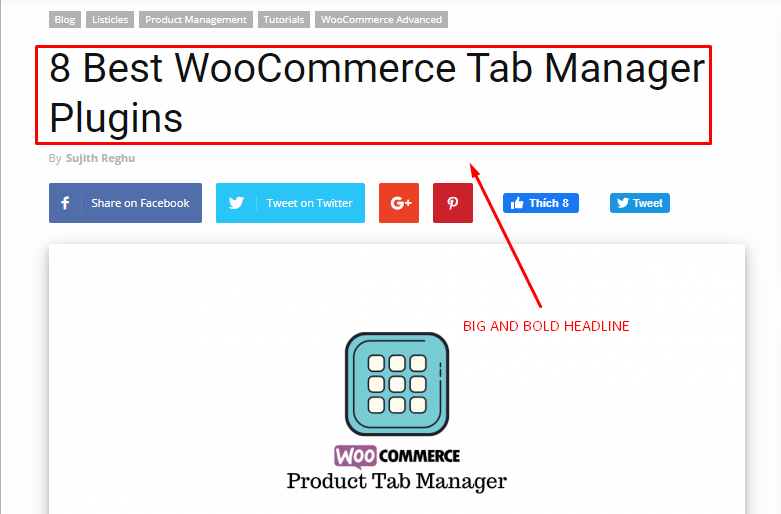 Tips to make your content readable: 
Use subheadings so that the users can catch the information quickly.

Use bullet points in the content to make it easier to read.

Take advantage of pictures, charts, screenshots to make your content more interesting. 

Bold some important keywords 

Finish your article with a subheading named "Conclusion" so that users know where to read the last few words and take action. 
Optimize Your Call of Action Placement
Most users decide to stay at your website or not in the first few seconds so you should make sure your website looks irresistible. They often look at the most visible area without scrolling – the middle of your page to be exact. Also, take care because this place can be different from one device to another. 
Now that you know what your target customers are looking at, you can optimize your website so that they can see immediately what service you offer. You can do this by adding a visible call-to-action. Make your CTA clear and honest. 
Boost your site's speed
As I mentioned before, users will decide whether to stay at your website or not in the first few seconds. Chances are they will close your website right away if you keep showing them a blank page loading scripts and downloading content. You can use tools like Google Page Speed or Pingdom to optimize every landing page on your site so that your customers will have a better experience. 
To improve your site's speed, you should optimize your images, use a Content Delivery Network (CDN) and better caching and switch to a faster hosting provider if necessary. You can find good CDN for your website in this Top Free CDN Services to Improve Site Performance. You can also find some CDN coupon codes at Couponupto.com to save your money on charged CDN services. 
Use videos to attract your customers
Videos are more tempting and attractive than text and images. You can use a video as a background or put it next to your CTA. Videos are so convincing because you can add animations, music, audio, narration, colors and many other forms of persuasion tools. You can create a very interesting video presentation with a reasonable price by hiring a freelancer. 
Use High-Quality Images to Capture User Attention
Images are another great tool that helps improve your bounce rate but you have to do it right. A blurry image cannot attract customers so that make sure all images on your site are high-quality. For examples, Google which was famous for their plain white background and minimalistic layouts, are now using high-quality images on their landing pages. 
You can use high-quality images on many things such as full-screen backgrounds, parallax backgrounds, background slides or as inline images next to your call to actions. 
Conclusion
In this article, I have given you some effective methods to improve your bounce rate and boost your traffics. But keep in mind that the most important thing is high-quality content because that's what keep your bounce rate stable. To keep your content good enough for customers, plan out a content strategy and an editorial calendar. 
In short, take care of your landing page consistently. Don't expect those strategies above will help decrease your bounce rate right away. Keep on developing your site viewers. As you make your users satisfied, they will recommend others your website, which increases your traffic, inbound links and attract potential customers. 
Further reading