Last updated - April 5, 2022
We talk a lot about ensuring the best performance for your website. One of the best indicators of website performance is page load speed. For many new users of web technologies, website speed test tools may not be that familiar. In this article, we will list out some of the best website speed test tools for your website. We will also mention a few aspects that you need to keep in mind while running a speed test on your website.
You will be able to view detailed reports on your page loading performance for both mobile and desktop using Google PageSpeed insights. The data includes both 'Lab' and 'Field' metrics, which will be helpful to understand performance issues and user experience. When you analyze a web page, you will see a Performance score, that will help you understand if any actions need to be taken. A score above 90 is generally considered good.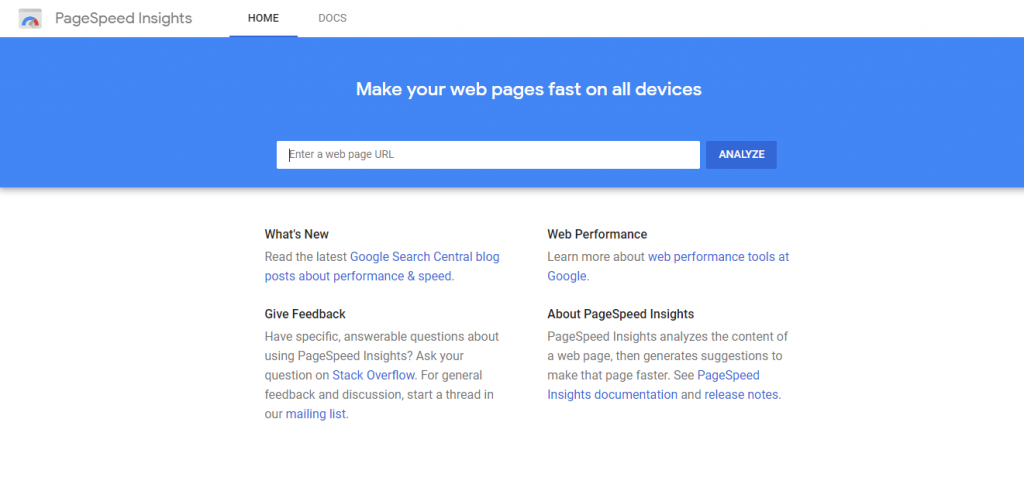 You can use GTmetrix to understand what is causing performance issues on your site, and accordingly optimize the site performance. The tool will give you a summary of the prime factors connected to your site's speed. Moreover, it offers visual indicators in the form of graphs. Also, it offers options to analyze page speed for mobile devices, and lets you test from different servers and locations.

Pingdom is one of the most popular options to analyze website speed. It offers two different monitoring options – Synthetic and Real User. In Synthetic Monitoring, the interaction is simulated, and it checks for uptime, page speed and page flow. On the other hand, Real User monitoring takes into account interactions by real users. It has pricing plans starting from $10 per month, though you can use the 30-day free trial to get started with.
You will find elaborate options to test your website speed with this tool. It offers simple as well as advanced options to test your site speed from different locations and browsers. You can also run visual comparison of two urls using this tool. Overall, you will get in-depth reports to understand the performance of your site.
This free website speed test tool gives you a clear idea on how fast your site loads. When you enter the web page url, the tool will give you a performance overview, measures you can take to improve speed, and also information about other aspects that impact page load time.
Uptrends is actually a website monitoring tool that offers detailed insights to ensure consistent performance on your site. It will help you identify issues on different browsers that may affect your site performance. You can also set up web application and API monitoring using this tool. Moreover, you will get timely notifications through phone calls, SMS, email and push notifications so that you can promptly respond to issues.
KeyCDN offers a website speed test that you can run from 10 different locations. You will get detailed instructions on the areas which you can work on to improve the performance of your site. The results include details on requests, the size of the content served, and also about loading times.
Byte check analyzes your web page urls and provides you the measurements in TTFB (Time to First Byte). This will indicate the responsiveness of your server as well as other network resources. Overall, this will help you understand how fast the website is serving to its users when a request is made.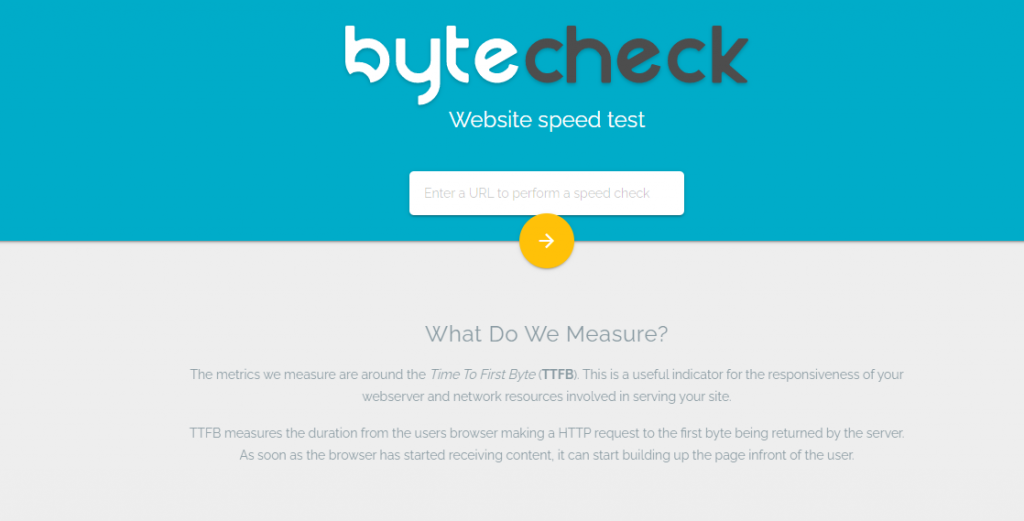 Dareboost does a thorough audit of your website and gives you actionable insights to maintain an optimized performance. They also offer continuous website monitoring to help you stay on top of your site performance. In addition, you will find options to compare speed between two web pages. They offer 13 international locations for speed test, and also offers a test environment that you can configure according to specific requirements.
This free and open source tool allows you to summarize all the elements that are costing you previous load time. You can use it conveniently without any registration or premium service. Just install Chrome on your system and press F12 or right click on the page and click Inspect. For beginners this tool might look a bit technical. You can follow this guide to learn how to check your website performance with Google Dev Tool.
This online tool allows you to monitor your website performance from multiple locations through a private network and behind the firewall. Measure page loading speed and performance and also track network time across DNS, TCP, SSL and HTTP. The waterfall view and analysis feature allows you to diagnose website performance and check issues that are obstructing the loading time. Benchmark performance against your online competitors and allows you to design a custom dashboard to suit your monitoring requirements. 
A free and open source online performance measuring tool for your website. You can perform page audits, analyze and resolve any performance issues related to the webpage. Examine and detect problems referring to HTML, CSS, images, fonts and all the other elements on your webpage. You can detect these issues in the early stage and consequently fix them to improve your website performance.  If you are running an online store the performance measurement becomes more cumbersome, you can read this article for detailed information; WooCommerce – How to Handle Performance Reports on your Online Store.
Monitor synthetic web transactions and simulate user interactions in a real web browser. Optimize page elements such as images, fonts, shopping cart etc. Identify and fix application components that are generating site errors. Comprehensively analyze network devices such as routers, firewalls and monitor website code for Java, .NET, PHP etc. Manage and monitor workloads and troubleshoot app performance for cloud and virtual platforms. Caching is also another element that you need to consider to reduce website load time learn; How to Improve Site Performance with WordPress Caching Plugins.
This performance measuring tool is free to use across all vertices. You can measure your website performance, core vitals, lighthouse, visual comparison and traceroute. Test real user experience with multiple global locations, all modern devices and latest web browsers. Correlate the technical measurements of the website with visual experience. Get detailed anatomy of website components such as TCP, TLS, DNS and much more. Learn what experts have to say to improve the overall performance of your website: Improve WooCommerce Site Performance with these Expert Suggestions.
This tool is completely free and requires no sign up or registration to measure your webpage speed. Analyze and view your website performance from different locations, select with which browser and devices you want to test. Measure waterfall charts and Lighthouser reports for website speed and identify improvement metrics. Perform page optimizations and improve overall performance after measuring robust performance reports and charts. 
You can read this comprehensive guide to improve website speed: Top Free CDN Services to Improve Site Performance.
How to test website speed?
For demonstration we will analyze our website speed using the Google PageSpeed Insights. As explained earlier you can test both mobile and desktop speed of your website. When you visit this test website you will see a blank space where you can type your website address and then click the Analyze button.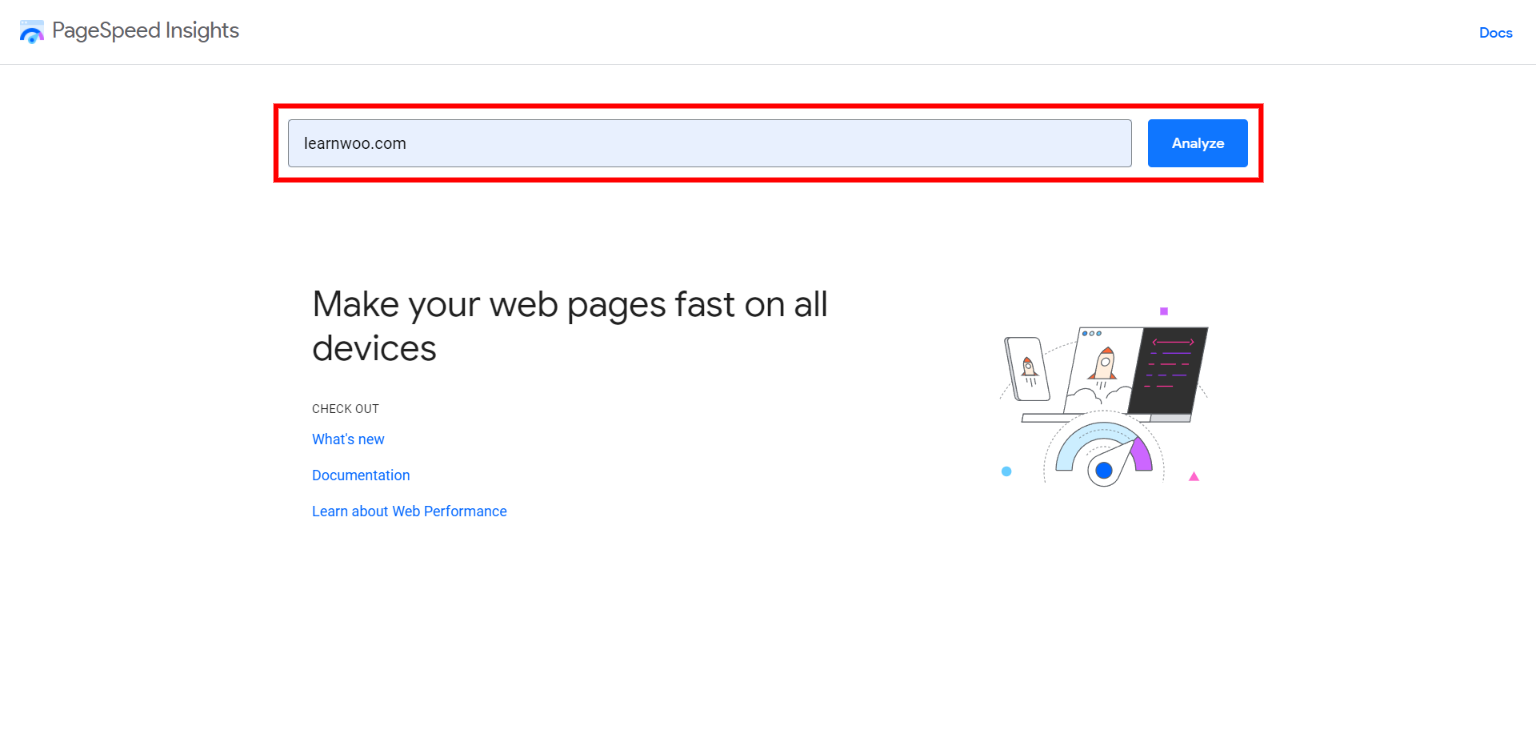 After 1-2 minutes it will show you insights related to your website performance and recommend improvements. Google Page Insights will display two subsections: Mobile and Desktop. I suggest that you check both and explore the recommended options.
Core Web Vitals Assessment: This section will accumulate vital metrics from the latest 28 day collection period. This is the overall assessment for your URL.
When you head over to the Desktop you will see similar sections as displayed in Mobile. 
For a good website speed it should receive a score above 90. This score is estimated on the basis of given metrics.
First Contentful Paint:

Which is the time when the first text appears on the website.

Speed Index:

Show at what speed the contents of a page are visibly displayed.

Largest Contentful Paint:

Shows at what time the largest text or image is displayed.

Time to Interact:

Calculates the time when the page is fully interactive for the users.

Total Blocking Time:

Sum of all the time periods from First Contentful Paint to Time to Interactive.

Cumulative Layout Shift:

Measures the movement of displayed elements of the webpage. 
When you have carefully analyzed the above metrics you can scroll down to Opportunities and Diagnostics.
Opportunities: This section shows you suggestions to improve your page speed. If you read the given pointers you can easily make these changes on your website. You can also read this detailed guide on Top Ways to Optimize Speed and Conversion Rates of Your WordPress Site.
Diagnostics: These options further analyze your website elements that are related to image or text size or loading issues. Further, you can check and configure caching for efficient performance. There are many plugins that can help you enhance the website speed. You can read this article on 8 Best WordPress Image Compression Plugins to Speed Up your Site.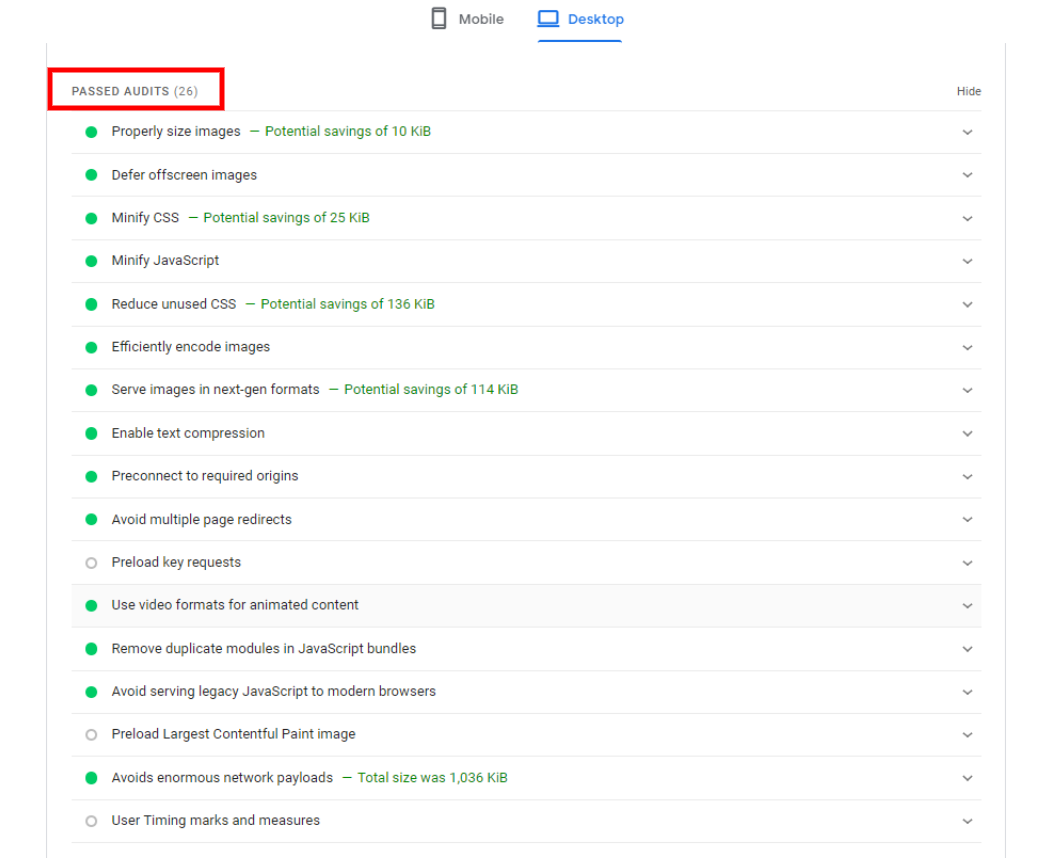 Passed Audits: All the resources and elements that are already in the green zone and helping your website to run smoothly is displayed in this section. For more detailed information on Google Page Speed insights you can read this detailed article: How to Use Google PageSpeed Insights.
Just go through the analysis of your website and make the recommendations and then check the performance score once again. You can follow this guide to 20 Most Effective Ways to Optimize & Speed Up your WordPress Site. Read this detailed article for a step by step process on How to Use GTmetrix to Understand Website Performance. 
If you are running an eCommerce store you can read this article on 5 Simple Steps to Speed Up Your WooCommerce Website Today (with Video)
Things to pay attention to while running Website Speed Test
These tools are great to give you an overall ideal of your site performance. However, you should be able to interpret the results properly too. If you are completely new to website management, you may have to be aware of certain other factors to be able to read the results effectively.
Configure Caching and CDN before running speed tests
Caching is one of the most effective ways to improve site performance. You will have to ensure that you are using a caching tool before running website speed tests. As you probably know, CDN or Content Delivery Network is another popular performance boosting service for websites. With a CDN network across global locations, you will be able to serve static files of your server from a location closer to the user. This will contribute a lot in improving page load speeds. So, your website speed test results will show marked differences based on whether you have enabled caching and CDN.
Repeat tests
According to experts, just doing a singe speed test won't give you accurate results. You will have to do the speed test two to three times to optimally gauge the site performance. Moreover, to get the correct perspective on speed, you have to see it when everything is loaded from cache. If you run a speed test without loading the site from the cache, the page speed could be significantly lower.
Try changing locations
You may also have to do the speed test from different locations to get relevant results. Most website speed test tools offers different locations to test. You may want to test from a location from the majority of users are coming from. In addition, you should test from a location closer to your location and also from a location that is quite far. This will give you a better picture on any latency issues, and will also help you understand the effectiveness of your CDN.
We hope these tools will help you run website speed tests easily. Feel free to leave us a comment if you have a query.
Further reading