Last updated - July 8, 2021
As a photographer, it takes a lot of resources, efforts, dedication, and even pain to take nice and original pictures. You might have to travel to remote and abandoned places to capture unique comments. You might have to spend a lot of time to edit them afterward.
It takes the same amount of efforts, if not more, to market your masterpieces on your website, blog and various social channels.
Then comes people who will just copy, share, and use your photos without asking for permission nor giving you any credit whatsoever.
So what can you do under the circumstances to protect your own rights and assets?
There are two solutions. First, you can directly protect your photo file URLs against the public and unauthorized users. It means they can't access, download nor share your photos with anyone else. Second, you can watermark your photos by adding your logos, signatures or custom brand images on top of them. Watermarking photos shows your ownership, copyright and helps prevent misuse of your valuable assets. Better yet, you can combine the two methods together to better protect your highly valued photos.
Within the scope of this article, let's talk about the latter solution first. We've compiled a comprehensive list of top 10 watermark software for you to choose from. Let's get started.
For Windows & Mac
For those of you who want to watermark your photos offline, let's take a look at the following free watermark software for Windows and Mac.
#1: uMark – A powerful image watermark software
uMark allows you to add watermark to your images fast and effectively. It covers many amazing features arranged in four separate tabs and a plain and intuitive interface.
You just select the image you want to watermark and then adjust a series of text and logo options. uMark further enables you to enter text and then specify its font, size, color, shadow, and position.
You can also put a logo on your photos then set their opacity and position. uMark allows you to preview watermark through a handy preview field. If you are satisfied with the results, choose the destination folder for the newly watermarked images to save them. You even save text and logo information to create consistent watermarks over and over.
#2: cdWorks Photo Helper
If you want to watermark your photos with just a few mouse clicks, install cdWorks Photo Helper for free now. Similar to uMark, you can create photo watermarks through text, graphics, and even QR code. You can even rotate photos, manage and edit EXIF data.
While this app includes many other powerful features, let's focus on its watermarking features first. You can choose to create watermarks with either text or graphics files from your computer. After that, set the watermark opacity and place watermark on your pictures. cdWorks Photo Helper even allows you to preview your final effect without modifying the original file. You can also use watermark text wizard if you want. The application provides you with copyright messages and some sample watermarks inside the program.
#3: Fotor – Online Photo Editor
Fotor is a simple yet very powerful online tool that allows you to watermark your photos right in your browser. No need to install any annoying application! All you need to do is simply upload your watermark image, and drag and drop it wherever you want it to appear on the photos. You can also resize, rote and adjust the transparency to achieve the perfect fit.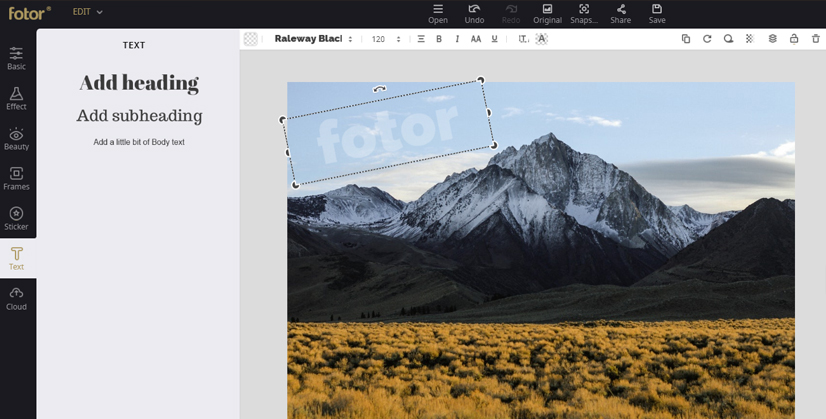 If you don't have a watermark yet, don't worry, as you can make a custom text watermark using Fotor in minutes. Fotor comes packed with hundreds of fonts- the choices are just endless. The best part is that Fotor offers more than just watermarking. You can use it resize your photos, adjust the photo color, and even apply photo filters to make it looks more professional.
#4: Picture Stamper
Picture Stamper watermarks your photos by stamping them through your logo, address, name or contact details. It provides users with an intuitive user interface.
It allows you to add as many photos as you want and stamps all of them at once. Picture Stamper automatically saves the last stamp design for later use, so you don't need to redesign from scratch each time you run it. You can watermark your photos faster through "Drag and Drop files and folders" and "Batch processing" features.
#5: JACo Watermark
Like the other software above, the free version of JACo Watermark protects your photos against illegal usage and sharing by watermarking them.
JACo Watermark includes all must-have features of a watermarking tool. It enables you to add different fonts, colors, sizes and transparency texts or images to your photos as a watermark. You can change the opacity level of the watermark and watermark position. Also, it provides you with watermark preview and batch image processing. What's more? It enables or disables the anti-aliasing for text watermark.
For using online
In case you don't want to waste so much time on installing and studying watermarking software, you can just upload your photos directly to these 3 online web applications below and watermark them with ease.
#6: picmarkr.com
Picmarkr.com helps you directly watermark your photos online. Within just a few minutes using the application, you'll be able to create an awesome watermark for your images. Once you upload your pictures on this website, you can rotate and resize them.
PicMarkr enables you to connect to a Flickr account, which is a plus compared to other online watermarking tools. You can retrieve photos from your Flickr account, input a new size manually or select a preset to optimize the pictures for blogs, forums or emails.
#7: Watermark.ws
A simple and friendly web app like WaterMark.ws lets you add watermarks to your photos online with ease. You no longer need to spend so much time studying other watermark software. WaterMark.ws makes it possible for almost anyone to watermark to their photos online.
This app supports both text and image watermarks. Like a watermark software, it also allows you to customize watermark type, text, size, position, colors, and style. You can watermark multiple photos at the same time. It also includes many other options like batch image resizing and compressing.
#8: Watermarktool.com
You can quickly and easily generate watermarks for your images through watermarktool.com. You can just visit this website to watermark your photos without having to sign up.
With the many watermarking options available, you can personalize your images in various ways including text size, color, and position. Otherwise, if you want to protect your photos with more feature options or a higher file size limit, you have to pay a little for Watermarktool plus.
For WordPress Websites
What if you want to watermark your images directly on your WordPress website? It's time to pick the best suitable WordPress image watermark plugin.
#9: Photo Gallery by WD
Photo Gallery by WD allows you to create and protect photo gallery with many layout options, gallery and album views. Multiple widgets and various extensions are provided to extend its core functionality further.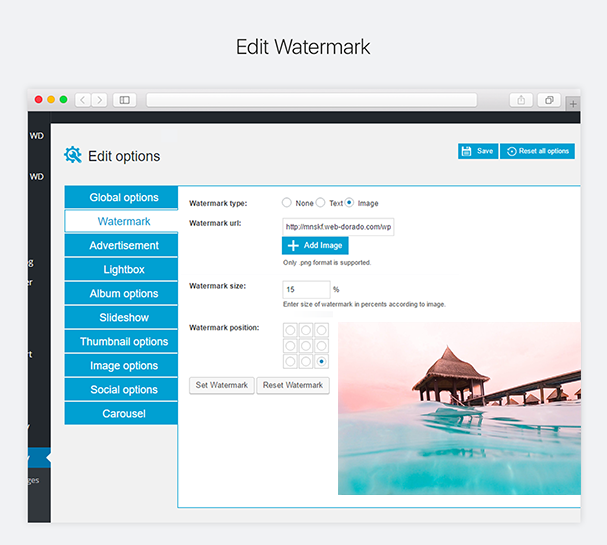 This popular plugin with more than 300,000 active installs enables you to add text and image watermarks to your uploaded images in your galleries and albums. It also disables right-click on images on the front end. In other words, you can preserve your copyright through a watermark, at the same time, protect your photos from being downloaded directly. Its premium version provides you with social sharing buttons to share your photos on popular social platforms such as Facebook, Twitter, Google+, Pinterest, and Tumblr.
#10: Envira Gallery
Envira Gallery not only lets you create a beautiful responsive photo gallery and video gallery for your WordPress website in minutes but also protects your photos through powerful watermark feature.
With its watermark addon, you can easily add a watermark to your uploaded images under full size or lightbox mode. You can use either your company logo, copyright symbols or text-based watermarks to customize the watermark. This plugin also allows you to automate the entire process and relieves the pain of having to manually add the watermark to each and every photo. The watermark will be automatically added to all your photos in Envira Gallery once configured.
#11: Image Watermark
Image Watermark plugin automatically watermarks images uploaded to the WordPress Media Library. Besides, it allows you to bulk watermark previously uploaded images as well.
Image Watermark helps you adjust the size, position, transparency or opacity of your watermark. You can then preview what it will look like after watermarking it. This plugin goes beyond just watermarking your photos. It not only disables right-click on your website images but also blocks people from downloading your images via drag & drop.
Conclusion
There are many ways to watermark your valuable photos. You can install and use a free watermarking software offline, which allows you to edit, watermark your photos at any time you want without the internet. Among the desktop software mentioned above, cdWorks Photo Helper best suits advanced users more than others.
Online watermarking apps, on the other hand, save you a lot of time in terms of installation and learning process. You can just upload your photos and watermark them directly on these web apps. While all 3 recommended web applications above does a good job at watermarking your photos, if you have a Flickr account, consider using picmarkr.com.
While you have to upload, edit and export your watermarked photos from both online and offline watermark software then once again upload them to your websites for display, WordPress watermark plugins simplify the entire process and allow you to watermark your photos directly on your WordPress admin panel. Go with Image Watermark and Photo Gallery by WD if you want to watermark, and at the same time, disable right click on the front-end website images.
Together with watermarking, you may want to further protect your WordPress photos by blocking direct file URL access against unauthorized users. We recommend Prevent Direct Access Gold plugin which not only keeps your valuable photos private against the public and search engines but also restricts their access to certain users that you would like to.
Further reading