Last updated - July 8, 2021
When you are starting a blog, one of the early steps would be to name your blog. Though it seems like a simple task, there are a lot of considerations before taking a decision. You need to keep in mind the scope for branding, marketing and search engine optimization before choosing a name. This is where domain name generators can offer a lot of help. They will help you choose an appropriate name for your blog after considering all these factors. In this article, we will explore some of the top blog domain name generators you can choose for your WordPress blog.
How domain name generators help?
Blog name generators help you choose an apt name for your blog while considering several practical aspects.
Typically domain name generators help you:
By providing a number of options based on a keyword that you want to focus on.
They will also check the availability of particular domains and accordingly provide options.
Provides directions to register a specific domain that you are interested in.
Find alternate options for your current blog.
Find additional options with related names to your original idea.
How to choose a domain name?
You can choose a domain name by two main considerations. One option is to create a brand name, which will be simple and one which users can easily recall. The second way is to create a domain name based on a keyword of the domain you are operating in. Both options have the potential to grow based on the quality of the content and marketing efforts you put in. If you are looking to gain some popularity with search engines during your early stages, keyword-based domain names can be more helpful.
Top domain name generators
Here is a list of some of the popular blog name generators that you can use:
Domain.com is one of the most popular domain registrars in the market. So it is really easy to understand if a particular domain name is available. You can simply enter the keyword you are considering and see the available option. If the exact same name is not available, it will show some of the related names that are available. Once you select a name, you can easily go ahead and register it as well. Domain.com now offers a website builder with a number of hosting plans and can be a great option to help you personalize your blog or website.
Domain Wheel is a popular free tool to help you generate the best blog name for your blog in quick time. It makes use of artificial intelligence to help you find the most suitable blog name. Based on the available options, you can select the best one for your blog. In addition, they will provide a lot of short domain names that generally have better possibilities of becoming popular. If you like any of their suggestions for domain name, you click on the View details button to give you options for domain name registration. In most cases, it will redirect you to BlueHost, which offers free domain registration when you choose one of their hosting plans.
Nameboy is one of the most trusted domain name generators in the world and will help you find the best name for your blog instantly. You can simply enter one or two keywords related to your idea on the search field and click the Submit button to find available options. While providing the best domain names, this will check with BlueHost for the availability of domains to display only relevant domain names. The site also offers simple, step-by-step guide that will help you start a blog or website even when you don't have advanced technical knowledge. You can use this site also to generate a great name for your company or business as well.
Name generator is a great option to find names for any possible need you may have. Just like that you can use it to generate a name for your blog as well. It will help you find catchy, simple names that will easily stay in the mind of your readers. The tool takes several inputs regarding your blog in the form of adjectives and verbs to describe your blog, location, your name, etc., and then choose a relevant name. From the available options, you can choose the one you like the most and then go on to find a suitable domain name as well.
This site provides you a lot of interesting names for your blog. The interesting things about this one is that the options available are not actual words, but made-up words. Though they are made up and you won't find them in dictionary, they appear relevant to the idea of your blog or domain. If you want to find a standout domain name for your blog, you can effectively use this tool to find the appropriate option. Moreover, the tool offers you options to specify more than one languages, the quality level, suggested keywords, etc, while generating a name.
Isitwp is a popular resource for WordPress related knowledge. You will be able to find an appropriate domain name for your blog using their domain name generator. The tool is linked to Bluehost and shows you available options, when you enter a keyword of your choice. You can go through the available options and choose one that you feel most relevant. Once you choose a perfect domain name, you can even get it free when you choose a hosting plan of BlueHost.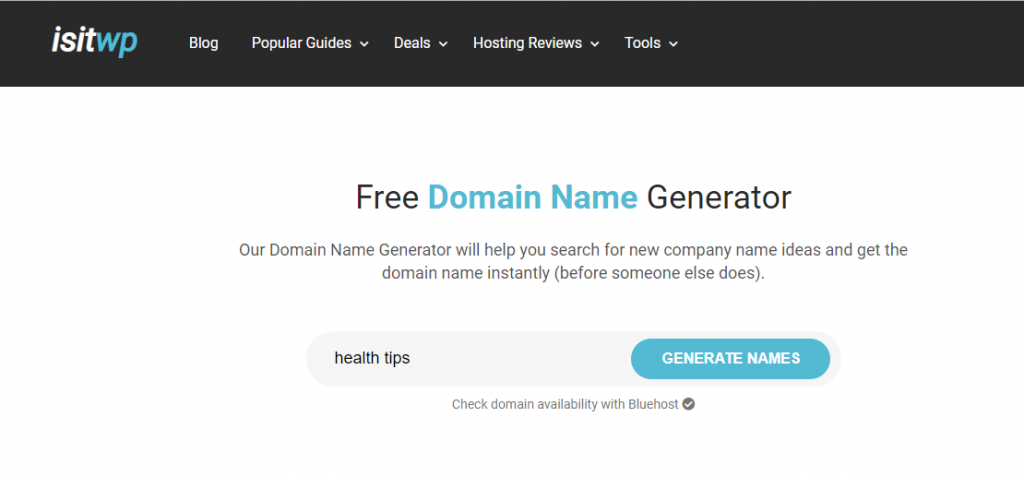 This is another simple option among popular domain name generators. You can simply enter the keyword describing your blog and it will provide a large number of available options to choose from. It also allows to filter the results with different parameters. You can sort the results by displaying options starting with your input keyword, or ending with it. Similarly, you can sort the results by alphabetical order, popularity or length as well. Once you choose the right domain name, it gives you option to register it with BlueHost or WordPress.com.
Panabee is another great option to find a domain name or even a name for your business or app. If the exact name you are searching for is not available, it offers a range of alternatives to choose from. The alternatives will be from related words and hence you will be able to find something reasonable at all times. Panabee helps you find the best domain names irrespective of your geographical location. It helps you find a domain name in your home country without hassles.
NameStation offers one of the quickest ways to find a domain name for your blog. It will assist you in finding the most creative and effective name for your blog or website faster than other options. It generates names and runs it through a quality check to sort and display the best options on top. In addition, you can also use keyword suggestions, alternate names and search guidance with NameStation. Furthermore, there is an option to hire naming experts through crowdsourced contests. Here, you can even earn rewards for suggesting creative names for contests.
This is a very user friendly option among domain name generators. You will get a complete set of options to find the best domain name for your blog. As most of the other tools discussed in the article, this one too offers a simple option to search for domain names using your keywords. The results will be organized into different categories to help you choose the best one according to your requirements. You will find common options along with new, short, extra fun and SEO related choices. Once you choose a name, it will redirect you to Bluehost, where you can choose a hosting service and get a domain name registered for free.
This minimalist tool is comfortable with unstructured queries (you can input a word or a phrase in any form you like) – what's more, the recommendations it provides are not presented in a single list, like in most other generators, bur rather as grouped into three categories – popular variants, prefixes and suffixes, as well as synonym-based ideas. The latter ones are put together using Datamuse, one of the largest open semantic libraries on the web. With its clean interface and the absence of banners and other advertisements, Satori's Blog Name Generator is a calmer, more structured alternative for those brainstorming their domain name.
Once you finalize on a good domain name, it is best to register it as soon as possible. This will help to prevent anybody else taking the domain name before you. As mentioned above, if you are planning to build a self hosted WordPress site, you can consider choosing a hosting service that provides domain name for free.
Further reading