Last updated - December 20, 2019
Exit Intent Popup is a popup that appears when the cursor moves closer the cross button in a tab of browsers. WordPress exit intent popup plugins are the plugins that track the movement of the cursor and the pop up is triggered as soon as the visitor intends to close the tab or move to a different tab. As you know that no other popup is as effective as an exit intent popup, most of the popup maker plugins have exit intent popup feature in their premium versions. We'll see the one which lets you create a  free exit intent popup.
Why Exit Intent Popup?
Recently traffic has been concentrated more on social media. People interact via Twitter, Facebook, Instagram etc. You can drive this high traffic to your website through social media marketing. But there is a lot of crowd on social media and you may not get the right target audience. To achieve precision you still need email marketing. People still find solitude in their email inbox. So getting a lot of emails can give you a list of probable customers or subscribers.
There are a lot of ways you can make your customers enter their email or log in again to your website. Some of them can be:
Free subscription of updates of your blog.
Free Download of e-books
Discount Offers
Updates of new Releases or editions
How Exit Intent Popup helps?
Decreasing Bounce Rate: You can be in situations when the bounce rate of your blog or your WooCommerce store.
Converting Unregistered Users: It's a known fact that you will get a lot of one-time visitors and they remain the maximum proportion of your customers. The exit intent plugin can let get them subscribe for updates. You can also introduce offers that will make them visit your site again.
Reduction in Cart Abandonment: If You are experiencing cart abandonment on a frequent basis, you can use these WordPress exit intent popup plugins to present some discount or coupons to engage the customer again. You can reduce cart abandonment to great extents.
WordPress Exit Intent Popup Plugins
There are three types of plugins and services you can use to achieve this feature on your WordPress website.
Free Plugins
Free Trials
Premium Plugins
Before moving ahead, we'll discuss the free plugins in details and mention some of the premium plugins too. In the free plugins section, you'll have plugins that you can install on your WordPress website for free and edit the popups within WordPress.
Exit Intent plugins with Free Trial offer a free trial of 14 days and the customization has to be done on their websites. So you need to connect to their site for showing the popup. In case if their site is down, your site may not show the popup. Once the trial is over you need to register for the premium version.
Premium Plugins need you to create an account without even using it. Surprisingly these premium plugins have the maximum number of users. Premium plugins offer you a lot more than exit intent popup. They give you a wide variety of popups and different types of popups in addition to exit intent popup. So if you think you can take risk of showing popups other than exit, you should go for premium plugins.
Top Free WordPress Exit Intent Popup Plugins
Let us take a look at some of the best WordPress Exit Intent Popup plugins.
HubSpot
HubSpot's WordPress plugin brings the power of the HubSpot Growth Platform to your website. Over 100,000 businesses use HubSpot to attract, engage, and delight their prospects and customers. The plugin is built to handle and improve your sales, marketing, and services.
HubSpot's popup builder is highly intuitive and easy to use. You can choose from three different styles of popups: box, banner, or slide-in.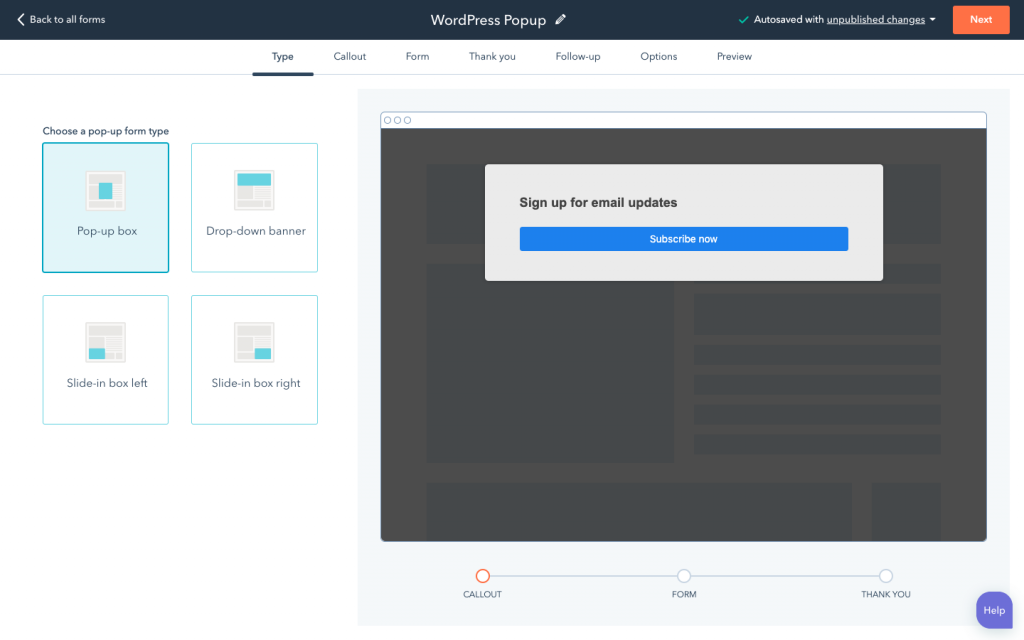 You are then prompted to the customizer where you can edit the text that appears in your popup, add an image and relevant form fields. You can also edit the color so it matches the look and feel of your brand.
You can then design your own thank-you message at the end and add a CTA button that can push your visitors to take any action that you'd like.
Every contact you capture is automatically added to your free HubSpot CRM, where you can track and manage all of your contact's information and interactions with your website, whether it be emails sent, pages visited, chat conversations, or form submissions.
HubSpot's plugin also includes a free email marketing tool, so you can pull the email addresses you capture via your popups and automatically add them to your email list.
Get HubSpot's free WordPress plugin now
Hustle Popups
This is one of the best available free WordPress exit intent plugins. Apart from popups, Hustle helps you with embeds, slide-ins and the social shares of the current page or post. It allows you to create only 1 popup with a free account. Available types of popups are Time Triggered, Scroll Triggered, Manual or Click Triggered, Exit Intent, and AdBlock Triggered.
To start creating Pop-ups in the plugin to WordPress Dashboard> Hustle> Pop-ups and click on create. Once you click on create you will be on a screen where you can edit the pop-up. Setting available are:
Content
Title| Subtitle | Main Content | Image | Call to Action Button | Email Collection to different services like MailChimp.
To summarise, you can the popup text-only or Insert an Image and embed a link on it. You'll also be able of add a call to action button and an email collection service to the popup.
Design
Form Layout | Position of Image | Color Palette | Shapes, Border, Icons | Drop shadow | Custom Size | Custom CSS
In case you are keeping the popup as text only, use custom CSS and customize the popup as you wish. In addition to this adding drop shadow and custom size for the popup is also available with this plugin.
Display Setting
Place where you want to show | Triggers | Animation | Additional Settings | Form Submit Behaviour
In this section, you get to decide the position of the popup. You have to choose from the options available. Triggers are to be set in this section. You can also select the animation for the popup. You get some additional settings and can choose the behaviour of the contact form in the end. The screenshot below shows all options in Display Settings.
To create the Exit Intent Pop-up you need move to Display Settings and select Exit Intent. You can choose if you want the trigger per session and add a delay. Any value added to delay will delay the pop-up by that many seconds. You can keep the delay value to 0 seconds.
Other options available with the plugin are Slide-ins, embeds, and social sharing buttons. You can create one of each of these in the free version of this plugin.
The outcome is recorded as shown below. (You can ignore the poor design of the popup)
MailOptin
MailOptin is one of the best exit intent popup plugins for WordPress. It allows you to display your optin form campaign at the exact moment a user is leaving your site.
It works by tracking the user's mouse position and triggering the optin campaign as the mouse approaches the top of the browser window which indicates they intend to leave your site.
MailOptin uses the WordPress Customizer that you already know and love. It's super easy to build beautiful, high-converting, lead generation forms that are optimized to get people to take action. Get MailOptin now!!!
Yeloni
You can install Yeloni Exit Intent Popup plugin both manually and from within WordPress Dashboard. Once you are done with installing Yeloni Go to your WordPress Dashboard or click on Yeloni Exit Popup. Then you will be prompted to select from the available templates. Once you select one of them, the customization and Autoresponse tabs appear.
Taking about the available customizations, you can customize the pop up with all advanced tools. Here are the customization options. As you can see, you can customize the Image, Text, colour and use CSS each the shapes. Finally, you can add the tool which tracks the conversion rate of the plugin.
In the autoresponse section, you can compose a confirmation or acknowledgement email and send it automatically to the visitor. When you finish setting up the popup, you can refresh the site and check the popup.

OptiMonk
OptiMonk builds popups for a wide range of platforms. For WordPress, you can install OptiMonk from within WordPress or upload the .zip file and activate the plugin manually. Once you are done with installing the plugin, go to your WordPress Dasboard> Appearance > OptiMonk to reach to the plugin interface. The only thing you need to do here is to create a free account. Register for OptiMonk.
Once you register and start your first campaign on their website, you'll get your Optimonk Id, which you need to enter in the plugin interface on WordPress Dashboard.
You can refer to the guide on inserting the code to the plugin interface. OptiMonk provides you with a campaigns section. This section lists all the active campaigns.
With each campaign you launch, you get similar customizations for creating popups as the previous two plugins. The only difference is that in case of OptiMonk you customize it on their website and the installed plugin connects both the websites. You can choose the people who can see the pop up from a large list and integrate Google Analytics or Tag Manager to measure your Traffic.
Premium Popup Plugins
Premium Plugins allows you to create a variety of popups and will help you to boost your business by increasing your customer base. So going for a premium popup plugin is not a bad choice. At a certain point in time, you might need to move to a premium plugin as the free version provide a limited resource. Few of the very best and most used popup builders are:
Popup Plugin for WordPress – Ninja Popups
With Popup Plugin for WordPress – Ninja Popups, you get popus pre-designed by professionals. You can choose from up to 70 themes and 8 types of triggers. And exit intent is one of them. Ninja Popup plugin is fully compatible with WooCommece and WPML. You can choose popups for locking your content with an opt-in and social locker. Not only this you get to integrate these popups with the best of E-mail marketing integrations like MailChimp.
For editing the popups you get a drag and drop editor for creating your custom popup and place then at different alignments. Advanced Anti-blocker system saves you from being sidelined from showing the popups. This plugin is one of the most popular Premium popup plugins. It costs you $25.00 for a regular licence with a six-month support and updates.
Popup Maker
Popup Maker is one of the most downloaded and used popup makers on WordPress. But this does not give you an option to create an Exit Intent Plugin. Time-dependent popup feature of this plugin is free. You can customize the popups here with additional HTML and CSS.
To create an Exit Intent Popup with this plugin you need to go for their premium extension Exit Intent Popups. The plugin uses Soft Exit Detection technology to sense the closing of the tab or an exit. It does work with Gravity Forms, Ninja Forms and Contact Forms. The plugins use cookies to boost the performances of the popup. This extension will cost you $35.00 for a single site.

Popups By OptinMonster
Popups By OptinMonster is also one of the most used popup maker plugins for WordPress. Although OptinMonster allows you to Install and Activate the plugin but to use the services you need to have an OptinMonster account. The available pricing plans for OptinMonster are: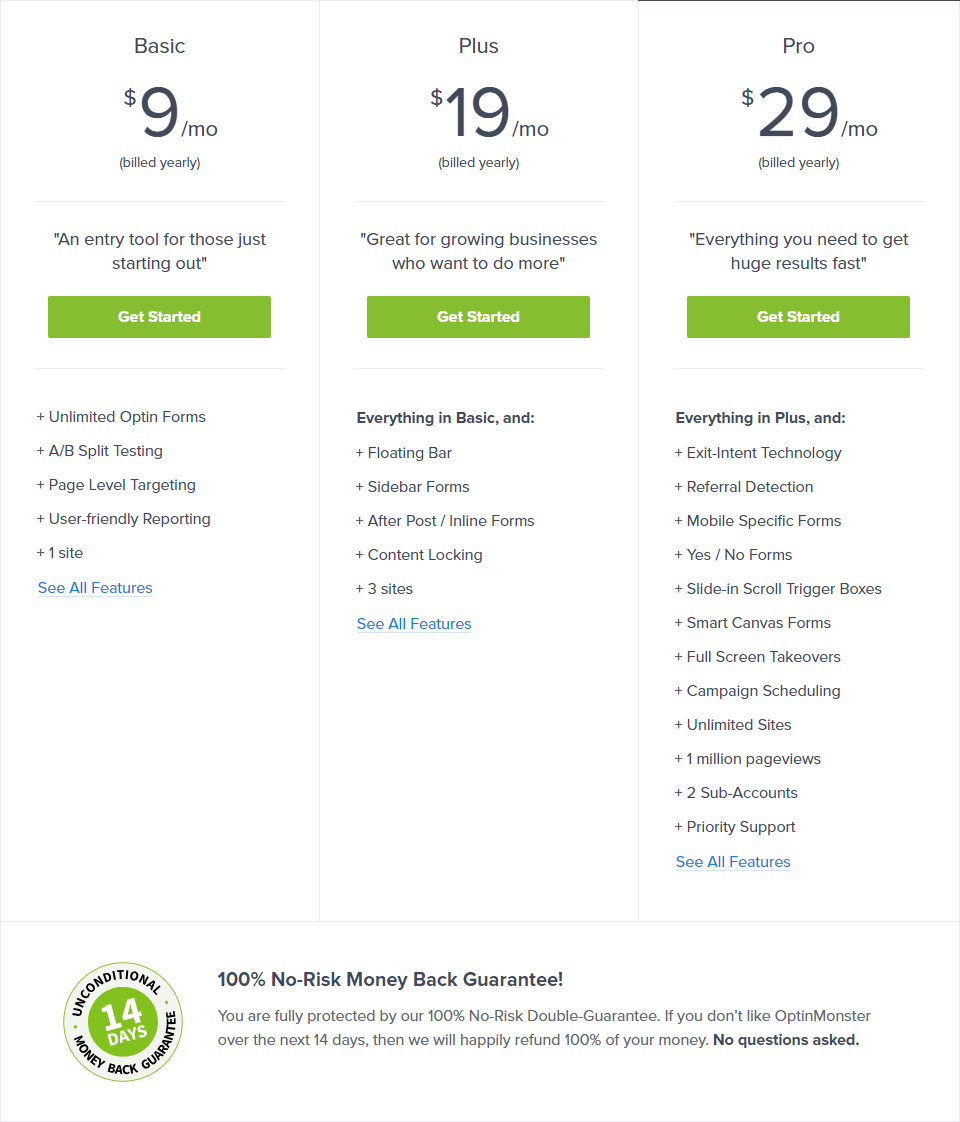 The Exit Intent Popup will be available for you on with the $29.00/month plan.

Popup Builder – Responsive WordPress Popup
Just like the three premium plugins discussed above, <ahttps://learnwoo.com/refer/optinmonster-pricing href="https://wordpress.org/plugins/popup-builder/" rel="bookmark">Popup Builder – Responsive WordPress Popup has the exit intent popup feature available for the premium subscribers only. The free version lets you create and manage unlimited popups. Customization is also available for different features. Repetitive popups, popup sound, use on multisite, responsive popups etc are all available with the free version. Apart from these, you can also include HTML and CSS popups with this plugin. The plugin is compatible with Contact Forms, Ninja Forms, and Gravity forms etc. The premium version of the plugin cost you $49.95 with a year of support and updates.

Closing Comments
Popups can be really helpful in retaining and converting outflowing traffic. So if you have not had it yet on your website, you are missing a lot. To start with you can always go for free WordPress exit intent popup and gradually switch to a premium popup maker. I hope you install an exit intent plugin and increase your email collection, add more subscribers and reduce cart abandonment. Happy Retaining!
Would you care for LearnWoo Reader's Exclusive Deals?