Last updated - August 2, 2021
Exit Intent Popup appears on the screen when the cursor moves closer the cross button in a tab of browsers. WordPress exit intent popup plugins help you display custom messages to your site visitors when they show an intent to leave the site. The messages could be a nudge to sign up for your email list, an exclusive offer, or an invitation to an event. Also, Personalized Popups for WordPress will improve engagement and they will be really helpful to retain users on your site so that they will visit more pages, or take a purchase decision. In this article, we will discuss more about some of the best WordPress exit intent popup plugins.
This is one of the most popular plugins in the WordPress repository to create popups. It will help in improving your email marketing efforts, general sales numbers, and overall business growth. The plugin lets you create popup forms, subscription forms, interactive displays, wheel opt-ins, and more. Moreover, the plugin is responsive and will ensure your message look good on all devices. Furthermore, the plugin has a very user-friendly interface that will help users of all knowledge levels to create popup forms without hassles.
Features
Create a range of interactive display options including popup forms.

Drag and drop interface for easy operations.

Pre-designed templates to make your job easy.

Personalization options based on customer behavior.

Detailed analytics options.
This is a versatile plugin that will help you create different types of marketing materials and popups. You can create popups, modal windows, content overlay based on your requirements. It also helps you display upsells on your WooCommerce product pages. Moreover, the plugin also offers different options to set triggers to open the popups, including exit intent. And, the plugin integrates smoothly with a range of popular form plugins.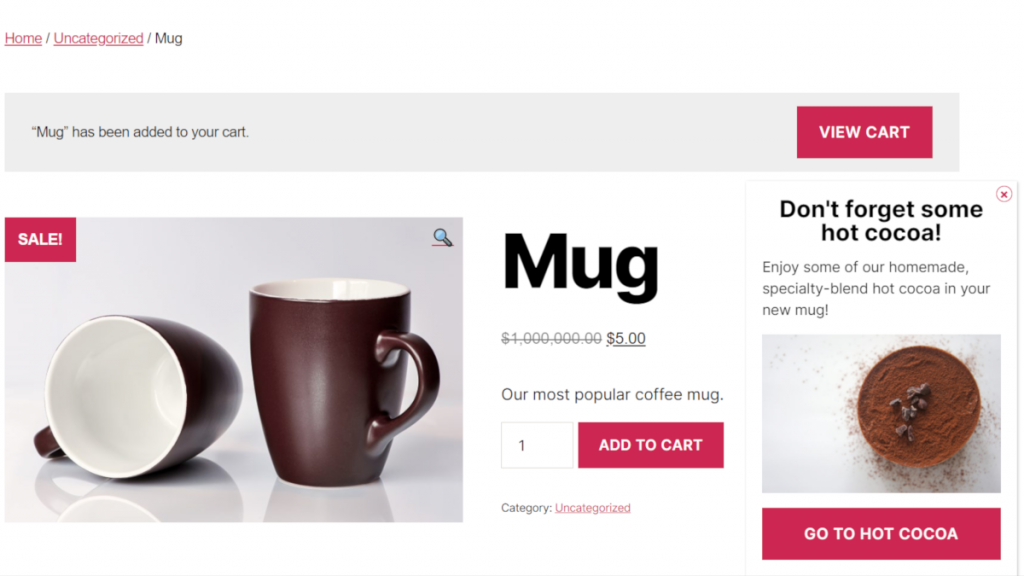 Features
Popup editor to create visually appealing and functional popups.

Use different trigger settings to display popups.

Diverse types of popups can be created.

Easy to configure.

Premium version with more advanced features.
This is a powerful plugin that will help with the promotional efforts on your WordPress site. You can create popups and other messages to win back users when they are about to leave the site. The plugin lets you customize the appearance of the popups extensively with different options for themes, sizes, and colors. Moreover, the plugin supports shortcodes that will help you place the popups anywhere on your site.
Features
Create unlimited popups on your store.

Extensive customization options to design the popups.

Animations and floating buttons for better user engagement.

Shortcode support for easy placement of popups.

Compatible with several popular plugins.
HubSpot offers a comprehensive set of marketing tools that will let you create a better user engagement strategy with live chat, forms and popups. You can create forms and popups effortlessly using the extremely user-friendly drag and drop interface. It also provides you with a convenient filtering option that lets you choose the pages to display the popups based on user behavior. Moreover, it offers seamless integration with several popular marketing tools.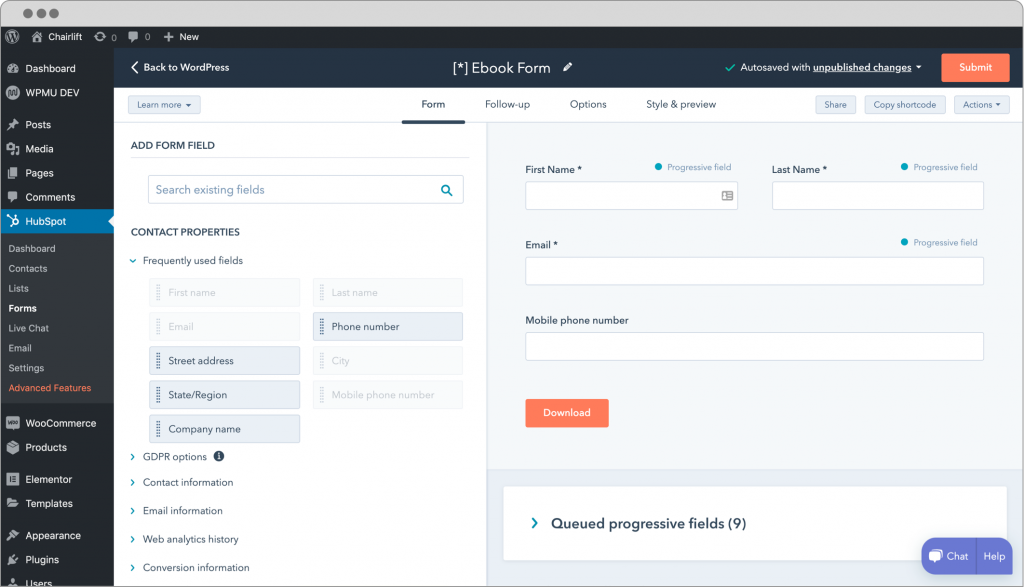 Features
Create highly effective popup forms.

Pick the pages to display forms based on user behavior.

Diverse range of templates to choose from.

Extensive options to track data.
You can target website visitors more effectively with this plugin. It helps you create popup forms in diverse styles and functions. There are several designer-made templates that will help you personalize your marketing efforts according to the specific needs of the season or campaign. Moreover, the plugin also helps in displaying the forms in a targeted manner to maximize results. You can set different triggers and schedules according to your marketing strategy, and also reach out to customers through email and social media.
Features
Create popup forms in multiple styles.

Large range of templates to choose from.

Create targeted campaigns based on users.

Integration with popular form builder plugins.
If you are looking for an efficient conversion tool, this one could surely help. You can create opt-in forms, call to actions and efficiently target customers. More importantly, it is particularly easy to work with this plugin. It will help you easily customize your forms even if you don't have advanced technical knowledge. Another highlight of the plugin is the range of targeting options such as displaying them on a specific page, or showing only to a specific set of users.
Features
Create diverse popup forms in varied styles.

Customizable themes to personalize your designs.

Option to set different display targeting rules according to the campaign.

Analytics option to measure success.
You can create and display marketing messages in different formats using this plugin. The options include lightbox or modal popups, notification bars, subscription forms, slide-ins, etc. Also, it offers reliable spam protection. Furthermore, you will find page level targeting to make the campaigns more efficient.
Features
Create different types of popup and opt-in forms.

Includes options for call to action buttons for better engagement.

Option to determine the action after conversion.

Page level targeting for better outcomes.
This plugin offers easy and intuitive customization options for your popup forms. The plugin can be effectively used for different purposes such as increasing email subscription, conversion-focused messaging, etc. In addition, the plugin offers a range of options for display filtering such as specific to pages or posts, user roles, etc. Also, it is compatible with a range of other plugins like form builders and email automation tools.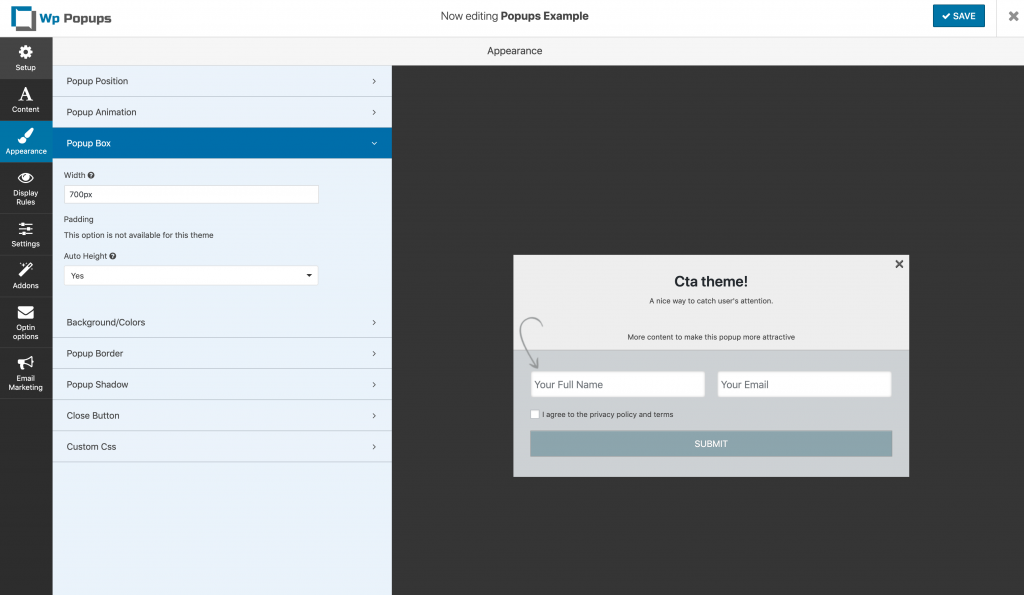 Features
Create and customize popup forms even without coding skills.

Customize the display options of the popup with triggers.

Multiple display filtering options like user roles, referral sites, unregistered users, etc.

Integration with popular form builders and marketing automation plugins.
You can supercharge the popup forms on your website with the help of several advanced options provided by this plugin. It offers options to incorporate images, videos, HTML elements and more into the popup forms displayed on your store. You can use these diverse elements individually or in combination with each other. This is definitely one of the feature-rich free WordPress exit intent popup plugins that you can try out.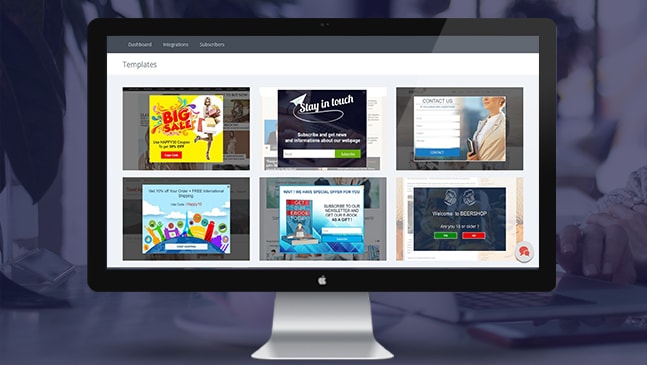 Features
Create an unlimited number of popup forms on your website.

Diverse elements to be included in the popups such as videos and images.

Extensive customization options including animations.

Several options to trigger the display.

Multiple targeting options.
If you are looking for a quick and easy tool to create popups, contact forms and opt-ins, this could be the tool you are looking for. It will help you enhance your email subscribers and also to capture leads more effectively, and to reduce cart abandonment. In addition, the plugin will track user behavior on your site to display the messages in a targeted fashion. And it is extremely easy to customize the designs.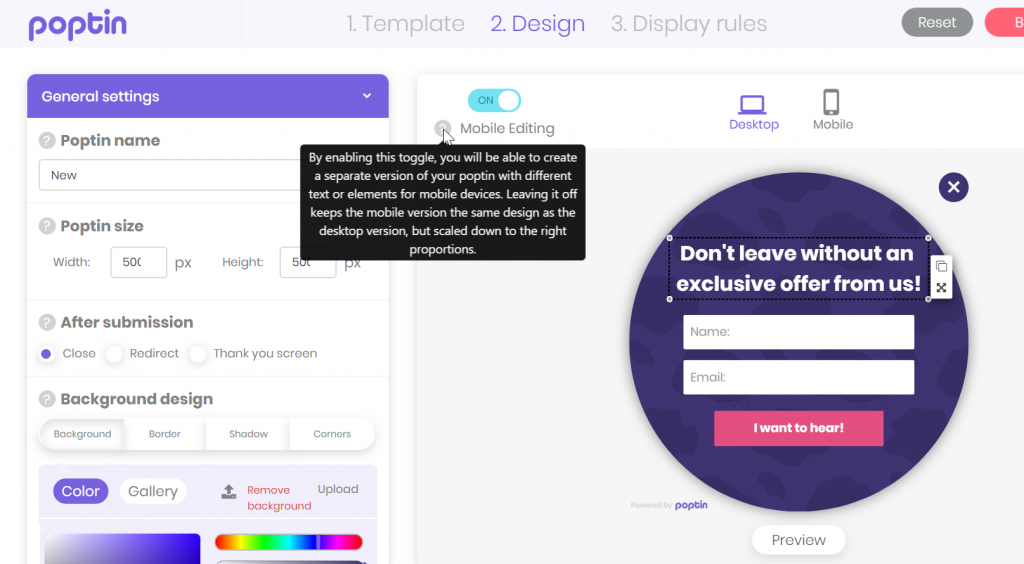 Features
Create beautiful popup forms in a drag and drop interface.

Large collection of templates to help you get started quickly.

Exit intent trigger in the free version of the plugin.

Custom images and backgrounds.

Advanced targeting options.
How Exit Intent Popup helps?
Retaining site visitors is a challenge to website and eCommerce store owners. Initiating a conversation when they are about to leave your site could help them to stay longer. Exit Intent Popup plugins help you customize your communication strategy and increase your customer engagement. Here are some of the obvious benefits of WordPress exit intent popup plugins.
Decreasing Bounce Rate: You can be in situations when the bounce rate of your blog or your WooCommerce store is really high. Exit intent popups could help retain customers on your site, and also to encourage them to check other pages.
Converting Unregistered Users: It's a known fact that you will get a lot of one-time visitors and they remain the maximum proportion of your customers. The exit intent plugin can let them subscribe for updates, so that there are better chances for them to come back. You can also introduce offers that will make them visit your site again.
Reduction in Cart Abandonment: If you are experiencing cart abandonment on a frequent basis, you can use these WordPress exit intent popup plugins to present some discount or coupons to engage the customer again. You can reduce cart abandonment to great extents.
Introduce a new product: You can make use of exit intent popups to introduce a new product that you are launching. It could be an upsell, or something related to what a customer has already purchased. Either way, it will be an effective option to get the word across to your existing customer base.
Promote specific content or events: You can use this technology to invite potential participants to webinars, conferences or discussions. Similarly, if you want to promote a piece of content that you think will be relevant to the user, this is a great opportunity.
Closing Comments
Popups can be really helpful in retaining and converting outflowing traffic. So if you have not had it yet on your website, this may be the right time to do so. To start with you can always go for free WordPress exit intent popup and gradually switch to a premium popup solution if needed. We hope you install one of these WordPress exit intent popup plugins and increase your email collection, add more subscribers, and reduce cart abandonment.
Further reading