Last updated - November 10, 2021
WordPress has a great user interface that allows you to manage daily tasks on your website from the dashboard itself. However, there are certain scenarios where you want to directly communicate with our site's files on the server. File Transfer Protocol (FTP) helps you transfer files directly to your host's servers from your computer. Though it is not a requirement to manage your WordPress site, it can come quite handy for troubleshooting. To be able to use FTP, you need the help of an FTP client, which helps you connect to the servers and your website files. In this article we will discuss some of the top FTP clients for Mac and Windows used by several WordPress and WooCommerce developers.
How FTP helps in maintaining your WordPress site?
Let's take a look at certain specific scenarios where FTP might be able to help you maintain your WordPress site.
For troubleshooting, when you are not able to access your WordPress dashboard due to an error.
Bulk uploading of media files to save time.
Modify WordPress core files for certain customizations or security measures.
Top FTP Clients for Mac and Windows
Now, let's look at top FTP clients that developers use to manage WordPress and WooCommerce sites.
Filezilla is a popular, free and open source FTP solution preferred by a lot of developers working in the WordPress ecosystem. Apart from FTP, it also offers support for FTPS and SFTP. You will extensive documentation to understand its usability, and for support, you can make use of forums and bug trackers. It runs on both Windows and other platforms as well. On their website, you will find one version exclusively for Windows, and another one for all platforms.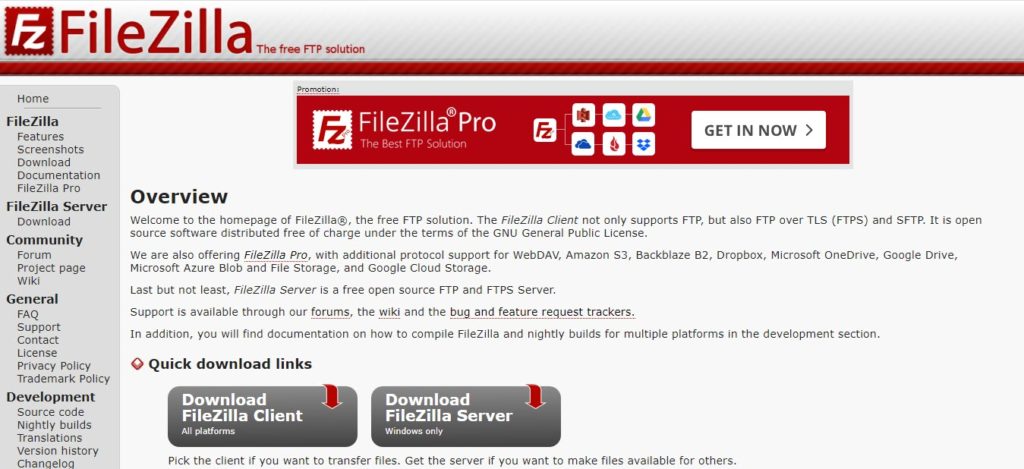 If you are looking for additional support for Amazon S3, Backblaze B2, Dropbox, Microsoft OneDrive, Google Drive, etc., you can try out their pro version.  With the pro version, you will find an intuitive user interface and powerful tools to help you access files and navigate the server. The size of your files won't be a problem for the pro version, as it has powerful transfer queue options and manageable transfer speed limits. Filezilla Pro, which is a highly popular option among FTP clients for Mac and Windows, will cost you around $20 for a license.
Cyberduck is a comprehensive solution that lets you connect to servers and cloud storage. Their FTP client service offers a great solution for file transfers in secured networks as well. Cyberduck offers seamless integration with external editors so that you can easily edit text or binary files on your server. You will be able to easily configure Content Delivery Network (CDNs) on Amazon Cloudfront and Akamai.
Some of the useful features of Cyberduck includes drag and drop bookmarking, caching enabled browsing, etc. It also allows you to copy files between servers. This open source solution works for Mac OS X as well as Windows seamlessly.
If you are looking for a free, open source FTP client for Windows, check out WinSCP. It offers smooth file transfer for your WordPress site. In addition, it offers basic scripting functionality, and options to manage files. It offers a graphical user interface that makes it pretty easy to use. In addition to support for FTP, SFTP and SCP, it also supports WebDAV and S3 protocols.
For authentication, it offers support for passwords, keyboard interactive and publick key GSS API mechanism. You can also protect stored site information using a master password.
Transmit is one of the most popular file transfer apps available for MacOS. It offers a simple and powerful UI that is quite popular among Mac OS users. Managing file transfers with multiple servers can be done in a hassle-free manner using Transmit. It lets you handle file transfers through FTP, SFTP, WebDAV, S3 etc., quite smoothly. In addition, you will be able to connect to some of the popular servers such as Google Drive, Dropbox, Microsoft Azure, etc.
An outstanding feature that you will find in Transmit 5 is Panic sync that helps you in syncing files between local to local and remote to remote computers. Improved multithreading and better handling of complex folders makes this version much more faster. Moreover, the latest activity view helps you focus on the right functions.
With a user friendly interface and powerful design, Free FTP offers a simple and effective solution for file transfers. File transfers between your computer and server can be done with drag and drop action. Moreover, the activity pane helps you keep an eye on all your running tasks without confusion. You can even pause or cancel an operation, and errors are presented in an efficient and readable manner. Using Free FTP, you can handle multiple popular protocols for file transfer such as FTP, FTPS, SFTP with different types of encryption.
Accessing files on Free FTP is particularly easy as it offers you features like Combo Bookmarks, where you can save and call local as well as remote folders. You can also create a quick backup of your site using this tool as it creates a zip folder and saves it on your local computer.
This is one of the safest options for file transfer in the Windows platform. It helps you in transferring files with the highest level of encryption. It has a user friendly interface and is quite flexible for customization. The superior security of file transfers, while using this software is ensured by FIPS 140-2 validated cryptography, OpenPGP file encryption and 256-bit AES. The drag and drop interface makes it particularly quick and pleasant to work with.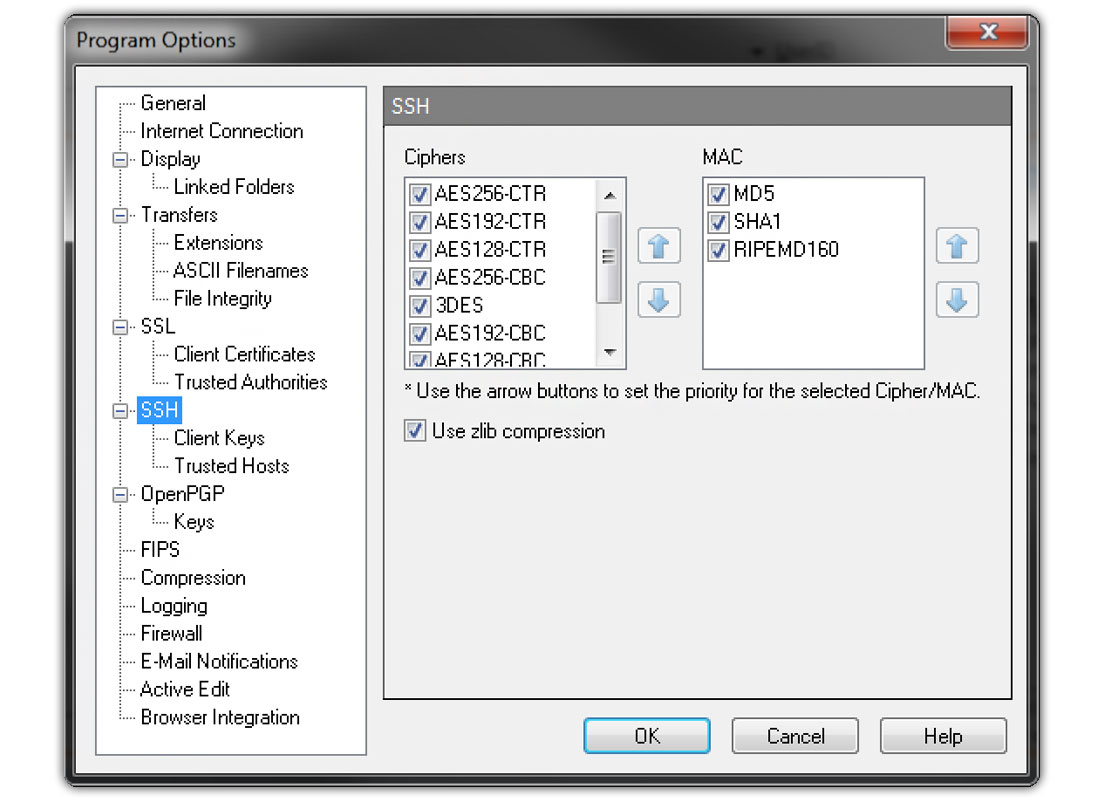 It has important features to help with your backups. You can archive your important files and folders to any location, device, or cloud storage services. It also allows you to enable email notifications to verify successful file transfers and also to alert others about it. To get started with WS_FTP Professional, you can download the free trial. The paid plans start at $49.95 per license.
CuteFTP is a secure and powerful tool to help you with file transfers via FTP. The interface is quite user friendly to help you handle even complicated websites effortlessly. Moreover, you can make use of the color coded HTML editor to manage documents on local or remote computers. It allows you to transfer files through FTP, SFTP, FTPS, HTTP, HTTPS, etc. Features like a password manager and One Time Password protocol ensures the safety of your transfers while working on multiple remote sites at the same time.

CuteFTP also offers automation options to backup and synchronize your sites. It also has an easy to use drag and drop interface that facilitates easy and fast movement of files between computers. The basic package of CuteFTP for Windows starts at a price of $59.99. You can also try out their free trial to get a basic understanding on how it works.
Using CloudMounter, you can connect external storage services as an additional disk drive that you can use. Thus you can easily manage your cloud storage service on your computer. It offers the solution for both MacOS and Windows as you can connect to Dropbox, Google Drive, Amazon S3, Microsoft OneDrive, (S)FTP, WebDAV, etc. Moreover, CloudMounter is one of the safest options among FTP clients for Mac and Windows. Your files will be protected with advanced encryption standards.
CloudMounter offers a smooth integration with both Mac and Windows platforms. Constant updates of the application ensures that you always have access to the most updated technology. The price of a personal license of CloudMounter starts at $29.99.
This is a fast and easy solution to manage file transfers on your website. It is compatible with most FTP servers and you can ensure secure file transfer using FTP SSL. This is one of the stable FTP clients for Mac and Windows that you can opt for. The simple user interface with drag and drop operation makes it especially easy for download and upload files. Moreover, it offers a tool for file syncing that ensures your access to the updated files all the time.
When you are starting out, the set up wizard will help you establish connections through FTP. You can use the free version for non-commercial purposes. The base price of the standard edition of Classic FTP software is $35.
In addition to being a swift tool for file transfers via FTP, Direct FTP also with file editing and backups. With the help of the in-built code editor, you will be able to edit HTML, CSS, PHP, JavaScript, etc., with ease. More importantly, you will be able to edit the files on your server itself without the need for downloading. There is the drag and drop option that makes your file transfers effortless, and the activity pane gives you a clear idea of your ongoing transfers.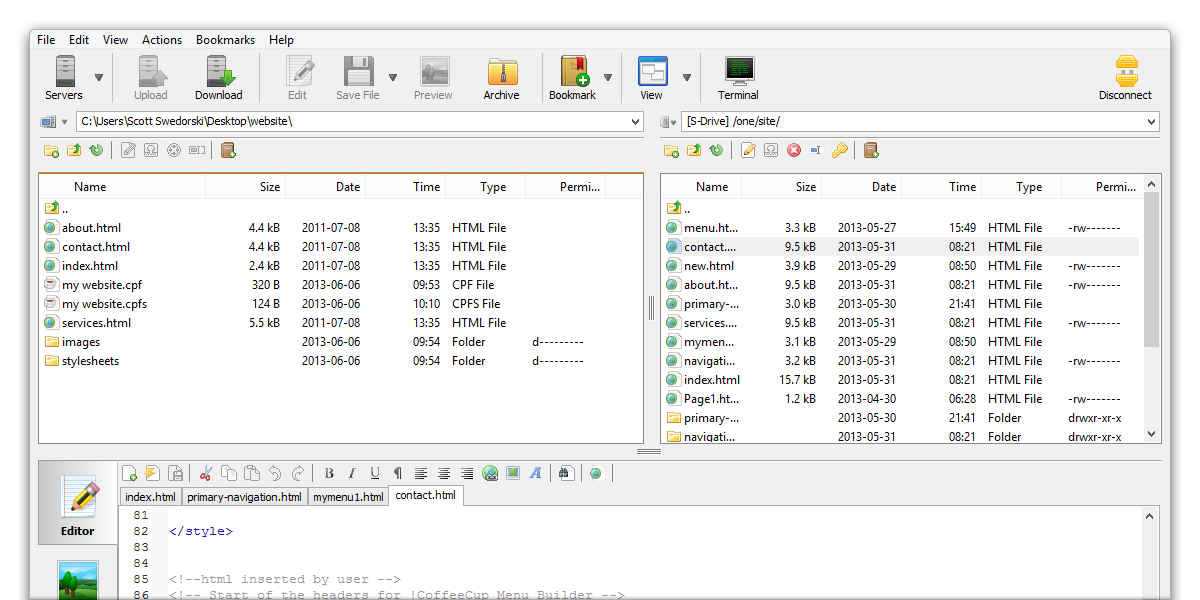 Furthermore, you will find features like Combo Bookmarks to help you with faster access to files and folders. You can purchase a license of Direct FTP at $39.
Though WordPress offers easy options to manage everyday aspects on its dashboard, developers often need to directly access the files in the servers. To make this connection through FTP, you need an FTP client software. Hope you got an overview on some of the top FTP clients for Mac and Windows from this article. If you have any queries or insights, please don't hesitate to leave us a comment.
Further reading