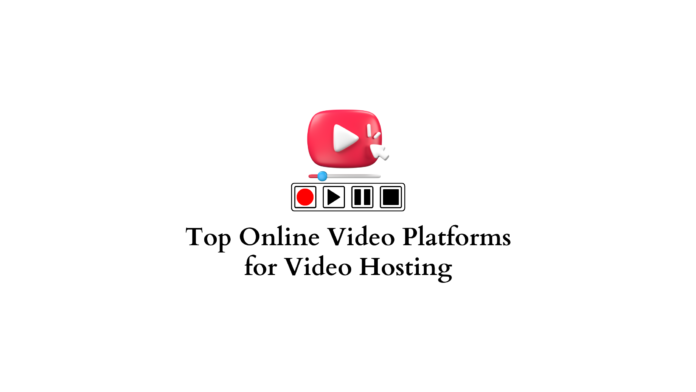 In recent years, there has been a rise in the number of streaming platforms and the same applies to the number of viewers as well. More and more people are choosing these video platforms over traditional methods of watching content. Whether it is about the entertainment segments, selling products, or broadcasting information to a team in real-time, streaming platforms have become the number one choice. This makes the internet one of the best places to earn and a golden opportunity for entrepreneurs.
So if you are up for creating content and making it available to the viewers, you can head to our top 10 free hosting platforms that are free to use and let you earn well on your creations.
Why Choose a Video Hosting Platform?
Now you might be thinking that what is the need for video hosting on another platform and why not choose your own website for that purpose?
Well, the answer is that videos take up more space than simple text and audio. This means that you need to own a server with a lot of space or bandwidth.
Even then it might get crashed when the traffic becomes even the slightest bit heavy. This may make your server crash down and this whole matter might become a lot more complicated and costly.
So it is wise to choose these famous and free platforms that are already managing the hosting for millions of streamers.
Top 10 Free Hosting Platforms Online
Now that you have an idea about why you should choose the video hosting platforms to upload your videos, let's explore these top tens that are free to use and experiment with.
GUDSHO being a recent online video platform in the industry has shown good growth.
The platform invites premium content creators from all over the world. As a creator, if you want innovative options in terms of privacy, uploads, analytics, and video content management, GUDSHO can be your next hosting platform.
The platform majorly entertains niches like Education, Healthcare, and Filmmaking. So if your work belongs to any of these segments, chances are you will achieve a targeted audience who is interested in streaming your creations.
Pros
Smooth buffer-free videos
No limitation on video upload
4K ultra-HD videos supported
AES encryption for utmost security
Digital dashboard and deep analytics
Heavenly space for film creators
Clean user interface
Cons
No live streaming
No player customization options
Limited niches
YouTube needs no introduction of course and it is also the first name that comes to everybody's mind when it is about streaming or a live streaming platform. Also, the good news is that it is free to use and with billions of users streaming the content daily. This means that as a creator, you may get a lot of traffic if you advertise your channel well.
Creators can upload videos in multiple formats such as MPEG4, MP4, MOV, AVI, FLV, WMV, and WebM. They can upload a resolution of up to 4K as the platform supports ultra-HD videos.
Pros
The most popular streaming platform
Unlimited bandwidth for your videos
Live streaming
Analytics to track your audience
Embed ability
Privacy options
Cons
You can't choose which brand's ad to put on your videos
No customization for the player
No download feature
Basic editing options
More competition
Facebook is also one of the most popular platforms now more than ever. With billions of active users, it can be your best place to market your creation. Among the free platforms, Facebook can rock your world since it brings huge traffic because of a big amount of followers. Here you get the option to interact with your community that is also interested in your niche of content.
Like YouTube, Facebook also supports multiple video formats such as MP4, MPEG4, MOV, AVI, FLV, and more. Here you can upload 1080p videos as it is the maximum resolution.
Pros
A vast audience to stream your content
Price-friendly options for brands
Free video sharing and embedding options
No bandwidth limit
Live streaming
Cons
Minimum organic reach
No 4K quality resolution
No customization options
IGTV is a video service started by Instagram in 2018. It lets you upload videos of 15 seconds to 10 minutes in portrait mode. This will be useful for those who expect their Insta stories to be longer than just a few seconds. One can create an IGTV account or use the Instagram website to get started on the platform.
Pros
Longer creation time to add more information
Promotes better video organization
Advanced search option to let viewers quickly find the videos
Cons
Lack of monetization methods
Editing vertical videos is harder
No option to embed
Vidyard is mostly for those who want to perform virtual selling. The platform presents many features that let you host videos for your prospects and increase your chances of getting clients. They have "selling tools" that are made for the remote environment. The platform offers both free and premium plans that you can choose as per your depth of operation.
Here you can display videos in formats like WEBM, MP4, MKV, MOV, and resolutions like 720p and 4K depending upon whether you want camera recording or screen recording.
Pros
Third-party integration available with Hootsuite, Marketo, and Salesforce
No bandwidth limit
Unlimited recording available
Password-protected videos
Deep analytics
Customization options
Cons
No subtitles in the free plan
Limited embedding options
Difficult interface
Wistia is an ideal platform for those who want to rely heavily on analytics and engagement tracking. One of the best online video platforms for creators, Wistia offers you deep analytics and viewer-based tracking so you can implement all your marketing plans well. The platform supports multiple video formats where the resolution remains at 4K as maximum. They have both free and premium plans which you can choose as per the storage and amount of features you need.
Pros
Integration is available with tools like CRM, Google Ads, and more
Keyword embedding option
Place CTA in your videos
Advanced marketing tools
Deep and real-time analytics
Customization options
Cons
Has restrictions on the free plan
Vimeo gives you a professional-looking space to upload and advertise your videos. It allows you to collaborate with your teams and clients and understand the requirements in real time. Their platform is free of any advertisements and they provide a clean interface. Here you can upload high-quality videos and host live events. This video-on-demand (VOD) hosting platform allows filmmakers to choose from various video formats and a maximum resolution of 8K.
Pros
Organized and clean interface with a professional look
Live stream events and webinars
Marketing features to increase leads
Customization options for video player
Download options
Privacy options
Ad-free platform
Cons
No captions available
Limited upload limit for the basic plan
Limited options for integration
If you are much worried about the social network of a platform and if you want to keep it more private only to authorized members, then Google Drive may be your choice. Here you can invite your team and collaborate with them while storing your content on the cloud. The platform provides you with free video uploads with some limitations. You can have some privacy options and share videos with whomever you want.
Here the maximum resolution supported is 1920×1080 with the formats like MPEG4, 3GPP, MOV, AVI, MPEG PS, WMV, FLV, MTS, WebM, and OGG. You can also purchase more storage if the free one gets over which is 15 GB of storage.
Pros
Free video space up to 15 GB
Video hosting space up to 5 TB
Embed options available
Captions availability
Cons
Limited storage and resolution
No attractive interface
Difficulties while uploading videos
Not much user-friendly
Dailymotion is another hosting platform like YouTube that you might already know. It is also popular for providing free uploading of videos where there is no restriction on bandwidth and also the video length limit stays at 60 minutes.
The platform supports content in many niches such as entertainment, sports, news, and music. So if your work is related to any of these categories you can head to Dailymotion and give it a try.
Pros
Less competition than YouTube
Password protection
Live streaming
Customization options for video player
Cons
Not a vast audience
Ads running on the platform
Limited upload size
Slow loading
If you are into games and esports, then Twitch is the platform to opt for. More and more people who are gamers are choosing Twitch over anything else. People watch their favorite streamers here through live streaming which is another level of fun.
Twitch offers free hosting services and there are live streaming and pre-recorded broadcasts all over the site. Creators can upload 5 videos at once and 100 uploads in 24 hours.
Pros
Interactive gaming platform for gamers and viewers
Many communities to establish connections with fellow people
Helpful and entertaining
More video monetization options
Cons
Trolls are common
Sometimes abuse due to missing posts
Unwritten rules
You can get banned anytime
Further Reading