Last updated - January 24, 2019
Integrating your WooCommerce store products to Google Merchant Center can bring in a lot of good results. It will enable great visibility for your products, as they will show up in Google search result pages with product images and features. When you integrate your products to Google Merchant Center, your products will show up as Google Shopping listings, above search ads. It is a preferred marketing strategy of a lot of WooCommerce store owners as the conversion rate is quite high. In this article we will discuss some of the interesting WooCommerce plugins that will help you integrate WooCommerce with Google Merchant Center.
How to add products to Google Merchant Center?
In order to provide your product feed to Google Merchant Center, you have to follow certain guidelines. The product feed needs to be accurate and should include several fields of product information which are mandatory.
In addition to product title, image, description and price, you need to enter information like Global Trade Item Number, Manufacturer Part Number, etc. Including more attributes of your products is a better practice when you submit a product feed to Google Merchant Center.
Google Product Feeds should be in either in plain text (.txt) or XML (.xml) file formats. As XML has a well-defined data structure, and it can contain instructions on how to display the data. Considering this aspect, XML format would be a better option for product feed though the file size will be larger.
Creating your Google product data feed
When it comes to creating your product data feed for Google Merchant Center, there are two approaches.
Registering a Google Sheet on Merchant Center – You can use a Google Sheet to submit your product data. You will find add-ons to help you create and manage your product feed.
Using a WooCommerce plugin to sync product data – You can install one of the top WooCommerce plugins to integrate product data to Google Merchant center. These plugins would create a feed automatically based on the specifications of Merchant Center. If you don't have much time to manually create and submit product data, choosing a plugin to do this would help you avoid a lot of hassles.
Plugins to integrate WooCommerce with Google Merchant Center
Integrating with Google Merchant Center has become an essential practice for store owners to get better reach for products. As they provide a visual overview of your products dynamically, you are able to guide prospective customers from their Google searches. Here is a look at some of the top plugins that will help you automatically sync your WooCommerce product data to Google Merchant Center.
With the help of this extension, you will be able to create a real-time feed of your products that will sync with Google Merchant Center. That means the changes that you make on your WooCommerce store will be updated real time on Merchant Center as well. You can choose the fields that are required as per Google's guidelines and the extension will create an accurate feed containing all your product information.
There will be some data required by Google, which are not generally present on your WooCommerce store. The extension helps in this scenario with additional fields to include such data. You will be able to configure information globally across all products or specifically for particular categories. In addition to product data, the plugin also helps to send product reviews to Google Merchant center. This is especially helpful in a marketing perspective as reviews are a major influencing factor for conversion. Apart from Google Product feed, the plugin also helps you create a product feed for Bing.
Once you set up your Google Merchant Center account, you can link it with AdWords account and start creating ads for your products. The single site subscription of the plugin would cost $79. The 5-site subscription is $99 and the 25-site subscription is $199.
This plugin will help you create and manage Google Product Feeds effortlessly. The plugin helps you generate an XML file that contains all the necessary data required for Google Merchant Center feed. You can upload this XML file to your Google Merchant Center account. The plugin allows you to include all variations of your products in the product feed.
More importantly, you can set up a cron job that will refresh the data at periodic intervals specified by you. You can specify daily, weekly or monthly intervals to refresh the product feed on the Merchant Center account. This way you can ensure that your Google product feed always contains updated information about your store. You will be able to map your product categories to Google product categories which are used to categorize products displayed on Google Shopping results. In a single XML file, you can include multiple categories, which will give your products better visibility.
Google Merchant Center requirements for mandatory product field can differ according to your country. The plugin helps you add and manage additional fields and attributes mandated by Google Merchant Center. While creating the XML file, you can exclude specific products from the feed. It also makes management of the field extremely smooth as you can view, edit, copy, download and delete an existing field. The plugin will work in all countries where Google Merchant Center service is available.
The single site subscription of this plugin would cost you $69. You can get a 5-site subscription for $99 and a 25-site subscription for $199.
Google Shopping ads tend to offer better possibilities compared to traditional search ads. This is because these listings are rich with product images, prices and other details like reviews. Here is another plugin that will help you create a file to accurately list products on Google Merchant Center. You can choose to include all your products in the feed or choose them according to their categories or tags.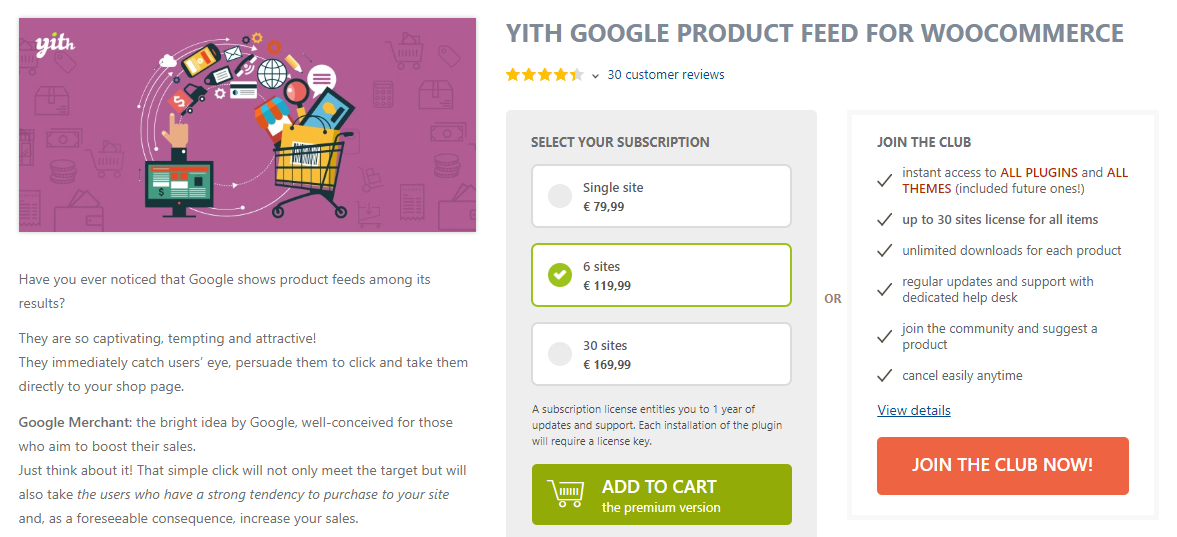 The plugin also lets you create custom templates for your fields and choose the fields and associated information you want to display on the feed. This can be helpful include information that is required by Google but is not available generally on WooCommerce. To make things easier, you can assign general values to certain fields which will be applicable to all products. And if required, you can override the general values at individual product level.
There is no limit to the number of fields you can create with this plugin. You can create both .txt and .xml file formats with this plugin. A single site subscription of this plugin would cost €79,99. For six sites, the subscription would be €119,99 and for 30 sites, it is €169,99.
This is a free option that you can find in the WordPress plugin repository to create a Google product feed. If your store has only less than 100 products, you can use this plugin to create and manage your Google product feed. Once you install the plugin, it will automatically create a feed taking into account the guidelines for the feed. However, you will be able to make changes to the feed according to the specific requirements.
The plugin offers options to help you maximize the product reach on Google. For example, you can choose to display titles for your products that are different from the original one on your store. It also has an option to update changes to your feeds so that it reflects on your Merchant Center account as well. If you have a large number of products, you can also checkout the premium option, which we will discuss next.
This is actually a plugin that would help you manage multiple sales channels for your products. If you want to only manage Google product feed, you can get the specific license just for that.
It offers the following features that will help you manage your product feeds.
Easily map your product categories with Google shopping categories
Exclude specific products that you don't want to be added to the feed.
Optimize your feed to make it more appealing on Google shopping.
You can update your feed at regular intervals to make sure it reflects in the Google shopping listings.
The feed templates are always updated to reflect any changes Google makes to their guidelines.
You will be able to manage your product feed from your WordPress admin.
To integrate your WooCommerce store products with Google Merchant Center, you can purchase a license worth €69. This license for a single site helps you create a feed of unlimited products. You will also find one year of support and updates.
Advantages of using Google Product Feed
Here is a quick look at some of the advantages in integrating your products to Google Merchant Center account.
Better visibility
Your products will get better visibility and reach on a larger scale. As it is depicted in a dynamic, organized manner on Google search result pages (SERP), users can understand your products better. As the Google product feed includes images of your products, users would be quite clear about what they are looking for on your store.
More chances to click
When you combine multiple strategies, there are chances that your products will be shown on multiple places on the search results page. In addition to the general results, there can be a Google shopping listing as well as a traditional Google ad. This way, the chances for clicking your page can be boosted when you list your products in Google shopping. And, when users click a Google shopping listing, they are taken directly to the product page. This simplifies your sales funnel and your customers will have a better experience navigating to the products they want.
Better chances for conversion
Listing your products on Google shopping increases the chances for conversion as well. This is because the data on Google product feed is accurate and well structured. Since your customers already have a clear understanding about your product through pricing details and images, the expectations are set right. So, when they finally reach your site, chances are high that they have already made a purchase decision. As a result, the chances of conversion on your site is increased.
Integrate product reviews
The reviews of your products will be integrated to the Google Shopping listings. This enables prospective buyers to understand the public perception around your product. Moreover, highly rated products will be placed preferentially to get better attention.
Easy to connect with AdWords
The products on your Google Merchant Center account can be easily tied to your AdWords account. By doing this, you can effectively create a better advertising strategy for your products. You can also try re-marketing by displaying users products that they have viewed previously.
Measure the success rate
Google Merchant Center integrates with your analytics account as well. There will be a separate section on your analytics data that will help you identify the success rate of your product feed separate from other channels.
Geographical tagging
Product feed listings can include geographical tagging, which can actually guide users to stores in their location.
Further reading