Last updated - February 24, 2020
WooCommerce offers a bunch of shipping options by default. These options are quite good if you have a simple store with a couple of products, or when you are just starting out. As your store scales up, your shipping needs can also become more complicated with more customers and new destinations. You might want to adopt new strategies that will offer great customer experience without really eating into your margins. WooCommerce Table Rate Shipping plugin is a great option to enhance the shipping options on your store according to varied requirements. In this article, we will try to explore a few reasons that will lead you choose WooCommerce table rate shipping plugin for your store.
How to set up the WooCommerce Table Rate Shipping plugin?
You can set up the WooCommerce table rate shipping plugin pretty much effortlessly by following these steps:
Analyze your shipping destinations, and set up shipping zones.
Configure shipping classes if you want different rates for different types of products.
Access the rates of the shipping carrier that you will need for fulfillment.
Reasons to choose WooCommerce Table Rate shipping plugin
Compared to the default WooCommerce shipping options, this plugin offers a lot of flexible choices for store owners to make shipping more customer friendly.
Great options for customization
You will be able to define multiple shipping rates based on a range of conditions if you are using the WooCommerce Table Rate Shipping plugin. The shipping destination, the price of a product, weight, item count, etc, can be used to define suitable shipping rates. You can create a shipping rule and then apply them to multiple regions using wildcard as well. With the help of the plugin, you can choose a condition to set shipping rates and then configure minimum and maximum values for each. For example, you can set one shipping charge for item count from one to fifty and a different charge for item count more than fifty.
Multiple tables of rates
While using this plugin, you will be able to create multiple tables of rates for different shipping zones. You can also have multiple rates for each shipping zone based on different conditions like product price or shipping class. The plugin will help you display a specific rate when a customer checks out based on shipping destination and the table of rates you have created. You will be able to create one or multiple set of rules for each destination according to the requirements of your store. Once you set up shipping zones and specific rules, this plugin will manage to display the appropriate shipping costs based on your conditions.
When you have a range of products that has similar attributes for shipping considerations, you can group them together using shipping classes. For example, you can create multiple shipping classes like small, medium, large etc., and assign products based on dimensions. Now, for each shipping class, you will be able to create a particular shipping rate using the WooCommerce table rate shipping plugin.
As you know, a shipping zone is a geographical location where a particular set of shipping options and charges apply. While using this plugin, you can assign different tables of rates to each zone to charge according to the shipping costs that is applicable.
Different options for rate calculation
The plugin offers multiple options for calculating shipping rates as well. You can choose the calculation type to define how the plugin would calculate shipping rates. The following types of calculations can be used when you determine shipping rates using this plugin.
Per order shipping rate
Under this option, the shipping rate will be calculated for the entire cart. This won't consider the shipping rates set up for individual products or shipping classes. If there are products from multiple shipping classes available in the cart, the one with the highest priority will be taken to calculate the shipping rates. When you opt for this type of calculation for shipping rate, you can set the priorities as well.
Per item
If you choose this option, shipping rates will be calculated based on each item in the cart. This will make ensure that products with varied shipping requirements are taken into account while calculating shipping rates.
Per line
Her the plugin will consider each line in the cart and compares that with the configured table rate. This will ensure that the customer will be charged only once when multiple number of the same item are present on the same cart.
Per shipping class
This type of calculation will consider each shipping class in the cart and accordingly calculate the final rate. The rate will be a sum of charges of individual shipping classes under this type of calculation.
The final shipping rate will be significantly different for each of these calculation types. You can choose a different type of calculation based on your shipping strategy. It is important to understand the differences in rates and configure the one that offers the best value to the customers as well as you.
Weight based shipping
If you have a range of products that considerably differ when it comes to their weights, you need to devise a shipping strategy based on weights. This is effortlessly possible with the help of WooCommerce Table rate shipping plugin. The plugin will enable you to take into consideration of your products' weights along with other factors such as shipping destination, shipping classes, etc.
With the help of the plugin, you can define weight ranges and varied costs for each. You can also set a weight threshold, and then charge an additional amount for every unit of weight added after that. The plugin also offers weight-based shipping rate calculation for different shipping zones, classes, and also helps you configure free shipping based on weight.
Quantity based shipping
This plugin also helps you customize shipping rates based on the number of items purchased by a particular customer. This is in fact a great option to increase the average order value on your store. By setting cheaper shipping rates as the number of items in a cart increases, you can encourage customers to purchase more quantity from your store. This will be a great way to ensure higher customer satisfaction and improved revenue simultaneously on your store.
Combine different shipping scenarios
As your store scale up, the shipping requirements on your store too will be changing. After you choose a shipping strategy, you can make modifications to it based on the changing requirements. When you follow only one criteria for shipping rate calculations, this is not really feasible all the time. However, with WooCommerce table rate shipping plugin, you will have the flexibility to combine different shipping strategies according to the changing requirements on your store.
For example, you can easily switch between the conditions to calculate shipping rates, such as weight of the product, shipping classes, price, etc., based on the trends you observe on your site. So, if you consistently analyze your store patterns and accordingly choose the most effective shipping methods, this plugin offers you great assistance.
Easy to configure
WooCommerce Table rate shipping plugin helps you configure complex shipping scenarios with considerable ease. If you have a clear understanding of the diverse shipping scenarios that you handle, this plugin will help you execute strategies accordingly. For stores that have diverse shipping considerations in terms of product weight, dimensions, number of items in an order, etc., this plugin could be really helpful.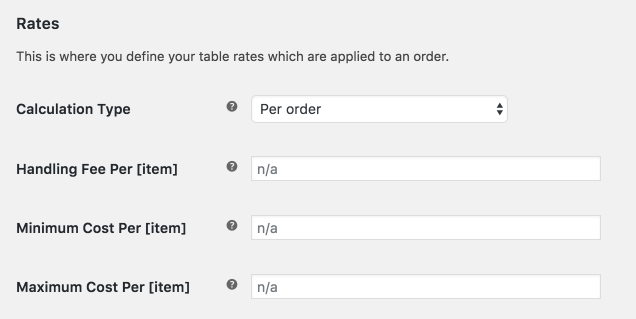 You can simply configure the settings of the plugin directly after installation. Based on your specific store requirement, you can set up conditions and the type of calculations. The plugin will display accurate shipping rates based on the customers' cart. Whenever you notice a different scenario, you can add a new calculation type or rate condition. The plugin is quite easy to configure and manage compared to the complexities associated with varying shipping requirements.
Great user interface
Many store owners hesitate to set up complex rates as the calculations can create a lot of hassles. However, with the help of this plugin, you can easily calculate shipping rates even in complex scenarios. The plugin offers a simple and intuitive interface that helps you modify shipping rules effortlessly on your store. You will be able to add, remove or duplicate shipping rules effortlessly using this plugin.
Download WooCommerce Table Rate Shipping Plugin Today!
WooCommerce Table Rate shipping plugin provides you a lot of flexibility to set up complex shipping rules on your WooCommerce store. With the help of this plugin, you can empower the default shipping options of WooCommerce based on different criteria like weight, quantity, shipping class, etc. If you are shipping products with diverse nature through your store, this plugin will be a great asset for you. Leave us a comment if you have a query or an insight to share.
Further reading