Last updated - February 24, 2020
WordPress started as a blogging platform preferred by personal bloggers and hobbyists. However, now it is chosen by businesses of all sizes to create professional websites and eCommerce stores. Creating a website using WordPress is not particularly complicated if you have basic technical knowledge. However, if you want to create a large website or eCommerce store, you may need some technical help from expert developers. In this article we will help you familiarize with some of the top software development service providers for WordPress and WooCommerce.
Human Made is one of the popular software development service providers for WordPress. They are preferred by big companies for their enterprise-level projects. They have an expert team of engineers who ensures that the coding for your site is powerful, secure and efficient. You will be able to simply approach them with a web development idea that you have in mind and they will help you make it come alive. If you need advice at any stages of development, you can avail there expertise in infrastructure, development workflow, security, performance and more.
They have worked with some big companies, and you can surely rely on them if you have an enterprise-level WordPress project. You can get in touch them to get a quote on your upcoming project.
If you are looking to find a comprehensive software development service provider for your WordPress project, look no further than WebDevStudios. You can expect their involvement right from strategy and planning to design, development and even long term maintenance. They have custom service options suitable for businesses of all sizes and scope. The company has a solid team of experienced designers, developers and project managers who will ensure you are getting the best service always. Moreover, while creating great customer experiences, they make sure that your site has practically no security vulnerabilities to worry about.
93Digital is a group of web design specialists whose expertise lies in creating secure, scalable and user-centric websites. The varied list of services they offer include digital strategy, UX Design, WordPress development, Support, Site maintenance, etc. They boast a range of strategic partnerships with industry majors in publishing, media, non-profit, B2B, etc. If you have an upcoming WordPress project coming up, you can get in touch with them to get started.
PopArt Studio offers creative web design and branding solutions to help you manage our WordPress projects effectively. They have a bunch of senior web developers who will help you create SEO-friendly, bug-free and user-centric websites on a foundation of clean code. Responsive design principles and effective project management methodologies will ensure that your projects are completed quickly and accurately. Trusted by several big names, PopArt Studio is a reliable option if you are looking out for software development service providers.
If you are looking to build a fast, mobile friendly website using WordPress, you can try the services of HTML Panda. They have a great team that will help you develop scalable WordPress websites concurring to the latest design and coding standards. In addition, they will also help you develop a functional eCommerce website as well through platforms such as WooCommerce, Shopify and Magento. With goal-oriented methodology, transparent communication, timely delivery, free technial support, etc., they ensure a hassle free experience. Get in touch with them to set your latest WordPress project in motion.
This is another experienced bunch of WordPress professionals who will help you handle WordPress projects of varying complexities. They offer end to end user interface and user experience development to help you actualize your website. You will also get help in developing your brand identity as well as in maintaining your customer base. They will help you integrate Telegram bots, which will help to maintain quality interactions with your customers and resolve their queries. Moreover, Deco.Agency will offer you superior service throughout the project.
Deco.Agency will ensure that you have a successful website even after the end of your web development project.
Zen Agency is a digital marketing agency that offers custom web and eCommerce development services as well. With a team that has over 20 years of experience, they will help you create a web store with good customer engagement and conversion rate. Their development team is capable to handle all your technical requirements as they are well versed with the WordPress ecosystem. If you have a well thought out plan to build an online business, they will help you execute it with cost effective solutions.
If you think you don't have the technical expertise to create an eCommerce store on your own, you can get the help of professionals from C2 Consulting group. They are certified experts of WooCommerce and BigCommerce development, and offers expertise in strategy, design and development. Once your project is on, they have a bunch of experienced professionals who will ensure the successful completion of each milestone. With a proven 4-step approach that includes strategy, design, development and launch, they will help you set up a fully functional website within the stipulated time.
If you are looking for an expert web development partner for your eCommerce project, SAU/CAL may be a good option. Verified WooCommerce experts, they will help you build and maintain a customer friendly eCommerce store. They will help you enhance your in-house development team and easily fill in any technical gaps that you may have. Moreover, they have an agile process that ensures timely delivery of your project. They also offer support and long term maintenance plans to ensure your site is live round the clock.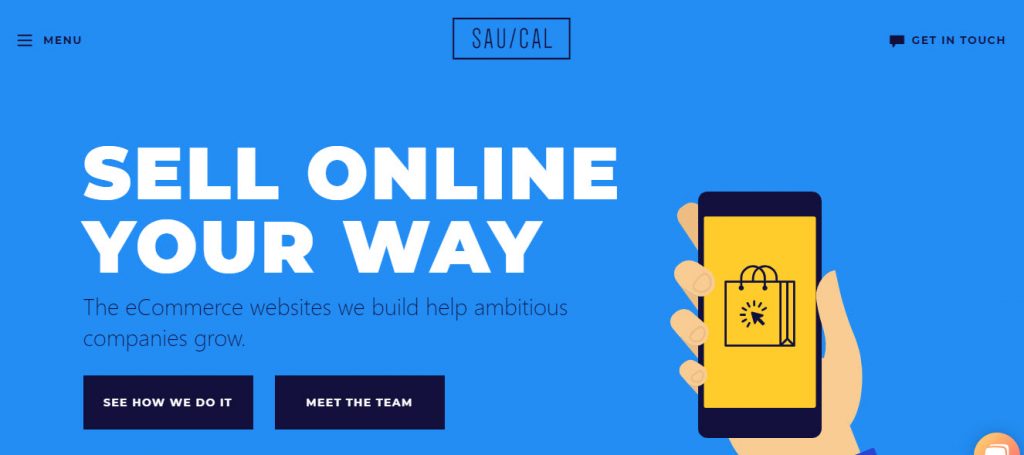 FirstTracks Marketing offers reliable services for web design, development, marketing and support. They will help you with custom coding to help with your website developments, as well as offer services to migrate to WordPress. Moreover, they are certified WooCommerce experts and will help you develop a custom designed functional eCommerce store. After building the site, you can expect their help in improving your sales and conversion rate as well. Apart from WooCommerce, they are also certified by Google, MailChimp, Bing, etc., as well.
Virtina is another verified WooCommerce expert who will help you enhance the customer experience and conversion rate on your eCommerce store. They will help to build a custom designed WooCommerce store with the help of a bunch of skilled professionals. In addition, you will also find help from them in designing themes as well as custom plugins for feature enhancements. Moreover, you can get their help in WooCommerce migration and API integration as well. If you are looking to improve your sales, revenue or conversion rate significantly on your WooCommerce store, get in touch with Virtina.
WisdmLabs offers customization services for both emerging and established eCommerce businesses. They offer custom WooCommerce solutions to address various challenges that you may encounter in your store development and management. Also, they offer consultation services to evaluate your business needs and challenges, and also offer store migrations to WooCommerce. You will also find help from them in performance optimization, branding as well as experience design. Furthermore, they offer a range of interesting plugins to help you customize your WordPress WooCommerce website.
If you have purchased one of the plugins created by ELEXtensions, you can get custom development services from them. This will help you customize your site to suit a specific business scenario that you may be encountering. Please note you can request them for custom work if you have an out-of-box requirement that you may have to use the plugin. You can also request support to set up their plugins, or to set up a WordPress customer support system using WSDesk.
Advant Interactive offers design, development and problem solving insights to your WordPress and WooCommerce projects. They will help you create a highly customized WooCommerce web store based on your ideas. If you are looking for a WooCommerce custom development service provider, fill in your business goals in their contact form to get started.
Sleeping Giant Studios will provide you with creative design and development inputs for your WordPress web store. They offer services on a range of areas including custom plugin and theme development. Moreover, you will find a plethora of services in design, WooCommerce integration, HTML development, database integration, plugin maintenance, etc. as well.
Hope you got a basic understanding on some of the popular software development service providers. Leave us a comment to share your views.
Further reading