Last updated - July 14, 2022
One of the main reasons for a lot of businesses to prefer WooCommerce as their platform is the extensive customization scope. If you own a WooCommerce store, and are looking for external collaborations to customize your store's functionality or design, there are lot of options available. An obvious approach here would be to go for experts certified by WooCommerce itself. In this article we will list out some of the best WooCommerce experts you can collaborate with for the customization of your online store.
WisdmLabs is a platinum certified WooExpert and WordPress Core contributor with experience in over 300 WooCommerce stores. They not only take up WooCommerce store set-up and customization, but are also the official WooCommerce subscription migration partners. Whatever you need – right from consultation through to project delivery and maintenance – they have you covered. Your WooCommerce store is safe and secure in their experienced hands; contact today to get started.
If you are looking for long term collaborations from technical experts for your WooCommerce store, Hall will be a great option. They will provide assistance in a range of domains including site building, design, analytics, marketing, etc., thanks to their expert team. When you look for continuous help in any of these fields, contact their team to get started.
Another certified WooCommerce expert, the team of eCreations will help you reinvent your online store. It is one of the top web development firms in Arizona, and offers customized solutions for a range of digital needs. Apart from web design and development, their services include business consulting, analysis, and digital marketing.
Virtina offers free consultation, and is dedicated to resolve that nagging problem your WooCommerce store could be facing. Whether it is to strategize on a business idea, or to execute a design and development project, or even to optimize website performance, you can contact them. With a traditional approach to software engineering, they will ensure the best outcomes for your store and business.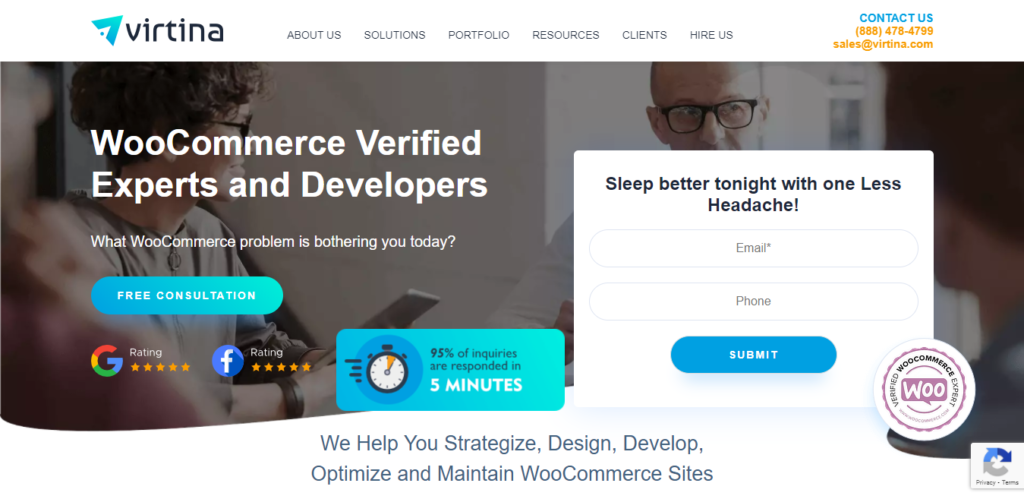 CartKnitter is based in India, and offers affordable and flexible solutions to a wide range of businesses. Certified "Woo Experts", they will help you with different eCommerce projects including business to customer, business to business and business to marketplace. You can contact them for a free quote for any project, big or small.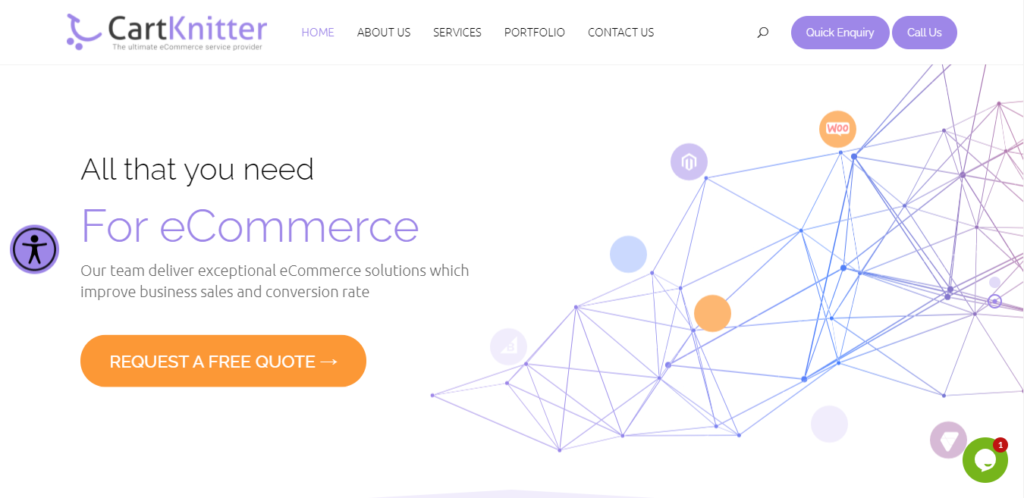 Whether it is for a custom project, complete site building, or complex integrations, you can get the services of Progressus. They offer powerful solutions to extend WooCommerce and get the most optimized experience from the world's most popular eCommerce platform. After the completion of your project, you will get a 30-day free support and bug fixes with Progressus.
LightSpeed is a team of certified WooCommerce experts who will assist you in different aspects of your WooCommerce store building. Their service list includes completely building your site, developing plugins for custom requirements, marketing services, theme development, and more. They also have partnered with MailChimp, so you can be assured of an easy email marketing implementation. Contact them with your requirement, or choose from a tailored package to start with.
For big or small WooCommerce projects, you can get the services of Silicon Dales. From site migration and product import to speed optimization and complete site building projects, they have a versatile service list. They have a reputation for being thoroughly involved in all projects from start to end.
Inverse Paradox is a recognized WooCommerce expert that offers help to manage your unique eCommerce requirement. Right from the stage of strategizing, they will help you with analytics, custom development, and even support services. If you are looking for an accredited expert in WooCommerce, surely try out Inverse Paradox.
Based in Sweden, this company will help in custom integrations and other enterprise solutions for WooCommerce stores. They offer complete website building services with modern design practices. Moreover, you will be able to get their custom solutions for B2B solutions, ERP integration, and design.
Zen Agency offer WooCommerce website development and custom solutions. They have an expert team with solid experience in WooCommerce, and as a result, offers great solutions to build unique digital experiences. When you have a project idea, you can get in touch with their team, and then can expect a through feedback on its feasibility. With their data-driven approach, there will be clarity on the success of each project.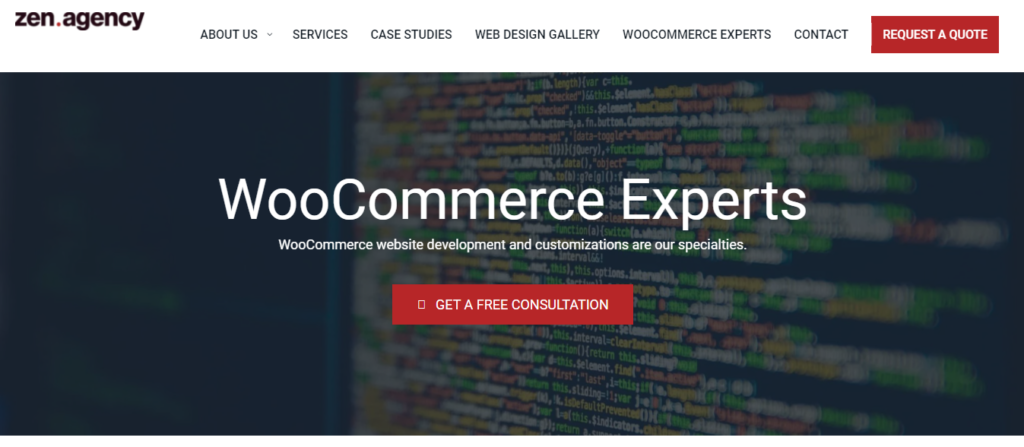 With their expert team, you will be able to easily scale your eCommerce business to more customers and bigger revenue. For big and small store, you can get their assistance in setting up or custom development. Apart from marketing services, FirstTracks helps you with design, platform migration, development, custom integration, etc.
A wide range of services are offered in different areas of WooCommerce web development by Absolute Web. They help you create exceptional experiences for your customers with intuitive customization options. Their team has extensive experience to understand your unique business challenges, and accordingly offer help.
If long term, scalable solutions are what you are looking at, Angry Creative will be able to help you with it. They take effort to understand the unique requirements of your store, and then derive solutions. You can collaborate with them on big, small or medium projects as they have a creative team with varied expertise. They are based in Europe, and their clientele includes some of the big brands around the world.
A wide range of WooCommerce services are offered by bitecode, including design and development, SEO, integrations and maintenance services. You can discuss with their team to get a free estimate about the project. Their team comprises of developers, designer, project managers and marketing analysts, who will work collaboratively on varied projects. Get in touch with them to get started.
You will be able to partner with AnnexCore for your net ambitious WooCommerce project. They have a reliable team of WordPress and WooCommerce experts who will provide you quality solutions in a time sensitive manner. For API integration, regular maintenance, payment gateway integration, custom functionalities, etc., you can depend on them. With AnnexCore, you will find a stable partner in your WooCommerce store building process.
Advant Interactive offers their problem solving skills to tackle your complex eCommerce challenge. You can get in touch with them for a free consultation, following which, they will give you a proposal considering all the aspects of the project. They have a highly creative team with the right blend of skills for challenging eCommerce projects.
You will get custom solutions for a wide range of WordPress projects. The uniqueness of the team is their involvement in finding growth opportunities to your store or website, which you would've missed otherwise. Their team is a unique blend of design and development experts, who are capable of finding and implementing the most apt solution for your business.
Purpose-driven exploration and creative collaboration are what makes NeuraLab different from other WooCommerce experts. They have multiple locations in different parts of the world, and offers different services for diverse eCommerce projects. You will find design, development and content as their core areas of expertise, which leads to exceptional outcomes for digital businesses.
This Melbourne-based agency will offer technical and marketing support to your eCommerce project with WooCommerce. They are certified experts, and offers custom design and development solutions, as well as a complete suite of marketing services. With the help of their team, you will be able to spot opportunities in your domain, and easily execute them. They have an experience of over 20 years, and offers more than 25 industry experts.
We hope this article will help you find the most suited one from the popular WooCommerce experts. Feel free to leave us a comment below if you would like to share an insight on this.
Further reading