Last updated - February 24, 2020
WooCommerce is an enormous eCommerce platform that allows online store owners to sell their products using various shipping plugins. These plugins are segregated based on the shipping service they support. And among shipping plugins, one of the most preferred types are the FedEx Shipping plugins.
Basically, by using any one of these plugins store owners can ship their products to their customers using various FedEx services. These services are well known for their superior and robust delivery system. They are very reliable and offer their services to almost all the countries. This is the reason why you should know the end-to-end features and functionalities of these plugins as to how they are deeply involved with FedEx. It is necessary because these features will eventually act as a medium between FedEx and you.
Keeping these things in mind, we have curated a list of top five FedEx shipping plugins for WooCommerce. We have also covered most of the standout features of these plugins. Thus, by the end of this article, you will have a clear conscience on which one of the five plugins is better for your WooCommerce store.
FedEx Shipping Method – WooCommerce
This the official FedEx plugin created and developed by WooCommerce. The good thing about this plugin is that it can be deeply integrated with your WooCommerce. So, you don't have a separate section of the plugin and thus, you can directly configure the settings in the Shipping Zones. However, in order to use this plugin, you should have your base country set as the United States or Canada. This plugin offers both domestic and international shipping and primarily works according to In (inches) and Lbs (pounds), but it automatically converts the units based on the destination address.
This plugin, however, does not allow you to print the shipping labels. So, you would have to manually print the shipping labels on your own, which is not really an easy job.
You can check out the plugin here.
WooCommerce FedEx Shipping Plugin with Print Label – PluginHive
This is probably one of the most outstanding FedEx shipping plugins that offer you a lot of advanced functionalities. It offers live shipping rates, lets you configure the parcel packing methods and automatically print shipping labels in various formats.
Moreover, you would be able to send the tracking details to your customers via emails. And it doesn't matter where your store is located, this plugin will work in all the countries wherever FedEx service is available.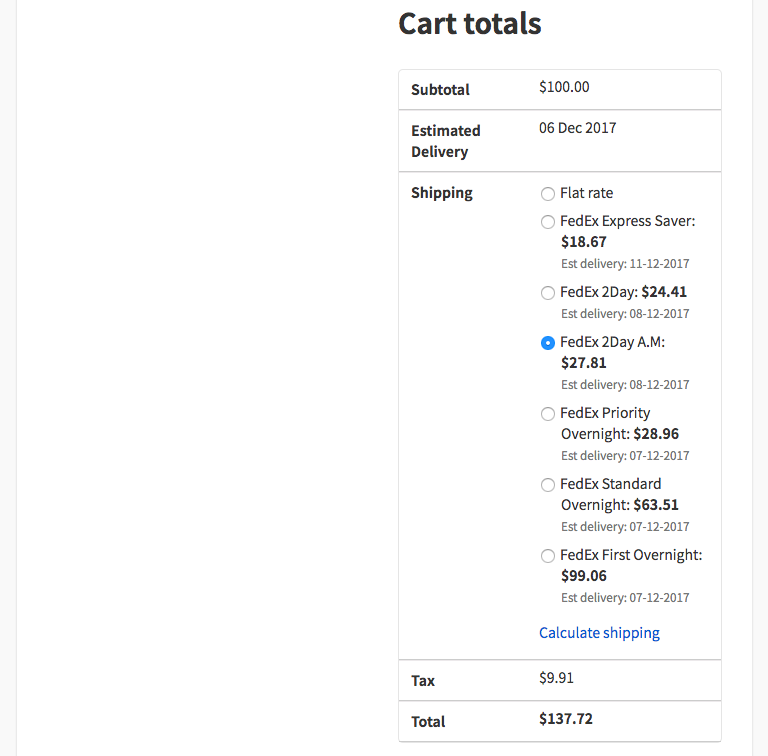 It has a feature to generate Return shipping labels that lets your customers send the package back to you in case of repairs, warranty, exchange, etc. It also has a Debug Mode which lets you figure out the unexpected issues. PluginHive has a renowned customer support that is very helpful and prompt in providing technical support to their customers. Now, to mention the other distinctive features, here is a list of few of them:
Supports FedEx LTL Freight
Supports Residential delivery
Supports FedEx One Rates
Supports FedEx SmartPost Hub
Uses Pounds/inches or Kilograms/Centimeters
Offer all Returned rates or cheapest
Enabling Insurance for orders
Define COD Collection Type
Add Third Party Payer
Select Customs Duties Payer
Set Purpose Of Shipment
You can check out the Premium version here. This plugin also has a Free or Basic version.
If you have a FedEx account and an EasyPost account, this is the best plugin you can use to automate FedEx shipping on your WooCommerce store. The plugin helps you display live shipping rates on your store. In addition, you will be able to generate and print FedEx shipping labels on your store. Furthermore, the plugin helps to configure box packing and provide tracking information to your customers.
And, for those who use multiple shipping carriers, this plugin will be extremely useful as it also offers UPS and USPS services as well.
You can checkout the plugin here.
WooCommerce FedEx Shipping Pro – IGNITEWOO
Ignitewoo has been around for quite a while now and has come up with a very good FedEx shipping plugin for WooCommerce platform. One of the unique selling points of this plugin is that it does not need any special PHP modules. Which means you don't need any XML or SOAP extensions installed on your hosting servers. Another unique thing that sets this plugin apart is that it offers four different license schemes – 1 site, 2 sites, 5 sites and 25 sites. So, if you are a WooCommerce store owner having two sites, then this plugin would be more economical than the others in the market.
However, this plugin has a limited list of FedEx services and does not allow you to print the shipping labels. Furthermore, this plugin is not as deeply integrated to WooCommerce, when compared with its competitors.
You can check out the plugin here.
FedEx Shipping Method for WooCommerce – CodeCanyon
The FedEx Shipping Method for WooCommerce by CodeCanyon is another FedEx shipping plugin that allows basic shipping capabilities. WooCommerce store owners can use this plugin to show real-time rates to their customers, define custom shipping names, and track the shipments. With its latest update, you can configure the boxes based on your choice and need. Moreover, this plugin automatically decides which box and how many boxes to use for. This plugin supports quite a lot of FedEx shipping services which is a good thing for the store owners.
Apart from these features, this plugin fails to print the shipping labels. Unfortunately, the customer support is also not up to the mark as reviewed by some customers.
You can check out the plugin here.
WooCommerce FedEx Shipping Plugin – ExtensionWorks
This is another plugin that has made it to the list thanks to some of its unique features. One of them is the ability to allow certain WooCommerce products to offer FedEx shipping rates only. Moreover, if you are using another shipping plugin from ExtensionWorks like UPS or USPS, you can ship certain products with FedEx and other products with the other Shipping service as well. Furthermore, you can also assign which shipping company will ship some particular products.
Using this plugin, you can add a handling fee or discount to the total shipping cost. Moreover, for some reason your FedEx API ever goes down, you would be able to show a fallback rate to your customers. But similarly to other FedEx shipping plugins, you cannot print the shipping labels. Apart from that, the plugins seem to work pretty well.
You can check out the plugin here.
FedEx Shipping using StorePep
Now, if you have an online store and anticipate 1000s of orders every week, then you can go with a solution like StorePep WooCommerce FedEx . This SaaS-based online shipping solution has the features essential to fulfill shipments and print labels in bulk, automating the complete shipping experience.
You can check it out here.