Last updated - July 8, 2021
WordPress is one of the most popular content management systems in the world. Being an open source, free option, it has provided a lot of scope for developers and entrepreneurs around the world. One of the most important aspects of WordPress is that even those without much coding knowledge can also manage to create a functional website or eCommerce store easily. Moreover, you will find a large community of developers and enthusiasts who provide ample knowledge sharing options. In this article, we will list out some of the top WordPress Courses for Beginners to help you get a head start with WordPress.
One of the most popular options for beginners to learn WordPress would be through the courses available on WP101. They offer easily accessible courses in the video format. Since each course is less than 5 minutes long, it is pretty much easy to cover them as well. You can start learning on their site with the free courses available, and then get on to more advanced courses as you gain more knowledge. They have several advanced courses that includes topics like the Gutenberg editor, Jetpack, Yoast, Ninja forms, etc.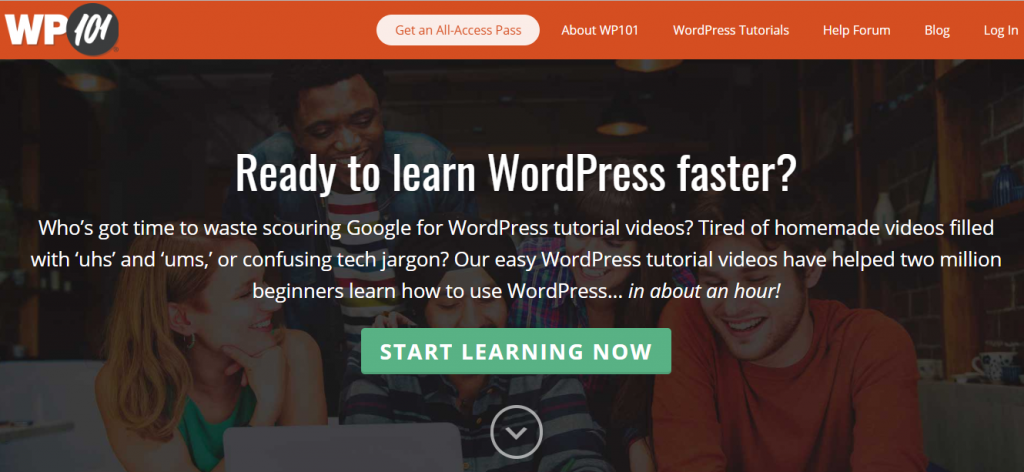 Advantages
Here are some of the advantages you will notice when you sign up for WP101:
Simple WordPress videos that will help you learn WordPress basics in quick time.
Large base of WordPress users who learned WordPress over the years.
All videos are professionally scripted and edited, and assures a great learning experience.
WP101 updates courses consistently to be on par with WordPress updates.
Videos are closed captioned to ensure accessibility to hearing impaired.
Option to clear WordPress related doubts on the community forum.
There are three different pricing packages available to get full access to WP101 courses. These are the monthly access ($19 per month), Annual access ($49 per year), and the lifetime access ($99).
If you are an absolute beginner to WordPress, you can learn the basics effectively with the help of WordPress Essential Training course of Morten Rand-Hendriksen. With the help of this course, you will be able to understand how to create a blog or website loaded with features. It will also help you get a good grasp on the new block editor of WordPress, Gutenberg. The course helps you with the process of creating and publishing posts and pages on WordPress. You will also learn how to handle images and multimedia on your posts and pages. More importantly, the course is updated consistently to go along with regular updates of WordPress.

The course is accessible on phone and tablet as well. At the end of each chapter, you will get a quiz to refresh what you have learned. Once you successfully complete the course, you will get a 'Certificate of Completion' as well. You can access the course by purchasing it or by opting for the free trial of LinkedIn Premium.
If you want to create a WordPress website, and don't know a lot about it, this course can definitely help you. This course includes over 80 video lessons that offers a simple option for beginners to learn WordPress. It is structured into different modules that offers detailed insights into various aspects of WordPress. You will learn how to get started with WordPress and also how to add content, media and also to organize the site. The course also covers WordPress settings and the basic customization and maintenance strategies as well.
Feature highlights
Some of the notable features of this course are:
Does not require programming knowledge.
Can access the course material at your own pace and comfort.
Insights into advanced features of WordPress after you cover the basics such as Gutenberg editor, and other related technology.
Members-only forum to clear your doubts related to WordPress.
One-time payment to get lifetime access to the course material.
Option for complete refund if you are not satisfied with the course.
The regular price of this course, which offers lifetime access to the entire course material is available at $79.
This course will help you build a beautiful and functional WordPress site even if you don't have any experience with WordPress. The course includes 7.5 hours of on-demand video, 11 articles and 30 downloadable resources. You will learn how to get hosting and a domain name, and how to install WordPress through this course. It also helps you with the admin settings of WordPress, and provides you hands-on experience in creating content. The course also offers you tips on protecting your site from spammers and hackers.
The course is available in English and six other languages including Spanish and French. You will be able to access it on mobile and TV. Upon finishing the course, you will get a Certificate of Completion. You can purchase the course from Udemy for full lifetime access.
Yoast is one of the well-known names in WordPress community, thanks to the hugely popular SEO plugin. They offer a free training on WordPress from experts on the subject. You will be able to understand how to set up a WordPress site by yourself through this course. The course offers quite a few useful tips to help you configure and maintain your website smoothly. Also, you will be able to add and manage plugins and themes on your own. It also provides actionable tips to help you secure your site against attackers. Overall, this free training can be really useful if you are looking for ways to learn WordPress basics. You can also find paid courses for advanced WordPress SEO with Yoast.
You can find a couple of useful free WordPress courses for beginners on this site. The WP A to Z series offers you guidance to create a WordPress site from scratch. You can also checkout the collection of videos to find general WordPress tidbits and Gutenberg. The site also offers private WordPress training, if you prefer a more personalized approach to learning WordPress.

This is another course that gives you practical guidance to set up a WordPress site. Even if you have no coding knowledge and are completely new to WordPress, you can still manage to create a site with the help of this course. The course offers detailed information on how you can set up a self hosted website from search by choosing a hosting service and domain name. You will also learn how to set up SSL and other security measures with the help of this course. In addition, it provides you insights on site design and management as well. The regular price of this course is $16.65.
WPSessions offers a series of WordPress training modules to help you understand the nuances of creating and maintaining a site. They also offers several popular presentations related to WordPress regularly. As a member, you will be able to access the presentations on demand. Every month, new content is added to the site, and you can keep yourself updated with the latest developments in the WordPress community. The site also offers private WordPress training.
If you are a developer, looking to find concepts of WordPress, this site can be quite useful to you. There are a range of hands-on courses, articles and WordPress related news available here. The paid courses include one on WordPress hosting as well as a detailed one on WordPress security. You can also find a range of free courses on WordPress as well. The also have a 30-day, no-questions-asked refund policy, if you are not sure about the course.
WPBeginner is one of the most popular free resource on WordPress. You will find an easy-to-understand guide on WPBeginner to help you with the basics of WordPress. It offers insights into hosting, domain name registration, design, plugins, etc., as well. You can also find discount offers on popular tools and services related to WordPress here.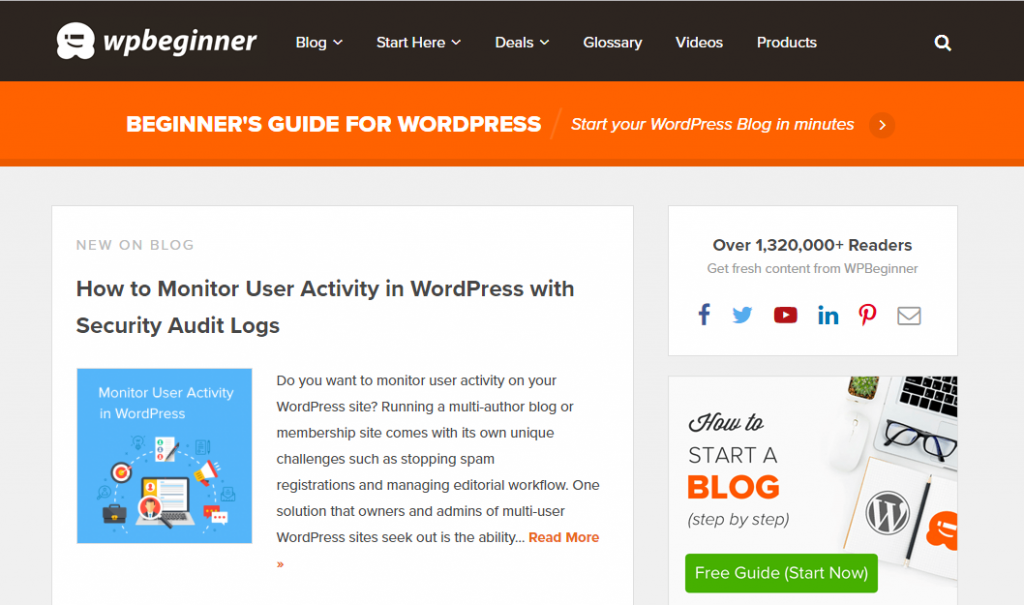 The content on LearnWoo is more focused on eCommerce and WooCommerce, and you can find a large number of articles here. LearnWoo offers a bunch of free ebooks that will help you with the basics of setting up a WordPress site. You can simply register to the site and get access to this wide range of course material that will help you set up your own site easily.
Hope you got a good overview on some of the top WordPress courses for beginners. If you want to add a course, please let us know in the comment.
Further reading