Last updated - October 8, 2020
Customizing the layout of a page on your WordPress page was not always easy for those who are not familiar with CSS or HTML. However, WordPress Page Builder Plugins have made the process quite easy for everyone with their drag and drop interface. A little bit of imagination and a grip on your site's functionality in alignment to user experience is all you need. The rest will be managed by these plugins, which have become essential tools for WordPress web design. We have compiled a list of some of the most popular WordPress Page Builder plugins in this article. Let's look into the specific details that make these plugins really popular.
The essential features of a good WordPress Page Builder
One of the primary features that you look for a good WordPress Page Builder is ease of use. Let's take a quick look at the essentials
Ease of use – Even users with no coding knowledge should be able to work with it effortlessly. How intuitive it is?
Availability of elements – The depth of options where multiple elements are available for customization.
Drag and Drop feature – It gives the ability to rearrange elements to reach a preferred layout. This feature is especially important for those who are not experienced with coding.
Preview options – Good preview options give you the scope to instantly see and improvise your site layout.
Top WordPress Page Builder Plugins
Here is a list of top WordPress page builder plugins that stand out based on popularity, value for money, intuitiveness, etc.
One of the major reasons for the popularity of Elementor is its speed. The plugin offers instant responses when you edit and load pages. This makes it particularly easy to work with this plugin. Even beginners can get a hang of the working of this plugin in quick time. On the live editing screen, you can view the changes that you make instantly on the right, there is no need to go to a preview mode. This helps save a lot of time when you try different design concepts with this plugin. It also offers easy undo /redo options, and presents full revision history, which you can use of needed.
The plugin is loaded with features like Hover Effects, Animations, Background Overlays, etc., that make your site design really unique. There are numerous blocks and templates that will help with your site design. You can simply load a pre-designed template, and make the required modifications. Or, you can combine blocks at your own will to create a unique design pattern. Once you customize a template on your own, you can save it to use it later. You can even export a template that you create to another site as well.
It helps you create responsive pages suitable for mobile screen. Another important feature that you an make use of is the blank canvas option. This is really helpful to create landing pages for different campaigns without header and footer. Also, you can easily switch to maintenance mode, if your site has to go down for a while.
The pro version of the plugin comes with a lot of added features such as the visual form builder and custom fonts. It also helps you with marketing automation and CRM integration such as MailChimp. Features like image sliders, animated headlines and global widgets help add more visual appeal to your site.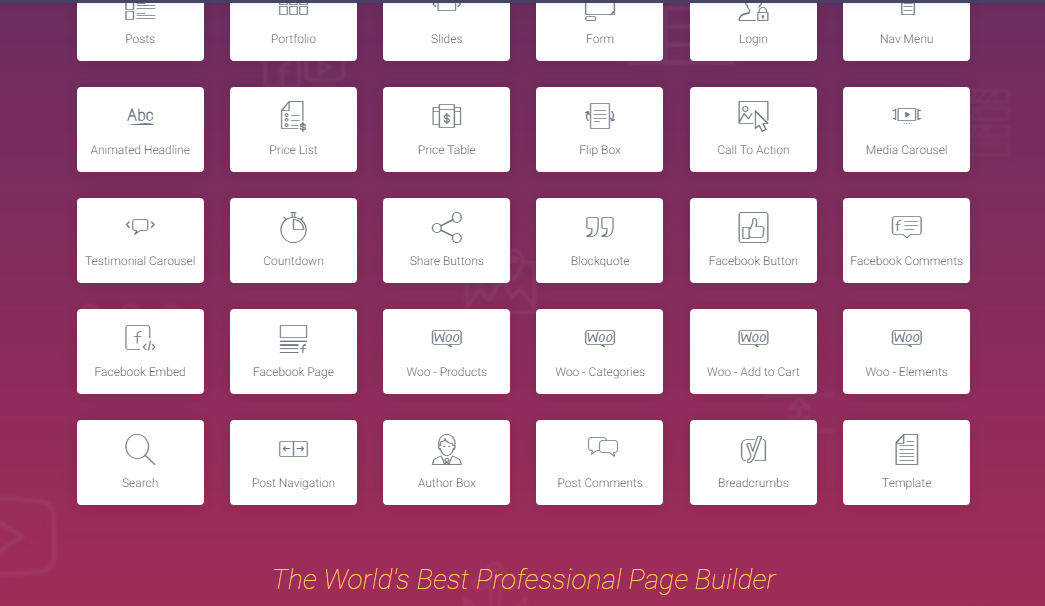 The single site license of this plugin is available for purchase at $49. You will also find a 3-site license for $99, and for unlimited sites at $199.
This is a powerful page builder option that you can use with any theme. If you are purchasing any of the themify themes, you will find this page builder integrated with them. However, if you want the page builder separately, you can purchase that separately too. You will get it at $39, and if you are looking for a bundle with all the add-ons, you can get it at $59. There is also a lite version which you can download for free.
Themify builder offers more than 40 pre-designed layouts to make you job easier. You can simply replace the content of these layouts to create your own design.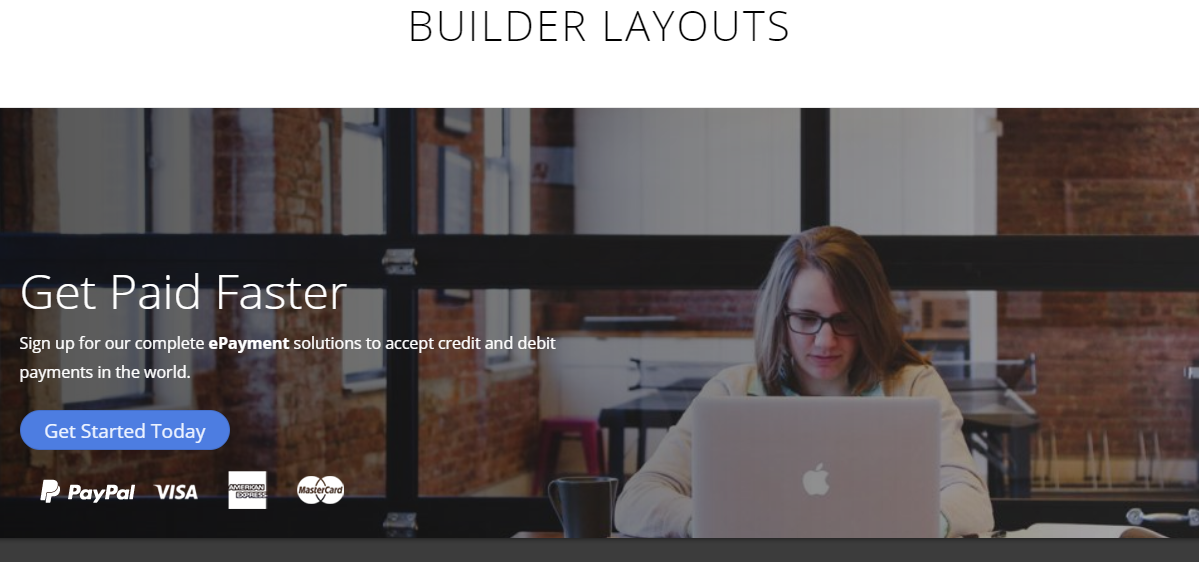 It offers a drag and drop interface that makes it particularly easy for non-coders to manage their site design. You can even go to a front end edit mode, where you can instantly view how your site design would look like to visitors. It also allows you to copy paste modules that you worked on to different pages, reducing the work load. You can also create duplicate or import one module to another site.
Builder column options allow easy experimenting with different layout options. Reusable layout parts are another notable feature of this plugin. When you update a layout part, it will get updated on all locations where you have used the same layout part. Over 60 built-in animations give a certain vibrancy to sites built with Themify Page builder. Moreover, the plugin ensures your site is responsive. It is SEO friendly and ready for translation to multiple languages. Themify Builder also integrates seamlessly with eCommerce platforms like WooCommerce and marketing automation options like MailChimp.
This is a free responsive page builder that you can use to create websites that reflect your site's unique character. The plugin makes your site responsive, as all your visitors get the same high quality visual experience irrespective of screen size. It makes the design process of your site's front end an especially hassle free process. As with the case of other plugins discussed in this article, SiteOrigin page builder too offers a simple drag and drop interface. The pages created using this plugin are assuredly lightweight and hence optimized for better search ranking for your site.
SiteOrigin page builder also got rave reviews for its ability to integrate effortlessly with any theme. So, you get better control to handle content in a scenario where you change the theme that you were using. It gives immense flexibility to work with existing WordPress widgets. In addition, it provides more widget options to explore better possibilities. This page builder too have options for live preview and revision history. This allows you to try out different styles in a fast pace, and easily switch between styles.
If you are a fan of Divi theme, you might really like this page builder plugin. Apparently, it has taken all the good things of Divi theme to help you with site design. It offers numerous layout possibilities, which you can try on any theme of your choice. Divi Builder offers around 45 modules, which you can easily drag and drop, and rearrange according to your ideas. Some 15 demos give you a great start with your design process. You can simply customize them to get your own unique design.
Divi Builder is quite easy to use and you can customize pretty much everything according to your liking. Though built to minimize coding efforts, Divi offers scope for custom coding for those who are comfortable with HTML and CSS. You can selectively enable and disable front end elements, which helps a lot when you are frequently posting short term elements on your site. For example, a banner image for a seasonal sale on an eCommerce site can be disabled and reused later.
With Divi Builder, you will get access to a large number of elements in the Divi Library. You can add your custom designs too to the library and reuse it when needed. Moreover, you can export saved elements and import them to another site project that you are working on. Overall, Divi Builder is a flexible tool for beginners as well as seasoned web designers. You need to get a Divi membership to get access to all the plugins and themes. The yearly access for Divi plugins and themes would cost you $89. There is also a lifetime plan, which costs $249.
Among WordPress page builder plugins, this one offers great control to the user. The simple drag and drop interface allows users of all knowledge levels to easily customize your web pages. It will help you streamline your workflow and make your site design an effortless process. Beaver Builder gives you the flexibility to work with the large number of available templates. You can simply choose one of the templates and replace the images and content to have your own unique site design.
Whenever you want to switch themes, beaver builder helps you manage it without losing all your content. It offers live editing features and offers support to WooCommerce, WPML and a lot of other popular WordPress tools. You can purchase the Standard version of this plugin for $99. There is also a Pro version and an Agency version at $199 and $399 respectively.
Comparing Page Builders
Now that we've seen a number of popular WordPress page builders, how do you decide which one of these is best for you?
The answer is not straightforward, because each of these products has strong points and also some weak points. The best way to decide is to run perform a trial with each of the products, so that you can get a feel of each one of them and decide for yourself.
Let's just take a quick example comparing Elementor vs Beaver Builder. Beaver Builder has been around for a much longer time that Elementor, but the latter has a far larger team around and has enjoyed explosive growth in the four years that it has been around.
Having said that, Beaver Builder is favoured by users who have a background in web development, while Elementor is more suited towards web designers or users who don't use WordPress on a daily basis.
You can read about the differences in more detail on this article from CollectiveRay.
Advantages of using WordPress page builder plugins
Page builder plugins are popular because they offer certain obvious advantages to website owners. Here is a quick look at some of them
Great scope for customization
Designing a web page from scratch requires great coding knowledge. And there are quite a large number of WordPress site owners who have minimal or no coding knowledge at all. Mostly such store owners rely on their WordPress theme to provide a design suitable to their website. However, there are several limitations when you talk about adapting a theme as it is. There are chances that your site looks like a lot of other sites. How will you manage to give that unique appeal to your site?
This is where WordPress page builder plugins comes to the picture. People with all levels of coding knowledge can customize their sites according to their creative interests and imagination. These class of plugins offers a lot of flexibility for everyone to experiment with the design and layout of websites. And, if you are not in the mood to design from scratch, you can always make use of the pre-designed templates that come with these plugins.
Ease of use
Most of the page builder plugins available in the market offer a simple user interface. This helps everyone to design pages of their imagination in a matter of minutes. The drag and drop interface and instant preview features that we saw in most of these plugins are really useful. It actually helps people who are not experts in coding to try their hands on designing their own sites. Overall, it makes web page design an easy and fulfilling process.
Versatility
Page builders help you manage a lot of functionalities on your store. Without them you probably would've had to install multiple plugins to get a lot of front end customizations. With the help of a page builder, you can effectively set up unique features on your website. You can set up several features on the site like animations, image carousels, interesting call to action buttons, etc., with the help of these
Responsive design
A responsive design is an essential feature of any website. All the page builder plugins we discussed in this article are responsive, when you are combining them with a responsive theme.
Conclusion
WordPress page builder plugins help a lot in customizing your website to your unique thoughts. It is an essential requirement to make your site reflect your ideas and not like any other run-of-the-mill website. Interestingly, most page builder plugins offer a simple user interface that can be used by everyone from experts to beginners. Moreover, they offer a lot of functionalities, which otherwise would've been possible only with multiple plugins. Hope you have found out some of the best WordPress Page Builder plugins from this article.
Further reading