It is essential for any modern business to provide high quality customer service. Zendesk is one of the most popular customer services tools, which offers a seamless integration of multiple support channels. However, for different reasons you may want to consider alternatives for Zendesk. In this article, we will discuss some of the top Zendesk alternatives that are affordable, and help you offer a better customer experience.
If you would like extensive customization options and a complete ownership of your customer support data, the open source helpdesk and customer support ticketing system is an ideal choice. It offers a hassle-free experience to set up a help desk system on any website building platform such as WordPress, Shopify, BigCommerce, WooCommerce, etc. The major highlight of this solution is that there will be expert support to help you set up and maintain your help desk system. Moreover, you will get access to a range of advanced features such as unlimited agents and tickets, triggers and notifications, live chat integration, canned responses and many more. 
Features
Provides you complete data security and ownership of your data.

Expert support for setting up the help desk system, and for daily maintenance.

Customize the help desk system to suit your specific business requirements.

Can keep the help desk system on a separate server without impacting the main site's performance.

Free integration of WSDesk and several add-ons.

Assistance to integrate live chat and knowledge base.

Frequent updates and compatibility with different tools.

Unlimited agents and tickets.

Advanced email  and notification management options.

Canned responses and live chat integration.

Easy backup with XML.
The subscription charge is $79 per month with one-month free trial. There will be a one-time onboarding cost of $189.
Freshdesk offers advanced features to help you set up an efficient support system with omnichannel options, self service and chatbots. It will make sure that your customer service interactions are streamlined with automation options for repeated tasks. In addition, it also helps different teams collaborate more efficiently. Overall, this could be a great choice for managing customer support without hassles.
Features
A unified customer support experience with different channels such as email, phone, chat, etc.

Advanced options to set priorities in ticket assignment and also to observe trends in issue resolution. 

Easy collaborations with shared ticket ownership.

Create and manage automations more easily.

Resolve queries faster with simple contact forms and self service options.

Easily access diverse reports on your customer support performance.
The pricing plans start from $15 per month. There is a 21-day free trial and a free version with basic features.
You will be able to configure a more personalized customer support system with the help of HubSpot Service Hub. It will bring together into one place all your customer support data gathered through multiple channels. Furthermore, you will be able to streamline the entire process through automation and self service strategies. And it offers a bunch of features such as automatic ticket routing, live chat support and knowledge base integration.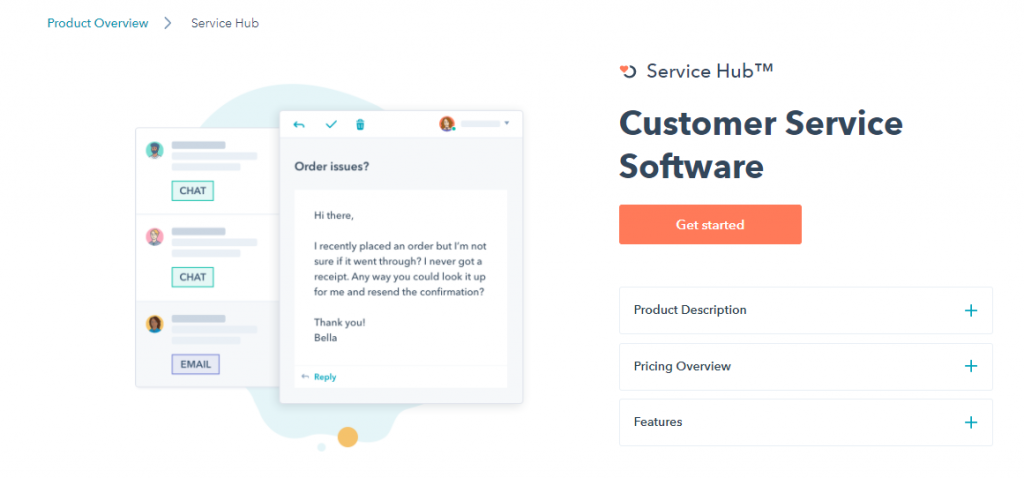 Features
Advanced customer service tool that helps you offer personalized support to your customers.

Unified approach bringing together different channels and all data to a single location.

Automation and self service to improve the efficiency of the system.

Create a conducive atmosphere for team collaboration.

Customer feedback surveys and reporting dashboards to enhance customer satisfaction.

Personalized onboarding plan for faster, precise outcomes.
The Starter Plan will cost you $45 per month. You can also check out the free version. 
This is a comprehensive customer service tool with a simple approach to help you ensure superior customer experience. It offers shared inboxes to help customers find faster resolutions in a more personalized manner. Also, by embedding knowledge based articles, you will be able to give accurate answers to customer queries. Moreover, the seamless live chat integration will help you provide instant help to customers. Furthermore, you can easily gain actionable insights with the help of user-friendly reports. HubSpot also offers easy integration with popular tools such as Salesforce, Jira, etc.
Features
Simple solution to handle customer support.

Shared inboxes for faster, personalized resolutions.

Knowledge base integration for precise answers to queries.

Live chat to connect with customers instantly.

Easy-to-use reports for actionable insights.

Proactive messaging.

Seamless integration with popular tools.
The pricing plans start from $20 per month. You can also make use of a 15-day free trial.
Zoho offers an advanced customer support desk that ensures superior customer experience. With approaches to improve agent productivity, self service and cross-functional collaboration, Zoho focuses on customer satisfaction. You will be able to manage multiple channels such as your website, email, phone, chat and social media effortlessly. Repeated processes can be easily automated to improve the efficiency of your team. It also promotes self service through multiple approaches such as knowledge base, community forums, mobile apps and AI.

Features
Advanced tool to improve your customer service management.

Easily bring together conversations on multiple channels.

Workflow automation to streamline the processes.

Easy integration with other useful tools.

Self service through knowledge base, community forums, and AI capabilities.
The pricing plans start from $11 per month. There is a 15-day free trial option and a free plan with 3 agents.
You can create a unique experience for your customers with the help of this innovative customer service software. It facilitates easy interaction with your customers irrespective of their preferred channels. In addition, a highly user-friendly chat widget will help you with advanced features like built-in CRM and chat routing. Also, the cloud-based telephone option could be a great option to enhance customer experience. And the ticketing software is extensively customizable and scalable according to your specific needs.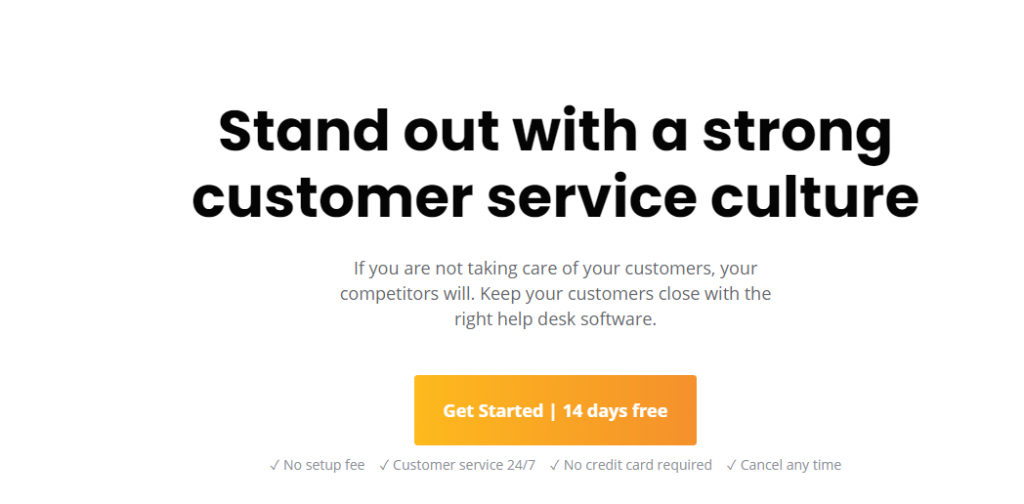 Features
Advanced customer support software with a wide range of features.

Easily connect with customers through multiple channels.

Onstant, personalized support through an innovative chat widget. 

Effortless integration with popular tools.

Phone support through cloud with video calls, callbacks, etc.

Custom domains and unlimited number of users for the ticketing software.
There are different pricing plans starting from $15 per agent per month. You will also find a 15-day free trial.
This is a comprehensive help desk solution that will help you provide the best experience to your customers. It combines a powerful ticketing system, with community forums and knowledge base for efficient issue resolution. You will be able to convert incoming queries from chat, phone and email into tickets and organize them more effectively. The "smart rules engine" will help to streamline workflows and improve the processes. Moreover, the software offers excellent customization capabilities.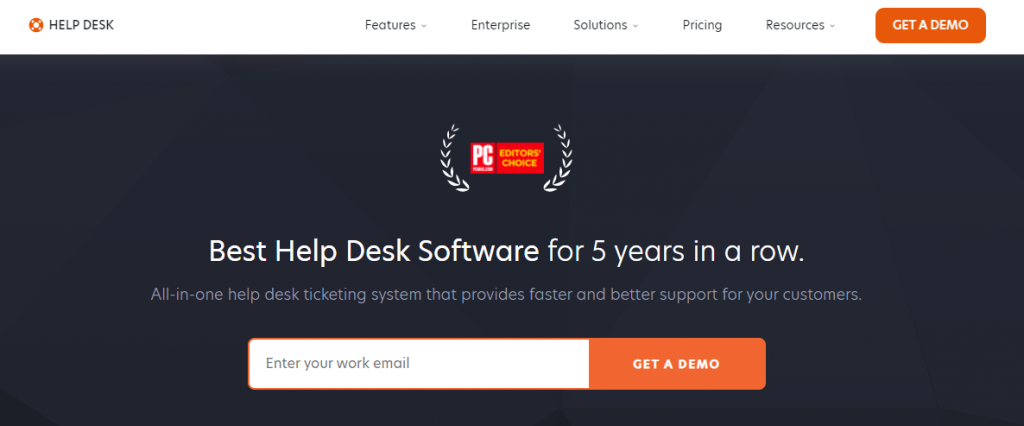 Features
Provide exceptional support experience to your customers.

Generate tickets for queries coming in from different channels such as email, chat and phone. 

There are different pricing plans available; you can request for more details on the website.

Detailed reporting features

Smart features to streamline the workflow.

Advanced customization options according to specific business requirements.
Groove is an affordable customer service option especially suited for small businesses. It offers a great interface that helps your support agents easily collaborate and offer the most informed solutions for customers. Knowledge base integration contributes to better self service possibilities for customers. In addition, it offers automation options to speed up the workflow of your customer service department. Seamless integration with other popular tools, and detailed reporting features too add to the appeal of this software.

Features
Cost effective customer support solution.

Convenient features for team collaboration such as shared inbox.

Knowledge base integration.

Automation options for smoother workflow.

Detailed reporting features.

Seamless integration with popular tools.
The Starter plan will cost $12 per user per month. You can also try the 15-day free trial with all advanced features.
You can provide great customer service through multiple channels and languages using this service. It has several out-of-the-box features that help to keep your customer support personal and effective. Internal notes, invitation to collaborate and collision detection to avoid duplicate replies will contribute to better customer experience. It also offers a context-driven interface for better communication and integrates live chat. 
Features
Helps you offer personalized customer support.

Several features to promote team collaboration.

Built-in live chat software.

Context-driven for effortless interactions with customers.

Shared inbox and knowledge base integration.

Automatic conversation routing.
Pricing starts from $15 per user per month. You can also check out the 14-day free trial.
This software makes it easy for your support team to help customers. It offers an unlimited mailbox, and also a powerful incident management system. Your support emails will be converted to tickets so that you can organize queries more easily. In addition, this one helps to easily notify specific team members to collaborate in ticket resolution. Moreover, it offers great reporting capabilities to help you continuously improve your customer support system.
Features
Simple and customizable support ticket system.

Powerful ticket management system that converts email queries into tickets.

Unlimited mailbox.

Easy options to collaborate internally with the support team.

Easily integrate with other tools.

Insightful reports.
It will cost you $33 per user per month. There is also a free 14-day trial.
How to find the perfect alternative to Zendesk?
As we wrap up this article on Zendesk alternatives, it is important to realize which tool is ideal for your business purposes and choose wisely. While some businesses look for an all-in-one tool to support their business, others may be looking for affordable options. Feel free to leave us a comment if you have a query.
Further Reading