Last updated - April 13, 2023
New developments emerge each year in the ever-changing world of e-commerce. More stores are switching to internet sales every day, and more business owners are starting online ventures.
Views and visits are both good. But ultimately, conversions are the only thing that count. Tracking the leads and their behavior, however, is a difficult task that calls for special attention and knowledge base.
This blog post will serve as an ultimate guide to understand, integrate, and track conversions using Google Analytics. Read along
Google Analytics, also known as GA is a proficient tool specifically designed for web analytics. It gives you detailed information about how well your website and company are performing online. Depending on how much you want from Google Analytics, it has varying levels of sophistication. It will prove to be better for you as long as you put more effort into it.
If you use other Google-based resources for marketing, this tool is must-have to monitor their effectiveness because it seamlessly connects with other Google services.
How will Google Analytics Benefit your Business?
If you are into marketing, then you would understand the importance of metrics, data, statistics, conversion tracking, etc. It innately provides you with a plethora of benefits for your business and we have listed them below for you.
Help Track Online Traffic
You may monitor every source of web traffic with this incredible tool. Managing an online company requires proper understanding of the sources of website traffic.
When launching a new website, installing Google Analytics as soon as possible is crucial to begin collecting traffic statistics.
Provide Deeper Insights on User Behavior
Google Analytics allows you to leverage the power to learn how clients, visitors, and viewers interact with your website. The effectiveness of your internet business can be greatly enhanced by behavioral data. It is impossible to optimize a website's performance without behavior data.
Here are a few behavioral metrics:
Flow of behavior
Bounce rate
Average duration of a session
Number of page views and unique page views
Overall site search
Top ranking pages and their performance, etc.
Provide Marketing Analytics to Enhance Online Advertising
You may follow specific campaigns and their links with this tool to monitor the performance of your ads in real-time. It's essential to install it before pursuing online marketing if you want to understand how your ads are doing on your target website.
Help Track Conversion Rate
Conversion tracking and measurement are crucial components of evaluating the performance of any online business organization. It makes it possible to monitor the most crucial website goals and conversions in order to grow your business and monitor the success of any campaign.
How to Integrate Google Analytics?
In this section we will go through the step-by-step process of integrating the plugin into your WooCommerce and WordPress websites.
First login to your WordPress account and go to the Admin Dashboard
Navigate to Plugins and then click on Add New
Search for WooCommerce Google Analytics Integration plugin and click Install Now
Step 2: Connect Google Analytics and WooCommerce
Once you've installed the WooCommerce Google Analytics Integration plugin, you will automatically be redirected to a new webpage where you need to add your Google Analytics ID.
Go to the Google Analytics Dashboard and click on Admin
The Google Analytics structure will automatically take you to the Create Account page
Click on Create Account icon, provide a name for your account and click Next
Google Analytics will ask you to set up a data stream. Here select Web and enter your website URL
A Tracking ID will be provided. Copy and paste the Tracking ID in the next page on the WooCommerce Google Analytics Integration plugin settings.
Step 3: Configure the Google Analytics Integration Plugin
To begin tracking conversion you need to configure the installed plugin by making sure the following boxes are checked.
Enable Standard Tracking
Display Advertising Support
Use Global Site Tag
Track 404 (Not found) Errors
Anonymize IP Addresses
Purchase Transactions
Add to Cart Events
Once you've ensured that all the abovementioned boxes are checked click Save Changes.
What is Conversion Tracking?
You can monitor and assess the efficacy of a variety of marketing initiatives with conversion tracking. The conversion is the intended website action, based on your organization, that you want visitors to take.
Here are a few examples:
A completed purchase will count as a conversion for an online store or eCommerce platform.
For a news and blogging website a successful subscription to the email newsletter will be considered a conversion.
As for a professional service provider website a user filling up a contact form will count as a successful conversion.
Why is Conversion Tracking Important?
Conversion tracking is crucial for helping you establish data-driven decisions that will help your organization expand. The users who aren't converting well can be found by using conversion tracking.
For example, it demonstrates that consumers who originate from a particular traffic source are more inclined to convert. Then, you may concentrate on increasing the amount of traffic coming from that particular source.
In essence, conversion monitoring is necessary if you want to expand your internet business by measuring your successes and failures and then making improvements.
How to Setup Conversion Tracking with Google Analytics?
The next step is to begin setting your goals to make sure you're monitoring the metrics you need to gauge the effectiveness of your marketing efforts. This is how goal conversions are made.
Create a New Goal
First you need to create a New Goal and for that you need to navigate to the Admin section on your Google Analytics Integration plugin, and then click on Goals.
Next click on the red +New Goal icon.
Select the Goal Type
The next step is to select the goal type. It provides a number of templates for a wide range of goal types. Now, if any of those preset templates supports your use case precisely then you can choose them.
But if they don't fit your use case then it provides you with an option to customize the conversion goal type according to your preference.
Describe the Selected Goal Type
After you have selected the goal type you need to describe the goal by giving it a name.
Here are a few tips in naming the goal type.
Ensure the name of the goal is clear and descriptive enough to understand what the goal is with just a glance.
If you have a large number of goals, then brainstorm with your team to come up with unique, logical, and easy-to-understand goal names.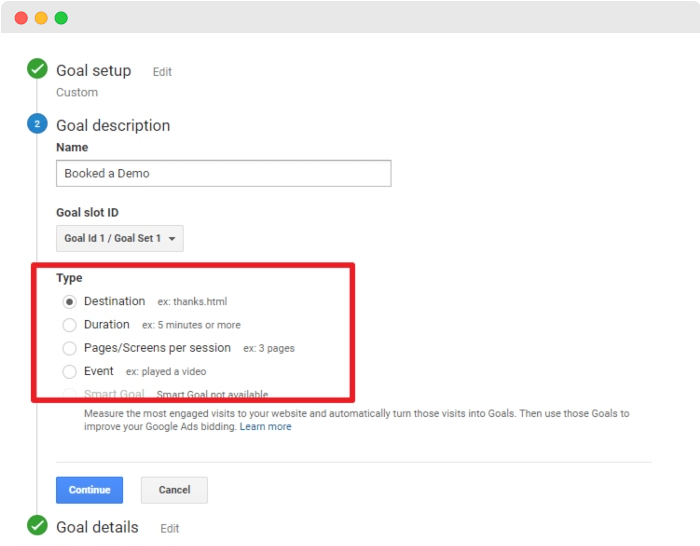 Add the Details of Goal and Verify it
Finally, detailed information must be added to your goal. For this, you have a few options.
If you have a "Success" page for things like visitors booking demos or after they finish a purchase, the target might be based on someone visiting a specific URL, which could work great.
Before you could save the goal, you need to make sure that it is working fine by clicking on the Very this Goal icon.
How to Track Conversion with Google Analytics?
Once you successfully integrate it and set up Conversion Tracking, you need to start tracking conversions and we will explain how in this section.
Create a New Event using an Existing Option
Log into your Google Analytics account and then navigate to Configure > Events and click on Create Event
Give a Name for your custom event and set up the Condition Settings.
As you generate an event and set up the condition settings, the configuration will start a new conversion event each time visitors view a thank-you page after completing a form.
Use Google Tag Manager to Configure the New Tag
Log into Google Tag Manager and click on Variables
If you're a new user, then you'll need to click on Configure and make sure that all the boxes under the Forms section are checked.
Then click on Triggers. (Establish a trigger for basic form submission in this situation. The form submission event will be visible from within Google Tag Manager as a result, and you'll identify which form identification to use to trigger your tag and conversion event in GA4.)
Next click on Preview Mode, enter your domain and fill the form. (If everything goes well, Google Tag Manager will display the form submit event and the variables. You will want to scroll down to Form ID and make note of the Code since you'll need it later on)
After that, go to Tags choose New and provide your tag a name. Make certain to provide a name that is simple to recall.
Complete the setup by selecting Tag Configuration and then clicking on Google Analytics: GA4 Event. And then you need to enter a value under Event Parameters that will be shown in Analytics each time the event is triggered. (Verify that the tag fires only once per event before clicking the save button. This shouldn't be filled out more than once because doing so will cause a lot of data inconsistencies later on.)
As for the trigger. Click the + icon in the top-right corner, select Form Submission and click Some Forms. Now, look for Form ID from the drop down menu and enter the Code you took note of earlier into the provided field and click Save.
To verify that the tag is functioning properly, you must now return to preview mode. Fill out another form on the website of your choice to verify that it is functioning properly. Return to the form submission event you created in step 3 and click on it. You should be able to see your submission in Google Tag Manager if everything is configured properly. Return to Tags and select Submit.
Return to your GA4 property. Kindly note that it may take a few hours for your new event to appear in the All Events page. It will eventually appear, at which point you can proceed to label it as a conversion. Once finished, you should be able to view your new event in GA4 under Conversions along with other reports.
About Google Analytics 360
The commercial enterprise edition of Google Analytics, known as Google Analytics 360, provides access to additional business analytics services for managing larger websites. A starting price of $150,000 USD per year is required to use Google Analytics 360, which is a component of the Google Marketing Platform.
For small and medium-sized businesses, there is no need to upgrade to the 360 version because the free edition has everything you need to track data and make data-driven choices.
Ten million hits can be stored monthly in the Google Analytics baseline edition. A hit is any deliberate user action, such a pageview or a custom event.
Summary
It's critical to monitor goal conversions in Google Analytics if you want to evaluate how effectively your marketing efforts are working and how people are interacting with your content and site. Google Analytics is a useful tool for gathering data that can assist you in taking your business to the next level because of its many advantages as a web analytics tool for enterprises.
Further Reading