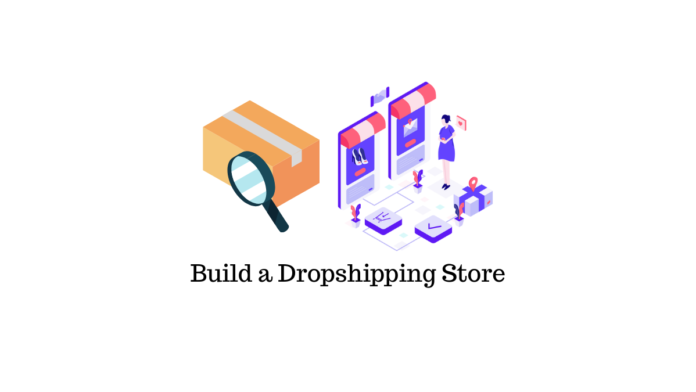 Last updated - March 13, 2023
We'll take a bet and say that most online entrepreneurs, especially eCommerce sellers, have at least heard of dropshipping. It's an interesting way of working because you don't need to handle inventory to run your business. As such, providing you have an internet connection, you can pretty much operate from anywhere you like.
However, there are still several essential aspects to dropshipping to be aware of before building your dropshipping store in 2023. First, the eCommerce marketplace is highly competitive, with projections that global eCommerce will account for $6.5 trillion in sales by 2023.
So, if you want to thrive in this crowded marketplace, being as informed and prepared as possible before launching your dropshipping business and using the right software is imperative.
That said, keep reading to learn how to build a successful dropshipping store in 2023…
Step 1: Choose Your Niche Wisely
A niche is a specific market you specialize in. The narrower, the better – as this makes marketing to and targeting your ideal shoppers easier. For example, deciding that 'apparel' is your niche is pretty broad, while specializing in 'floral puffer jackets' is much more niche.
Although it's important to sell products you're passionate about, you also need to pick a profitable niche. To ensure there's money to be made in the sector you're considering, be sure to explore what's trending; i.e., the best selling, most in-demand products in your industry.
Lower down, we'll talk about dropshipping supplier platforms – however, at this point, it's with mentioning that platforms like Spocket offer insights into trending products. You can also use FindNiche and Google Trends to identify top consumer trends and niches with consistent demand.
Pro Tip: We recommend using a mix of tools to get a complete picture of the niche you're considering before making any final decisions.
Step 2: Research The Competition
Now you've chosen a niche, it's time to assess the competition. If you're selling popular products, it stands to reason someone else will be doing the same. So, look at how they market themselves, how their store's presented, what prices they offer, how fast their shipping is, and how often they update their products.
Do not copy your competitors. Instead, use this information to get a feel for what the 'norm' is for your industry and use this to inspire your business efforts.
Step 3: Find a Reliable Dropshipping Supplier
You need to put some time into this. It's best to draw up a shortlist rather than dive in with your first choice. Do some thorough research and dig into which products the supplier sells, their shipping option, their returns policy, etc.
Ideally, once you have your shortlist, order one or two of the same products from each supplier and compare their quality, shipping time, and prices. It's also sensible to find a supplier with 24/7 support and valuable self-help resources like blog posts and how-to guides.
This is where using a dropshipping supplier platform like Spocket comes in handy. You can search through thousands of fast shipping suppliers selling millions of products across different niches from the convenience of one place. In the case of Spocket, all suppliers are vetted for reliability and shipping times, which, needless to say, makes finding high-quality dropshipping suppliers much quicker and easier.
Spocket's suppliers also provide branded invoicing, where you get to include your company's logo and personalized thank you note on your customers' orders. This allows you to be able to build brand loyalty without having to invest any money on inventory.
Pro Tip: If you already have an existing tech stack, make sure the platform you're considering seamlessly integrates with the tools you're using.
Step 4: Build Your Store
If you don't have any technical know-how, using a dedicated eCommerce platform to design and launch your store is a wise choice. Software like Shopify, WooCommerce, and Wix all come with customizable themes and intuitive page builders.
There are tons of eCommerce platforms in the market. But, whichever you opt for, check their pricing structure first to ensure the solution is affordable and scalable. Equally important are the plugins on offer. For example, payment gateways like PayPal and Stripe, marketing solutions such as MailChimp and HubSpot, and analytics apps like Google Analytics. The latter helps you analyze what's selling and who your audience is. You also want to ensure your prospective eCommerce platform integrates with your chosen eCommerce supplier platform (like Spocket). This will make product page creation much quicker and easier in the long run.
We also recommend choosing an eCommerce platform that offers a free trial or freemium version so that you can test the platform before launching. Then, once you've familiarized yourself with your chosen platform, start uploading product images, descriptions, and prices. Of course, you'll also want to customize your store in a way that appeals to your target demographic.
Step 5: Drive Website Traffic
Needless to say, you're not going to make sales unless customers know you exist. This is why marketing yourself to drive traffic to your online store is imperative. Fortunately, there are several inexpensive marketing routes you can take:
Blogging: Customers expect and enjoy good value for money. One such way to achieve this is to provide valuable content. For example, suppose you're running a fashion dropshipping business. In that case, you could blog about style tips, seasonal wear, and so on, with links to products embedded in your blog posts. For an example of blogging done well, check out Spocket. It's also wise to optimize your blog posts for keywords customers are searching for – this is great for boosting your store's SEO, which moves us nicely onto our next point…
SEO: Search engine optimization isn't rocket science, but it can seem complex if you've never attempted it before. SEO is all about ensuring Google understands what your web pages are about to rank your content accordingly. There are tons of things you can do to boost your SEO. However, the easiest way to ensure you're making the most out of it is to download an SEO plugin like Yoast. This provides a checklist of what you need to do for each web page to ensure you're doing everything you can to rank for your chosen keyword.
Pinterest: By the end of 2021, Pinterest had over 431 million active users. While, of course, you won't reach each of those, you can certainly post product visuals to piggyback on Pinterest trends to drive traffic to your dropshipping store.
Google Shopping: Since 2020, you can list your products on Google for free, so they appear alongside paid ads. At this point, it's worth noting that Shopify partners with Google, meaning you can sync and optimize your products via Shopify's Google Channel for free.
Launch competitions: When done well, hosting competitions are great for attracting new customers. In fact, one study suggests that competitions can help you obtain over 34.4% new customers, with 94.4% sharing the promotion immediately after they've registered. For example, you could encourage customers to sign up with their email address/follow you on social media for a chance to win a product you're promoting.
Tackle abandoned carts: When you consider that the average cart abandonment rate falls just shy of 70%, it's worth exploring ways to address this. For example, you could send automated email reminders about what's in their cart, use retargeting ads on social media, and/or offer discounts to entice them to complete the transaction.
Step 6: Don't Forget About Customer Support
Dropshipping doesn't mean you can ignore the customer support side of your business. You still need to show customers you care about them by responding quickly to inquiries and publishing handy self-help documents, for instance, an FAQs section. You could even consider offering live chat support using live chat software like Gobot, Tidio, or Zendesk.
Remember, you want to make your store stand out for its products and its high standard of customer service that will outshine your competitors.
Step 7: Keep Up The Good Work
Don't get complacent once you're up and running, even when the sales start rolling in. Keep researching trending products, testing samples, keeping on top of trending/best selling items, and getting to know your customers better.
If you're unsure where to begin, here are a few pointers to help:
Use Social Media: studies show that eCommerce stores with a social media presence experience an average of 32% more sales than those that don't. Interacting with your customers on social media is important too- with one study suggesting that 74% of Millennials judge a brand on whether they respond to customers' social media inquiries.
Get to know your customers better: Analyze your product reviews. What do customers like about your merchandise? More importantly, what do they dislike? Is there room for improvement?
Make your company reachable: Make it easy for customers to contact you. Whether they want to contact you to ask questions or they're having issues with your product or service, ensuring high-quality customer service is paramount. In fact, 88% of customers are influenced by online customer service reviews, and 90% are impacted by their own customer service experiences. Not only this, but 57% of customers prefer to contact companies via email or social media rather than voice-based customer service channels. 
Wrapping Up
There's lots to learn before diving into dropshipping, and we've by no means covered it all here. However, we hope we've given you enough information to whet your appetite for this popular eCommerce business model.
Just remember: The most important things to do are:
Research your niche thoroughly.
Work with reliable dropshipping suppliers.
Optimize your marketing campaigns
If you follow these golden rules, you'll be sure to lay a robust foundation for your dropshipping business.
If you'd like to test the waters, Spocket offers a free 14-day trial so you can explore and build your own dropshipping store to see if this is something you might be interested in.
So, there you have it – this brings us to the end of our guide to building a dropshipping store in 2022 – don't forget to tell us how you get in the comments box below!
Further reading