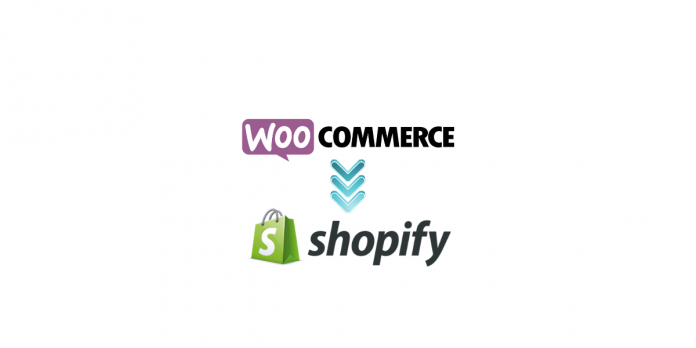 Last updated - February 24, 2020
Creating an eCommerce store is not a tough job any more. Even those without much technical knowledge can manage to create a store easily and start selling their products. This is due to the availability of different user friendly eCommerce platforms that make the job easier. Sometimes choosing the right eCommerce platform can be quite a hassle when you are starting out. You might even get started with one and would want later to switch to another one. For such scenarios, we are looking at the process of migrating from WooCommerce to Shopify.
A brief comparison between Shopify and WooCommerce
Before getting into the process of migrating from WooCommerce to Shopify, let us take a look at how these two platforms differ in the perspective of a store owner.
WooCommerce
WooCommerce is a highly customizable eCommerce platform powering close to 30% of all online stores in the world. It is free and open source, and you can install it easily on your WordPress site. However, for new users there is a catch. WooCommerce is a self-hosted platform, and to be able to install you need to have a WordPress site. Setting up a WordPress site involves getting a domain name and hosting service. Once these aspects are taken care of, it is a smooth journey with WooCommerce. So, the initial setting up procedure is not for everyone even though you can easily find expert help to set up WooCommerce.
The process gets much easier with WooCommerce once the initial process is done. You can find a large number of themes to design the look and feel of your store. In terms of adding new functionalities, the availability of numerous plugins is truly a great help. Moreover, you don't have to incur any additional costs or transaction-based fees when you are using WooCommerce. And most of the extensions will have only a one-time payment, with yearly charges only for support and updates. That means you will be able to handle almost all of your store's eCommerce functionality such as payment integration, shipping options, customer support, maketing, etc. effortlessly.
Once the initial hurdle of setting up a WordPress site is overcome, WooCommerce is a cost effective option greatly suited for business of all sizes. And if you are a tech savvy person, it is a wonderful DIY tool that will offer you immense flexibility.
Shopify
Shopify, on the other hand, is a slightly more expensive overall, but extremely user friendly. Starting a new eCommerce store on Shopify is extremely simple, and can be managed in a matter of minutes. If you have a handsome initial capital to get started with your online store, and you are not that tech savvy, the easier choice will be Shopify compared to WooCommerce. However, do keep in mind that additional features can get costlier with Shopify, along with recurring charges like transaction fees.
When it comes to design, Shopify gives you powerful options. Even though the choices are not abundant as in the WordPress ecosystem, you can find a range of free and premium themes from Shopify themes store. Similarly, there are several apps available on Shopify apps store for extending the features of your online store. Moreover, Shopify offers extensive reporting options that could be really helpful in monitoring the performance of your store.
If you are prioritizing user experience and support, Shopify would be a great option for you. And, if you are looking for better customization options and a cost effective solution, WooCommerce is the way to go. We will discuss specific aspects of user experience that could be advantageous to you on a Shopify store later in the article.
How to migrate data from WooCommerce to Shopify?
If you already have a set of products and customers on your WooCommerce store, and want to migrate to Shopify, there are a few ways to do it. The first one will be to manually export products, customers and orders from WooCommerce and then export them to Shopify.
Exporting products from WooCommerce
You can export product data from your WooCommerce store first.
For this, you can go to the Products section on your WordPress admin panel.
On the next window, you can choose the columns, type of products or specific categories you want to filter for export. If you want to export all, simply leave the fields blank. There is also a field that will let you choose to include custom data to import.
Click the Generate CSV button and the CSV file will be downloaded to your computer.
Importing products to Shopify
Now, you can go to your Shopify admin and start importing the CSV file. On your Shopify admin panel, go to All Products and click the Import button.
A modal window will be displayed. Specify the file path by clicking the Choose file button.
Chose the CSV file you have downloaded from WooCommerce. Click the Start Import button.
Now Shopify Importer will start adding products from the CSV file to your online store.It will take a while.
Once the import is complete, you can find all the products listed on your Shopify store.
Manually importing product images to Shopify
When you make a manual export through a CSV file, your product images won't be migrated. You can upload them to Shopify's file page and urls will be generated for each image automatically. These urls you can add to the CSV file and get the images uploaded on Shopify. For uploading multiple images, you need to add the urls in separate lines.
Limitations of the manual export import
The manual process of importing WooCommerce products to Shopify has several disadvantages. Here are some of them.
Product images will not be imported. You will have to manually add them later, which is not really a convenient option.
The imported products might not have dimensions, which you will have to add separately in the product description.
Some customers or products will be skipped. In case a customer's personal details are repeating, only the latest entry will be imported.
Digital products in the file will be in unpublished status. You will have to install a free app to feature digital downloads on Shopify (explained later in the article).
Bundled products on WooCommerce won't be imported as they are. You will have to create bundled products manually on Shopify or use an app to create those (explained later).
Variable products might be skipped from the import if an attribute value is missing from a product variation. In this case, you will have to manually add the variable product to Shopify.
Due to these limitations, it might not be a seamless process for you, if your WooCommerce store has a large number of products. In such a scenario, you can always rely on certain popular apps to get the job done. Here we will discuss some apps in detail, which will help with your WooCommerce to Shopify migration.
Apps to help with WooCommerce to Shopify migration
Let us explore the features of some of the popular apps that help with WooCommerce to Shopify migration.
This is an app that will help in making your WooCommerce to Shopify migration smoother. It will enable you to migrate product descriptions, images, categories and variations seamlessly from your WooCommerce store to Shopify store. In addition, you will be able to move the customer information along with their order details. You can generate activation links for customer accounts as well. Furthermore, the app will help you in  transferring product reviews to Shopify too.
Features
Here is a quick look at the features of this app:
Migrate products, reviews, customers and orders from WooCommerce to Shopify.
Support for migrating any additional fields on WooCommerce.
Option to create automatic url redirects to deal with any broken links during the transfer.
Helps in generating account activation links for your Shopify customers to enable them to change their account details.
The product is free to install and you can migrate up to 20 products without additional costs. The pricing option for additional products start at $4.99. And, for order/customer import the pricing starts at $9.99.
You can try out OmniWP if you want a hassle free migration from your WooCommerce store to Shopify. It enables you to migrate products, customers and orders from WooCommerce to Shopify without hassles. The OmniWP connects to both sites through a secure channel and ensures utmost safety of your data. It is actually a flexible tool that help a lot in your migration process.
Features
Let's quickly look at the features of this plugin.
Migrate products, reviews, customers and orders in a hassle-free manner. You will be able to migrate the entire product catalog or a selective list of products using this plugin. It also helps you update products as and when required.
Has the option to migrate additional data like vendor information or SEO data
Add or remove product descriptions to imported products.
Helps in organizing meta data mismatches like the ones between categories in WooCommerce and collections in Shopify.
For a single shop license, the plugin will cost you $49. And for unlimited shop license, you will have to shell out $199.
This is a completely free app, which you can use to migrate up to 50 products from WooCommerce to Shopify. It is quite easy to install, and you can use it effortlessly even if you don't have any coding knowledge. The migration process will take place in the background and will not affect your store operations. You can migrate product images, variations, categories and SKU from WooCommerce to Shopify using this app. Moreover, you will get an email notification when the import is complete. Also, you will reliable support from the developers if you face any problems with the migration.
For Shopify Plus merchants, there is an app to help you import products through a CSV file. It will help you import products, orders and customers to your Shopify store.
Cart2Cart is another option that will help you migrate data from one eCommerce platform to another. You can use their service to migrate your store and products from WooCommerce to Shopify. You will be able to migrate products, images, categories, reviews, customers, orders, coupons, blog posts and more from your WooCommerce store. There are also additional options to migrate WooCommerce categories into Shopify Collections, url redirects, etc.
Now, if you have bundled products on your WooCommerce store, those products won't get migrated during a manual import. In such scenarios, you can use this app to create product bundles on your Shopify store. This app will help you create product bundles and offer a discount on them. This will help a lot in increasing the average order value on your store.
Features
Here is a quick look at some of the features of this plugin:
Create percentage and fixed value discounts on product bundles
Display bundle savings popup to help your customers understand the savings they get by opting for a bundled product.
Separate landing page for each bundle and option to display bundles on any page of your choice.
Option to set a minimum quantity for the purchase of a bundle.
It also offers automatic application of discounts during checkout as well as offers automatic stock updates.
This app will enable you to sell digital downloads on your Shopify store. You will be able to attach a file to your product and track the data on sales and downloads. It even help you create products that have physical and digital properties at the same time. And, it will send a download link automatically to customers when they purchase a product. You will be able to set download limits to the products you are selling depending on your store strategy. When you update the file associated with the product, customers will get a notification to update as well. The app is totally free and is quite easy to install and configure.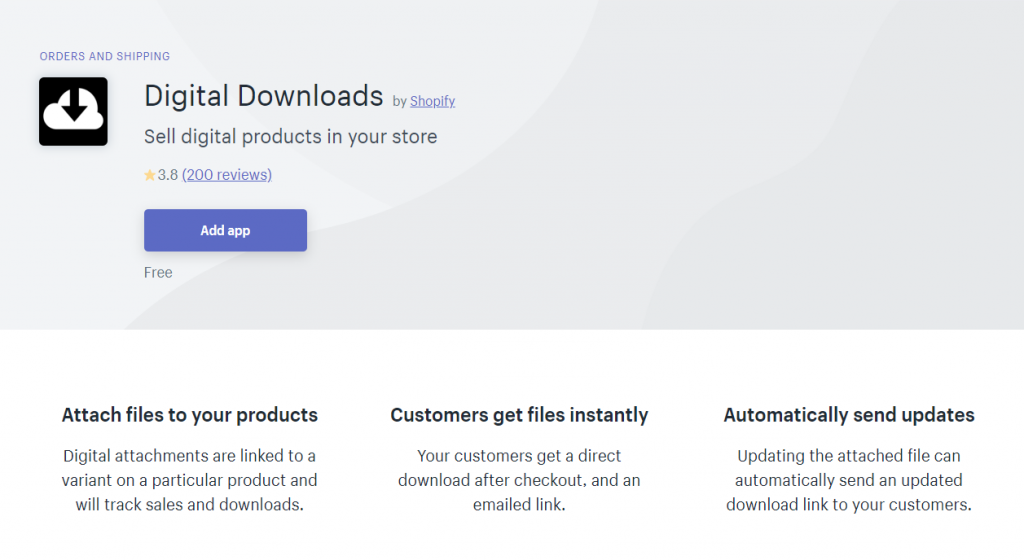 The advantages of migrating from WooCommerce to Shopify
You might have a clear idea about why you want to switch from WooCommerce to Shopify. For those who don't know clearly, here are some of the reasons that make Shopify the favorite eCommerce platform for a lot of customers.
Great site performance and possibly better search engine rankings
Great site performance is an assured feature with every Shopify store. Unlike WooCommerce, you don't have to worry about hosting plans and the ramifications of sticking with an inexpensive plan. Moreover, since the themes and apps that you use are well integrated, there are less chances of having to deal with conflicts. And a site performing well consistently will be much liked by search engines. So, it will surely reflect in the better search engine rankings as well.
Excellent support
Another great aspect that encourages a lot of store owners to switch to Shopify will be the excellent support process. Shopify offers round the clock support for any issues or technical questions you may have about managing your store. You can access the support team of Shopify through chat, phone or email. Getting direct support is relatively a complicated process when you are using WooCommerce, and you might have to get third party support providers.
Built-in analytics for better tracking
The success of an eCommerce store lies a lot in carefully analyzing customer behaviors and interactions with your store. Even though, you can manage the same level of analytics options on WooCommerce too, it involves plugins. Shopify offers direct reports on several metrics that will be crucial in building your business and marketing strategies.
You can easily understand sales numbers from a particular traffic source of social media channel. There is no need to go hunting for clues to identify the most useful channel for your business. This will enable you to focus on the right marketing channel more effectively.
Flexibility with the Shopify app
Shopify offers an app that gives you great flexibility to handle your store aspects while you are on the go. With the help of the Shopify app, you will be able to manage orders, customers, products and staff effectively. Here is a quick look at some of the aspects you can manage using the Shopify app.
Add new products to your store, and make modifications to your products as required, including adding images.
Buy and print shipping labels, and view conversion details.
Get notifications on orders.
Communicate with your staff
View reports on traffic and sales data
Integrate multiple channels effortlessly
Shopify provides you great options to manage multiple sales channels from a single centralized location. Managing offline sales through Shopify is a breeze, and you can offer great service to customers irrespective of the channel they made the purchase. Shopify also enables you to track and manage stock across multiple channels as well. The fact that you don't have to seek out multiple plugins to manage such complex aspects make Shopify a preferred choice of a lot of store owners.
Smooth checkout and abandoned cart recovery
Shopify offers hassle-free options to set up different payment methods, which is often a requirement of several store owners. You can easily set up a preferred payment option on your Shopify store such as Apple Pay or Google Pay.
Another aspect worth noting is Shopify's built-in option for abandoned cart recovery. Shopify saves abandoned cart details for three months to help you identify patterns in consumer behavior. You can also view payment events of abandoned checkouts to understand why a particular purchase was not completed.
Shopify offers you options to set up automatic emails in scenarios where a customer abandons the checkout. There are customizable email templates for this where you can make changes to the design and layout. Each of these email templates will include a link to the abandoned checkout page of the customer. Shopify also offers options to manually email the link of their abandoned checkout.
Seamless shipping options
Shopify offers several options to make your shipping process smooth and streamlined. You will be able to easily access major carriers like USPS, DHL and UPS in the United States, and Canada Post in Canada. There are options to print shipping labels from the store admin and also provide estimated delivery date to customers. The fact that you can manage all these things without really going after apps or extensions helps a lot of store owners who don't want to focus on technical things too much.
Migrate from WooCommerce to Shopify if you prefer the user experience
Both WooCommerce and Shopify are excellent eCommerce platforms suitable for online stores of all sizes. However, both have certain fundamental differences in the way they handle the technological aspects of the website. WooCommerce is more of a DIY tool that will be really good for tech savvy users. On the other hand, Shopify is great for those who don't want to worry too much about technical aspects and focus only on business aspects.
Naturally, Shopify will be slightly more expensive when you consider the overall costs in setting up as well running the store. However, if you don't really care about the additional expenses, Shopify can provide a great user experience. Hope this article has provided you some guidance in switching from WooCommerce to Shopify. Leave us a comment if you have any queries.
Further reading