Last updated - November 29, 2022
Shopify is a robust eCommerce platform that makes it simple to create and launch an online store. Not only that, but it also comes with a slew of useful tools and apps to assist you in achieving your company goals. The Shopify App Store, which offers over 6000+ applications produced by Shopify and third-party firms, is where you'll find the majority of these apps.
These programs (both free and premium) may help you improve the functioning of your website in areas like marketing, inventory management, shipping methods, SEO, dropshipping, secure checkout, speed optimization, and more. Shopify stores of various sizes and sectors may get what they need thanks to a large ecosystem. It might be difficult to know which solution is ideal for your company with so many possibilities available. This is why we brought you a list of 30 best Shopify apps to boost your business.
Overview
Conversion Optimization
Email Marketing
Marketing
Sales Channel
Customer Service
Products and Inventory
Payment Plans
Conversion Optimization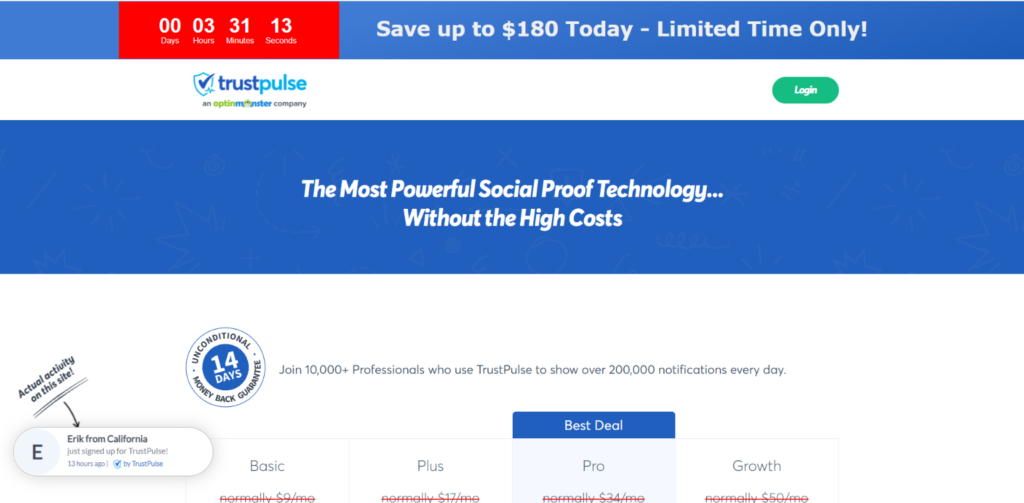 By displaying a brief popup notice of real-time behavior other users have taken while on your site, TrustPulse attempts to utilize social proof and establish trust among visitors to your site.
When making shopping decisions, buyers are more inclined to believe suggestions from other shoppers than advertisements.
You may use TrustPulse to create trust and enhance site conversions by up to 15% by using real-time activity from real people.
Features:
Purchases, demo registrations, mailing list signups, and other events may all be tracked in real time.
Using extensive targeting rules and temporal constraints, smart targeting can help increase conversions.
Notifications that demonstrate how many people are taking action in a certain time frame.
Flexible design possibilities to fit the look and feel of your website
Get the facts you need to increase conversions with actionable analytics.
No coding is required to set it up on any website.
Pricing:
Monthly subscriptions begin at $5 for up to 2,500 sessions.
PushEngage is a Shopify software that allows you to deliver personalized alerts to your visitors, which promotes purchases. You'll be able to reduce cart abandonment, re-engage customers while they're on your site, and ultimately generate more traffic this way.
People are more inclined to sign up for push alerts since they do not have to provide personal information such as an email address or phone number.
The best part is that PushEngage is simple to set up with only one click.
Features:
Customizable optin display trigger rules showcase your message at the appropriate moment to increase signups.
You may customize each push notification with a variety of design options.
Customers will be reminded of their incomplete purchases more easily with the automatic cart abandonment feature.
You may use audience segmentation to target certain groups of people.
You may target subscribers based on a range of characteristics such as device type, location, pages viewed, and more using audience segmentation.
You may use the data to help you plan future campaigns.
Pricing:
PushEngage offers a free plan with up to 200 subscribers and 30 campaigns. Pricing starts at $9 per month for up to 100,000 members.
By studying how your consumers interact with your Shopify store, Lucky Orange can help you enhance conversions.
Session recording and heatmaps are included in this tool package to help you understand how users interact with your site. As a consequence, you can see what pages they visit and where they travel till they buy something.
Features:
Full replays of a user's session on your site can assist you figure out what works and what doesn't on your site.
Session filtering allows you to analyze recordings from the audience that interests you the most, such as new visitors, returning visitors, operating system, cart value, and more.
See where there are dropoffs in your funnel to improve the user experience.
With form analytics, you can see which forms are the most abandoned.
Pricing:
Lucky Orange offers a free plan with 500 monthly page views for one website. Paid options with higher page views begin at $10 per month.
Email Marketing
Sendinblue is a business-oriented email and SMS platform. When you integrate Sendinblue with your Shopify store, you'll be able to send tailored Shopify marketing campaigns to high-converting landing pages.
The Shopify add-on from Sendinblue allows you to manage your list based on purchase history using audience segmentation.
You can also use Sendinblue to construct subscription forms to help you increase your contact list.
Features:
Automated rules deliver emails in response to certain store triggers.
Create interesting emails using a drag-and-drop builder.
SMS compatibility allows you to stay in touch with your consumers about important events such as order and delivery alerts.
Pricing:
Sendinblue is a restricted free plan that includes their branding on your emails. The cost of a paid subscription starts at $25 per month.
Drip is a robust marketing solution that integrates with Shopify to automate email sequences and processes.
The Shopify add-on from Drip makes it simple to gather customer feedback and set up abandoned cart email campaigns. From the dashboard, you can see which emails are generating the most Shopify sales.
Features:
Pre-made eCommerce "playbooks" can help you increase income.
Insights that can assist you in determining what works and what does not.
To target specific persons, pre-built segments change in real-time.
Pricing:
Email-only options for up to 500 contacts start at $19 per month. The cost of adding SMS capabilities starts at $22/month.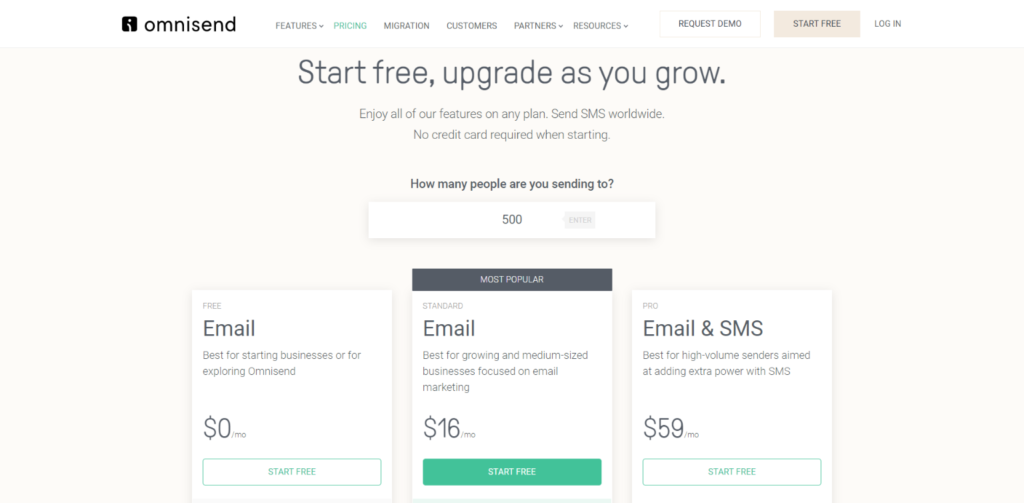 Omnisend is a company that specializes in email marketing and text messaging. It gives you easy-to-use marketing solutions for your Shopify business that will help you improve sales while saving time.
You can design pre-built processes that run on autopilot using Omnisend. This allows you to continue to drive sales, even while you sleep!
By segmenting your audience, you'll be able to enhance these procedures using structured contact lists.
Features:
Integrate Shopify with a single click to get started quickly.
To keep in touch with your consumers, SMS compatibility is a must.
Website monitoring allows you to learn more about your visitors and their purchasing intent.
Pricing:
The email-only subscription is free for up to 250 contacts and 500 emails per month. Plans start at $16/month for additional emails, contacts, and SMS.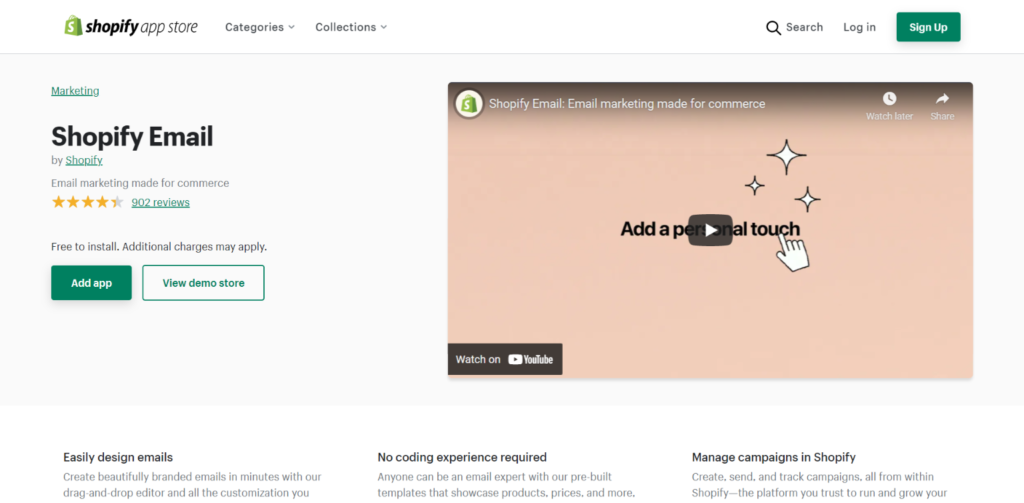 Shopify Email is a terrific method to get your Shopify business started with email marketing. It gives you ready-to-use email templates, allows you to manage your campaigns, and sends them from your own domain.
While it isn't a full-fledged marketing tool, it is a great method to keep your consumers up to date on your items and nurture leads.
Features:
The design process is simplified thanks to pre-built templates.
From within Shopify, you can manage email campaigns.
This program automatically adds your store's logo, goods, and pricing to your emails.
Pricing:
The first 2,500 emails per month are free with Shopify email. Following that, you'll be charged $1 for every 1,000 emails you send.
Marketing
For upsells and cross-sells, Candy Rack is a must-have Shopify app. You're also wasting money if you're not upselling or cross-selling to your consumers. After the shopper presses the Add to Cart button, an upsell appears in a non-intrusive popup on the product page. Each upsell or cross-sell appears as an add-on to the parent product in the popup's tree layout.
Candy Rack offers upsells, auto-upsells, and design/messaging customization in addition to its unique method of offering upsells.
Features:
To meet consumer demand for mobile shopping, the site has been optimized for mobile devices.
Streamlined to reduce load times and provide a pleasant user experience.
Designing with pre-made templates is simple and stress-free.
Pricing:
The Basic Shopify plan for Candy Rack starts at $29.99 per month. It rises in accordance with your Shopify plan.
Referral Candy is a great Shopify tool for incentivizing your customers to suggest their friends. For infinite referrals, you may select the prize of your choosing.
Automatic reward distribution and referral reminders are included in the Referral Candy system, as well as a dashboard where you can track referrals.
Features:
Google Analytics, Adroll, ReCharge, and other services are all integrated.
To keep consumers pleased, automate your referral program.
A mobile-first attitude guarantees that your emails and web pages appear excellent on any device.
Pricing:
Referral Candy plans begin at $49 per month. You'll also get a tiered compensation structure dependent on the number of sales you refer.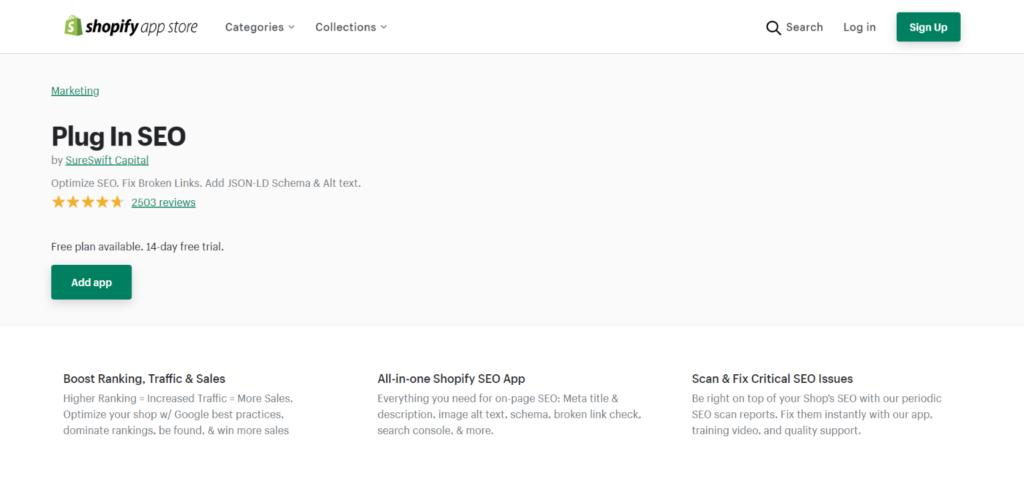 Search engine optimization (SEO) issues are easier to detect, debug, and correct, which equals more traffic to your online business.
This program checks for problems with page names and descriptions, organization, speed, and other factors. It also contains code snippets that you may utilize to troubleshoot any issues on your own.
Features:
Installation is free of charge.
Checks for a number of SEO concerns, such as titles, meta descriptions, ALT text, and broken links, among other things.
Provides instructions for resolving any concerns.
Pricing:
Plug in SEO is completely free to use for limitless SEO and speed assessments. For services like automated SEO optimizations and broken link corrections, you'll need to subscribe to their paying plans. They begin at $20 per month.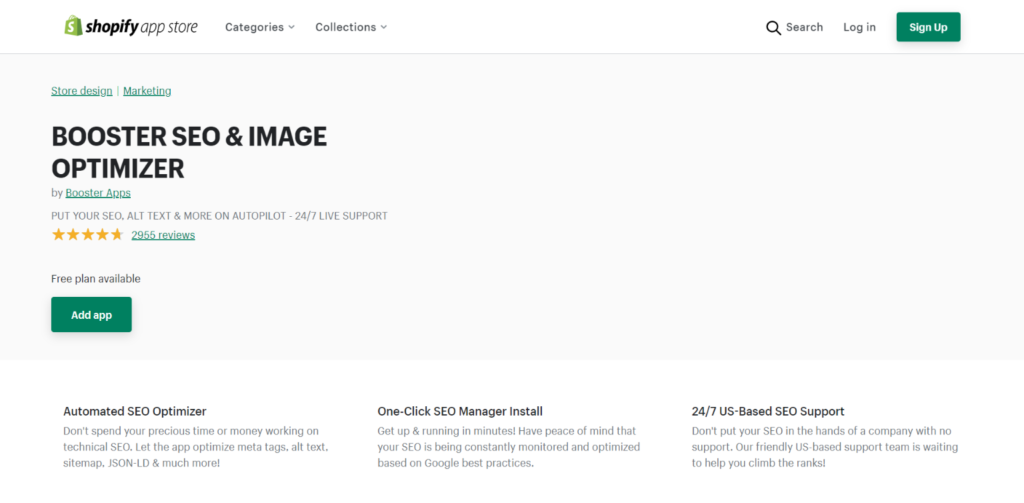 This program has a one-click installation feature that gets you up and running in under 30 seconds.
Everything you need to have your photos optimized for search engines is included in the Free plan, including alt-text optimization, unlimited image sync, and even weekly image checks. Meta Tag optimization, target keywords for your photos, and redirection URLs are all included in the subscription plan.
Features:
Installation with a single click
The only SEO software created just for Shopify.
Based on customizable guidelines, the AutoPilot tool addresses SEO concerns.
Pricing:
Plans start at $34 per month.
You may use Instagram to promote sales by using Create Social Proof From UGC.
This software allows you to highlight your consumers while also obtaining a unique type of social proof known as user-generated content.
When consumers post images of themselves using your items on Instagram, Social Photos creates a gallery for them. Each photo may then sell items via direct connections, resulting in increased sales.
Features:
Vintage themes and the new Online Store 2.0 themes are both compatible.
There is no limit to the amount of uploads you may make.
Fully configurable galleries that fit your brand's appearance and feel
Customers may shop the look by visiting a gallery.
Pricing:
Monthly subscriptions start at $15.
Sales Channel
While email marketing is more efficient at driving sales than social media, online shops still rely on social media for referrals.
As a result, Facebook Channel has earned a spot on our list of the top Shopify applications for increasing sales. It allows you to utilize your Facebook presence to generate sales by quickly creating a Facebook store.
To achieve even more sales from your Shopify store, check out our guide to obtaining traffic from Facebook.
Features:
All of your Shopify items will sync to your Facebook catalog after you link your accounts.
Online storefront that may be customized
Both free and paid adverts may be used to promote your business.
Pricing:
Installing Facebook Channel is completely free. If you run a paid campaign, it will be charged to your Facebook account.
Conversational commerce is rapidly expanding, thanks to the rise of messaging applications and smart speakers. With the Messenger sales channel app for Shopify, you can take advantage of this trend.
You may add a "message us" button to your online store with this Shopify app that is connected to your online store and Facebook. You'll be able to converse with your consumers in real time in this manner.
Shoppers may also use Messenger chat to browse items, make purchases, and get automated order notifications.
Features:
Messenger conversations may be used to sell things directly.
Send updates to the chat room on a regular basis.
Shopify's Messenger order must be fulfilled.
Keep track of your Facebook sales.
Pricing:
This Shopify app is completely free.
Instafeed helps you keep your shop content fresh by automatically driving new content to your store from your Instagram feed. You may display your Instagram content anyway you wish, blending it in with the style of your shop.
Image and video functionality, as well as automated Instagram feed updates, are all included in this Shopify app, which is entirely responsive and lightweight.
Features:
By sending your Shopify customers to Instagram, it might help you grow your following.
Maintains the freshness of your store by bringing in new material.
It's compatible with IGTV.
Pricing:
Instafeed is available in two versions: a free version and a premium one. The Pro plan costs $4.99 per month, while the Plus plan costs $19.99.
ReConvert is an upsell and cross-sell tool that can help you raise the average order value of your customers. It allows you to construct focused landing pages for featured items fast and efficiently, and it allows customers to make further purchases with a single click.
You'll also get access to a complete analytics dashboard, which you can utilize to ensure you're never missing out on a transaction.
Features:
Cross-sells and upsells, order tracking, and reorder buttons are just a few of the widgets available.
Page builder with drag-and-drop functionality
Upsell the appropriate folks via trigger-based sites.
Pricing:
ReConvert is free to use for up to 49 orders each month. The cost of a paid subscription starts at $7.99 per month.
Customer Service
The Facebook Live Chat Shopify app allows you to use Facebook Messenger to provide customer assistance to your Shopify clients. The app is user-friendly and responsive, and it links with other social media sites.
Features:
Launching does not need any code.
Design that is mobile-friendly.
So that your site doesn't get slowed down, use asynchronous loading.
Pricing:
Packages start at $9.09 per month for 5,000 monthly website views.
Customers may establish accounts on your Shopify shop by logging in with their current social network credentials with One Click Social Login. Facebook, Twitter, LinkedIn, Pinterest, Amazon, and many other sites are supported.
There's also an admin area where you can simply modify the settings to streamline and personalize your site's user experience.
Features:
Visitors may join up for your Shopify store with only one click.
Automatic installation with the option to manually enter the code in your shop.
Login popups that can be customized.
Pricing:
One Click Social Login is available for $2.99 a month.
This program makes it simple to seek customer reviews and display them in widgets and shop tabs. You can also utilize Yotpo to drive social media attention to your shop by moderating all collected reviews.
To keep your clients involved, Yotpo will also post reviews and allow you to remark on them. If you receive a bad review, it will be noted, so you may address it as soon as possible.
Features:
Installation with a single click
AI-powered feedback that identifies areas where the customer experience may be improved
It's a scalable platform, so it can expand along with your Shopify store.

Pricing:

Yotpo is free for up to 50 orders per month. As the orders cross 50 you will need to pay. Pricing starts at $15 per month.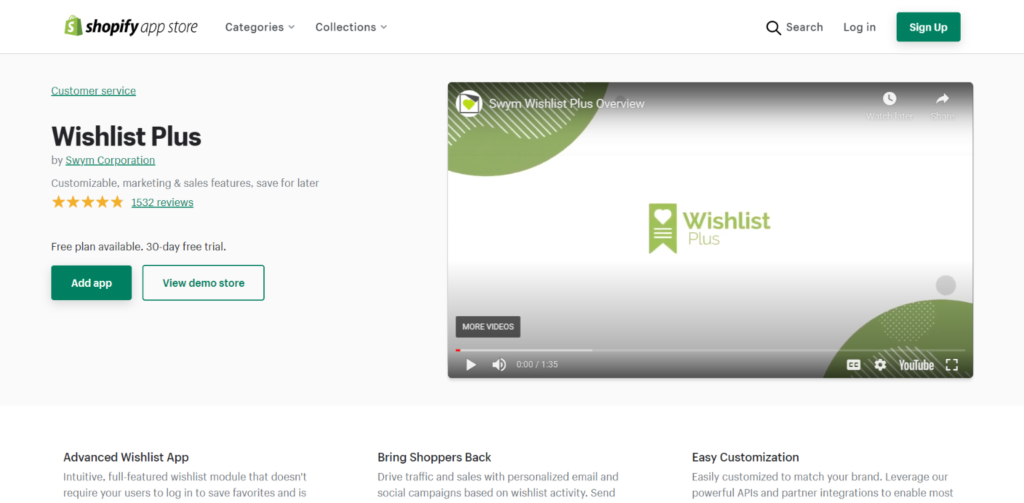 Wishlists are a terrific method to find out more about your customers' wants and needs so you can connect with them and close more purchases. Wishlist Plus allows you to collect information about customer preferences without requiring them to log in.
This software links with your Shopify store and provides a dashboard where you can keep track of products and engagement. Wishlist Plus is a simple and convenient way for customers to save and share their wanted purchases.
Features:
To make the consumer experience more easy, the wishlist syncs between devices.
Mobile-friendly.
Compatible with a variety of email services.
For your Shopify store, a smart, straightforward dashboard will provide you with analytics on wishlist activity.
Pricing:
Wishlist Plus is free for the first 100 products, then the cost ranges from $14.99 to $99.99 depending on the plan you choose.
Accessibly is a useful tool that ensures that your website follows ADA and WCAG guidelines.
It's completely customizable, operates on all devices (mobile, desktop, and tablets), and simply takes care of "all the legal things" that your website requires. This is an excellent feature to implement across any eCommerce store because it demonstrates your commitment to diversity and customer service.
Features:
Maintain WCAG/ADA compliance on your website.
To show the widget on your site, decide from six different languages.
Template for an Accessibility Statement
Pricing:
The price begins at $5 per month.
Products and Inventory
Spocket is a dropshipping marketplace that is simple to use, fast to respond to, and routinely updated. It provides quick shipping on hundreds of thousands of goods from over 20,000 reputable sellers.
One-click purchase fulfillment, flat-rate shipping, and real-time order tracking are a few of the significant features of Spocket. In the unlikely event that something goes wrong, Spocket has a dedicated support team ready to assist you in resolving the issue swiftly and painlessly.
Features:
You can get samples of the items to test them out before selling them.
Shopify integration allows for one-click order fulfillment.
For faster and more dependable shipping, 80 percent of suppliers are located in the United States or Europe.
Pricing:
You can begin with 25 unique products at $24.99 a month.
When collecting and acquiring access to contact customers, you must adhere to standards such as GDPR or CCPA. This software will assist you in doing so by obtaining client permission to contact them by email, promotion notice, SMS and more.
This application is really simple to use, with hundreds of ready-made templates; all you have to do is select the theme, change your message, and place it on your sites with a single click.
Features:
10+ cookie bar pre-designed themes
You may freely change the consent message in the cookie bar.
Display the privacy policy link in the cookie bar
Change the content on the Agree button.
Change the text on the Deny button.
Display the cookie banner in all countries.
Hide the cookie banner automatically when the consumer agrees.
Check out the cookie bar on desktop and mobile.
Preview the cookie bar immediately on your storefront before it goes live.
Pricing:
The app is free of cost on the Shopify app store.
AfterShip makes it simple to manage product returns. It provides you with a branded returns center where clients can submit returns in just a few clicks. It will notify customers later on the status of their returns and any reimbursements.
This is an essential Shopify app, and it's free for the first five returns every month. The cost of a paid subscription starts at $9 per month.
Features:
Return shipment is expedited with over 12 different carriers, including UPS and USPS.
Return and refund statuses are updated on a regular basis through email.
Create your own rules to mark things as non-returnable.
Pricing:
AfterShip's free plan includes three returns each month. Paid plans with at least 20 monthly returns start at $9.00 per month.
Pre-orders are an excellent approach to determine whether items are likely to be successful. Pre-Order Manager allows you to take early orders for out-of-stock products from visitors to your business via a pre-order button.
You may adjust the button wording, change the setting by location, and even switch on and off pre-orders across the board. You may also set a restriction on the amount of pre-orders available for every product.
Features:
The majority of themes work right out of the box, with no need for adjustment.
The simple dashboard allows you to browse and filter products, so you can make bulk changes to settings.
Analysis of pre-orders
Pricing:
Pre-Order Manager is priced starting at $24.95 per month.
This simple-to-use program also assists you in determining which goods are the most popular so that stock levels may be managed. You may also tailor any feature of the app to your preferences.
Features:
Customers are alerted as soon as the items they desire are back in stock.
Customizable optin forms and buttons that match your brand perfectly.
Dashboard and reports for administrators.
Pricing:
Back in Stock costs $19 per month for a total of 100 notifications.
Payment Plans
EComposer Page Builder is the Shopify page builder app of the future. The EComposer page editor is extremely user-friendly, with a clear UX and UI that is suited for even dummies and eCommerce rookies. Second, EComposer has a Section Builder, which enables you to design any section on any page and apply it to any theme. In other words, the software integrates seamlessly with Shopify themes, allowing you to customize your website anyway you see fit.
EComposer also includes a large extension and app integration library. Install just the add-ons you require, which helps improve page speed. Furthermore, if you have any queries or have any problems while using EComposer, you may contact assistance at any time.
Features:
The Ajax Cart.
Swatch of your choice.
Tifiny Image Compressor
Frequently purchased together.
Product Cross-selling, Bundle Builder.
Drag and Drop Editor in Real Time.
70+ design-made themes, landing pages, home pages, unique product pages, blogs, layouts for collections sites, and so on.
All options include 24-hour customer service.
Pricing:
EComposer has a free plan. Additional costs may apply for extra features and tools.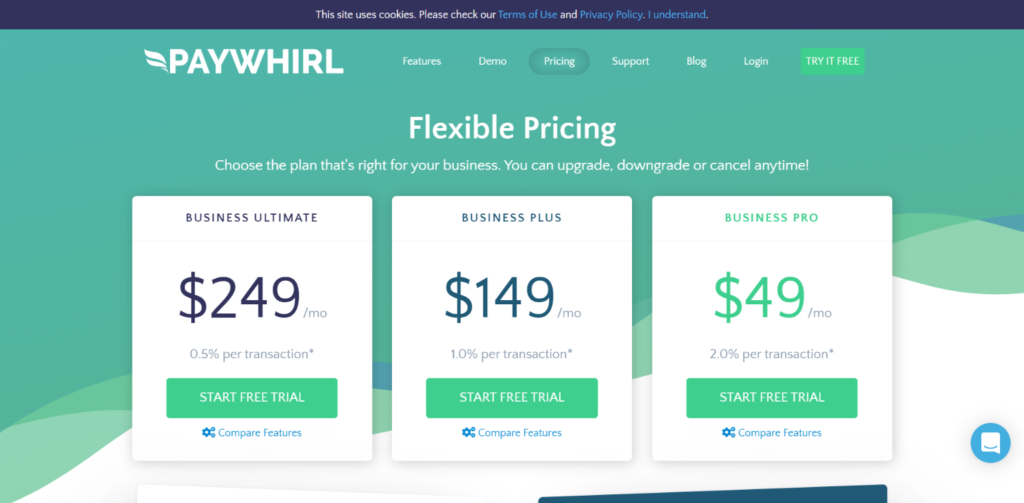 Your customers will be able to manage their own accounts, amend their payment information, add or delete payment plans, and purchase subscriptions using PayWhirl Recurring Payments.
PayWhirl includes a "Build a Box" option that allows customers to create their own subscription packages for subscription services, which is a fantastic tool. Allowing customers to customize their subscription box might be utilized as an upsell. Subscription boxes are huge right now.
Features:
Accepts credit cards from all major brands, as well as debit cards and electronic checks.
Templates that are ready to use and may be customized.
Payment management system that has failed.
SSL-based secure gateway connections fulfil current PCI-compliant security standards.
Pricing:
There is a free Stripe version of the Shopify app; higher versions incorporate all payment methods and start at $49/month with a 14-day free trial. The percentage of successful transactions starts at 3% and drops to 0.5 percent as monthly plan expenses rise.
Recurring Payments allows customers to purchase subscriptions, use payment plans, and pay invoices without having to log in or register.
Customers who do not have an account but wish to cancel their membership can do so by clicking the unsubscribe link in their subscription confirmation email.
Instead of charging clients automatically, this program allows eCommerce business owners to produce invoices automatically. Customers can then pay using whichever manner they like at the moment. As a consequence, users no longer need to remember to update or alter their payment methods in their accounts.
Features:
Customers will be able to control their own subscriptions using a portal.
When recurring purchases are cancelled, cancellation management sends out a questionnaire.
For both one-time and subscription purchases, you may use the same care.
Pricing:
The plan costs $19.95 a month.
Offset isn't a Shopify app for payment plans, but it's a great idea for making Shopify transactions carbon neutral.
The way it works is that when a consumer orders a product from your business, this software calculates the carbon emissions required to deliver that goods. The complete cost of the carbon emissions created by your store will be charged to you, and the money will be utilized to replant trees and save our forests.
This is an excellent opportunity to distinguish your company from the competition and demonstrate your commitment to a world of safe, ethical, and sustainable eCommerce.
Features:
You may use a dashboard to track your environmental effect and share it with your consumers.
Attract eco-conscious clients who will gladly support a carbon-neutral business.
Contributes to certified projects that follow best-in-class carbon offset methods and standards as part of a partnership with Pachama.
Pricing:
$3.60 per metric ton of CO2 emissions attributed to shipping. Typically, each order costs between $0.005 and $0.10.
Conclusion
We hope you found our list of the top Shopify applications for your store useful. These applications can assist you in putting your sales and marketing ideas into action in order to grow and develop your business.
Further Reading