Last updated - July 8, 2021
The current technological advancements in eCommerce is generating tons of data on customers and their preferences. When you are running an eCommerce store, you can make use of this data favorably to enhance your conversion rate. Find some general tips to enhance your WooCommerce conversion rate here. According to experts, eCommerce sites are still not using the full potential of analytics to drive sales. Here is an article that offers some useful tips to help you use Google Analytics effectively on your WooCommerce site. In this article we will help you understand more about WooCommerce customer data, and how you can drive conversions out of it. We will also discuss some of the popular tools that you can use on your site.
Understanding WooCommerce customer data
Every user interaction on your website is contributing to the vast pool of data available for analysis. However, the trick lies in understanding what is useful and what is not. How will you manage this when the data pool is getting bigger on a daily basis? You have to categorize data so that you are able to measure it meaningfully. Let's see more on how you can do this:
Focus on multiple channels
Retailing is not about focusing only on a single channel. You are probably selling and engaging customers through multiple channels. You need to take into account the data coming in from all these channels. There might be physical stores, helpdesk systems, social media, email tools, etc., that you might be using to interact with customers. All these data can be useful to you in a marketing standpoint. Find some tips for WooCommerce multichannel retail here.
Start with easily accessible data
Data science is a pretty complicated topic as there are more than one ways to interpret the findings. However, as a store owner, your first preference should be to deal with aspects that shows some direct correlation. For example, you might notice a pattern in the timings your customers prefer to shop on your site. You can make good use of this insight by offering flash sales or price adjustments around this time using the following plugins.
So, the sensible thing to do would be to focus on data that gives you some clear insights. If there is a solution readily available, you can implement that quickly too. There needs to a persistent effort to identify this kind of data so that you can resolve apparent issues or gaps. The results for these kind of efforts will be more easily visible too. Moreover, you can see your customer satisfaction index improving too.
Try to understand the interests of your customers
Right from your product development stage, you will be concerned about the interests of your customers. This is something that is not something that is very clear always. Customer interests tend to change frequently based on emerging market trends. However, you can constantly keep an eye on the user behavior on the site. It can give deep insights into customers' research patterns, buying preferences, brand consciousness, etc.
Such data that give you insights on customer behavior will be available through multiple channels. Your website browsing history, helpdesk queries, mobile app, marketing tools, CRM system, etc. can capture this data. However, one important observation is that lot of websites do not really make use of this kind of data, as they are not directly linked to conversions. Even though it may not give immediate results, you can make use of such data for the long term improvement of your customer experience.
Data that helps you personalize customer experience
Personalizing the customer experience is one of the definite ways to improve customer engagement and conversions. Here is an article that will give you a good idea on personalizing customer experience on your WooCommerce store. You can integrate data customer behaviors and shopping patterns to create personalized experience for your customers. If done properly, this can definitely help with better customer loyalty and increased sales.
Recommending products they may like is one of the most commonly used strategies in this context. You can find innovative ways to associate purchase history, and browsing patterns, you can present a set of products that has a better chance to be engaged with. For example, based on the recent purchases of a customer, you can assume certain specific requirements. If your store has a range of products linked to that requirement, you can recommend those products in a timely manner to the customer.
And, when you are trying to present these recommendations, you can make use of other channels to engage with customers. For example, send a product recommendation with a special offer through email or Facebook. This will help a lot in improving your brand identity and customer engagement. And, the results will be better overall sales, improved average order value, and a healthier conversion rate.
The WooCommerce Customer Relationship Manager Plugin can help you a lot in managing customers better.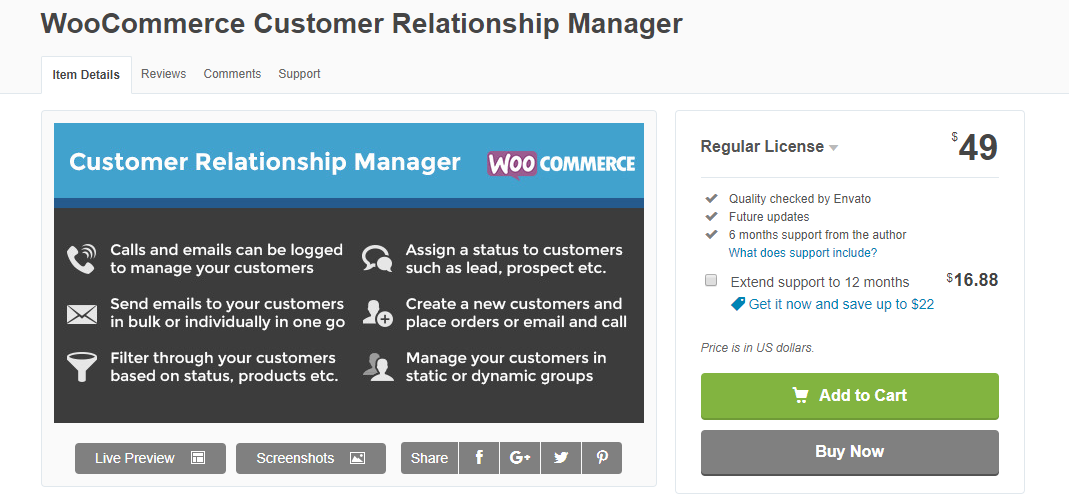 Find some more  insights on WooCommerce Customer Relationship Management here.
Using customer data to improve business
You must have got a basic idea on how customer data that you collect can really vary in terms of usability. Now, how will you use this data effectively to drive sales or to improve the customer experience on your store? Let's look into some of the opportunities you can explore in this regard.
Reduce cart abandonment
Cart abandonment is very common in eCommerce sites. A large percentage of your site visitors leave without completing a purchase, after adding a product to cart. This might be due to several reasons, which can be out of your scope too. For example, a lot of customers use the online store to research on products. In many cases, they might prefer to make the purchase from the physical store instead. Apart from these reasons, there might be certain design aspects on your checkout flow that might be preventing a conversion. This is where you can employ customer data to reduce cart abandonment.
With a strategic use of customer behavior patterns, you can reduce a lot of cart abandonment on your site. Even a marginal reduction in cart abandonment can reflect really well in your conversion rate. You can find specific tips on cart abandonment in our article on the topic.
If you are managing a site on WooCommerce, you might find the below two plugins useful to reduce cart abandonment on your site:
Offer better support
You can make use of customer data to enhance they way you provide support on your site. For online merchants, customer support generally comes in two ways – pre sale and post sale. For both scenarios, you can effectively use a data driven approach. Let's take the case of an existing customer raising a support ticket on your helpdesk system. There are several aspects of this customer that you already know. For example, the product or products this person has purchased from you, average order value, lifetime value, etc. You can prioritize the response based on such data, and more importantly you can personalize it. When a customer finds that you are caring even after the purchase, chances are more for repeat purchases.
You can manage all this using the WSDesk WordPress helpdesk plugin that offers a seamless integration with WooCommerce. It lets you retrieve detailed purchase information of each customer, when they submit a ticket on your store. Moreover, while submitting a ticket, customers will be able to choose specific products they have a question about. Furthermore, the plugin helps you measure the performance of your support ticket system in the Reports section.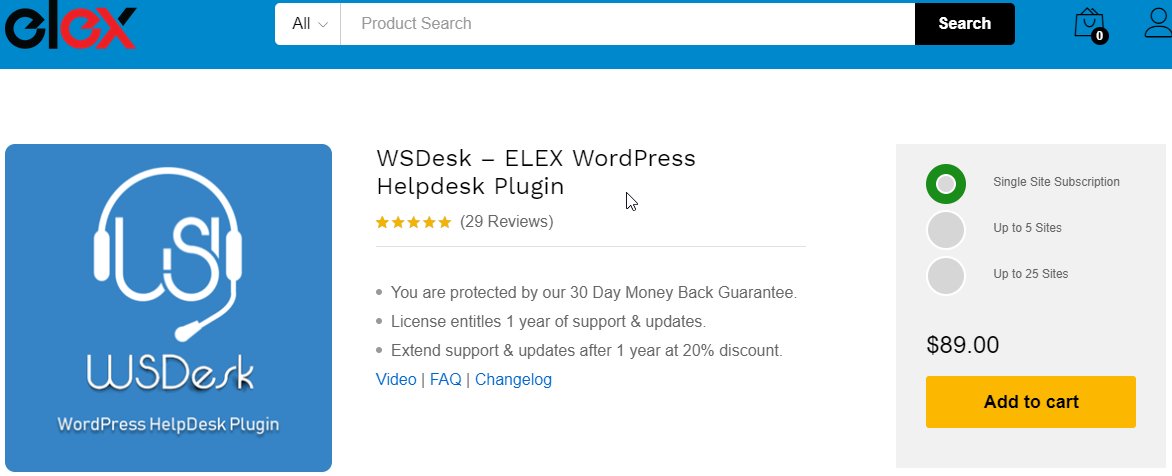 Similarly, you can approach pre-sale queries too with a lot of preparation, if you are wisely utilizing the available data. For example, there are several live chat plugins that help you personalize the interactions with customers by making use of available data. You can find some of the best WordPress live chat plugins here.
Olark is a popular live chat plugin that has several fancy features to help you with.
Predict market trends more effectively
An eCommerce store thrives on shopping patterns driven by trends. If you are able to predict these trends well in advance, you might be able to utilize them to drive sales. How will customer data help to predict trends? You probably started your marketing efforts by identifying a target audience for your store and products. If not, here is an article that can help in identifying your target audience. You can monitor your target audience on social media to see how they are interacting. Similarly, the specific behavior patterns in user behavior on the site too can point to emerging trends.
You can also analyze your competitors's strategies to understand upcoming trends. For example, the ad-buying data of your competitors can give you great insights on where to focus. You can also observe how your products are being mentioned on social media. You will get a better idea on what specific traits are loved by customers, and what needs improvement.
Take better pricing decisions
One of the fundamental aspects that determines the conversion rate on your store is your pricing strategy. These days most eCommerce sites are resorting to dynamic pricing plans. You can read more about some common dynamic pricing strategies here. You can make use of customer data to take more effective pricing decisions. Basically, by optimizing the price of a product, you can manage to increase your profit share considerably. According to studies, a lot of online stores fail to optimize pricing, and as a result there will be a dent in there profit shares. This can be avoided to a large extent by using consumer data.
By analyzing the sales data of a product over a period, you can assess the demand of that product. And then by considering production and marketing costs, you can very well determine the optimum price of a product. Analyzing your competitors too can give deep insights here. Based on rising demands, you can dynamically make price adjustments on your WooCommerce store pretty easily. WooCommerce Dynamic Pricing plugin will help you a lot in setting up several price adjustment rules without affecting your profits.
Bundling products together and offering them for a reduced combined price might be another good strategy you can try. Some products that are not fast moving might find more takers when combined with another related or high selling product. It is about making optimal use of your product catalog as well as customer centric thought patterns. You can use WooCommerce Product Bundles extension for this.
Get help in stock management
When you are using customer data effectively to predict specific product demands, you can improve your stock management strategies as well. For example, you can assess the demand of a particular product based on the traffic directed specifically to its page. Accordingly, you can make stock decisions for that product. In another scenario, you can analyze historical data to identify demand fluctuations connected to holidays. This too can help in advanced stock planning.
You can also try out some of the useful stock management plugins mentioned here.
Improve customer loyalty
Careful use of data can help you increase customer loyalty on your store as well. For example, based on the number of purchases or lifetime value, you can reward a customer. If you are offering a personalized discount based on such data, there are more chances that customer will be loyal to your brand. The Dynamic Pricing and Discounts plugin mentioned above can help you with that too.
Conclusion
With technology advancing rapidly, you are privy to a lot of customer data. You can use the available data to enhance your business performance, while still being careful about data privacy regulations. You can approach customer data based on the context – those for immediate action, long term, and personalization. Once you are able to classify data in this manner, you can use it efficiently for different uses. It will help you personalize customer experience, predict trends, optimize pricing, and a lot more. Hope this article has pointed you in the right direction to use customer data effectively. Share your thoughts with us in the comments section.
Further reading