Finding the right eCommerce platform makes all the difference when you build an online store. A store builder that suits your products and customers will definitely help you business flourish. Moreover, you, the store owner, should be comfortable using it. Among SaaS-based store builders, Shopify and Volusion are popular options. In this head-to-head comparison, Volusion vs Shopify, we will look into the various aspects of both these platforms and help you pick the best one.
Overview
Volusion is a popular eCommerce software that offers easy options for businesses of different sizes. Thanks to the support of responsive themes, and a user-friendly site builder, you will be able to create a unique site without writing code. Moreover, you will find all the necessary features for an eCommerce store such as the freedom to create unlimited products, easy payment gateway integration, and effortless inventory management. Integrating with other tools and marketing your store is also quite seamless with Volusion. Top it off with excellent support, and you have a great choice to build your eCommerce store.
Shopify is one of the most popular options to create an online store anywhere in the world. You can easily manage different retail channels and effectively market your store for better reach and conversions. If you need the help of an expert in setting up your store, you will be able to browse through a large pool of experts in your location. Moreover, Shopify has an extensive marketplace, and also offers 24/7 support for its customers.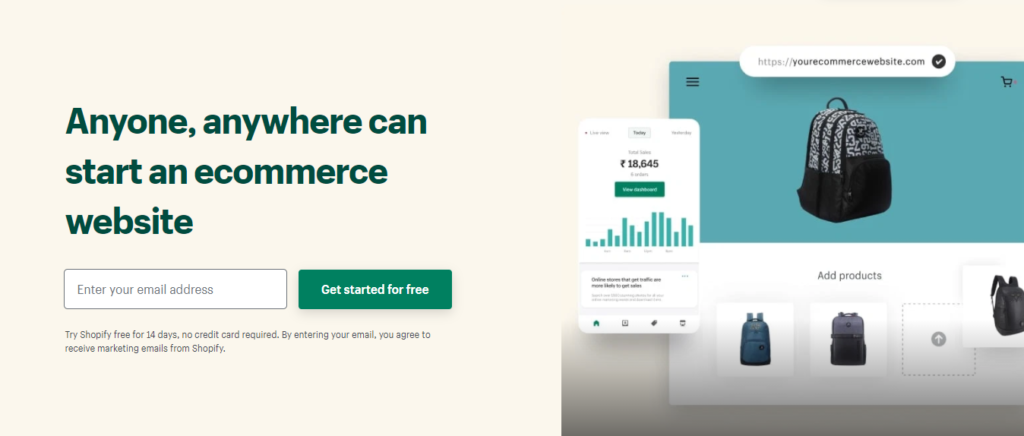 Ease of use
Volusion is pretty easy to get started. You can opt for the free trial and take a look at the platform quickly. Once you sign up, you will be logged into an interface that prompts you to customize the storefront. The other sections include a Dashboard, Orders, Customers, Inventory, Marketing, Design, Reports, Settings.
The interface is intuitive to work with. You can choose the basic aspects of the site from the left, and access the content and style editor from the right side of the screen. A preview of the site's frontend is available at the center so that you can readily understand the impact of the change that you make. You can choose a theme and get started by editing the colors and styles. In the next step, you can add a logo, followed by products. Moving on, you can customize banner texts, and also set up the navigation.
Getting started with Shopify is equally easy. You can choose the free trial and start with your store. It offers a neatly laid out admin page, where you can control different aspects of your store. The admin page has sections categorized as Home, Orders, Products, Customers, Analytics, Marketing, Discounts, Apps. Also, you can add and manage different sales channels, and customize the appearance and functionality of your online store. Shopify too offers a visual editor, where you can make changes and instantly view them in the preview.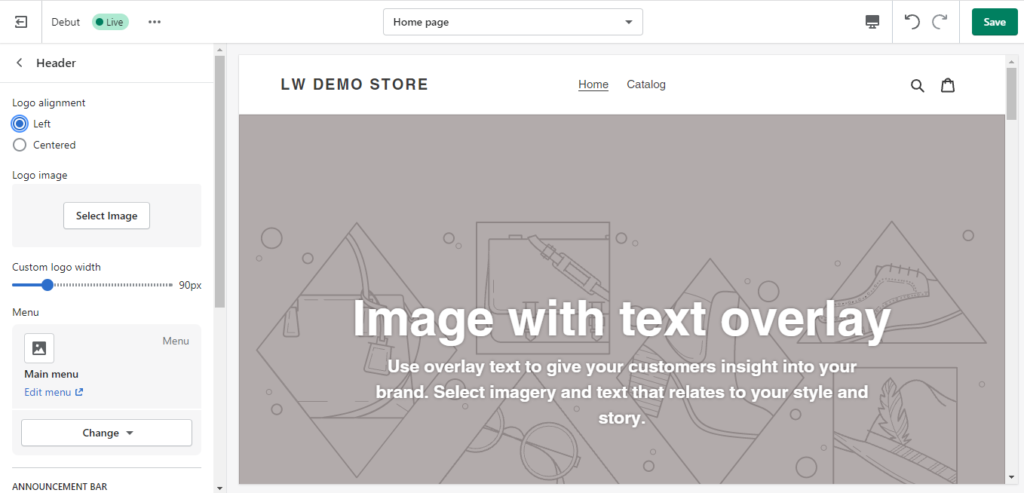 Design
Volusion offers 45 themes that you can choose from. Out of these 11 are free and the rest are paid. The paid themes cost $180 each. All themes are responsive and offers great visual clarity. You can choose a theme according to your niche, and further edit it to give a unique appearance to your site. It has a Style Editor that will let you customize colors, fonts, etc. You can also apply custom styling if needed. Volusion themes offers Advanced Editing capabilities, where you can edit HTML and CSS.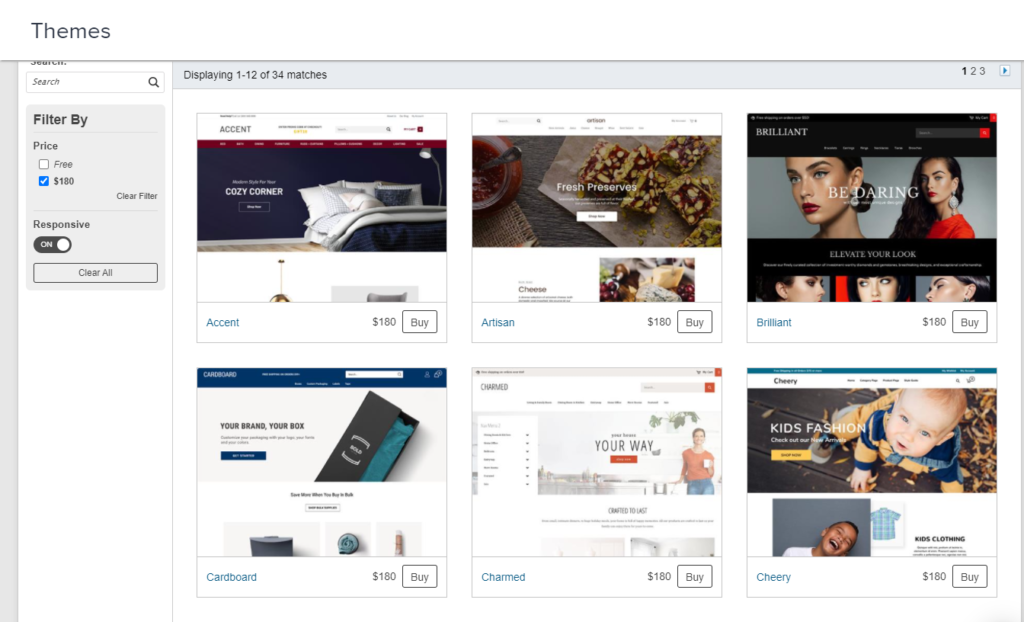 Shopify has an extensive collection of themes in its Theme Library. You will find a total of 81 themes of which 10 are free and 71 are paid. The paid themes' price range is between $150 – $350. On the Shopify theme library, you will be able to apply different filters according to your requirement and pick a suitable theme. Once you select a theme, Shopify offers great customization options that will help you edit the visual elements as well as text.
Store management
Volusion makes store management simple. You will find the software systematic and organized to handle the varying needs of a store owner such as inventory management, adding products, importing products, or editing descriptions. In addition, it ensures fast and seamless order fulfillment too, with effortless handling of customer details, shipping as well as returns. Furthermore, you will find interesting features to grow your site such as SEO and Marketing integration.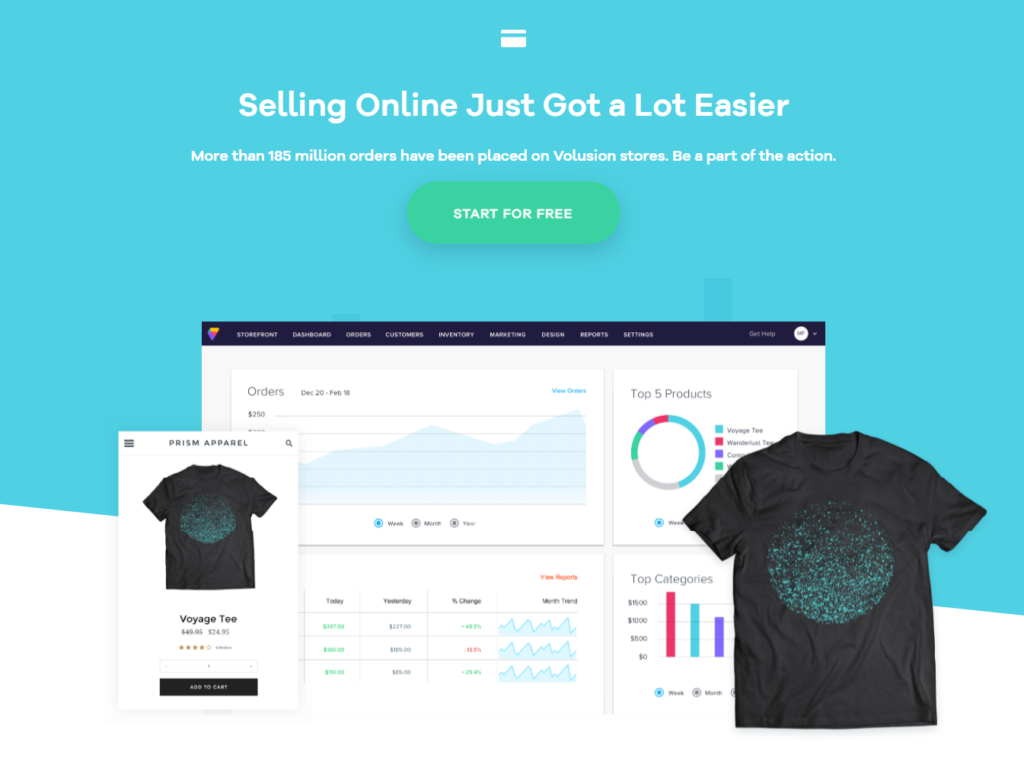 Shopify offers a wide range of features to make sure the store management is hassle free. You can easily create customer accounts, and segment customer information for more effective marketing and conversion boosting strategies. Shopify helps you with effortless order fulfillment and refunds, along with comprehensive email strategy. Furthermore, integrating with external apps (for example, dropshipping) is easy. And, you can make use of the mobile app for store management on the go.
Payment Gateways
Volusion offers Authorize.net, Stripe and Skrill by default. You can also add any custom payment option as well. The important aspect to note here is that Volusion does not charge any transaction fees.
Shopify helps you accept payments through major credit cards through Shopify Payments. Along with that, it offers a wide range of payment options, and you can choose them based on your store location. You can choose Manual Payment such as Bank Transfer, or set up a payment method from third-party providers such as PayPal or Stripe. Please note, transaction fees could be applicable if you choose a different payment provider.
Adding features or functionality
If you want to connect external apps to your store, you will find options in the Volusion marketplace. Some of the prominent categories that you can search for apps are Accounting, Channel Management, Customer Management, Email marketing, etc.
Shopify has quite a large collection of apps in different categories relevant to online stores. These include store design, conversion, marketing, fulfillment, shipping, customer service and more.
Customer support
Getting help with your Volusion store is an easy process. On your admin dashboard, you will find an option to Get Help. By clicking this option, you can access different article from the Helpcenter, or chat with the customer support team, or schedule a call. You will also find on-demand experts on different requirements like Design and Marketing.
Shopify is excellent when it comes to customer support. You can contact their expert team round the clock to resolve any issues that you may face in store management. In addition, you will find a range of articles on different topics in the Help Center. You can also access the Shopify Community forum to understand issues faced by store owners across the globe.
Pricing
Here are the pricing details of both platforms:
Volusion
Plan
Cost ($ per month)
No. of products
Major features
Personal
29
100
Online support
Built-in SEO Tools
Social Media Integration
Pro
79
5000
Online + Phone Support
Built-in SEO Tools
Social Media Integration
Ratings and Reviews
Import and Export
Abandoned Cart Reports
Business
299
Unlimited
Priority support
Built-in SEO Tools
Social Media Integration
Ratings and Reviews
Import and Export
Abandoned Cart Reports
Amazon & eBay integration
Advanced Reports
3rd party shipping and gateways
Prime
Based on sales
Unlimited
VIP support
Built-in SEO Tools
Social Media Integration
Ratings and Reviews
Import and Export
Abandoned Cart Reports
Amazon & eBay integration
Advanced Reports
3rd party shipping and gateways
Volusion Pricing plans
Shopify
Plan
Cost ($ per month)
Transaction fees
Major features
Basic Shopify
29
2%
Unlimited products
2 staff accounts
Up to 4 inventory locations
Abandoned Cart Recovery
Gift Cards
Shopify
79
1%
Unlimited products
5 staff accounts
Up to 5 inventory locations
Abandoned Cart Recovery
Gift Cards
Standard Reports
Advanced Shopify
299
0.5%
Unlimited products
15 staff accounts
Up to 8 inventory locations
Abandoned Cart Recovery
Gift Cards
Advanced Reports
Third-party shipping rates
Shopify Pricing Plans
We hope our Volusion vs Shopify comparison has helped you make a choice between these two interesting eCommerce platforms. Feel free to leave us a comment below if you have any queries or insights to share.
Further reading