Last updated - November 10, 2022
There's never been a better moment to open an online business than now, with global eCommerce sales hitting $4.28 trillion. However, deciding between WooCommerce and Shopify as the finest eCommerce platform isn't always easy.
That's why we've put up this WooCommerce and Shopify comparison article to help you decide between the two most popular eCommerce systems. There are, nevertheless, some important distinctions between them.
We'll help you determine which of these is the best eCommerce platform for you in this post. We'll discuss how simple these platforms are to use, as well as their features and, of course, the price.
Overview
What is Shopify
What is WooCommerce
Detailed comparison
Tobias Lütke and Scott Lake founded Shopify in 2006 as a full ecommerce solution. The platform was created after the creators established an online snowboarding equipment business. They were unhappy with the current ecommerce systems and decided to build their own.
Shopify comes with everything you need to start selling online and taking payments right out of the box. You won't have to worry about the technical aspects of running your internet store because it's a hosted service. You won't need to buy a separate hosting package either.
Shopify places a premium on simplicity of use as a platform. It also comes with everything you'll need to start an online business in minutes.
WooCommerce, on the other hand, is an open source plugin that you install alongside the WordPress Content Management System (CMS). It was designed by WooThemes, a WordPress theme developer, and later bought by Automattic in 2015.
You may install and activate WooCommerce just like any other WordPress plugin if you're one among the millions of WordPress users. If you don't already have a website, you'll need to use WordPress as your content management system and build one before installing the plugin.
What Are the Advantages and Disadvantages of Each Platform?
They are maybe two of the most well-known eCommerce systems on the planet. However, there is one significant distinction between WooCommerce and Shopify:
Self-hosted: If you use WooCommerce as your ecommerce platform, you must host it yourself and utilize WordPress as your content management system.
Hosted: You don't need to buy a separate hosting subscription because Shopify hosts and administers the software for you.
All eCommerce sites, at the most basic level, rely significantly on quick and reliable web hosting. Unlike Shopify, you'll have to pay for your WooCommerce hosting separately.
Even if your online business is properly developed, attractively designed, and flawlessly structured, there are a plethora of things that might go wrong. Anything that goes wrong might have a negative impact on your user's experience, resulting in the loss of a transaction or a prospective new client.
One of the things that can go wrong is inefficient hosting, and it can be easily avoided. However, if your hosting causes your shop pages to load slowly or not at all, the results can be disastrous for your business.
Web hosting customized for WooCommerce can provide you with additional features and tools that will not only benefit your business and improve your store, but will also help you save money. WooCommerce requires specific optimizations added on top of the normal WordPress hosting to run faster and smoother.
The following are a list of WooCommerce hosting optimization requirements:
Optimized Caching
Database Optimization
Server Reliability
Hosting Support
Automated Backups & One-Click Restore
Content Delivery Network (CDN)
Multiple Data Centers
SSL Certificates
Security & PCI-DSS Compliance
Staging Sites
Shopify appears to have the upper hand here. There is, however, a cost. You can only make modifications that Shopify allows as a hosted platform. With WooCommerce, you won't have to worry about these limitations.
With this in mind, WooCommerce's key benefit over Shopify is its versatility. This is especially vital if you want to provide a one-of-a-kind consumer experience. However, this adaptability comes at a price. WooCommerce has a longer setup procedure and is more complex to configure.
Let's say you want to offer simple products with few variants or a limited number of things. You might not require this amount of flexibility in such a situation. In this case, Shopify's simplicity of use and built-in hosting make it a more appealing alternative, as it can be achieved faster.
How easy it is to set up a store on each platform?
When it comes to how simple it is to set up a fully functional store that is ready to receive orders, Shopify comes out on top. If you want to use WooCommerce, you'll need to create a WordPress website first. You'll also need to set up web hosting and register a domain name.
If you don't have these items in place, the time it takes to set up WooCommerce might add up. Additional fees, such as acquiring a hosting package and a domain name, may be incurred.
The good news is that WooCommerce comes with a helpful setup wizard that walks you through the majority of the initial setup. Adding a payment gateway, picking your currencies, and selecting your delivery methods are all steps in this procedure. To get a better understanding of WooCommerce setup, checkout How to Install WooCommerce on your WordPress Site.
Shopify, being a hosted eCommerce platform, takes care of a lot of the technical aspects of setting up an online store. This covers registering a domain name, hosting, and issuing an SSL certificate.
In essence, you can create a Shopify account, pick a theme, and then either buy a domain or sync an existing one. Assuming you're utilizing Shopify's own Payments gateway, you can start accepting credit card payments right now.
How much control do you have over the functionality of your website?
Self-hosted solutions, on the whole, are more versatile and configurable than hosted alternatives. Although Shopify is one of the most adaptable options, it falls short in the area of functionality when compared to WooCommerce.
WooCommerce comes with everything you need to set up a working eCommerce store right out of the box. The platform's true strength, though, is its extensibility. Additional applications may be used to alter and expand the basic WooCommerce platform.
Abandoned cart recovery, for example, is critical for online retailers, with buyers losing roughly 70% of shopping baskets. This feature isn't available out of the box with WooCommerce, but it can be added using plugins.
WooCommerce also interfaces with a number of well-known third-party applications. Some of the most popular Customer Relationship Management (CRM) tools are among them.
If you're a developer, you can even add custom code to a WooCommerce store. WooCommerce is very adaptable and configurable because of all of these capabilities.
There are a variety of Shopify applications available if you wish to expand your Shopify store. However, you're limited to the Shopify-approved add-ons and software in the end. WooCommerce does not have this limitation.
How much control do you have over the design of your store?
Both WooCommerce and Shopify provide attractive themes that will amaze your consumers right away. You may easily change the appearance and feel of your WooCommerce store by picking from over 1,000 WooCommerce themes. Premium WooCommerce themes are also available in third-party marketplaces.
You'll have a narrower range of themes to choose from if you wish to revamp your Shopify store. All of these themes are well-designed and geared for boosting sales as a specialized eCommerce platform.
While the WordPress community has produced slick and polished WooCommerce themes, quality control is lacking. You can count on a high degree of quality if you use a Shopify theme.
Checkout 15 Tips to Find the Best WooCommerce Themes 2022 in order to select the best themes for your Store. Overall, WooCommerce offers more options, but Shopify's selection is more selected.
The greatest Shopify themes, on the other hand, will set you back a bit more. It's not uncommon for these themes to cost several hundred dollars. You can add HTML or Liquid code snippets to several Shopify themes. This code is then rendered in the template, section, or block where the setting is located.
This functionality, however, is restricted and may vary based on the Shopify theme you choose. Because WooCommerce is an open source platform, you may personalize your theme to your heart's content.
Which methods of payment does each platform accept?
When it comes to payment acceptance, the more options you have, the better. Some payment gateways are more popular in certain parts of the world. In the Asia Pacific Region, for example, digital or mobile wallets will account for 60% of eCommerce transactions by 2020. In Latin America, however, this payment method accounted for barely 20% of all transactions.
You may broaden your appeal by accepting as many payment options as feasible. WooCommerce and Shopify, fortunately, both enable numerous payment channels. Unless your consumers utilize a particularly specific payment method, you should have no problems using either platform.
All the main payment gateways are supported by WooCommerce, including Stripe, PayPal, Square, and Authorize.Net. It also supports numerous regional entry points.
Shopify offers its own payment gateway that doesn't require any setup. You will not be charged transaction fees if you utilize Shopify Payments.
Shopify also works with a variety of third-party payment processors. However, there is a huge drawback: using these gateways incurs additional costs from the platform.
The fees for the Basic Shopify, Shopify, and Advanced Shopify plans are 2 percent, 1 percent, and 0.5 percent, respectively. As a result, if you choose Shopify, you should think about using their payment gateway.
WooCommerce also has its own payment gateway, which has its own set of fees. Using external gateways, on the other hand, is free. It implies that your bank or chosen gateway will be the only one to charge you transaction fees.
How Much Does Each Platform Cost? WooCommerce vs. Shopify
The main price on Shopify is clear, so you can estimate how much the platform will cost you ahead of time. You may pick from three different Shopify plans: Basic Shopify ($29), Shopify ($79), and Advanced Shopify ($299).
You'll additionally pay up to 2.9 percent + 30 percent for each transaction, depending on your membership. By selecting the Advanced Shopify plan, you may minimize these fees to 2.4 percent + 30 percent.
If you use any premium themes or programs, the cost of your online store will rise. If you utilize an external payment gateway, Shopify will also charge you extra. If you select the Shopify Advanced plan, you can lower these costs.
WooCommerce is a little more difficult. The WordPress core program and the WooCommerce plugin are both available for free download. If you want to keep your prices down, the WordPress repository has a plethora of free WooCommerce themes and plugins.
Premium WooCommerce themes and some official WooCommerce extensions, on the other hand, may require payment. You'll also need to buy hosting and a domain name if you don't already have a WordPress site.
These factors make calculating the entire cost of a WooCommerce store challenging, especially when contrasted to a fixed Shopify subscription. However, because of the large number of free and paid add-ons available, you may make WooCommerce as cheap or as costly as you want.
To get a better understanding of WooCommerce pricing, check out WooCommerce Pricing: How Much WooCommerce Costs to Run Your Online Store – Ultimate Guide.
What is the shipping and dropshipping process like on each platform?
If you offer tangible goods, you'll need a smooth delivery experience. You can ship globally with both Shopify and WooCommerce. Shopify, on the other hand, has an advantage because of its built-in connections with Canada Post, FedEx, UPS, DHL, and USPS.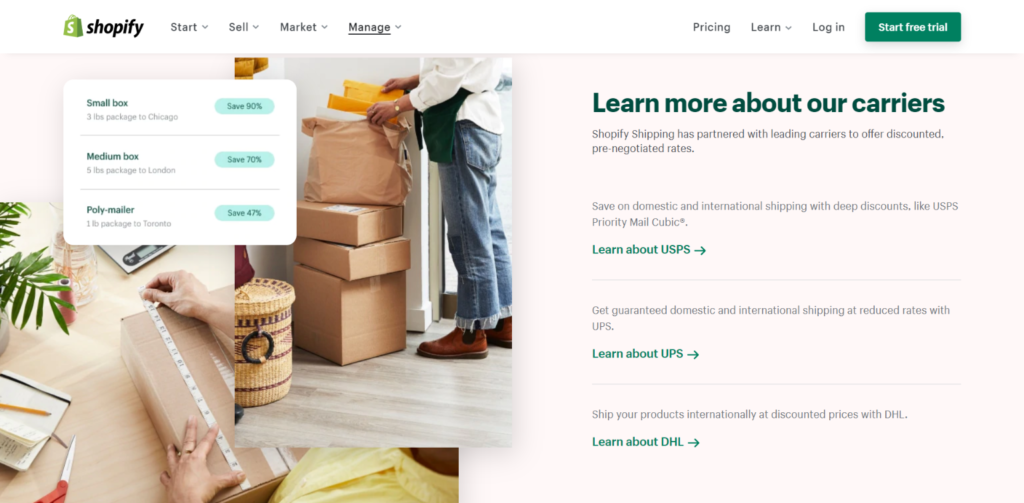 Both platforms may be used for dropshipping, which is a retail model in which you don't hold any items in stock. Instead, you buy products from merchants and ship them straight to your clients.
When starting a dropshipping business, your website will resemble any other online retailer. Both eCommerce platforms, however, have certain extra features that might help you run a successful dropshipping business.
Similarly, the WooCommerce community has produced a number of plugins that allow you to directly import items from third-party marketplaces. The AliDropship plugin, which interfaces with AliExpress, is one of them. With a single click, it may also automate order fulfillment.
WooCommerce and Shopify are wonderful places to start if you want to start a dropshipping business. Just keep in mind that many of these product marketplaces charge their own membership fees, shipping fees, and other costs. These costs can cut into your dropshipping profits, which are already minimal.
Which platform is the most optimized for search engines?
As an online retailer, Search Engine Optimization (SEO) may have a significant influence on your bottom line. Organic traffic accounts for more than 40% of most ecommerce companies' income. Furthermore, relevant searches affect 39 percent of digital transactions.
WooCommerce's code is SEO-friendly right out of the box. You may also change your URLs and add meta descriptions and titles to your product pages. These steps will increase the likelihood of your store pages appearing in relevant search engine results.
Additionally, by adding extra plugins, you may improve WooCommerce's SEO appeal. Yoast SEO and The SEO Framework are examples of strong tools created exclusively to boost your SEO.
Checkout 20 Best SEO Plugins for WordPress to Boost Search Rankings (2022) to know more about WooCommerce SEO.
WooCommerce vs. Shopify: Which Platform Is More Secure?
You'll have access to consumer information, including credit and debit card information, if you run a successful online business. As a result, you may become a tempting target for hackers.
Because Shopify is a hosted platform, it is primarily responsible for keeping your business safe from hackers. In reality, the platform includes certain important security elements, such as an SSL certificate.
Most current browsers display a padlock icon to signify that a website is protected using SSL to help visitors stay safe online. This certificate guarantees visitors to the current website that it is safe to visit. Shopify's built-in SSL may be able to assist you secure some more sales in this way.
WooCommerce does not provide in-built security, but that can be achieved with top level apps like Jetpack and Sucuri Security Suite. To keep your shop safe from hackers, you'll need to take several precautions. This, once again, necessitates the installation of extra plugins. WooCommerce does not provide SSL, but does provide PCI compliance for WooCommerce Payments.
How Easy Is It to Keep Track of Your Inventories?
WooCommerce is a versatile and configurable solution that gives you total inventory control. Using the usual WordPress editor, you may add new goods and change existing ones:
Shopify, like WooCommerce, allows you to swiftly track your items, receive stock alerts, produce reports, and execute other inventory management duties. You may submit your full product catalog in bulk using CSV files on both platforms. These features can help you save a great deal of time.
There is no hard limit to the amount of product variations you may utilize with WooCommerce. Shopify, on the other hand, has a strict limit of 100 variations and three total possibilities per product. If you wish to extend this limit, you'll need to utilize a Shopify app from a third-party developer.
Conclusion
It all boils down to your own abilities and preferences…
Shopify is a lot more user-friendly. You don't need to install anything, and you can get started right away. It's easier to set up payments, and their pricing schemes are straightforward.
WooCommerce is free and open source, giving you complete control over your website. Starting an online store with WooCommerce is much less expensive, especially with these WooCommerce hosting companies.
WooCommerce is the ideal platform for you if you're seeking a cost-effective solution and want complete control over your online business.
Further Reading