Last updated - March 31, 2022
Managing bookings and appointments is a challenge for eCommerce store owners. You need to create an optimal online booking system on your site, or things can go haywire. There are several plugins in the WordPress ecosystem that will help you create a robust booking system. It is important for you to understand the features and capabilities of each before choosing one for your store. In this article, we will list out some of the best WooCommerce Booking & Appointment plugins that you can install on your WordPress site.
This is one of the most obvious choices when it comes to WooCommerce Booking & appointment plugins. It offers seamless integration with your WooCommerce store and offers powerful features to help you out. Customers on your store will be able to book appointments, rentals and make reservations easily depending on your business model. You can define the time slots available for booking, and customers will be able to choose from that. Overall, the plugin offers a lot of control to store owners to execute a robust booking strategy and maintain good customer experience.
Features
Create different kinds of bookings on your store with defined time schedules.
Equally good for one-on-one appointment bookings and events involving multiple people.
Offer special prices and offers for specific time slots, group bookings, etc.
Display the available booking slot in the customer's time zone.
Define automatic or manual booking approval according to your store strategy.
Option to set email notifications and sync to Google Calendar.
Compatible with a range of popular WooCommerce extensions.
A single site subscription of this plugin will cost you $249.
Amelia is a simple yet powerful automated booking specialist, working 24/7 to make sure your customers can book appointments or events and pay online even while you sleep.
The Amelia WordPress booking plugin will fully automate the interaction with potential customers, help them pick the right service and employee, take care of the payments, real-time SMS reminders both for the customer and employee for booked, cancelled or rescheduled appointments.
Features
Insightful Admin Dashboard
Step-by-step Booking Wizard
Admin Calendar View
Search Booking Widget
Customizable Design
You can get the plugin for a single domain at $60.
Booknetic is an appointment booking plugin for a range of appointment-based businesses. The plugin offers an extensive list of features to automate and customize booking procedures fully. The native integration with WooCommerce enables business owners to sell their products on their websites alongside appointment services. Also, the plugin has a customer relations system. Each time a new customer registers on your system, her data is automatically saved in the customer dashboard. Moreover, there are other taxes and extra service features that help to streamline the overall appointment business.
Features
Online payments through the most secure and popular payment gateways like Paypal, Stripe, and WooCommerce.
Fully customizable booking widget.
Appointment booking notifications with email, SMS, and WhatsApp.
Booking panel with multi-level categories.
Manageable calendar to review employee schedule.
Google Calendar Sync.
Continue with Google and Facebook accounts.
Zoom integration for online meetings.
Coupons, gift cards, and holidays features.
Recurring payments and bringing people with you for a single scheduling practice.
This is another popular choice when it comes to integrating booking and appointment capability on your WooCommerce store. It offers a range of features to hep you configure a flexible booking schedule on your store. Interestingly, the plugin will help you set up recurring bookings, as well as multiple non-adjacent bookings. Furthermore, it has comprehensive features to help you set up booking availability and manage costs.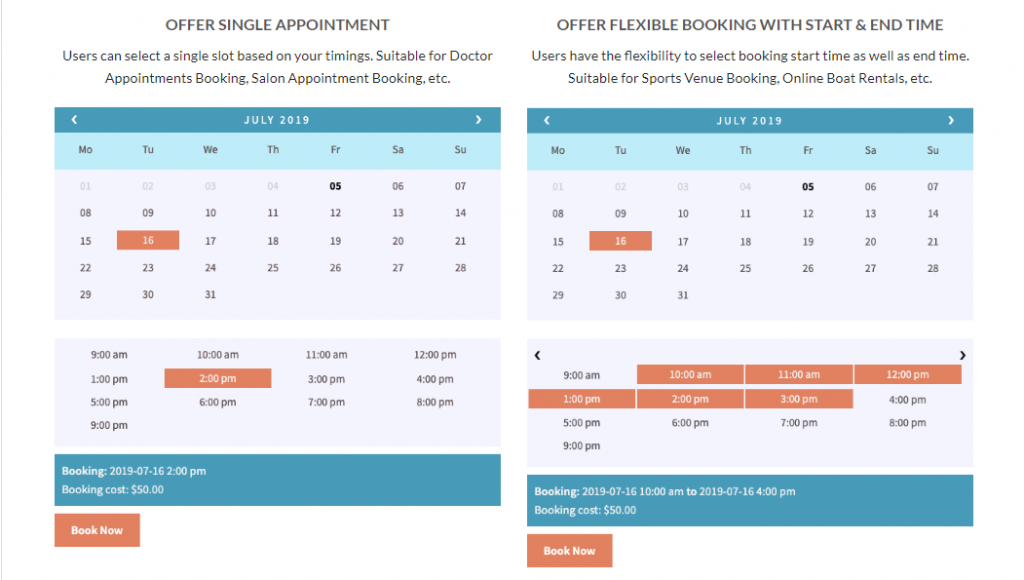 Features
Define and display flexible booking schedules on your WooCommerce store.
Easily manage diverse types of bookings and associated costs.
Control booking approvals and cancellations.
Automatic email notifications.
Support for partial payments and deposits.
Advanced options for resource management.
Customize the appearance of the booking calendar.
Widget for bookings search.
You can get the single site subscription of the plugin for $99.
You can easily create a booking and appointment system on your WooCommerce store with the help of this plugin. The plugin helps you create a booking system for a range of services and you can easily manage the schedules for each. Moreover, it offers convenient options to search and filter bookings on your store. Also, it has several customization options to let you execute a perfect strategy for your booking system.
Features
Create diverse booking options with fixed or flexible schedules.
Option to accept bookings automatically or manually according to your strategy.
Advanced calculations for booking cost.
Flexibility to offer special price according to different considerations.
Options to export bookings
Booking theme included to control the look and feel of the site.
The single site subscription of the plugin will cost you $169.99.
Bookly offers advanced feature to configure and customize bookings on your store. With multiple payment options, automated notifications and Google Calendar sync, it will make your booking management process a breeze. Furthermore, there are several add-ons that will help you incorporate additional features and functionality to your booking system.
Features
Create an advanced booking system with flexible schedules.
Customizable booking form.
Search and filter bookings on the site.
Easy options to manage resources and customer base.
Google Calendar synchronization and built-in analytics integration.
Dependable support team.
Purchase a regular license of the plugin at $89.
Booked is a simple plugin that will help you manage Bookings effortlessly on your WooCommerce store. It will integrate smoothly with your WooCommerce store, and offers you flexible options to execute your store strategy. You can create multiple calendars with unique time slots and assign each to the right resource. It gives you the flexibility to offer guest users an option to make a booking on your store. Moreover, you can customize the look and feel of the calendar and create custom fields to gather relevant information from customers. Overall, this is a smooth and simple option to create a booking system on WooCommerce.
Features
Create multiple booking calendars and associate them to different resources.
Create custom time slots for booking according to the store hours or resource availability.
Include custom fields to collect information from customers.
Customize the calendar design.
Shortcode and widget support for calendar display.
Convenient options to manage customers and bookings.
The regular license of the plugin is priced at $49.
To manage bookings and rentals on your store, this plugin is a great option. It will help you add unlimited rental products on your store and manage their cost aspects easily. Moreover, it gives an option where customers will be able to negotiate the pricing by submitting a quote request. Also, it offers several customization options to create a unique rental booking system on your store.
Features
Create a booking system for rental products with customizable time slots and prices.
Convenient options for inventory and availability management.
Request a quote option for custom pricing.
Control the look and feel of the booking system with a simple interface.
Easy order management options.
Supports multiple languages.
Buy the regular license of this plugin at $29.
You can manage bookings and reservations on your site easily with the help of this plugin. It is a suitable option for various types of bookings such as event bookings, appointments, rentals, etc. Moreover, you can transform any of your WooCommerce product types into a bookable product. And, it even supports Subscriptions and Product Bundles.
Features
Create a range of booking options on your site including accommodation, events, rentals and appointments.
Give flexibility to customers to choose their time slots and reschedule them if needed.
Option to display time slots in the user's time zone.
Google Calendar sync and notifications via email and SMS.
Extensive customization options for the booking calendar.
A single store license of this plugin will cost you $119.
With the help of this plugin, you can display a booking calendar on your site's frontend, which customers can use to choose their preferred booking date. You can customize the available booking options and customize the display format. More importantly, it integrates well with WooCommerce and gives you an option to integrate coupons, deposits, etc. Also, the plugin provides you with an option to create customizable booking forms.
Features
Display custom booking calendars on your WooCommerce store.
Control the availability with diverse options.
Seamless integration with WooCommerce and associated plugins.
Multi lingual and multi currency support.
Synchronization with Google Calendar.
Create custom booking forms.
Set email and SMS notifications.
The Pro version of the plugin costs $70.
This is another advanced plugin that will give you a lot of options for appointment bookings on your WooCommerce store. With the help of this plugin, you can create a flexible appointment pattern with upfront payment or just confirmation. Moreover, it will integrate perfectly with WooCommerce and provides you with several features to manage appointments effortlessly.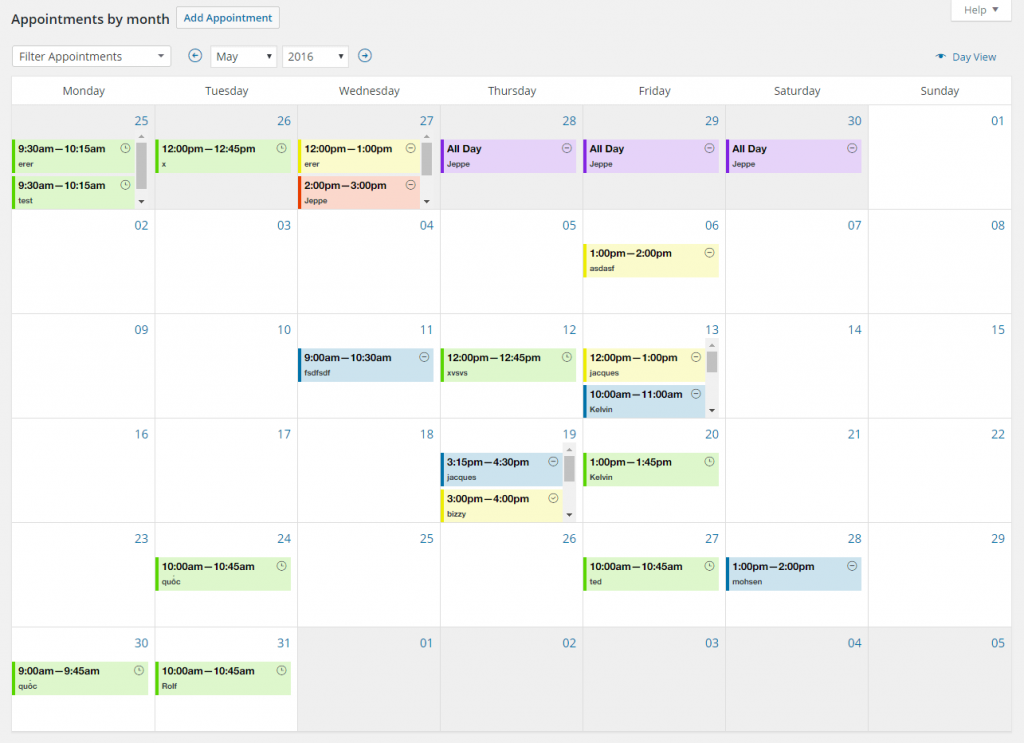 Features
Offer bookings and appointments on your WooCommerce store.
Add an appointment manually and sync it with Google Calendar.
Define availability for appointments with an option to confirm later.
Email notifications with customizable templates.
Manage bookings with convenient calendar view.
Integration with several WooCommerce tools.
You can purchase the plugin for $89.
Hopefully, these WooCommerce booking & appointment plugins will help you configure a customer-friendly booking option on your store. Leave us a comment to share your thoughts.
Check out the video:

Further reading